By bettyr | Date: 03 Apr' 2020
For some divers, the thought of encountering sharks underwater is thrilling yet terrifying, and even the most seasoned divers can experience a sense of vulnerability when sharing a dive with one of the ocean's most prominent predators. Whilst we all appreciate the value of these awesome fish, in certain conditions, getting in the water with them is just not sensible and that's where shark cage diving comes in.
But what is shark cage diving and how does it work? Shark cage diving is done underwater inside a metal cage that provides a safe environment for divers (and often non-divers too) to observe and photograph sharks with minimal risk. The metal cage is most commonly used when diving with great white sharks. In some destinations, shark baiting is used to attract sharks around the cages. If you're unsure about whether cage diving with sharks is for you, read Debbie Wallace's fascinating account on 'Caged vs Open Water Shark Diving'.
For those of you excited about cage diving with sharks, we have pulled together a list of the world's best places to experience these awe-inspiring creatures from the safety of a cage. And for photographers keen to expand their repertoire, have a look at these great cage diving photo tips.
The World's Best Places for shark cage diving
Pick a destination or scroll down to read the entire list:
Isla Guadalupe, Mexico
GREAT WHITE SHARK cage diving
Isla Guadalupe is, without doubt, the best place in the world to dive with great white sharks. Lying 150 miles off the Baja California Peninsula, this uninhabited volcanic island is only accessible via liveaboard, and a good number of boats offer cage diving experiences here. Departing from San Diego in the US, or Ensenada in Mexico, the journey out and back makes for a 5 or 6-day trip, offering 3 full days of thrilling shark cage diving.
Note: The 2022 Guadalupe season was closed and we cannot guarantee that 2023 season will open.
The great white season runs from July to November, with numerous lively young males arriving ready to mate early in the season, and the larger males making an appearance from late September onwards. The largest females arrive well into October when the weather is starting to turn, and many consider this the ideal time to visit.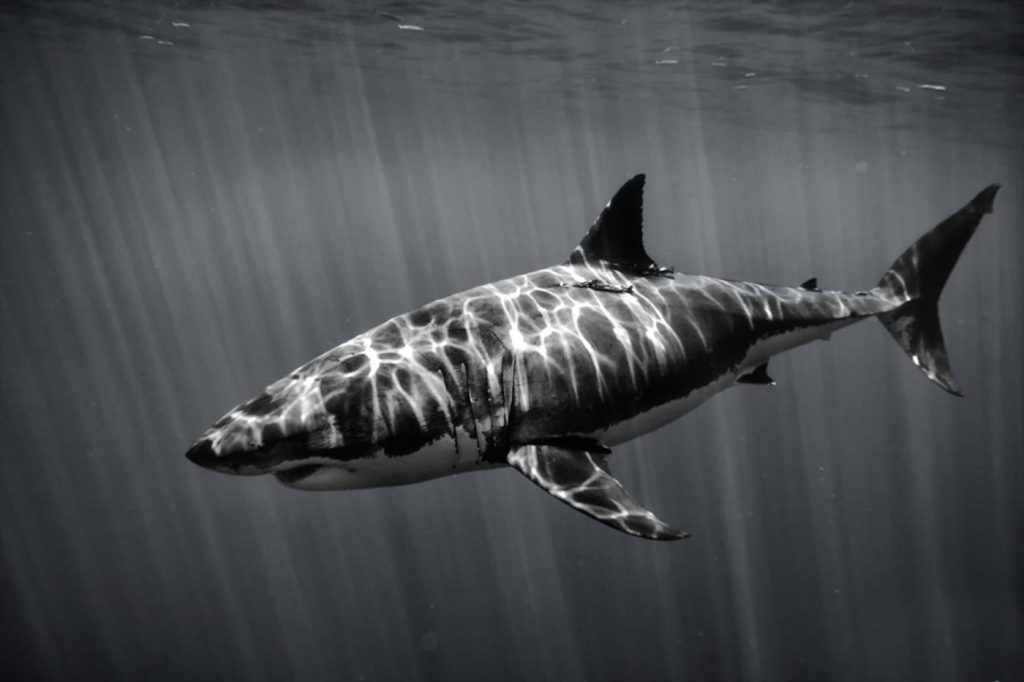 Guadalupe is also the only place that divers can cage dive using a SPOC (Self Propelled Ocean Cage). This small submersible carries divers alongside the sharks at a cruising speed of 5 knots, allowing for some awesome photo opportunities.
Cage diving with the great whites in Guadalupe offers unrivaled insight into the species' feeding and mating behaviors, providing valuable research and a greater understanding of this iconic creature.
You can read more about photographing great whites in Guadalupe in George Probst's shark photo tutorial series.
PRACTICAL INFORMATION
Diving Season: July to November.
Water Temperature: 70-75°F (21-24°C).
Difficulty: Suitable for all levels, including non-divers.
Non-diving Activities: Liveaboard-only activities.
Nearest Airport: San Diego International Airport (SAN).
---
Read about the Pelagic Fleet's luxury liveaboard trips to Guadalupe Island.
View the availability of some of the best liveaboards in Isla Guadalupe and book online at the best price!
---
Western Cape, South Africa
cage diving with BRONZE WHALER AND GREAT WHITE SHARKS
On South Africa's southwestern tip, the 200-mile stretch of coastline running between Gansbaai and Mossel Bay is known historically as the 'white shark capital of the world'. Only five miles offshore from Gansbaai, Dyer Island is home to around 60,000 resident Cape fur seals, attracting what was once the densest population of great whites anywhere on the planet. Shark cage diving in the infamous Shark Alley is a huge business, even though since 2017 great whites have all but disappeared from these coastal waters. Fatal encounters with orcas have pushed the great white population into deeper water, and it is now bronze whaler sharks that are most commonly sighted. Operators run trips from Gansbaai, nearby False Bay, and Mossel Bay for divers, snorkelers, or tourists keen to spectate from the boat.
The popularity and accessibility of shark cage diving in the Western Cape area make for a less exclusive experience than some other destinations might offer. However, day trips allow for more flexibility and come at a reduced cost, whilst still providing an exhilarating and memorable experience.
PRACTICAL INFORMATION
Diving Season: Year-round, but best sightings from May to October.
Water Temperature: Coldest month is July 57°F (14°C), warming up to 73°F (23°C) at the end of January.
Difficulty: Suitable for all levels, including non-divers.
Non-diving Activities: Whale and shark watching, wine and heritage tours, safari.
Nearest Airport: Cape Town International Airport (CPT).
---
Read about Bluewater Travel Advisor Tim Yeo's group trip to South Africa.
---
Farallon Islands, USA
GREAT WHITE SHARK cage diving
Just 29 miles out from San Francisco's Golden Gate Bridge, the Farallon Islands is a National Marine Sanctuary home to five species of seal and sea lion. Between late July and January every year, migrating great whites stop off at the islands en route to the mid-Pacific to feast on the local elephant seal population. It's unclear how many sharks visit the Farallon Islands each season, but estimates range from 30 to 100 individuals and they include some of the largest specimens ever recorded.
There is a slim window of opportunity to dive with the Farallon sharks, and most operators run day-trips to coincide with the peak hunting season from late-September until the end of November. Unlike other methods, the boats here use mammal-shaped decoys rather than chum to attract the sharks, significantly reducing environmental impact and any interference with normal feeding habits.
The shark cage diving at Farallon is carried out sustainably and ethically, allowing these magnificent creatures to thrive relatively undisturbed, whilst supporting vital research and raising public awareness.
PRACTICAL INFORMATION
Diving Season: Late September through to the end of November.
Water Temperature: 54-57°F (12-14°C).
Difficulty: Suitable for all levels, including non-divers.
Non-diving Activities: There are lots of places to visit San Francisco, it's a great city with loads of attractions, museums, and tours.
Nearest Airport: San Francisco International Airport (SFO).
---
O'ahu, USA
cage diving with GALAPAGOS AND SANDBAR SHARKS
The third-largest of the Hawaiian Islands, O'ahu hosts several operators who run shark cage diving trips off the island's North Shore. Hawaii is home to 40 of the world's 140 or so shark species, and cage diving participants can expect to spot Galapagos, sandbar, and tiger sharks, as well as the occasional blue, silky, or hammerhead shark.
The best shark encounters occur three miles out, where the Pacific Ocean reaches depths of 500 feet. Cage trips focus on education and conservation, with participants snorkeling at the surface without the need for scuba equipment. The sharks here aren't baited, with the sheer number of them enough to ensure daily sightings. Warm water and pleasant conditions make shark cage diving here as calm and comfortable as it gets.
PRACTICAL INFORMATION
Diving Season: Year-round, with Galapagos sharks most numerous in the spring and early summer.
Water Temperature: 76-81°F (24-27°C).
Difficulty: Suitable for all levels, including non-divers.
Non-diving Activities: Visit the iconic Waikiki Beach, or take a historic tour around Pearl Harbour. Go for a hike around Diamond Head Crater, or take a wildlife or coffee plantation tour.
Nearest Airport: Daniel K. Inouye International Airport (HNL).
Find out about scuba diving Hawaii.
---
Neptune Islands, Australia
GREAT WHITE SHARK cage diving
The Neptune Islands lie in South Australia's Spencer Gulf, a three-hour boat journey from Port Lincoln to the west of Adelaide. The islands form a protected Conservation Park and are the only place in Australia where divers can get face to face with great whites. The winter months of May through to October are the best time to witness these migratory sharks as they prey on juvenile seal pups venturing into the water for the first time.
Cage diving is possible here from both day-trip and liveaboard boats, and one outfit even offers the unique option of ocean floor shark cage diving. The sharks tend to be very relaxed gliding along the sea bed, more concerned about what's going on above than investigating the cage.
Australia is the original home of shark cage diving and provides an authentic experience observing these awesome creatures in their natural habitat.
Australia is also home to some of the best shipwrecks to scuba dive. Check out our article here.
PRACTICAL INFORMATION
Diving Season: Year-round, but the best shark sightings are from May to October.
Water Temperature: As low as 64°F (18°C) over the winter.
Difficulty: Suitable for all levels, including non-divers.
Non-diving Activities: Coastal hiking and nature walks, fishing, yachting, and great seafood restaurants.
Nearest Airport: Adelaide Airport (ADL).
---
Explore Rodney Fox Shark Expeditions Neptune Island trips.
View the availability of some of the best liveaboards in Australia and book online at the best price!
---
Further reading
Check out shark cage diving in the Bahamas with tiger sharks at Tiger Beach.
Read about the top 4 places to dive with hammerhead sharks.
Frequently asked questions about shark cage diving
Do I need to be scuba certified to go shark cage diving?
Many tours have also surface cages available, so you do not need to be scuba certified. However, you will need to be certified to descend in the submersible cages.
What is Chumming?
Most sharks are inquisitive but shy creatures, generally avoiding anything unfamiliar or new. For divers to catch a glimpse of them it is necessary to attract the sharks in towards the cages using fish parts as bait, a practice known as 'chumming'. The prospect of a free meal often triggers instinctive hunting behavior, which appears aggressive but is perfectly natural.
Another practice called 'wrangling' uses bait on a pole to entice sharks right up to the bars of the cage for the ultimate 'lens in mouth' photo shot.
There is widespread debate surrounding the environmental impact of chumming, as it not only alters sharks' natural feeding behavior but encourages them to associate boats, cages, and divers with food. However, without intimate access to these creatures, we would not gain exposure or in-depth scientific knowledge needed to establish how best to protect them.
Can I dive with sharks without a cage?
Yes, see also our article on best shark diving destinations to find our where and when to go for some exciting shark encounters.