SCUBA DIVING IN
THAILAND

---
Thailand diving highlights
Hosting divers in both the Andaman Sea and the Gulf of Thailand from over 1200 miles of coastline, this scuba destination is a great fit for divers of any level. Scuba diving in Thailand is popular due to the opportunity to dive with whale sharks and manta rays. You can see many pelagics but also smaller fish and critters. Many dive sites have beautiful hard and soft coral and abundant marine life. Thailand dive schools have a great reputation, which is why it is also known as one of the best destinations to learn scuba diving or learn new skills as a certified diver. A combination of big and small marine life, wrecks and dive sites for a variety of levels make Thailand one of the best scuba diving destinations in Southeast Asia.
THAILANDS' BEST DIVING SPOTS
Pick a destination or scroll down to read the entire list:
1. Koh Tao - Great reputation for dive schools
2. Koh Phi Phi - Many dive sites for spotting leopard sharks
3. Koh Lipe - Most beautiful soft corals
4. Surin Islands - Unique species and diverse hard and soft coral
5. Similan Islands - Great for spotting manta rays and whale sharks
6. Phuket - Variety of options for different tastes
7. Pattaya - Excellent wreck dives
8. Koh Samui - Calm waters, good visibility, and good to see whale sharks
Can't wait to start planning your trip to Thailand? View the live availability of some of the best liveaboards in Thailand or get in touch with us to help you plan your trip!
---
Great reputation for dive schools
Many people have actually chosen this destination to make their dive certification in the first place. Inexpensive course prices, easy conditions, and beautiful dives- it's hard to find a better place to start scuba diving. Koh Tao diving does not only offer great dives for beginners but also already certified scuba divers will enjoy their underwater experiences here. Having a great reputation for dive schools, it is also a great place to learn some new skills and upgrade your diving levels. The dive sites are located all around the island and accessible only by boat. There are many colorful reef fish to see, turtles, barracudas, and for macro objects, there are critters and nudibranch. If you are lucky, you also have a chance to meet some whale sharks.
You may also want to check out our list of the Best Liveaboard Destinations for Beginner Scuba Divers.
---
2. Koh Phi Phi
Many dive sites for spotting leopard sharks
Shortly after the movie "The Beach", the island gained popularity among tourists having picture-perfect white-sand beaches and clear blue waters. Around the island, there are plenty of dive sites, wherein some you may spot the leopard sharks. Macro lovers can find some seahorses and mantis shrimp. For divers, who seek the big fish, there is a chance of seeing whale sharks and manta rays. Rock formations and beautiful corals are another reason the island is great for diving. The dives are done only by boat and the diving conditions are suitable for all levels. You find dive sites for complete novices but also deeper dives for experienced divers.
---
3. Koh Lipe
Most beautiful soft corals
Compared to Koh Phi Phi and Phuket, Koh Lipe island is less touristic and thus, its coral is very well preserved which makes it a fantastic diving destination. It has some of the most beautiful soft corals in Asia. Koh Lipe is part of the Tarutao National Marine Park that has many opportunities for scuba divers with all levels. Many tropical fish species can be found here, turtles, dolphins, and even dugongs and sperm whales! Besides amazing marine life, it also has nice pinnacles and rock formations.
For another great whale destination, check out diving in the Dominican Republic.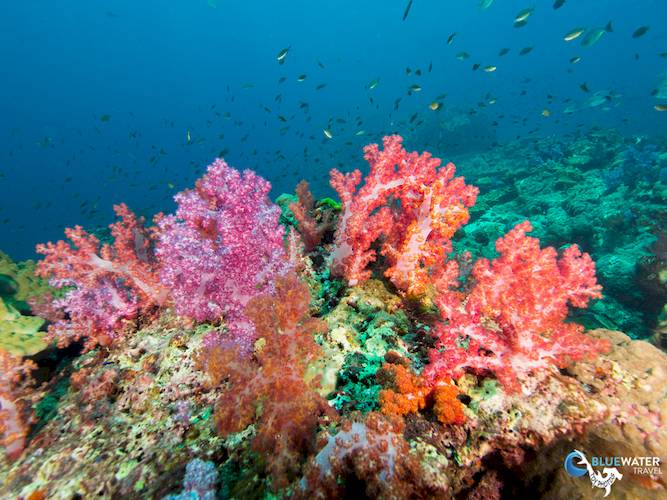 ---
4. Surin Islands
Unique species and diverse hard and soft coral
Under the protection of the UNESCO environmental program, the Surin Islands are truly a pleasure to dive at. The island's dive sites have amazing hard coral diversity, much soft coral, and are rich in marine life. The island is remote and not as popular among tourists, which is why you can find some species of fish here that you cannot see in other dive destinations in Thailand. You might spot some bumphead parrotfish, napoleon wrasse, tomato anemonefish, yellow-masked angelfish, and barramundi. The Surin Islands can be explored by a dive liveaboard that mostly run from October to early May. The rest of the year the Mu Ko Surin Marine National Park is closed for divers.
New to liveaboards? Let's help you get started with our Guide to Liveaboard Diving.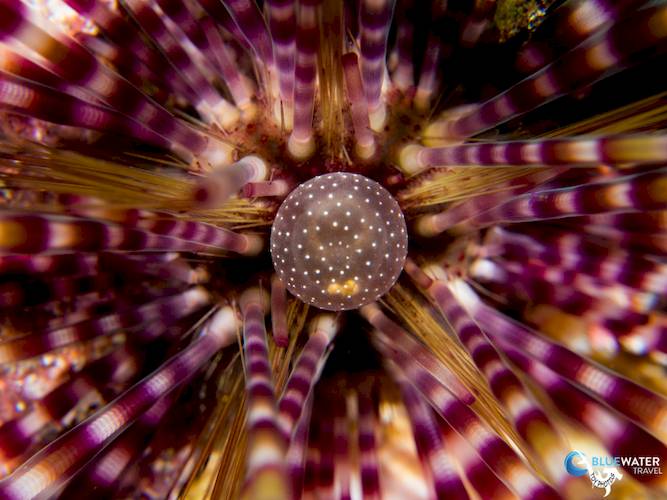 ---
5. Similan Islands
Great for spotting manta rays and whale sharks
A dive liveaboard is the best way to get the most out of Similan Islands diving. Abundant marine life, big pelagics, soft and hard coral plus easy diving conditions, warm waters and relatively good visibility are some of the reasons many scuba divers are fond of this destination. There are also plenty of macro subjects but most divers visit the islands to see the manta rays and whale sharks. Moreover, you can see a good number of shark species when scuba diving in the Similan Islands.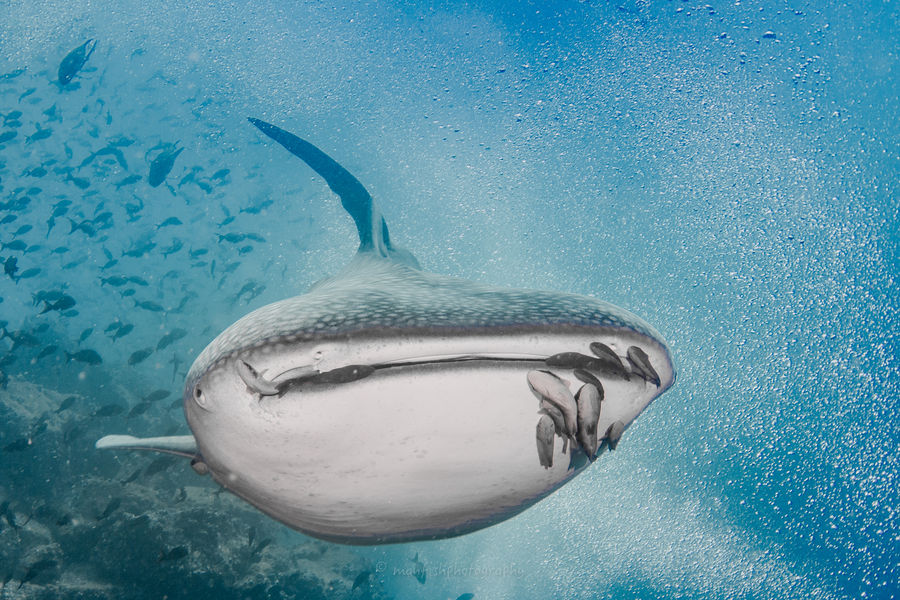 Interested in diving in the Similan Islands? You can read more about the destination from our Similan Islands Dive Travel Guide or Similan Islands Liveaboards page.
---
6. Phuket
Variety of options for different tastes
Diving in Phuket gives scuba divers many options. You can find some secluded luxurious dive resorts or budget-friendly accommodations, make some day trips to the local reefs, or hop on a liveaboard and let local thai divers show you some of the best dive sites in Thailand. There are great sites for experienced divers and options for total beginners to start their diving journey. When diving in Phuket, you can find some great deep drop-offs, pinnacles that are covered with coral, some caverns and caves, and even some wrecks. The marine life around Phuket goes from big to small creatures. You can meet manta rays, whale sharks, and leopard sharks, but also anemone fish, harlequin shrimp, and ghost ornate pipefish just to name a few.
---
7. Pattaya
Excellent wreck dives
Scuba diving in Pattaya is most known for its excellent wreck dives and offering nice coral dive sites. One of the most famous coral dive sites is at Koh Man Wichai, where the coral resembles a giant hand and thus has been named as the "fingers". While diving around the beautiful corals you can spot some pufferfish, stingrays, angelfish, and many more. The Pattaya wrecks are also covered with reefs, where you can spot some rays, barracudas, batfish, and even some sharks. The wrecks are most suitable for advanced divers, though, as they lay around 100ft (30m) or more.
---
8. Koh Samui
Calm waters, good visibility, and good to see whale sharks
Being a very popular holiday destination and more crowded than some other locations in Thailand, scuba diving in Koh Samui seems less appealing to many divers. Nevertheless, it offers beautiful dive sites not to miss and offers many day trips to enjoy them. Some of the best dive sites in Thailand, like the Sail Rock, are very closely located to Koh Samui. Whale sharks are often spotted when scuba diving around Koh Samui. You can also see many barracudas, turtles, jackfish, and various nudibranch and shrimp for macro lovers. Additionally, the diving conditions around the dive destination are great throughout the year, with calm waters and generally good visibility.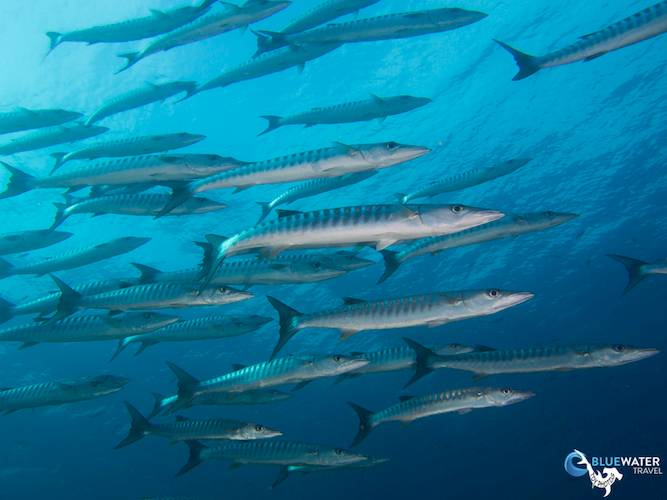 ---
9. More awesome places to dive in Thailand
In case you want more, here are some other dive spots in Thailand...
Hin Daeng & Hin Muang - Many scuba divers will say these are their most favorite dive sites as it offers great wall dives and caverns, as well as you can see big pelagics and lots of other beautiful marine life. You may even spot manta rays and whale sharks here. Colorful soft corals are all around and you can see many schools of fish. Be aware that the currents can be strong, thus it is recommended for more advanced divers. Both of the dive sites are located outside of the Similan Islands.
Shark Point - If you love sharks, then this is the spot for you! Located about a 90-minute boat ride away from Phuket, the dive site is home to many leopard and bamboo sharks. Besides great shark diving, there are lots of other marine life to see like moray eels, seahorses, snake-eels, mantis shrimp, and more. Plus, the dive site has three main pinnacles covered with both, soft & hard coral and anemones.
Anemone Reef - Like the name says it, you can expect to dive past beautiful blue and green colored anemones. As part of a marine sanctuary, Anemone Reefs' marine life is very colorful. The site itself lies near to Shark Point, which is why you can encounter reef sharks and leopards sharks at the dive site. Besides the sharks, you can spot some turtles, giant moray eels, lionfish and even some seahorses, nudibranch and porcelain crabs for macro lovers. Along the anemones, you can see some beautiful soft pink and purple corals.
Richelieu Rock - The dive site is located between Surin & Similan Islands and is the best place to see schools of barracudas, much tropical fish, whale sharks, and manta rays. Because of nutrient full planktons, there is a high chance to scuba dive with whale sharks. The dive site is a horseshoe-shaped rock covered with soft corals, anemones, sea fans, and sponges. The dive spot attracts lots of marine life and you may see cuttlefish, seahorses, pipefish, just to name a few.
Chumphon Pinnacle - One of the most popular dive sites in Koh Tao, this huge pinnacle is covered with pink anemones, where pink anemonefish come around, as well as some scorpionfish, moray eels, crabs, and shrimp. Besides them, along the pinnacle, you can see some barracuda, bannerfish, mackerels, trevally, big-eyed jacks, and many more. Even whale sharks can make an appearance there.
Sail Rock - Another popular dive site in Koh Tao with a rock wall drop. Being further from the main island and away from the masses, it attracts abundant marine life. Batfish, soldierfish, crabs, giant groupers, giant moray eels, blue spotted trout, nudibranch are just a few examples of marine life you might see. What is special about this dive site, is that you can actually dive inside a rock! There is an interesting swim-through called the chimney, which is very fun to dive but it is more suitable for experienced divers, who have good buoyancy control.
HTMS Sattakut wreck - Laying at a depth of 100ft (30m), this wreck is surrounded by colorful marine life and is considered to be one of the best wrecks in Thailand. It has three canon guns, cabins, and rooms to explore and to see its many resident fish. You can spot groupers, snappers, sweetlips barracudas, blennies, moray eels, butterflyfish, and more.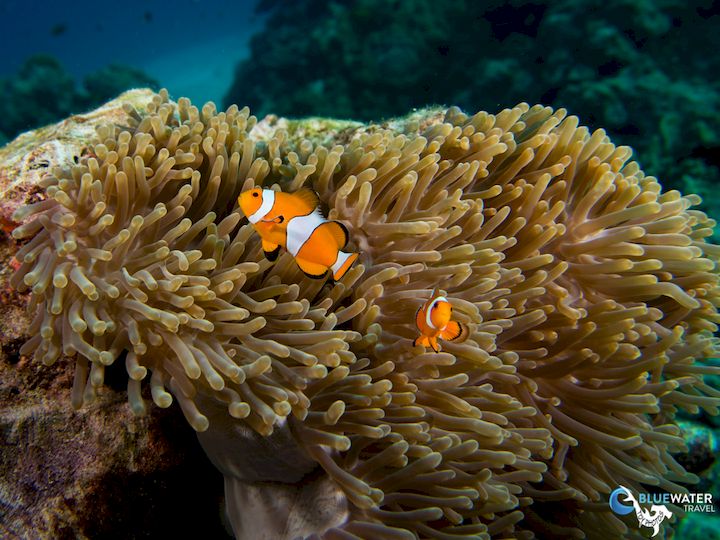 INTRO TO THAILAND
The Southeast Asian country with a tropical climate and warm waters is known best for its beautiful white-sand beaches, stunning temples, rich culture, and delicious food. It is not hard to guess why many people are attracted to visit Thailand. Most of the best scuba diving sites are on the southeast of Thailand, in the Andaman sea. On the east coast, on the Gulf of Thailand, lies one of the most popular destinations for dive certifications, Koh Tao. All around Thailand you can find diverse marine life and beautiful corals. The destination offers many opportunities for scuba divers to dive at beautiful reefs, explore wrecks, deep drop-offs, caverns, pinnacles, walls, and tunnels. Besides scuba diving, Thailand offers plenty of topside activities. Some of the islands offer great nightlife, while some others are quieter and great for relaxing.
THAILAND MARINE LIFE
In general, the Andaman Sea boasts a larger variety of fish species and coral. As to what you can expect to see - the coastline and islands stretch over a large distance so it greatly depends on where you choose to dive. Manta rays, whale sharks, black/white tips, and turtles are just a few of the "big things" to expect. Not only a great destination to see big fish, but Thailand also has many macro photography subjects.
Here is a list of the marine animals you are likely to see when diving Thailand's best dive spots:
Whale Shark
Leopard Shark
Whitetip Shark
Blacktip Shark
Spotted Eagle Ray
Bluespotted Ribbontail Ray
Pufferfish
Trevally
Trumpetfish
Butterflyfish
Triggerfish
Lionfish
Moray Eel
Angelfish
Boxfish
Turtles
Barracudas
Ghost Pipefish
Seahorses
Diving Conditions
Water Temperatures: 81-84 F / 27- 86 C
Visibility: 32 - 131 ft (10 - 40m) depending on the season and location.
Depth Range: 16 - 131 ft (5 - 40 m)
Travel Information

---
How to Get There
Thailand currently has six international airports, with Suvarnabhumi International Airport in Bangkok being the main gateway to the country. It is easy to get anywhere from Bangkok.
Looking for another hot dive destination in Southeast Asia? Read about scuba diving in Indonesia.
How to Dive Thailand
Liveaboards are available to explore the Andaman Sea and Similan Islands and reach dive sites you otherwise can't reach. Thus, liveaboard diving would be the best option to get the most out of diving in Thailand. Otherwise, there are also dive resorts available around Thailand. The best resort destinations are Phuket, Phi Phi islands and Khao Lak.
Best Time to Dive
Within the Gulf of Thailand, diving is available almost year-round. November is the beginning of the monsoon season in which visibility drops and heavy rainstorms can occur but by the mid/end of December things typically have gone back to normal. On the Andaman side, dive times are more limited. Some areas are only available to dive parts of the year (like the Similians and Koh Lanta). In general October - April is the best time to dive the Andaman Sea.
Topside & Non-Diving Activities
You can try to "island-hop" to different destinations comparing their offerings. Every island has its own personality, so depending on what you are looking for, certain islands would fit best. Looking for a night out in the town? Koh Phi Phi on the Andaman side, or Koh Tao in the gulf would be a good start. Prefer a relaxing evening instead? The Andamans, Koh Lanta, or Koh Samui in the gulf could be better alternatives.
Thailand is known for its beautiful beaches and some impressive temples. Don't forget to visit the famous Grand Palace or Temple of the Emerald Buddha. Some of the other things to do are to see the muay Thai boxing match, visit a floating market, go hiking or discover their beautiful nature. Moreover, get all your tensions out with a proper Thai massage. In case you have never tried a Thai massage, then just a heads up, don't expect it to be relaxing but for sure it will make you feel much better afterward!
LIVEABOARD AVAILABILITY

---
Please contact us for the latest availability of the following boats: Diva Andaman, Similan Explorer, MV Hallelujah, Dolphin Queen, Deep Andaman Queen, MV Giamani, DiveRACE, MV Oktavia, and MV Pawara.
Other Useful Information

---
Practical Information
Currency: Thai Baht (THB)
Language: Thai is the national and official language of Thailand
Main Airport Code: BKK
Time Zone: UTC+7
Electricity: The standard voltage is 220 V and the frequency is 50 Hz.
Vaccines: Please check the CDC website for updated information on vaccines, health concerns, etc. It is recommended that you are up to date with Typhoid, Tetanus/Diphtheria, Hepatitis and Polio for any trip to the tropics.
Visa: U.S. citizens carrying a tourist passport and in possession of an onward or return airline ticket do not require a visa to enter Thailand.
---
FURTHER READING
Check out these useful resources from our sister websites, Bluewater Photo, and Underwater Photography Guide
Southeast Asia's Best Underwater Photography Destinations
Top 10 Macro Photography Destinations
Wet Wide Angle Lens Buyer's Guide