Destination: Thailand
Similan, South Andaman, Hin Daeng Hin Muang, Myanmar, Lipe (4-7 Nights) | From $275++/night

---
Deep Andaman Queen Quick Pitch
Newly refurbished in 2019, the Deep Andaman Queen has been redesigned for safety and comfort. With over 20 years of experience operating in Thailand, the Deep Andaman Queen team is a group of highly trained dive professionals offering excellent onboard services, comfortable cabins, and more!
location
The Deep Andaman Queen departs from Pakbara pier on Koh Lipe Taplamu pier in Khao Lak, which is located between Phuket and the Myanmar (Burma) border. For guests staying in Phuket, liveaboard pick-up services are available from either your hotel or the airport. For guests based in Khao Lak, complimentary pick-up services are also available.
Dive Overview
Thailand and Myanmar's dive spots are known for widely varied underwater terrain, friendly fish, and diverse marine life, with warm water throughout the year. Marine life includes soft and hard corals, fields of anemones, nudibranchs, harlequin shrimp, cuttlefish, and seahorses, plus regular sightings of mantas, zebra sharks, and the legendary whale shark.
[See: Thailand Dive Travel Guide, Andaman Dive Travel Guide, Similan Islands Dive Travel Guide]
Check Out This Great Video from Deep Andaman Queen!
Accommodations
Types of Cabins, Amenities and Photos

---
Deep Andaman Queen Accommodation Overview
The Deep Andaman Queen cabins are tastefully decorated and come complete with everything one would need during their stay onboard. The vessel offers the following accommodation types: the Master Ocean Front Cabin, the Double/Twin Ocean Front Cabins, the Andaman Twin B Cabin, the Andaman Triple Cabin, and the Andaman Quad Cabin.
Master Ocean Front Cabin
Located in the front portion of the boat's main deck, the Master Ocean Front Cabin is the largest and most luxurious accommodation aboard the vessel. The room has plenty of hanging space, a bedside table, and a desk area.
Double/Twin Ocean Front Cabin
The Double/Twin Ocean Front Cabins are also located on the main deck, offering breathtaking views of the ocean. The rooms are spacious and feature either a queen bed or twin beds in a bunk set-up
Andaman Twin B Cabin
The Andaman Twin B Cabin is located just one floor lower than the other cabins and provides the amount of comfort and space as its ocean view counterpart.
Andaman Triple Cabin
Also located on the lower deck, the Andaman Triple Cabin features three single beds and plenty of hanging space for each guest. The single beds are also arranged in a bunk style for guests to enjoy plenty of floor space.
Andaman Quad Cabin
The Andaman Quad Cabin is also located on the lower deck. The four single beds are arranged in the bunk-style, with the layout designed using the shape of the bill to maximize space and light.
room features
King-size bed/Queen-size Bed /Two Single Beds
Air con
Private bathroom
Towels
Life jackets

Hair Dryer

TV

Minibar
General Facilities

---
Deep Andaman Queen Boat Features
Leisure Deck
Daily housekeeping
Audio & video entertainment
Free Internet
Air-conditioned saloon
Aircon Cabins
Sun Deck
Indoor Saloon
Warm Water Showers
Outdoor Dining
Deep Andaman Queen Dive Facilities
One of the largest dive platforms in South East Asia
Wide and spacious kitting-up area on two levels
Separate entry/exit platform
2 freshwater showers
2 large buckets with fresh water for rinsing cameras
Photography/Camera Station
Dive computers
Torches Dive Courses
Deep Andaman Queen Food & Drinks
The Deep Andaman Queen catering team prides itself for providing exceptional services and meals beyond the expectation. Three full meals are served throughout the day in addition to snacks and refreshments. Guests can experience a variety of Western and southern Thai dishes during meals, considered by many to be the highlight of the liveaboard trip.
Deep Andaman Queen Deck Plan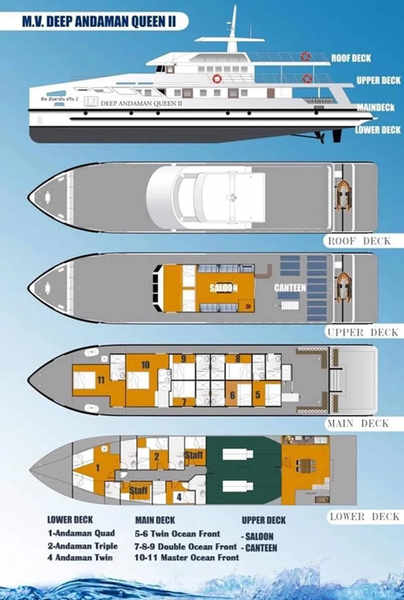 Schedule & Rates
The actual rates are based in THB. The starting price indicated above may vary based on the current exchange rate.

---
Deep Andaman Queen Rates 2023-24
All prices quoted are per person in Thai Baht. See example itineraries here
Cabin Type

4D/3N

(11 dives)

Similan

5D/4N

(15 dives)

Similan

6D/5N

(18 dives)

Similan

XM, NY

6D/5N

(18 dives)

Similan

5D/4N

(15 dives)

HD/HM/

Racha/PP

4D/3N

(11 dives)

HD/HM/

Racha/PP

5D/4N

(15 dives)

Southern

Lipe

4D/3N

(11 dives)

Racha/PP

Andaman Quad 1
25,500
33,500
46,500
42,000
33,500
25,500
36,000
25,500
Andaman Triple 2
26,800
36,000
49,500
45,000
36,000
26,800
38,500
26,800
Andaman Twin B4
30,000
40,000
55,000
50,000
40,000
30,000
42,500
30,000
TWN Ocean Front
33,500
44,500
61,500
55,500
44,500
33,500
47,500
33,500
DBL Ocean Front
33,500
44,500
61,500
55,500
44,500
33,500
47,500
33,500
Master Ocean Front
38,000
52,000
70,000
64,000
52,000
38,000
55,000
38,000
Inclusions
Accommodation on board
All meals and snacks
Transfers from hotel or airport to the boat and back
Tanks and weights and air fills
Torch/ Light for night dives
Professional divemaster services
Coffee, tea, drinking water
Exclusions
Regulator 250 THB per day
BCD 250 THB per day
Mask 150 THB per day
Fins (Full Foot) 150 THB per day
Full Set 700 THB per day
Suunto Computer 500 THB per day
15 liter tank 350 THB per day
Advanced Course: 8,000 THB
Nitrox Course: 8,000 THB, includes Nitrox dives for full trip
Nitrox for a five-day trip is 2,000 THB or 250 baht per fill
Nitrox for a six-day trip is 2,500 THB or 250 baht per fill
Thailand national park fee for a five-day trip is 1800 THB
Thailand national park fee for a six-day trip is 2,000 THB
Other Dates & Availability
For more information on other departure dates that are not listed above and on availability email us at info@bluewaterdivetravel.com or call us at +1-310-915-6677 and we will gladly help you plan your dream dive vacation!
Dive Information & Destinations

---
Similan Islands Overview
The Similan Islands have something for everyone at every age and ability.
Shallow tropical coral reefs, soaring pinnacles, with massive coral gardens and a breeding ground for the Hawksbill turtle.
Similan Islands and Richelieu Rock Further North from Similan islands are the islands of Koh Bon.
Koh Bon is nice and has shallow bays, the place you can find the Manta Rays, walls and ridges which
offer a great location to hang around to watch
Manta Ray's and the Whale Sharks.
Richelieu Rock has a collection of pinnacles that form a crescent just north of the Surin islands.
This dive site is worth several dives as its far too big to be done in one or even 2 dives to see the giant Oceanic Manta Ray, Stunning corals, unlimited macro and the largest fish in the sea, the Whale Shark are both common sights here.
Burma Overview
The best way to discover the Mergui Archipelago region in Burma is by liveaboard.
Join Deep Andaman Queen liveaboard for some of the best diving in the world.
This area only opened in the late 1990s includes islands within the archipelago and the more well-known Burma Bank which lie outside the archipelago.
Very few places can offer such a feeling of adventure, days of diving on sites with no other divers or dive boats to be seen around.
Although the Mergui Archipelago is gaining popularity, the large remote area is likely to have you as the only divers on a particular dive site.
The huge advantage of diving is to avoid the crowds and allow you to dive at your own pace and spend time to enjoy the underwater life.
EXAMPLE TRIP ITINERARIES
Similan - 4D/3N (11 dives) - CLICK HERE TO VIEW ITINERARY
Similan - 5D/4N (15 dives) - CLICK HERE TO VIEW ITINERARY
Similan - 6D/4N (18-19 dives) - CLICK HERE TO VIEW ITINERARY
HD/HM/Racha/PP - 5D/4N (15 dives) - CLICK HERE TO VIEW ITINERARY
HD/HM/Racha/PP - 4D/3N (11 dives) - CLICK HERE TO VIEW ITINERARY
Southern Lipe - 5D/4N (15 dives) - CLICK HERE TO VIEW ITINERARY
Racha/PP - 4D/3N (11 dives) - CLICK HERE TO VIEW ITINERARY
[See: Thailand Dive Travel Guide, Andaman Dive Travel Guide]
Other Information

---
Boat Specifications
Length: 31 m (101.7 ft)
Beam: 7 m (17 ft)
Draft; 2.5 m (8 ft)
Two Hino Engines: 2 X 510 hp
Two Hino generators: each with 50 kW (220 V+12 V)
Two Bauer mariner compressors: 2 X 190 plum Enriched Air (Nitrox) available
Cruising Speed: 9.5 knots
Max. Speed: 12 knots
Electricity: 220 volts/24 hours a day
Air-conditioning system: (Hino)
Water capacity: 20000 liters
Fuel capacity: 15000 liters
Guest capacity: 21 pax
Underwater Gallery

---