Scuba diving in Myanmar
---
MYANMAR DIVING HIGHLIGHTS
Relatively unaffected by tourism, Myanmar boasts a wide variety of dive sites and a diversity of species not found elsewhere in the Andaman Sea. Lesser-dived areas in the northern islands are still being explored, and the discovery of new species is not uncommon.
INTRO TO MYANMAR
A long history of oppressive military dictatorship coupled with fragile infrastructure has led to Myanmar being relatively unexplored as a modern travel destination. The country only became accessible to visitors in 1997, and from then on any diving was via Thai-operated liveaboards. However, since 2011 a civilian government and improved foreign relations have vastly improved Myanmar's desirability to the foreign traveler, and the region offers some untouched and unexplored delights that few have had the opportunity to experience.
Diving in Myanmar is focused almost exclusively around the Mergui Archipelago, a group of 800 islands covering nearly 13,900 square miles of ocean in the Andaman Sea. The only other diveable area is a series of five widely spread seamounts known as the Burma Banks. While closer to the mainland than the Banks, the diveable areas of the Mergui Archipelago are still quite remote, requiring long travel distances. This remoteness, along with relatively few dive operators, makes for blissfully uncrowded reefs; it's not uncommon to be the only boat on site for several days at a time. Liveaboards generally only cover the southern islands as the northern reaches are just too far away.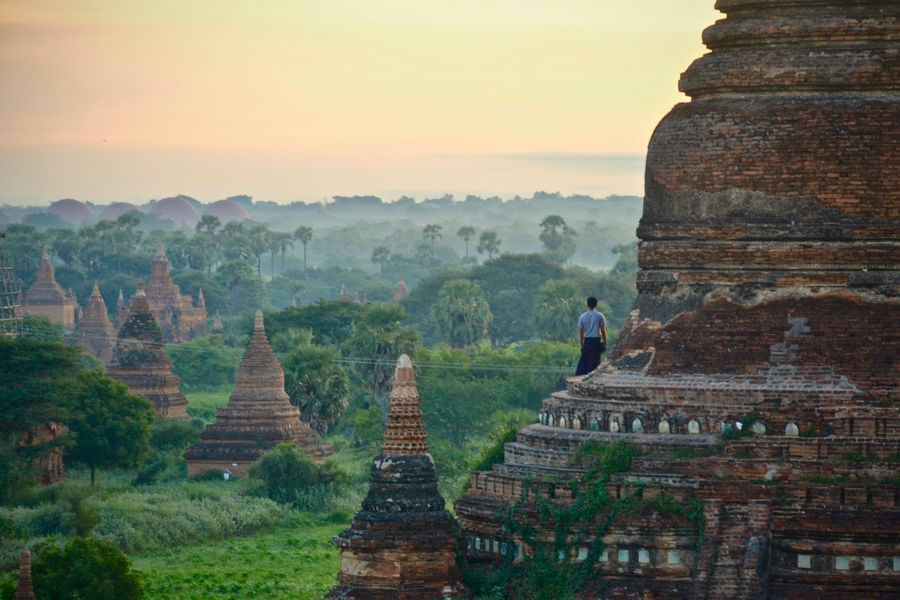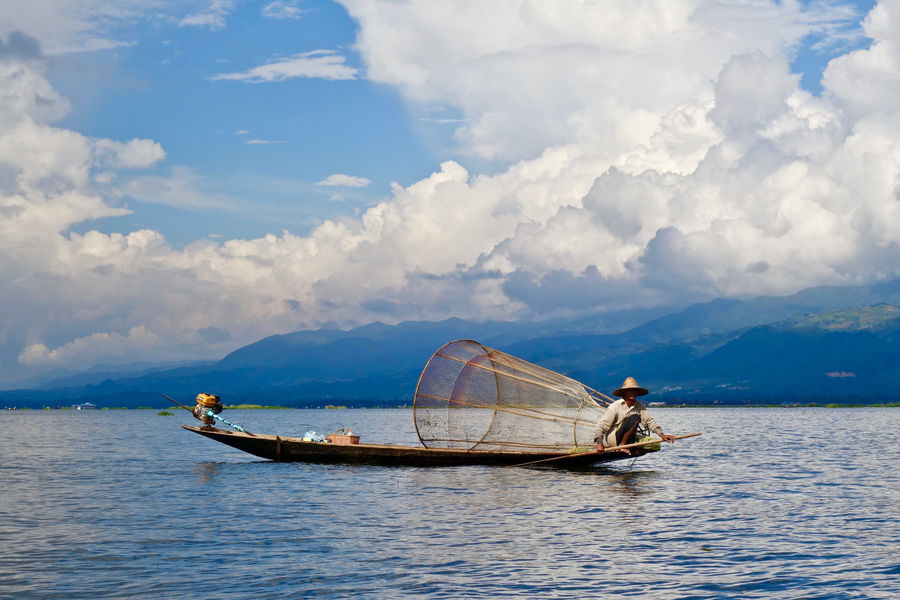 WHEN TO GO
Due to potentially heavy rain and rough seas during the southwest monsoon, diving is only offered between October and May; the most reliably good conditions being January through mid-April.
MYANMAR DIVING INFORMATION
---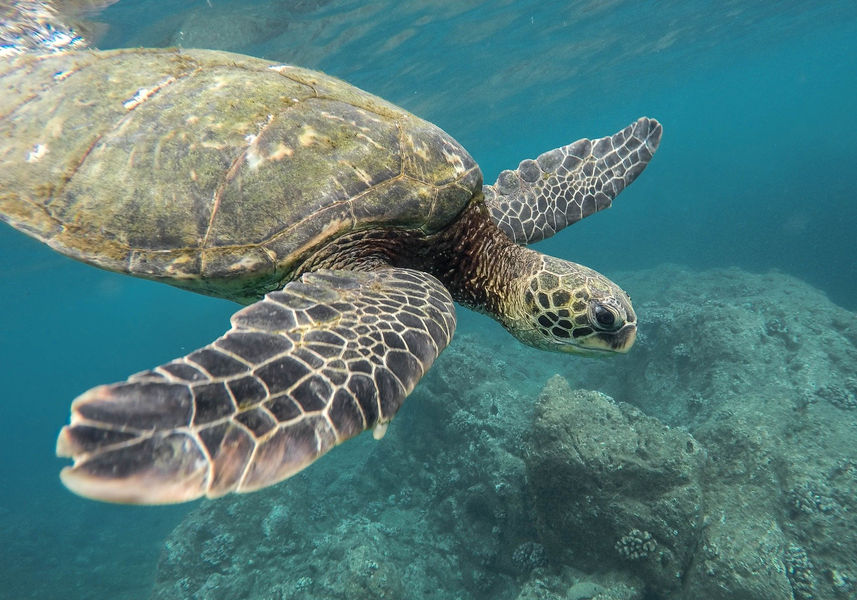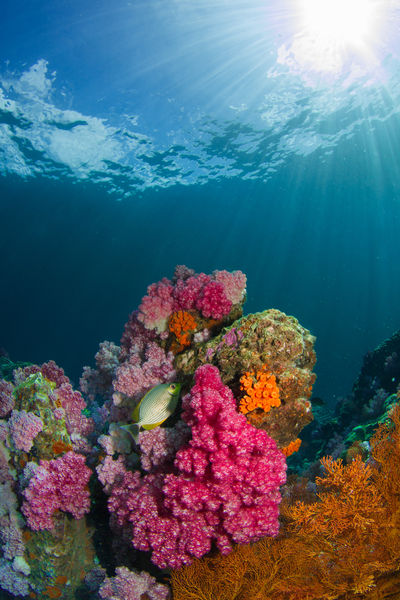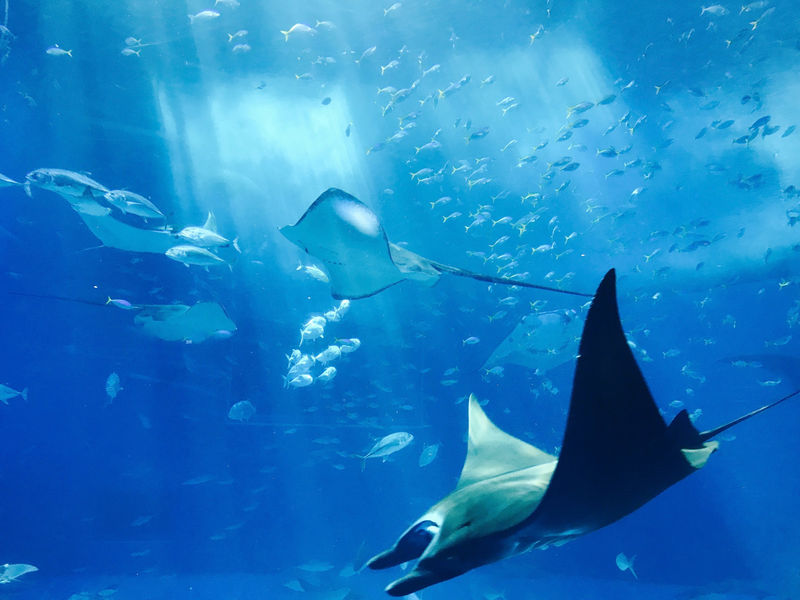 MYANMAR MARINE LIFE & PHOTOGRAPHY SUBJECTS
While Myanmar is home to most of the same species as neighboring Thailand, many sites are quite different from those across the border, making a nice contrast for those who are diving both destinations on the same trip. While Thai sites, especially those in the Similan Islands, are known mostly for coral-encrusted granite boulders and friendly reef fish, those in the Mergui are typically limestone islets, riddled with ledges and crevices, providing shelter for a wide range of "critters" and fish. A number of these species are infrequently encountered in Thai waters, making Myanmar a perfect compliment to diving south of the border. Over 700 marine species have been recorded in the Mergui, and this great biodiversity is bound to reveal some unusual and rare creatures not found elsewhere. Brisk currents sweep plankton-rich water through the archipelago's channels, feeding immense gorgonians, some so big they collapse in on themselves. These plankton blooms also bring in the big filter feeders, and whale sharks and mantas are often spotted in season.
Every reef is coated in a myriad of invertebrate life, including all manner of shells, nudibranchs, flatworms, soft corals, anemones, and other interesting creatures; keen eyes may even discover pairs of harlequin shrimp feeding on sea stars. There is also a fantastic variety of reef fish,. , with a good chance of spotting unusual species like ornate ghost pipefish, frogfish or tiger-tail seahorses. Even the rarely encountered pineconefish and lacy scorpionfish (Rhinopias) have been seen here on occasion.
Myanmar is a photographer's dream, the scarcity of other divers providing a rare opportunity for some fantastic shots. The quality and quantity of marine life far outweigh the challenges of reaching this mysterious destination. While the main attractions are mostly the unusual macro life, some sites do feature impressive wide angle scenery, and there's always the possibility of big animals showing up on any given dive.
BEST TIME TO DIVE
The dive season in Myanmar runs from October until May, and the best diving is between December and April. Boat operators and resorts close during the monsoon months of June to September due to frequently poor weather and heavy seas.
DIVING CONDITIONS
December - mid-January: While you can encounter clear or murky water any time of year, visibility can be very good early in the season, as thermoclines and plankton blooms tend to be less common than later in the year. Water temperature is between 75 and 82oF (24 and 28oC).
February - mid-April: Plankton blooms can reduce visibility to 10-15m, however, this is the best time to spot whales sharks and manta rays. Water temperature may reach 86oF (30oC).
MYANMAR DIVING DIFFICULTY
Diving in Myanmar tends to be slightly more challenging than neighboring Thailand and the Similan Islands. Both the Mergui Archipelago and Burma Banks often have strong currents, especially around the full and new moons. These currents can also reduce visibility, especially at inshore sites. Further out to sea, exposed reefs can experience swell and chop, particularly in the period approaching the annual monsoons.
BEST DIVE SITES IN MYANMAR
Here are some of the best dive areas in Myanmar.
Western Rocky
A limestone islet in the deep south of the region smothered in vibrant soft corals, orange tubastraea, and anemones, boasting a huge diversity of marine life. The site features several detached pinnacles and a 66-ft tunnel that cuts through the center of the island, adding even more excitement to an already epic dive. With far more than can be seen on one or two dives, this site easily warrants a full day of diving.
Black Rock
As far north as most liveaboards go, Myanmar's best-known dive site is a magnet for all manner of pelagics during peak season, especially mantas. Very similar to Western Rocky in size and topography, this limestone islet also boasts fantastic amounts of macro life along its steep walls, and like most Mergui sites, offers interesting features at every depth.
Three Islets
Being closer inshore than the aforementioned sites,these three rocky outcrops don't always have great visibility, but more than make up for it with their intriguing topography and wealth of unusual marine life. Offering great diving from bottom to surface and clustered within easy swimming distance of one another, these steep limestone pinnacles are honeycombed with nooks and crannies, providing shelter for a wide range of fish and critters. The main structure also features a unique canyon that funnels down to twin tunnels passing completely through the islet, a feature not to be missed.
Burma Banks
Being 60-80 miles further offshore than the Mergui Archipelago, this area is even more remote, but offers diving that is quite different from the rest of the region. Most of the Banks are fairly flat plateaus with only sparse hard coral cover, but one of them, Silvertip Bank, does feature some colorful soft corals and encrusting sponges on a steep slope. Some consider it worth the extra travel just to see this area, but the main attraction for most people was a relative abundance of sharks, especially the uber-photogenic silvertips. Sadly, the sharks have mostly been wiped out, so few operators go to the Banks these days.
These sites are all located in the south of the archipelago, where they are accessed mostly by Thailand-based liveaboards. However, new northern sites are being discovered from time to time and may become more accessible as new resorts start to appear.
MYANMAR TRAVEL INFORMATION
---
HOW TO GET TO MYANMAR
There are no direct flights from the US or Europe to Yangon International Airport (RGN), with most flights connecting in the Middle East or major Asian hubs. Once in Yangon, a 90-minute internal flight gets you to Myeik Airport (MGZ) or Kawthaung Airport (KAW). Alternatively, fly into Ranong Airport (UNN) in Thailand. Resorts generally offer transfers from these airports, which often include a speedboat journey. Unless you are planning to combine your diving with a land-based tour in Myanmar, the most practical gateway city is Ranong, which is a border town just across the water from Kawthaung.
Most liveaboards servicing the area depart from Ranong or Khao Lak in Thailand. There are regular flights from the US and Europe to Suvarnabhumi Airport (BKK) in Bangkok or Phuket International Airport (HKT), and then it's a bus or taxi ride along the coast to meet the boat.
Check out other top liveaboard destinations.
HOW TO DIVE MYANMAR
The majority of diving in Myanmar is in the Mergui Archipelago from Thai-based liveaboards. However, day-tripping and resort-based diving packages are slowly starting to become more common. Much of the coastline is still under military control, therefore all diving must be through an official dive operator.
There are very few resorts in the Mergui Archipelago, and even fewer offer diving. Those that do are on the luxury end, making the most of the area's deserted beaches and uninhabited islands. The best dive sites are spread over such a large area that it is not practical to reach them when day-tripping from a resort.
Virtually all diving in the region is by liveaboard, most of which depart from Rangon or Khao Lak in Thailand. A 7- or 10-night trip can be combined with diving the Similan Islands and/or Richelieu Rock, and the boat transit from Thailand out to Mergui takes between four and six hours.
Check out diving in Thailand or scuba trips to the Similan Islands.
OTHER THINGS TO DO
Very few visitors to Myanmar go there to dive. The country's historic temples and landmarks, as well as spectacular ruins such as Bagan, are of great cultural interest and give an insight into Myanmar's tumultuous history. The scenery is beautiful too, and visitors can trek in the Hsipaw Highlands or around Inle Lake. In the Mergui Archipelago, kayak and boating tours, snorkeling, and wildlife watching are all great activities.
OTHER USEFUL INFORMATION
---
PRACTICAL INFORMATION
Currency: Myanmar Kyat (MMK).
Language: Burmese.
Main Airport: Yangon International Airport (RGN).
Time Zone: Myanmar (Burma) Standard Time (GMT+6:30).
Electricity: 230V.
UNDERWATER IMAGES

---
Coming soon!