scuba diving in Moorea, French Polynesia
---
MOOREA DIVING HIGHLIGHTS
Moorea is well known as one of the best destinations to swim with whales. Encounters with humpback whales are something that the visitors will never forget. Not only whales, but it is also a great destination for shark diving where various shark species make appearances during dives. Turtle sightings are almost always guaranteed. Compared to the other islands in French Polynesia, you can see much more turtles around Moorea. With great underwater experiences, white sand beaches, and green covered mountains, it's truly an amazing dive destination.
Interested in diving in Moorea? See also the dive resorts in French Polynesia and contact us to find the best option for you!
JUMP TO:
INTRO TO MOOREA, FRENCH POLYNESIA
Moorea is located in French Polynesia and is also known as the little sister island of Tahiti. It provides stunning sceneries above and below water. The local people are very warm and welcoming, making you feel right at home. The relaxed vibe is another characteristic of the destination and what makes people enjoy their time there. Scuba divers and snorkelers both leave the island with incredible memories.
Moorea is the first destination on our Scuba Diving Bucket List. Check out the full list here...
Watch this video of our own amazing experience of swimming with whales in Moorea:
MOOREA DIVING INFORMATION
---
MOOREA MARINE LIFE AND PHOTOGRAPHY SUBJECTS
The incredible encounters with humpback whales are one of the main reasons people add this destination to their bucket list. Yet Moorea does not stop there, and it has plenty more to show. You can see many different shark species like the silky shark, nurse shark, lemon shark, oceanic whitetip, and grey reef shark. It is home to spotted eagle rays, stingray, and the pink whipray. Stingray World is a great spot for close encounters with stingrays. Some divers have even spotted manta rays, though they pass the Moorea waters rarely. While scuba diving in Moorea, you can see dolphins and pilot whales. Divers who love turtles won't be disappointed either. Green sea turtles and the hawksbill turtle show up very frequently.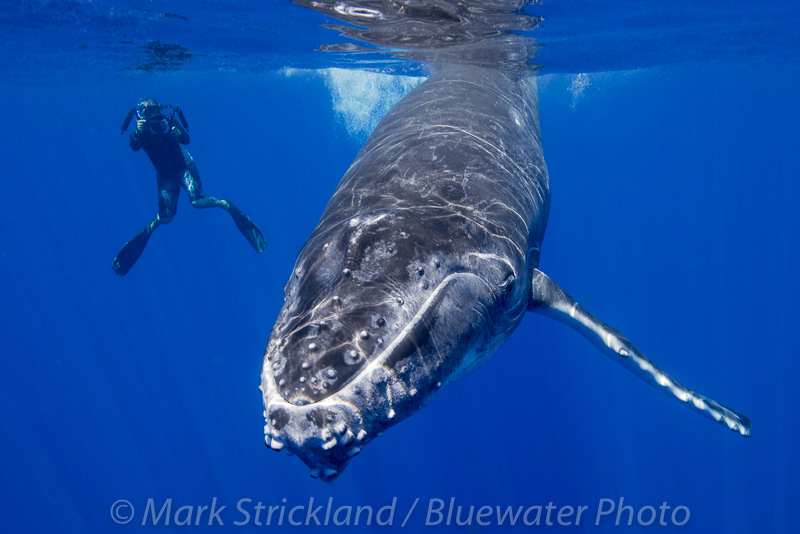 SWIMMING WITH HUMPBACK WHALES IN MOOREA
Moorea is one of the very few places in the world where you can swim with humpback whales. Seeing these giant gentle creatures so close is truly a magical experience that you will never forget. They migrate to Moorea in late summer and will leave again in November. The humpback whales come to Moorea to either nurse their young calves or find a mate. And don't be surprised to see other species, like dolphins or sharks, joining the group.
Read also our Moorea Trip Report to get an idea of how amazing this experience can be.
Interested in humpback whales? You may also want to check out our article on Diving Silver Bank, Dominican Republic.
For another exciting whale experience, read about our 2023 whale watching trip to San Ignacio, Mexico here.
BEST TIME TO DIVE
The rainy season is during the winter months of December and January. Nevertheless, the diving conditions stay good and make it diveable all year round. If you want to see the humpback whales, then the season starts in August and lasts until November 1st.
DIVING CONDITIONS
Water Temperature: Average temperature is between 79F-84F(27 - 29C).
Visibility: Ranges from 30-100ft (9-30m)
Depth Range: The average depth range is 60F (18M), which is ideal for beginner divers. Nevertheless, there are dive sites that are deeper and better suited for advanced divers.
Weather: The average temperate is around 80F (27C)
BEST DIVE SITES
Here are some of the top dive sites in Moorea, French Polynesia.
1. Lemon Shark Valley - For a great shark diving experience, head to the lemon shark valley. You can get close encounters with lemon sharks. Sometimes they appear in groups, which makes it a thrilling experience.
2. Tiki Point - This is a favorite dive spot for underwater photographers as you can encounter various critters here. It is also an excellent site for shark photography. Different shark species like lemon or blacktip sharks are attracted to the spot.
3. Tao Toi - A beautiful dive to see various marine life like napoleons, trumpet fish, trevally, lionfish, shrimp, morays, and many more.
4. The Ray's Corridor Drift - Anyone who enjoys a good drift dive should look no further. Divers drift through a natural lagoon while observing beautiful coral and reef fish. You can spot schools of eagle rays, which makes the dives extra special.
5. The Rose Garden - The best coral reefs in Moorea are located just in this dive spot. The name of the dive site comes from the rose-shaped corals that give an underwater garden feel. Divers can also see many sharks passing by. The dive site is suitable for experienced divers.
6. The Aquarium - This is a perfect dive site for beginner divers with shallow depths and sandy bottoms. You can spot butterflyfish, parrotfish, and clownfish with anemones.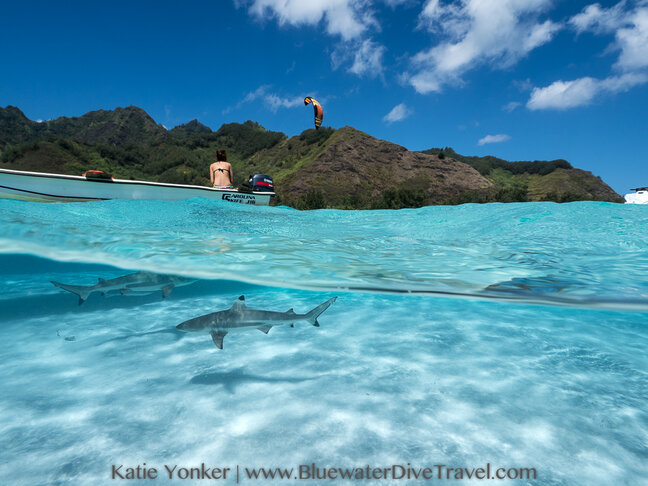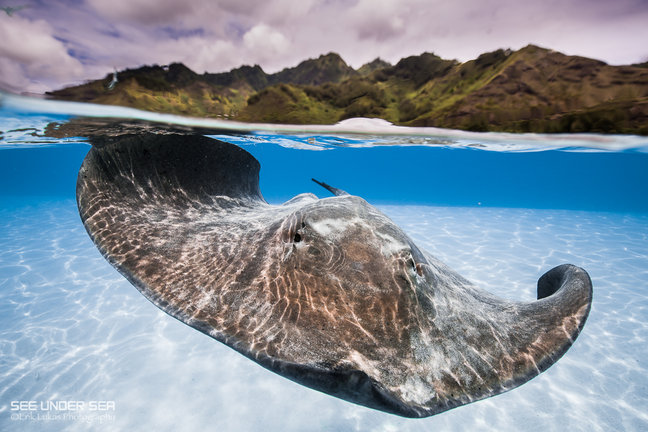 Check out our guide to diving in Fakarava, Moorea's sister island.
MOOREA TRAVEL INFORMATION
---
HOW TO GET TO MOOREA, FRENCH POLYNESIA
To get to Moorea, you must first fly to Tahiti. The Tahiti International Airport is the international airport in French Polynesia. From Tahiti, you can either take a ferry or a short flight to Moorea.
HOW TO DIVE MOOREA
Moorea has several luxurious dive resorts surrounded by a bright blue lagoon. The InterContinental Resort or the Hilton Lagoon Resort are great choices. There are also more affordable accommodations available, like Hotel Kaveka. The islands of French Polynesia are great for island hopping. Besides Moorea, you can visit and go scuba diving in other excellent spots like Rangiroa, Bora Bora, Tahiti, and Fakarava.
OTHER THINGS TO DO IN MOOREA
There is plenty to do besides scuba diving in Moorea. You can get on a kayak with a glass bottom to have a great view of the underwater world while kayaking. Watersports fans can also sail on a catamaran, go snorkeling or ride a jetski on the blue waters. You must visit the Belvedere Viewpoint for a stunning view of the valley between the volcanic mountains and bright blue bays. And don't forget to enjoy the local cuisine and see the traditional Tahitian dance.
OTHER USEFUL INFORMATION
---
PRACTICAL INFORMATION
Currency: French Pacific Franc

Language: The official language is French. English is spoken in tourist areas.

Main Airport Code: PPT

Time Zone: UTC-10

Electricity: 220 V 60 Hz
UNDERWATER IMAGES