Scuba Diving in Belize
---
Belize diving highlights
Belize diving is varied enough to please everyone from novices to seasoned divers. You'll find an abundance of coral gardens, sponges, reef sharks, rays, and small reef fish. The best diving in Belize is found on the surrounding cayes, and no dive trip to Belize would be complete without a visit to the Blue Hole, or at least Jacques Cousteau thought so!
Another thing that makes Belize a great scuba diving destination is its wide array of topside activities, including rainforest walks, cave exploring, visiting Mayan temples, bird watching, and snorkeling for travel partners who do not dive. Belize is also known as one of the few places in the world where you can scuba dive with whale sharks (not just snorkel). All this makes Belize a great destination choice for a scuba diving vacation.
Interested in diving Belize? View the live availability of some of the best liveaboards in Belize and book online at the best price or check out our sidebar for land-based options!
Looking for more options? Check out our Best Diving in the Caribbean article.
Intro to Belize Diving
Scuba diving in Belize is very colorful as part of the second largest barrier reef stretches out all the way to Belize. All the colorful sponges and Caribbean fish are effortlessly enjoyable as diving in Belize is relatively easy. Most dives are characteristic of easy Caribbean diving, with deeper reefs at 80-100ft, and shallow reefs at 20-40ft. Unlike diving in Cozumel, there is very little drift diving, and shore diving is almost unheard of due to the fringing reef. Belize diving is great for beginner divers but also offers some exciting dive sites for more advanced scuba divers.
Belize is one of the best liveaboard destinations in the world. Check out the full list here.
Watch Todd Kortte's Video recap of the 2022 Belize Trip below:
Diving the Belize Barrier Reef
One of the best dive sites in the Caribbean, the Belize Barrier Reef is the second largest of its kind in the world, and home to some spectacular diving. The reef's 400 cayes, 3 atolls, and 7 marine reserve areas make up a UNESCO World Heritage Site that stretches over 190 miles in length. The world-famous Great Blue Hole, a huge marine sinkhole in Lighthouse Atoll, attracts divers from around the globe and is a bucket-list dive.
Check out diving on the world's largest barrier reef - Great Barrier Reef Liveaboards.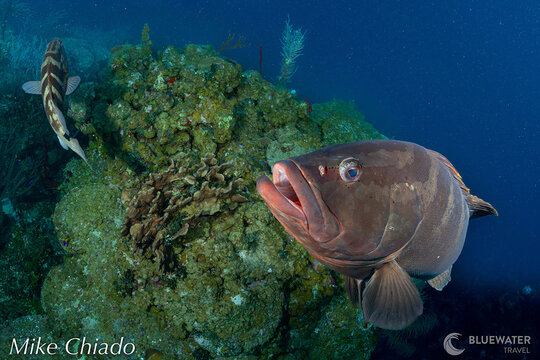 Belize diving Information
---
Belize Marine Life & Photography Subjects
Diving in Belize, you'll see commonly found Caribbean sea life, including nurse sharks, eagle rays, toadfish, barracudas, grouper, slipper lobsters, and toadfish.
Other common sightings include jawfish, eels, trumpetfish, turtles, tarpon, schools of jacks, and flamingo tongue cowrie.
You can dive with whale sharks in Belize if you visit during the right time. The few days before and sometimes after the full moons of April and May are the best times for spotting whale sharks. They pass through the Gladden Spit off the coast of Placencia, so you'll have to make a trip down there to have a chance of seeing them.
The only dive site in Belize where you cannot see much marine life, is the famous Blue Hole. Due to the depth, limited sunlight and the sheer walls, fish are not so attracted to make it their home. Some shark species can still be spotted there. Even without a bounty of marine life, diving the Blue Hole in Belize is on many divers' bucket lists.
See photos of the marine life in Belize on our sister website, the Underwater Photography Guide.
This great video contains wonderful scenes from the Belize Barrier Reef and titles to identify different marine life you can see while scuba diving in Belize.
Belize Diving Conditions
Water Temperatures: Range in high 70s from December to April and the low 80s from May to November.
Visibility: Generally very good, 40-80ft.
Depth Range: 16 - >131 ft (5 - >40m)
Belize best dive spots
Here are some of the best dive sites and Belize diving areas! Pick a dive site or read the entire list:
6. Placencia
1. The Blue Hole: This UNESCO World Heritage Site is over 400ft deep and 1,000ft wide. There's not a whole lot to see while diving the Blue Hole in Belize, other than a large blue hole and some really cool stalactites. It requires quite a long boat ride to get to and some divers find the dive to be boring. Some people enjoy the Blue Hole simply because of the depth - 140ft, and they may be suffering from narcosis. In the hole you will hit a thermocline, dropping temperatures to around 75-77 degrees, but the change is so sudden that it will feel much colder. At 140ft depth, there are some undercuts, stalactites, and a few fish.
2. Half Moon Caye: You'll likely stop here for lunch after you dive the Blue Hole. Half Moon Caye is a small tropical island home to many bird species, including the red-footed booby. Even if you are not a bird watcher, you'll love the white sandy beaches and warm shallow water surrounding the caye. There's even an opportunity for some great snorkeling right near the dock where the boats park. The Half Moon Caye Wall is one of the most popular dive sites in Belize, with a huge drop-off and lots of sharks to see.
3. Ambergris Caye: This Belize diving hotspot is close to San Pedro, encompasses the northern reefs of Belize, and is home to many resorts and good nightlife. If you want to do a lot of going out in the evening or other top-side activities, this is the area to stay. Ambergis Caye hosts a lot of good diving in Belize, and you can also do some longer full-day dive trips to the Turneffe atoll area. When diving the Ambergis Caye, you can find a large variety of marine life and fish species that cannot be found elsewhere in Belize. One of the top dive sites in Ambergris Caye is the Shark Ray Alley, where you can enjoy diving with different sharks and rays.
4. Turneffe Atoll: This is some of the better (if not the best) areas for Belize diving. Turneffe Atoll is a large offshore atoll reef with a wide variety of dive sites. The white-spotted toadfish, eagle rays, tarpon, green morays, groupers, nurse sharks, jacks, snappers, and reef sharks can all be seen here if you are lucky enough. The Elbow is one of the best dive sites at Turneffe Atoll, along with the Lighthouse Reef.
5. Hol Chan Marine Reserve: Hol Chan is Belize's first and oldest marine reserve. There are four zones to the reserve - The Reef, The Mangroves, Shark Ray Alley, and The Seagrass Beds. The Reef is a great site for night diving. You'll see plenty of stingrays, spotted lobster, sleeping parrotfish, hermit crabs and tons of moray eels out hunting.

6. Placencia: Placencia in southern Belize offers far less crowds than the Ambergris Caye area, along with some great topside wildlife areas. It is also close to many great Mayan ruins. This is also where Gladden Spit is located, where you have a chance to see a whale shark.
Belize Travel Information
---
How to Get to Belize
Where is Belize and how to get there? Situated in the Caribbean Sea and south of the Yucatan Peninsula, with Mexico and Guatemala as the neighboring countries, Belize is relatively easy to access.
From the U.S.: Luckily, there are direct flights to Belize (BZE) from major U.S. cities including Los Angeles, New York, Miami, Houston, Dallas, Atlanta, and Charlotte.
If you're coming from outside the United States, you'd likely have to make a stop in a city in the U.S.
How to get to Ambergris Caye: Once at Belize city, there are two ways to get to Ambergris Caye. One involves taking a small propeller plane and the second way is to go via a water taxi.
We recommend taking the 15-minute flight for both the time savings and the unique opportunity to see the reef from above. Maya Island Air and Tropic Air both run flights every hour from Belize City International Airport to San Pedro Ambergris Caye.
The water taxi/boat ride takes anywhere from 45 minutes to 2+ hours depending on whether the boat makes any stops along the way. Tickets can be purchased on the north side of the river at the Maritime Museum located at the foot of the Belize Swing Bridge in Belize City.
How to Dive Belize
Experience Belize diving while staying at a land-based dive resort or dive Belize from a liveaboard. The reef covers a large area so liveaboards will cover a wider range of dive sites, and potentially see more marine life than people not staying on Turneffe Island. The advantage of staying at a resort is that you can enjoy diving Belize while experiencing many additional activities, and potentially still get to some of Belize's best dive sites (depending on the resort).
View all liveaboards in Belize or dive resorts in Belize or contact Bluewater Travel for the best options!
New to liveaboard diving? Check out this article.

Best Time to Dive Belize
Belize diving conditions are generally good year-round with nice visibility and warm waters. April and May might be your best bet for all-around favorable conditions, with fewer tourists and the opportunity to see whale sharks. April to June offers the best visibility, November to April is the dry season, which also means it's high tourist season, and June to October is the rainy season.
Things to Do in Belize
An endless list of things to do await to fill up your time when you're not diving in Belize:
1. Visit ancient Mayan Ruins - include Lamanai, Xunantunich, Altun Ha, and Cahal Pech.
2. Caving - Whether by foot or inner tube, a tour within the Caves Branch System and is a good starting point for your Belize cave explorations.
3. Enjoy the scenic drive through the countryside - Belize City aside, this little country is blessed with a beautiful rainforest pretty.
4. Explore Ambergris Caye - This area hosts a lively nightlife scene. You can also find a good number of shops and restaurants.
5. Wildlife and birdwatching - Belize has amazing wildlife. Bird watching is very popular, especially for species like the macaw, toucan, motmot, boobies, and storks. Animals include howler monkeys, sloths, lizards, armadillos, peccaries and the rarely seen but omnipresent jaguar & tapir.
Belize Liveaboards

---
Other Useful Information
---
Belize Practical Information
Covering approximately 8,800 square miles with a population of less than 350,000, Belize is the most sparsely populated country in Central America. It's relatively cheap and easy to get to from the US, their currency is pegged to US dollar (2:1), and English is the native language - all factors that make Belize diving a popular choice for American travelers.
Currency: Belize Dollar (BZD)
Language: English is the official language of Belize
Main Airport Code: BZE
Time Zone: UTC-6
Electricity: 110 / 220 V 60 Hz