By bettyr | Date: 17 Mar' 2020
There's no doubt that divers choose their vacation destinations based on the quality of diving, however, selecting the right dive resort can make or break your trip. Here at Bluewater Travel, our staff has extensive knowledge and first-hand experience of some of the best dive resorts in the world. Here are their 'top picks'.
World's Best Dive Resorts
Pick a destination or scroll down to read the entire list:
Selected by Erik Lukas, Bluewater Trip Leader and Professional Photographer
Located on the northwest coast of Bali, the Mimpi Resort Menjangan is a family-run resort nestled in a private inlet perfectly situated for diving the best of Bali's northwestern dive sites. Traditional-style bungalows are dotted throughout peaceful waterfront grounds, and the restaurant looks out over the beach and small marina filled with traditional Balinese fishing boats. From the luxurious swimming pool, complete with hot spring pools that are amazing after a day's diving, to the extensive grounds, the entire property is quiet and well maintained.
"It really comes across as more than just a dive resort… and would make a perfect location for divers and non-divers alike."
Of course, diving in Menjangan is also incredible. Amazing walls, very healthy reef, and more than enough macro to satisfy the critter hunters. Mimpi Dive Centre offers a dedicated and experienced team, well-maintained equipment, and a passion for quality that combined puts safety as their number one priority.
Best for: Macro enthusiasts and those with non-diving partners, looking to relax and get away from it all.
---
View the Mimpi Resort Tulamben Rooms, Reviews, Photos & Special Rates!
---
Atmosphere Resort & Spa, Dumaguete, Philippines
A favorite of Scott Gietler, Owner of Bluewater Travel, Bluewater Photo, and the Underwater Photography Guide
One of the best luxury dive resorts in the Philippines, Atmosphere Resort & Spa is beautifully situated in an old coconut plantation on the island of Negros Oriental. The private beachfront location, three pools, blissful spa, and a host of family-friendly activities leave guests wanting for nothing during their stay. Tastefully styled suites and apartments, some with private pools, boast modern amenities, terraces, and tropical garden views.
"Others, like Atmosphere Resort… reward you with treasures every day, until they have to drag you from the resort on the last day."
The diving at Dumaguete is world-class, offering the perfect mix of everything a scuba diver could want; excellent muck diving, rare critters, and fantastic wide-angle opportunities at Apo Island. The resort dive center has private dive equipment storage spaces, with guides highly skilled in spotting even the smallest macro.
Best for: Families or groups of divers and non-divers, keen to experience a wide range of excellent diving.
---
View the Atmosphere Resort & Spa Rooms, Reviews, Photos & Special Rates!
---
Volivoli Beach Resort, Fiji
Memorable for Tim Yeo, Bluewater Travel Adviser and Trip Leader
Located on top of a hill overlooking the surrounding sea and mountains, Volivoli Beach Resort is the ultimate Fijian diving paradise. Every room has an ocean view, and the modern premium villas are excellent value, especially for couples. The three beachfront bars with multiple happy hours make it easy to get a drink after a day of diving, and the restaurant has an extensive menu serving a mouth-watering array of locally inspired cuisine.
"Volivoli is my favorite dive resort... with some of the best soft coral diving in the world".
Volivoli Beach Resort is just a short boat ride from the Vatu-I-Ra passage, home to exceptional shark diving and world-famous dive sites such as Mellow Yellow and Black Magic Mountain. Ra Divers, one of the longest established centers in Fiji, have 18 years of expertise in and around the Bligh Waters.
Read more about why Volivoli is one of Bluewater Dive Travel's Preferred Partners.
Best for: Couples looking for a great holiday with some fantastic diving to boot.
---
View the Volivoli Beach Resort Rooms, Reviews, Photos & Special Rates!
---
Sorido Bay Resort, Raja Ampat, Indonesia
A highlight for Mark Strickland, Bluewater Trip Leader and Professional Photographer
Nestled in tropical jungle on Kri Island's Sorido Bay, this private beachfront resort exudes personalized service and famous Indonesian hospitality, showcasing a passion for its local roots. Large, luxurious cabins with splendid views of the Dampier Strait are tastefully decorated with local art and boast modern amenities you wouldn't expect in such remote surroundings. In spite of the facilities you're never far from nature, and the resort's passion for conservation makes it the ideal getaway for wildlife lovers and divers alike.
Located next to the most diverse marine ecosystem in the world, Sorido Bay's Papua Diving pride themselves in a unique knowledge of the local area developed through conservation and community activities with the Papuan people.
"The marine environment is extremely healthy, biodiversity is amazing, and the scenic beauty is absolutely stunning both above and below the waterline."
The resort also features a computer lab for photo and video editing and a well-stocked marine life library.
Best for: Wildlife enthusiasts and luxury lovers alike.
---
View the Sorido Bay Resort Rooms, Reviews, Photos & Special Rates!
---
Magic Oceans Dive Resort, Bohol, Philippines
Chosen by Maya Hanna, Bluewater Travel Adviser
Located on the lush green island of Bohol, the secluded Magic Oceans Dive Resort sits on the seafront surrounded by rocky walls covered in jungle, fruit trees, and tropical flowers. Deluxe cottages are modern, with touches of traditional decor and spacious but cozy terraces.
The poolside restaurant serves a wide range of freshly made dishes in Filipino, Asian, and Western-style, while the brand-new spa facility is perfect for non-divers on holiday, and divers who want to relax and pamper themselves after their dives.
With nearly 10 miles of coastline offering all sorts of diving and marine life, the diving options here are limitless. The resort's large dive center is fully equipped with a dedicated camera area and enough space for every customer to store and hang their equipment.
Best for: A fully immersive getaway.
---
View the Magic Oceans Dive Resort Rooms, Reviews, Photos & Special Rates!
Or find out about sister Moalboal dive resort Magic Islands Dive Resort.
---
Presidente InterContinental Resort and Spa, Cozumel, Mexico
Selected by Shannon Crosby, Bluewater Travel Adviser
While the majority of resorts in Cozumel are geared towards the cheaper 'all-inclusive' market, Presidente caters to divers looking for a more tailored experience. The resort exudes class, mainly down to its extremely modern design and decor, amazing food, and excellent staff, keen to indulge every request. Set on half a mile of private, white sandy beach, lavish rooms with private balconies or terraces offer an atmosphere of tranquility that makes for an unforgettable vacation.
"By far the nicest dive resort in Cozumel!"
In-house dive center, Scuba Du, has a strong emphasis on safety and quality with many years of experience around Cozumel's fantastic dive sites. Divers will find eagle rays in the winter months, reef sharks in the summer months and turtles and nurse sharks year-round.
Best for: A luxury break and exceptional diving without long travel distances.
---
View the Presidente Intercontinental Resort and Spa Rooms, Reviews, Photos & Special Rates!
---
Misool Resort, Raja Ampat, Indonesia
A favorite of Katie Yonker, Bluewater Travel Adviser, and Trip Leader
Built entirely of reclaimed timber and with conservation at its heart, this remote eco-resort offers the utmost in privacy and seclusion. Exclusive traditional-style villas and cottages are dispersed around the private island's pristine beaches, creating a unique tropical hideaway.
"To say the resort is beautiful is an understatement. The azure blue lagoon fringed with overwater bungalows is paradise found."
As the only dive resort in the area, Misool Resort has exclusive access to southern Raja Ampat's untouched reefs, festooned with wildly colorful soft corals, expansive hard coral gardens, massive gorgonian sea fans, and rich reef life. The dive center's large, airy building is well suited to photographers and videographers.
Best for: Those with an environmental conscience, looking for the ultimate tropical hideaway.
---
View the Misool Resort Rooms, Reviews, Photos & Special Rates!
---
Crystal Blue Resort, Anilao, Philippines
Memorable for Scott Gietler, Owner of Bluewater Travel, Bluewater Photo, and the Underwater Photography Guide
In a tropical, oceanside setting, Crystal Blue Resort offers a finer quality of lodging perfectly placed to experience Anilao's excellent scuba diving and underwater photography opportunities. What guests love about this resort is the attentiveness of their staff, always on the lookout to assist in whatever way possible. Comfortable facilities, delicious buffet-style food, and a real focus on diving and photography make this a hidden gem.
"Cameras were kept in the state-of-the-art camera room, considered by many to be one of the best designed in the world."
Crystal Blue Resort is conveniently located in front of Arthur's Rock Marine Sanctuary, one of the best muck-diving locations in the world. Their valet-style approach means you don't need to handle your gear - the crew will have it on the boat ready to go for each dive!
Best for: Photography enthusiasts where everything is geared towards the diving.
---
View the Crystal Blue Resort Rooms, Reviews, Photos & Special Rates!
---
Delfins Beach Resort, Bonaire
Chosen by Gill Flaherty, Bluewater Group Trip Advisor
Situated in lush tropical gardens on Bonaire's west coast, Delfins Beach Resort offers luxury accommodation with a relaxed Caribbean vibe, and access to some of the best shore diving in the world. High-end, spacious apartments, many with stunning sea views, are tastefully decorated with modern fittings and private terraces. Featuring Bonaire's largest swimming pool, and a trendy beach and pool bar, Delfins takes advantage of its picturesque location to create a memorable experience.
The resort's in-house dive center, Dive Friends Bonaire, is the island's predominant dive operator, seamlessly crafting a relaxed approach with a high level of service. A private pier gives customers access to some fantastic shore diving straight off the beach.
Best for: A high-end break where the pace of life (and diving) is simple and relaxed.
---
View the Delfins Beach Resort Rooms, Reviews, Photos & Special Rates!
---
Wakatobi Dive Resort, Indonesia
A highlight for Nirupam Nigam, Bluewater Trip Leader and Editor-in-Chief of the Underwater Photography Guide
A remote luxury resort, Wakatobi Dive Resort is known globally for being one of the best dive resorts in the world. Excellent service, quaint beach-side bungalows, and a relaxed air of tranquility combine to create an exceptional all-inclusive experience.
"As soon as you arrive by charter plane, the whole experience is like a dream."
Located right next to the exceptional reefs of Wakatobi Marine Park, the dive center offers a comprehensive range of equipment and support, the dive guides are second to none and the diving is some of the most diverse in the world. The price tag does reflect the experience!
Best for: Those seeking the utmost in luxury, service, and diving.
---
View Wakatobi Dive Resort's Rooms, Reviews, Photos & Special Rates!
---
MEET Our Experts
OUR TRAVEL ADVISORS ARE THE BEST IN THE INDUSTRY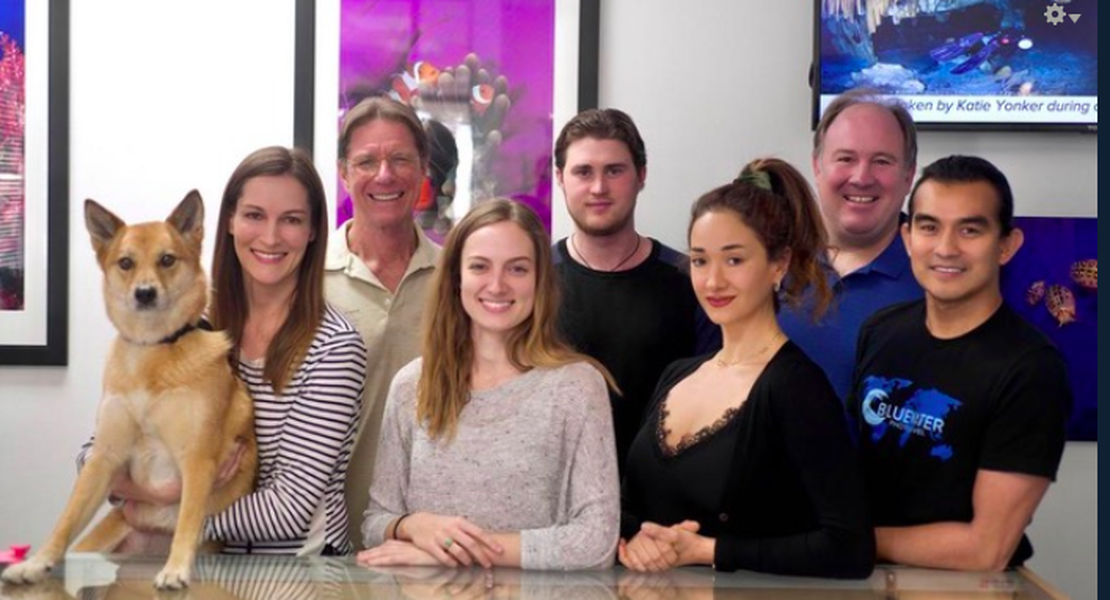 Our travel advisors have decades of combined dive and underwater photography experience worldwide. This large, dedicated team allows us to match you with an advisor who is not only an expert on the region you're interested in visiting, but also knowledgeable about your style of travel. So, what makes the team special? Each travel advisor brings unique skills and experience to the team, from previous jobs as cruise directors to photo pros to expats who have immersed themselves in the local diving. Our advisors have spent time diving with Bluewater Travel's partners and can provide general recommendations while also addressing specific concerns. Many travel advisors will be leading group trips and photo workshops during the year, presenting many opportunities to dive with the team. This personal touch, along with the lowest pricing, will help you plan the trip you've been dreaming about.
Read more about the BWT team here.
Scott Geitler is the owner of Bluewater Travel, Bluewater Photo, and the Underwater Photography Guide

.

Email Scott




Tim is a Travel Advisor for Bluewater Travel and also is a PADI and SDI Instructor with Eco Dive Center on the weekends.

Email Tim



Katie Yonker is the Director of Operations and a Travel Advisor for Bluewater Travel. Join Katie on one of her next dive adventures in

Solomons

(May/June '21).

Email Katie






Gill Flaherty is Group Trip Advisor for Bluewater Travel and is also a PADI and TDI Instructor from her base in Cyprus.

Email Gill






Nirupam Nigam is one of the world's few full-time underwater photography editors. Join Nirupam in

La Paz (Oct '20), or the Sea of Cortez (Jul '21) Email Nirupam



Maya Hanna is a Travel Advisor for Bluewater Travel and also is a PADI Instructor on the weekends.

Email Maya

Shannon Crosby is a Travel Advisor for Bluewater Travel and is also a PADI and SDI Instructor on the weekends.

Email Shannon