By bettyr | Date: 13 Jun' 2019
Located in Indo-Pacific's Coral Triangle and boasting over 7,000 islands,
the Philippines is home to some of the world's best scuba diving
. With pristine coral reefs, lush coral gardens, huge schools of fish, rare critters, manta rays, and even whale sharks--there's something for everyone in the Philippines!
On top of all that, the hospitality of the Philippines dive staff, assortment of amazing dive resorts and liveaboards, along with the warm waters and picturesque landscape will give you some of the best memories in your entire scuba diving life.
With so many islands and amazing dive spots, deciding on the best place to dive in the Philippines is no easy task. But, worry not! We've rounded up a list of the best scuba diving destinations in the Philippines complete with information on what to see, when to go and where to stay, so that you can pick the perfect spot for your next Philippines dive vacation, hassle-free!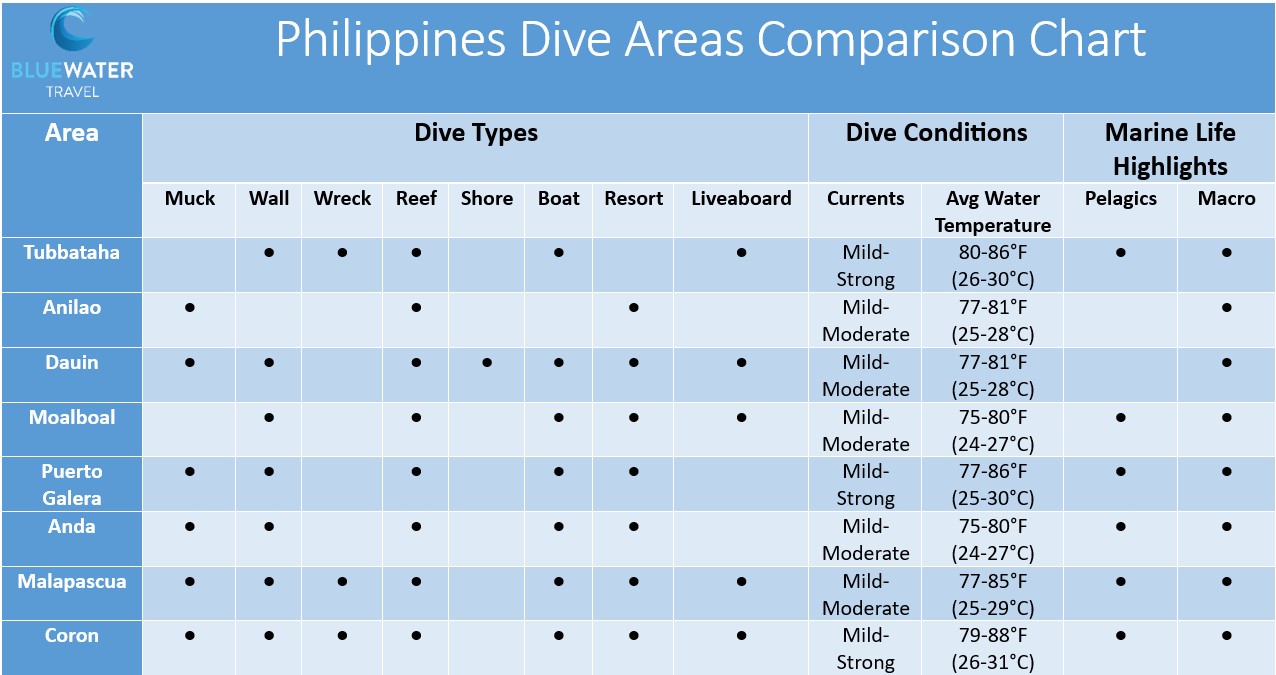 Philippines' Best Diving Spots
Pick a destination or scroll down to read the entire list:
1. Tubbataha Reefs Natural Park - Highest Biodiversity
2. Anilao, Batangas - Best Muck Diving
3. Dauin, Dumaguete - All-In-One Luxury Destination
4. Moalboal, Cebu - Mind-Blowing Sardine Baitball
5. Puerto Galera, Mindoro - Beautiful Beaches + Diverse Dives
6. Anda, Bohol - Bohol's Hidden Gem
7. Malapascua, Cebu - Thresher Sharks + Macro
8. Coron Bay, Palawan - Easy WWII Wreck Diving
9. Other Great Places in the Philippines
BONUS #1: Best Time to Dive
BONUS #2: Flight Information
Can't wait to start planning your trip to the Philippines? View the live availability of some of the best liveaboards in the Philippines or check out our area guide for choosing the best dive resort in the Philippines!
Highest biodiversity
Tubbataha Reefs Natural Park is a UNESCO World Heritage Site located in Palawan, in the heart of the Sulu Sea. Many would agree that Tubbataha is the best diving spot in the Philippines, and one of the most biodiverse diving spots on earth.
Pristine coral reefs, the richest marine biodiversity in the country, and pelagic action. Big or small, Tubbataha has them all.

Tubbataha is home to no less than 600 species of fish, 360 species of corals (about 50% of the coral species in the world), 11 species of sharks (including tiger sharks, whale sharks, and whitetips), 13 species of dolphins, and whales, nesting hawksbill and green sea turtles. You can also see manta rays, schools of barracuda and tuna, and smaller marine life like nudibranchs, ornate ghost pipefish, seahorses, and frogfish.
"Tubbataha boasts incredible biodiversity, pristine coral reefs and, and a chance to dive with large marine animals. The water temps are warm and visibility is often excellent, making it perfect for great photo ops." - Bluewater Travel Advisor & Trip Leader Katie Yonker.
Amos Rock is often cited as the best dive site in Tubbataha, boasting colorful soft corals, massive schools of fish, large reef sharks and a gorgonian-covered wall. Washing Machine in the North Atoll is known for some of the best visibility within the marine park and is home to grey reef sharks and plenty of tropical reef fish. You might even see a whale shark or two if you're lucky! Black Rock in the South Atoll is a popular dive spot for whitetip sharks, rays and schools of grouper and giant trevally.
Learn more on Tubbataha diving
Where to Stay
Tubbataha can only be accessed via a liveaboard.
A week-long liveaboard trip is the norm in Tubbataha, but you can find longer "transition" trips offered in combination with other areas in the Philippines, including Dauin, Apo Island and Cabilao. The diving season of Tubbataha Reefs lasts only from February/March to June when the sea conditions are at the calmest and the weather is hot and dry. Due to the short diving season liveaboard trips in Tubbataha fill up early, so planning your trip in advance would be a great idea.
There are at least a dozen of liveaboards to choose from in Tubbataha.
Nirvana is a brand-new 131-foot (40-meter) luxury liveaboard in the Philippines, catering up to 22 divers in 11 spacious cabins. You'll find an extensive range of great amenities aboard, including a spacious sun deck with a jacuzzi, and an impressive 'Al-Fresco' Bar!
Philippine Siren is a great option in Tubbataha. This beautiful 131-foot (40-meter) Phinisi-style yacht features spacious and modern cabins, plenty of space on the main deck for divers and underwater photographers, and exceptional chef-prepared meals.
View all liveaboards in Tubbataha
HOW TO GET THere
To get to Tubbataha, you have to fly into Manila (MNL) and take a domestic flight to Puerto Princessa (PPR) which takes a little over an hour. A typical liveaboard trip to Tubbataha would usually depart from Puerto Princessa. The navigation takes around 10 hours.
Diving Conditions
Visibility: 32 to 114 feet (10-35m depending on the tides)
Non-Diving Activities: Tubbataha is suitable for snorkelers.
Required Skill Level: Intermediate to Advanced recommended. Strong currents might be present at some of the sites.
---
2. Anilao, Batangas
best muck diving in the Philippines
Only a 2-hour drive away from Manila lies Anilao, one of the world's best macro photography destinations. Boasting a wide array of rare critters, it's literally a heaven-on-earth for muck diving, blackwater diving, and macro photography.
"Anilao offers some of the best diving anywhere in the world for those looking to explore the macro world. The diversity, density, and quality of subjects is simply beyond belief. Offering dives on beautiful and healthy coral sites, to barren sand flats, Anilao has it all. Being so close to Manila, it is also one of the most easily accessible dive destinations, which is a major benefit for those of us who travel from the US and Europe." - Photo Pro & Bluewater Trip Leader Erik Lukas
The long list of small-scale sea life and critters that you can find in Anilao include nudibranchs, frogfish, seahorses, cuttlefish, pipefish, and...so much more. But don't leave your wide-angle lens at home. Beautiful coral reefs, turtles, huge schools of jacks, jellyfish, and the occasional reef sharks await in Anilao.
Prepare your critter list with this comprehensive guide on muck diving.
Secret Bay, also known as Manit Muck, is probably the best muck dive site in Anilao. Here, you can find mimic octopus, wonderpus, pipefish, frogfish, and the list goes on. Don't forget to dive Manit at night to see this wonderful site come to life.
The Pier, along with Secret Bay, is among the highly requested dive sites during our annual macro photography workshops in Anilao. You can find the much-sought-after bobbit worms and stargazers! Twin Rocks is great for macro and wide-angle alike, with pristine soft corals, schooling jacks, and plenty of small fish. Beatrice is a great wide-angle site with colorful corals teeming with anthias and other reef fish.
The diving season in Anilao is year-round.
Learn more on Anilao diving and read about our last trip there from our Anilao Dive Report.
Where to Stay
Diving in Anilao is predominantly land-based. There are plenty of great dive resorts in Anilao.
Here at Bluewater Photo & Travel, we have been running macro photography workshops at Crystal Blue Resort in Anilao for the past 10 years. Located in Bagalangit, the heart of Anilao, the resort has everything an avid diver and underwater photographer needs--comfortable rooms, easy access to the dive sites, knowledgeable dive guides, and top-notch photography amenities.
Aiyanar Beach & Dive Resort in Anilao is a great 4-star dive resort, featuring an infinity pool, spacious and stylish rooms, a clubhouse, well-equipped dive center, and photography facilities, and more!
See our exclusive deals in Anilao
Interested in macro photography? Join our photo workshops at Crystal Blue Resort in Spring 2024. Daily workshops provided at no extra cost!
is there a liveaboard in Anilao?
Yes and no. You can find a few liveaboard trips sailing from or to Anilao in combination with other regions in the Philippines, but these trips usually don't offer any scuba diving in Anilao itself. However, these trips are great options for those looking to live longer in the Philippines.
Solitude One is a majestic 170-foot (52-meter) liveaboard vessel, which offers Anilao to Anilao trips in the summer months. These week-long trips take you to various great dive regions in the Philippines, notably the superb Verde Island, Romblon--another great place to visit for macro photography aficionados--and Ticao which offers a high chance to see manta rays. There's even a variation that takes you to dive with thresher sharks in Malapascua.


HOW TO GET TO ANILAO
Anilao is one of the easiest Philippines scuba diving destinations to get to. Fly into Manila (MNL) and Anilao is only a 2-3 hour ride from the Manila airport. Most resorts offer return transfers, sometimes for free, so getting there and back is really a breeze. See how to get to the Philippines.
DIVING CONDITIONS
Wetsuit: 3mm full wetsuit with booties
Visibility: Avg. 40 to 50ft (10-15m)
Non-diving activities: Snorkeling and kayaking
Required Diving Skill Level: Anilao is beginner-friendly since most of the sites are not deep and strong currents are rarely present.
---
3. DAUIN, DUMAGUETE
Best all-in-one luxury dive vacation Spot in the Philippines
Situated on Negros Island lies another world-class diving destination for macro photography, Dauin. Most of the best dive sites are located along the coastline of Dauin, which is 20 minutes away from the City of Dumaguete itself.
The Dumaguete area is best known for its excellent muck diving, great coral reefs nearby, and its assortment of luxurious beachfront dive resorts which are relatively affordable compared to other diving destinations in the world. Most Dumaguete dive resorts also offer a day trip to Oslob where you can swim and snorkel up-close with whale sharks.
"What makes the diving in Dumaguete really special is that many of the dive sites have great coral reefs filled with fish, right alongside muck sites. This means that a hard-core macro photographer diving with family or friends can go to the same dive site together, and have different dive guides for different underwater experiences." - Scott Gietler
Apo Island is a small marine preserve located 30-40 minute boat ride away from most dive resorts, known for its healthy coral gardens, massive schools of fish, sea snakes, and sea turtles. Coconut Point at Apo offers a thrilling drift dive experience over a sloping wall where bumphead parrotfish and marbled groupers can be seen while green sea turtles cruise effortlessly in the currents.
The variety of marine life that you can find along the Dauin Coast includes various types of frogfish, dragonets, pipefish, nudibranchs, blue-ring octopuses, bobtail squids, mandarin fish, seahorses, cardinalfish (with eggs), various shrimps and crabs.
The main diving season in Dumaguete is October to early June, but the prolific marine life of Dauin can be found all year round, so there's no worry of missing out.
Learn more on Dumaguete diving and read about our latest trip from Dumaguete Dive Trip Report.


WHere to stay
Here comes the fun part. Some of the best luxury dive resorts in the country can be found here in Dumaguete.
Atlantis Dive Resort is an amazing option for anyone looking for an all-inclusive tropical dive vacation, within proximity to Dauin's best dive sites. The resort features spacious and comfortable rooms, a well-equipped dive center and photography facilities, a great ocean-front restaurant and bar, spa services, and just about everything else that a diver or underwater photographer would need.
Atmosphere Resort & Spa is one of the best luxury dive resorts in Dumaguete. With 3 amazing pools, impeccable diving services, great food, a godsend babysitting service, and an otherworldly spa, Atmosphere Resort has everything that a diver (and a parent) could want or need and more! They make traveling with young kids, not only possible but much easier!
See our exclusive deals in Dumaguete
HOW TO GET TO DAUIN
From Manila (MNL), you can take a quick 45-minute flight to Dumaguete (DGT). Many luxury resorts like Atlantis Dive Resort and Atmosphere Resort & Spa offer return transfers free of charge. Dauin, where most of the resorts are, is only half an hour away from Dumaguete. See how to get to the Philippines.
DIVING CONDITIONS
Visibility: 30–40 ft in Dauin, 60-90 ft in Apo Island
Non-Diving Activities: Snorkel with whale sharks at Oslob, soak up the sun, eat and drink very well at the luxury resort of your choice, and try out all the different spa treatments available at your resort
Required Diving Skill Level: Dauin's dive sites are relatively easy to dive for all divers, experienced or not.
---
4. MOALBOAL, CEBU
the place to go for sardine run in the Philippines
Moalboal in Cebu is best known for its Sardine Run, the world-renowned humongous sardine bait ball which can be witnessed at Panagsama Beach. Up to 7 million sardines are estimated to reside here. Imagine that!
You can scuba dive, snorkel, or freedive to witness this mind mind-blowing (and vertigo-inducing) event. That's right! No scuba diving equipment necessary!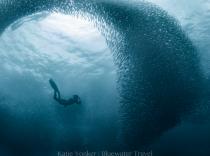 Scuba diving in Moalboal is diverse and very vibrant. Think big schools of fish, beautiful walls, canyons and caves, and fascinating macro life. Pescador Island offers some of the best dives in the Philippines, featuring a dramatic wall with colorful soft corals teeming with anthias. Then there is a large cathedral on the west side of Pescador which makes a nice background for dramatic underwater shots. You can also see schools of barracuda, beautiful caves, reef sharks, and also smaller marine life like nudibranchs and frogfish.
"Moalboal boasts one of the most exciting dives I've done at Panagsama Reef. Here, massive schools of sardines, swirl in mesmerizing patterns as snorkelers on the surface dive down to swim through them. Also in Moalboal is Pescador Island - a diver's playground complete with caverns and swim-throughs which make for stunning photos when the lighting is right." - Bluewater Trip Leader/Travel Advisor Katie Yonker
Magic Point, the house reef of Magic Island Dive Resort, is a great dive site to see mating mandarin fish, frogfish, turtles, schools of jack, and pristine reefs with hard and soft corals. Other great sites include Talisay Wall, a beautiful slope and wall with plenty of caves to explore, lots of black coral, batfish and barracuda, and Tuble Reef which is known for its caves and forest of sea fan corals.
If you're more of a "big animal" fan, you can head to Oslob to swim with whale sharks. It's only a 2-hour drive away from Moalboal and many resorts offer a day trip to Oslob as an optional activity. Some, like Magic Island Dive Resort, would even include it for free with their all-inclusive package.
Moalboal's diving season is year-round.
Learn more on Moalboal diving and read about the sardine run in Moalboal from our Visayas Trip Report.
Where to Stay
Dive resorts and dive centers can be easily found in Moalboal.
Magic Island Dive Resort is a great dive resort located in the quiet southern part of the peninsula, within proximity to Moalboal's top sites. This intimate boutique resort consists of 10 bungalows with en-suite bathrooms and private balconies, offering either a sea or pool view, and features a well-equipped dive center with knowledgeable dive staff.
Liveaboards often include Moalboal and Pescador Island as one of the highlights of the trips that visit the Visayas. The Philippine Siren offers such trips from June to February, when they are not sailing in Tubbataha.
Note that liveaboard itineraries are subject to change, depending on sea and weather conditions. Double-check with your travel advisor and or dive operator prior to booking a liveaboard trip if you want to visit certain dive sites.
See our exclusive deals in Moalboal.
HOW TO GET to Moalboal
The easiest way is to get to Moalboal is to fly internationally into Cebu (CEBU). Most dive resorts in Moalboal offer transportation from and to the airport, which usually takes 2 to 4 hours one-way.
See how to get to the Philippines


DIVING CONDITIONS
Visibility: 30 to 100+ ft (10-30m+)
Non-diving activities: Swim with whale sharks at Oslob, or snorkel and freedive around Moalboal
Required skill level: Beginner to Advanced.
---
5. PUERTO GALERA, MINDORO
Diverse diving hotspot with beautiful beaches
Puerto Galera is one of the most popular diving destinations in the Philippines–and all for good reasons! One of the most enticing aspects of Puerto Galera is the extensive range of dive spots, combined with its beautiful beaches. Whether you're into macro or wide-angle photography, a beginner or advanced diver...or even if you don't dive at all, there's something for everyone in Puerto Galera!
"Topside, Puerto Galera is a social place, with easily walkable restaurants, picturesque happy hours on piers overlooking the water, and small shops. Underwater, it offers diverse diving including great macro within a 10-minute boat ride and incredible wide-angle including nice corals and huge sea fans at nearby Verde Island. Also easy to combine with Anilao." - Bluewater Owner, Scott Gietler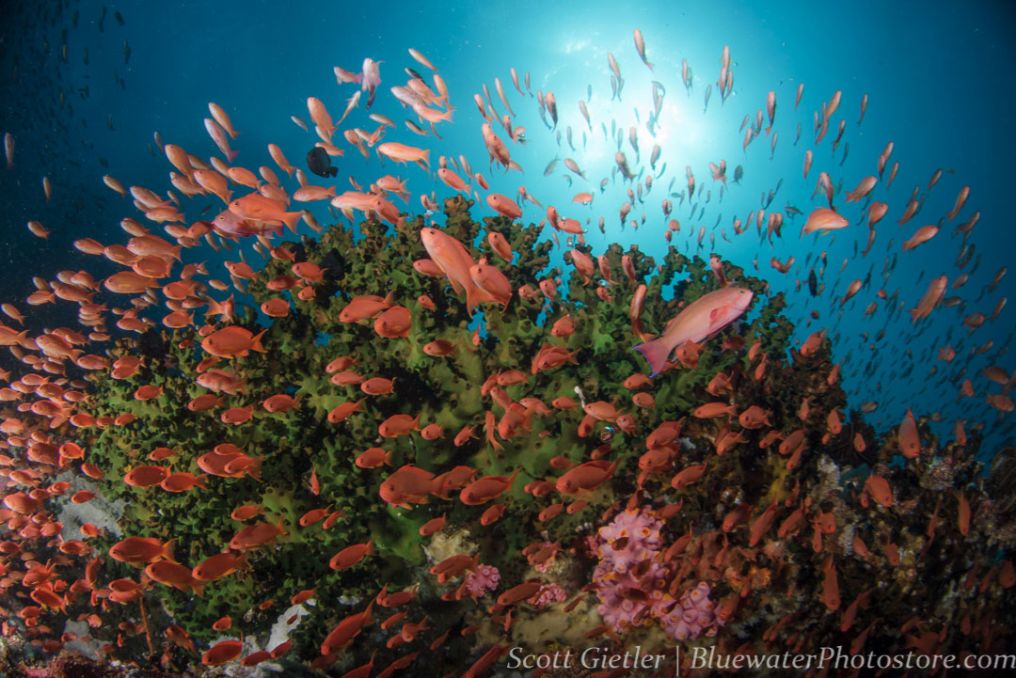 For the thrill-seekers, Canyons provide plenty of action with its strong currents. For those interested in underwater wrecks, the three sunken boats of the Sabang Wrecks offer a fascinating dive trip. Don't forget to include a day trip to dive at Verde Island during your stay in Puerto Galera. Its passage is known to offer some of the highest biodiversity in the Philippines and it's an amazing place for wide-angle photography!
Nudibranchs, reef octopuses, frogfish, and seahorses can be seen in abundance in Puerto Galera. There are also many stunning soft and hard corals to be found while exploring the reefs of this dream destination.
Like most of the Philippines, Puerto Galera can be dived all year round.
Learn more about Puerto Galera diving
Where to stay
Some liveaboards include Puerto Galera in their itineraries, however, most of the dive sites can be easily accessed via a dive resort. Furthermore, Puerto Galera is home to wonderful beaches and some of the best dive resorts in the Philippines, so it makes a lot of sense to opt for a resort.
Atlantis Puerto Galera, the sister resort of Atlantis Dumaguete, is a great choice for divers and underwater photographers seeking luxury and comfort while exploring Puerto Galera's best sites. This beachfront dive resort features a nice swimming pool, spacious bungalows, on-site spa services, delicious meals, ample space for photography equipment--everything that a scuba diver and underwater photographer could want!
El Galleon Dive Resort is another great beachfront resort in Puerto Galera with a wide variety of rooms, from budget to luxury, suitable for single travelers, families, and groups alike. The resort features a sizeable pool, a nice beachfront restaurant and bar, and a well-equipped dive center which also supports technical diving.
See our exclusive deals in Puerto Galera
How to Get to Puerto Galera
Fly into Manila (MNL) then take a van or a taxi to Batangas Pier, which takes around 2 hours. From there you can take a ferry to Puerto Galera, which takes about an hour. Most resorts, like Atlantis, offer transportation from and to the airport with a reasonable fee.
See how to get to the Philippines
Diving Conditions
Visibility: Typically between 50 – 80 feet (15-25m), may reach 100+ feet (30m+) in certain diving areas
Non-Diving Activities: Snorkeling, Beach & Island Hopping, Golf, Walking, Trekking and Running, and Waterfall Trip
Required Skill Level: Beginner to Advanced. Most of the dive sites in Puerto Galera are no deeper than 20m and are suitable for beginners.
---
6. Anda, Bohol
off-the-beaten-path dive vacation spot
The ivory-white beaches, laid-back atmosphere, lush green environment, and abundance of marine life, away from the hustle and bustle of the more touristy spots of Bohol, make Anda a great choice for scuba divers searching for an off-the-beaten-path dive vacation spot in the Philippines.
There are 17 kilometers of coastline to explore in Anda, with a good mix of wall, slope, and sandy muck dive sites as well as coral gardens. The diverse underwater topography and critter population in Anda are really worth exploring.
You can see pygmy seahorses, skeleton shrimps, anemone shrimps, dragon sea moths, mantis shrimps, Napoleon snake eels, nudibranchs, mating mandarin fish...you name it! Turtles and loads of beautiful reef fish can also be seen in the area. Anda can also be dived all year round.
Learn more about diving in Bohol


Where to stay
Scuba diving via a resort is the norm in Anda. There are over 30 dive sites that can be accessed via dive resorts in Anda, and most of the sites are no more than 10 minutes away from the resorts. 4 to 5 dives a per day, including a sunset or night dive to see mating mandarin fish, is quite common.
Magic Oceans Dive Resort, the sister resort of Magic Island in Moalboal, is a great operation, situated on the quieter side of Bohol. This intimate boutique resort is known for its impeccable dive staff, tranquil location, excellent house reef, easy access to the best dive sites in Anda. They've got everything you need for a peaceful dive getaway in Anda.
See our exclusive deal in Anda & Moalboal
How to Get to Anda, Bohol
The easiest way to get to Anda is to fly into Manila (MNL) and take another short 1.5-hour flight to Bohol (TAG) where you can be picked up by the staff of the resort of your choice.
Alternatively, you may fly into Cebu (CEB), then take a 2-hour ferry ride to Bohol. The entire journey from Cebu airport to a resort in Anda may take up to 5 hours.
Diving Conditions
Visibility: 50-65 feet
Non-Diving Activities: Snorkeling, kayaking, paddleboarding, or sunbathing on the white sand beaches. A trip the Chocolate Hills is also recommended.
Required Skill Level: All levels are welcome.
---
7. Malapascua Island, Cebu
the world's best place to see thresher sharks
Though she is little, she is fierce. Malapascua is known to be the best place in the world to see thresher sharks. This tiny oasis is the only place in the world where thresher sharks are consistently seen daily. Combine that with its pristine waters and milky-white beaches, and you've got yourself a perfect destination for a tropical dive vacation.
Monad Shoal is the best place to dive with thresher sharks. Other species of sharks and rays are also commonly spotted around this site. The shy thresher sharks at Monad Shoal are usually seen first thing in the morning at sunrise. Divers rest at approximately 25m (90ft) on the sandy bottom to watch the sharks approach and be cleaned.
"Malapascua is unique because it has a little bit of everything and something that no other place has--thresher sharks. There is also excellent macro, wrecks, and underwater islands with colorful corals and rich marine life. " - Bluewater Trip Leader & Travel Advisor Tim Yeo
The numerous shallow reef sites around Malapascua offer excellent macro photography opportunities. Gato Island boasts some of the most amazing macro life in the area and is also home to a unique marine reserve with a sea snake sanctuary. Some of the many macro photography subjects that you can see here include cuttlefish (often while mating), seahorses, nudibranchs, scorpionfish, mantis shrimp in action, and more.
The diving season in Malapascua is year-round. However, please note that during the typhoon season in the Philippines, from July to October, the weather in Malapascua could get rough and the visibility could be drastically reduced.
Learn more on Malapascua diving and read about our trip there from the Malapascua Trip Report.
Where to stay
Dive resorts and liveaboards are available here in Malapascua. Most liveaboards, combine a trip to Malapascua and other dive areas in the Visayas.
Philippine Siren is one of the boats that offer such trips. Their Malapascua & Visayas trips are carefully planned to hit some of the best dive spots in the Visayas, including thresher sharks at Malapascua Island, critter heaven at Dauin, big schools of fish at Moalboal, and beautiful coral reefs at Apo Island.
If you prefer staying on a beach resort, Ocean Vida Beach & Dive Resort is a great option. Situated on Malapascua Island's beautiful Bounty Beach, this charming resort offers ocean views from almost anywhere in the resort! They are also known for their high standards of service, above and below the water.
How to Get to Malapascua
You can fly internationally into Cebu (CEB). Liveaboards typically depart from Cebu and can arrange a pick-up at the airport. If you opt for a land-based dive operator, you'll need to take a 2.5-hour car transfer to Maya followed by a 30-minute boat trip to Malapascua Island. See how to get to the Philippines.
DIVING CONDITIONS
Visibility: 60-80 feet (18-24m) or less depending on the tides.
Non-Diving Activities: Apart from island/beach hopping there isn't much to do for non-divers in Malapascua.
Required Skill Level: Advanced Open Water and nitrox certifications recommended. Most of the dive sites are quite deep and nitrox allows an extended bottom time.
---
8. CORON Bay, PALAWAN
best wreck diving in the Philippines
Home to THE BEST wreck dives in the Philippines, Coron Bay is also known for its jaw-droppingly beautiful limestone cliffs and crystalline lagoons. The combination of great wrecks and picturesque landscapes is what puts Coron on this list. Read more about the world's best wreck dives.
The historical World War II shipwrecks of Coron, Palawan are really unique. Coron Bay used to be the harbor for World War II Japanese warships. 11 of these ships were sunk during an air attack in September 1944. Today the wrecks of Coron serve as reef systems, supporting a number of marine life. Some of the residents of these wrecks include scorpionfish, nudibranchs, cuttlefish, and octopuses. You'll even see the occasional reef shark or stingray, hovering near the wrecks.
The Okikawa Maru is the largest shipwreck in Coron. This 525-foot wreck is very beginner-friendly, with the top sitting at just 32 feet (10 meters) below the surface. Tangat Gunboat is another popular wreck site. This submarine hunter is very shallow and can be enjoyed by beginner and advanced divers alike.
El Nido is another popular dive location on Palawan. Although the diving isn't considered as good as Coron, it has lots of turtles. El Nido also has spectacular beaches and amazing island hopping that makes it worth a visit if you are diving Palawan.
where to stay
Coron Bay hosts a wide range of land-based dive operators for all kinds of budgets. Please note that Coron Bay is a very touristic area compared to most of the places on this list. If you want to stay away from the crowds, diving Coron via a liveaboard is highly recommended. It also allows you to explore more sites in a short period of time.
Liveaboards would often combine the wrecks of Coron with Mindoro Strait's Apo Reef in their itineraries. Often referred to as "little Tubbataha", Apo Reef Natural Park is a UNESCO heritage site candidate, boasting colorful walls, plenty of sharks, turtles, bumphead parrotfish, and huge schools of snappers and tuna. Manta and eagle rays, as well as other pelagic species, are also commonly seen around the area.
Great liveaboard options that offer this Coron Wrecks/Apo Reef combo itinerary include the Atlantis Azores and Infiniti liveaboards. While Coron can be dived year-round these trips are typically offered from January to February, right before the start of the diving season in Tubbataha.


How to Get to Coron
After flying to Manila (MNL), you have two options to get to Coron. One involves a 1-hour flight to Busuanga (USU) followed by a 45-minute van ride to Coron. Your other option is a 13-14 hour ferry trip straight to Coron.
Atlantis Azores liveaboard's 'Coron/Apo Reef' trips start and end in Puerto Galera, which is only a 2-hour shuttle ride away from Manila airport.
See how to get to the Philippines.
DIVING CONDITIONS
Visibility: can reach up to 80 ft. (24m) in certain areas
Non-diving Activities: Island-hopping, beach hunting, snorkeling, and kayaking. A lively nightlife scene is present if you opt for a land-based accommodation/resort.
Required Diving Skill Level: Beginner to Advanced. Most of the wrecks of Coron are not too deep and can be enjoyed by divers of all levels.
---
9. more awesome places to dive in the Philippines
in case you want more...
Boracay in Aklan is known for its world-class for white-powder beaches and is home to interesting macro life, and mola molas are occasionally seen here although the success rate is not as great as in Nusa Penida in Bali, Indonesia.
1-hour flight away from Manila lies Donsol, an up-and-coming scuba diving destination where manta rays are found feeding and being cleaned at Manta Bowl. Travelers also flock into this area from all over the country for a chance to snorkel with whale sharks, free from feeding, from November through June.
Cabilao Island on the west side of Bohol features interesting walls and coral gardens, with great macro photography opportunities. Cabilao is often included in liveaboard trips visiting the Visayas.
Leyte is THE hidden gem of the Philippines scuba diving scene, with fantastic marine biodiversity, comparable to other South East Asia and Philippines diving hotspots in, i.e. Tubbataha Reef and Alor in Indonesia. Think Dauin (awesome macro) and Apo Island (wide-angle and bigger animals) combined.
Is there any other place that should be on this list? Let us know your thoughts!
---
BEST TIME TO DIVE in the Philippines
November to May is the dry season in the Philippines, offering little to no rain and nice hot and humid weather. This period of time is often considered as the best time to dive in the Philippines and is the most popular time to visit the country. Regardless, the diving season in the Philippines runs year-round, keeping in mind that some of the areas and certain marine life sightings are either seasonal or weather dependent, this includes Tubbataha which can only be dived around the months of March to June.
During the wet season which typically runs from May to October, most of the dive sites remain great, the waters are warmer, and you have the advantage of having fewer divers around in most places. Typhoons may occur during the wet season, particularly around July to September. However, it's a rare occasion and most of the dive areas are not affected. Don't let it keep you from visiting the Philippines in the summer months!
If you plan to visit the Philippines in the summer, it wouldn't hurt to double-check the weather report and ask your travel advisor or dive operator for the latest updates on weather and diving conditions. Don't forget to bring a light jacket and/or raincoat to protect you in case of rain.
Insider Tip: Many people shy away from diving the Philippines in the summer due to typhoon/rain scare. The truth is, rain is highly unpredictable in tropical countries and you'll be surprised how sunny it could get on certain days during this "rainy" season. Plus, there are fewer divers visiting around these months, so many of the popular dive sites will be less busy.
The water temperatures throughout the country hover at 79-88˚F (24-31˚C) year-round a 3-5mm full wetsuit would suffice. The waters get colder at the beginning of the year, from January to March, during the dry "winter" season, and are at the warmest in the middle of the year.
Bringing an additional hoodie and shark skin during colder months is always a good idea, especially if you're going to an area where thermoclines might occur.
How to get to the Philippines
Manila (MNL) and Cebu (CEB) are the two main international travel hubs in the Philippines.
From the U.S.: Philippine Airlines offers non-stop flights to Manila from major cities in the United States, but there are plenty of other great air companies to choose from, including Cathay Pacific (Hongkong) and EVA Air (Taiwan). These 3 airlines also offer flights from the U.S. to Cebu with no more than a single stop.
From the U.K. & Europe: EVA Air and Cathay Pacific also offer flights to Cebu and Manila with a single stop out of major European cities. For those of you who reside in the U.K. Cathay Pacific is the best option. Emirates also offers flights into these two cities although the stopover in Dubai will extend your travel time by a few hours.
From Asia: Lucky you! There are plenty of direct flights available to both Manila and Cebu, whether you reside in Singapore, Hongkong, Kuala Lumpur other major Asian cities. You can choose from many carriers, including low-cost carriers like AirAsia. Planning a dive trip to the Philippines is really easy!
Plan your Philippines dive vacation
Bluewater Travel is a full-service dive-travel agency. We can book you a resort or a liveaboard virtually almost anywhere in the Philippines (and the world) at the same price, or even lower, than booking any other way. Our team of travel advisors has been to most of these places, for some of them even many times. We know the diving, resorts, liveaboards, and logistics better than anyone else in this industry. To get started you can:
Email us or leave us a message through the live chat box to start planning your trip!
Find out why Atlantis Dive Resorts & Liveaboards is our Preferred Partner in the Philippines.
---
Further Reading
Check out these useful resources from our sister websites, Bluewater Photo, and Underwater Photography Guide
Southeast Asia's Best Underwater Photography Destinations
Top 10 Macro Photography Destinations
Wet Wide Angle Lens Buyer's Guide