By bettyr | Date: 20 Feb' 2020
'Eat, Sleep, Dive, Repeat!' This is the mantra most commonly used to describe a liveaboard trip and for good reason. Not only do they offer a fully immersive dive experience, but liveaboards also provide a whole range of benefits such as access to remote sites and the ability to cover a much wider area than you could on a day trip.
Venturing out to sea for a week or more can open up new and exciting experiences, and a whole new side to scuba diving. Here at Bluewater Travel, our staff has selected their favorite liveaboard destinations in five of the world's best dive regions. Read on to discover some of the best liveaboard destinations in the world.
If you're new to the world of liveaboard diving, check out our guide to liveaboard trips.
World's best liveaboard spots
Pick a destination or scroll down to read the entire list:
2. Belize
6. Fiji
11. Maldives
12. Red Sea
---
CARIBBEAN
With an area of over 1 million square miles, the warm clear waters of the Caribbean offer a breathtaking array of underwater adventures and are an excellent first-time liveaboard option. Just as each of the 30-plus island nations enjoys its own individual charm, so the diving varies widely to suit all levels and tastes.
Check out our full list of the Best Diving in the Caribbean here.
Cayman Islands
Located in the northern Caribbean Sea around 250 miles southwest of Cuba, The Cayman Islands offer a fantastic diversity of diving to suit all levels. The largest of the three islands, Grand Cayman, lies the furthest west, while Little Cayman and Cayman Brac sit 75 miles to the east. As such, exploring via liveaboard is the easiest way to discover the best of all three islands in one trip.
Expect to dive a couple of excellent wrecks during a week in the Cayman Islands. The SS Kittiwake on Grand Cayman is one of the most accessible shipwrecks in the Caribbean, and on Cayman Brac the MV Captain Keith Tibbetts is a fascinating dive. Trips start and finish in George Town, Grand Cayman, and as you move east, sandy lagoons give way to some spectacular wall diving, with steep reefs leading to plunging drop-offs and some very exciting sites.
The marine life here is also some of the best in the Caribbean, with huge sponges and corals in good condition supporting a healthy reef fish population. Macro-enthusiasts won't be disappointed, and there are plenty of big fish such as grouper, rays, barracuda, and nurse sharks to look out for.
---
View the availability of the amazing Cayman Aggressor V and book online at the best price!
Check out other Caribbean liveaboards here.
---
Belize
On the Caribbean Sea's western shore, the country of Belize is a lesser-known dive destination offering enormously varied diving on fringing reefs, protected within the Belize Barrier Reef Reserve System. It is described as one of the most pristine reef ecosystems in the Western Hemisphere, and the best way to experience this country's unique coastline is by liveaboard.
The dive sites here are spread out by some distance along Belize's expansive coastline, so a liveaboard will enable access to far more than a resort-based day boat can. Boats embark and disembark from Belize City, and will generally spend time exploring the outlying sites of Turneffe Reef, Lighthouse Reef, and Half Moon. Visitors will find an abundance of vibrant coral gardens, colorful sponges, plenty of reef sharks and rays, and a multitude of smaller fish. It is also possible to scuba dive with whale sharks here if the timing is right, generally around the full moons of April and May.
No trip to Belize would be complete without a dive in the famous Blue Hole. This UNESCO World Heritage Site is over 400ft deep, and although there is little marine life to be found, there are some fascinating rock formations and stalactites, and quite a distinctive thermocline to drop through.
Belize is on our list of the Best Coral Reefs in the World. Check out the full list here.
---
Check out our Belize Liveaboard boats.
View the availability of the Belize Aggressor III or the Belize Aggressor IV and book online at the best price!
---
DIVING THE CARIBBEAN PRACTICAL INFORMATION
Dive Season: Year-round.
Water Temperature: Between 78 and 82°F (26 and 28°C).
Difficulty: All levels.2Recommended Duration: 7 nights.
---
EAST PACIFIC
Powerful seas, strong currents, and dramatic scenery characterize diving along the Pacific Ocean's eastern reaches. However, all this brings with it the ocean's largest pelagic species, and this region boasts the best big animal diving in the world.
Socorro Islands, Mexico
Accessible only by liveaboard, the uninhabited Socorro Islands are a UNESCO World Heritage Site located 240 miles from Cabo San Lucas on Mexico's Baja California Peninsula. These rugged windswept islands offer a refuge in the Pacific Ocean for a wide variety of pelagic and shark species and are one of the best destinations in the world to dive with big animal species.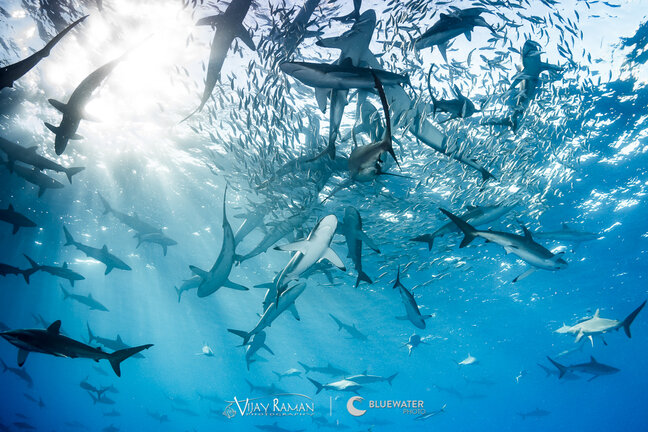 Despite their seemingly remote position, the Socorro Islands are quite accessible from North America and are certainly far easier to reach than other 'big animal' destinations. The journey out from San Jose del Cabo or Cabo San Lucas in southern Mexico takes around 24 hours, so still allows for plenty of diving on an eight-day trip.
Socorro is one of the best sites in the world for diving with sharks with huge numbers of resident Galapagos, silky, oceanic whitetip, and hammerheads schooling around the island's rocky pinnacles and steep reefs. It is also a great place to encounter whale sharks in the winter months. However, it's Socorro's manta ray diving that is really world-class. The Boiler is the best site to encounter these gentle giants, and dozens of them can be enjoyed at close range around this popular cleaning station. Large game fish such as tuna, marlin, and wahoo are also often spotted, as are a very friendly pod of bottlenose dolphins.
Read about other destinations within easy reach of the US here.
To find out more about what it's like to dive the Socorro Islands, read Nirupam Nigam's 2022 Socorro Photo Workshop Trip Recap
---
Check out the Rocio del Mar liveaboard, the Quino El Guardian or the excellent Solmar V
View the availability of some of the best liveaboards in Socorro and book online at the best price!
---
Galapagos Islands, Ecuador
The Galapagos Islands are a volcanic archipelago lying 560 miles off the west coast of Ecuador. Designated a UNESCO World Heritage Site due to their unique biodiversity, the islands' remote position in the eastern Pacific Ocean makes them a magnet for big marine animals. While it is possible to dive the Galapagos Islands from shore, many of the best sites, such as the northern Wolf and Darwin Islands, are only accessible by liveaboard. Boats depart from San Cristobal, Baltra, or Port of Seymour, and follow an authorized itinerary.
The big draw to the Galapagos is the abundance of unique endemic species that have evolved in isolation from the mainland. Encounters with marine iguanas and Galapagos fur seals make for extraordinary diving, and most liveaboards will offer a land tour to explore the fascinating flora and fauna of the interior.
Many of the ocean's largest pelagic species can be spotted seasonally around the Galapagos's rocky coastline, including whale sharks between June and November, and mantas from December until May. Turtles, dolphins, sea lions, mola mola, and huge shoals of jack and other schooling fish are all regular visitors. This is also a fantastic shark destination, and the formidable rocks of Wolf and Darwin Islands are home to some of the world's biggest scalloped hammerhead schools.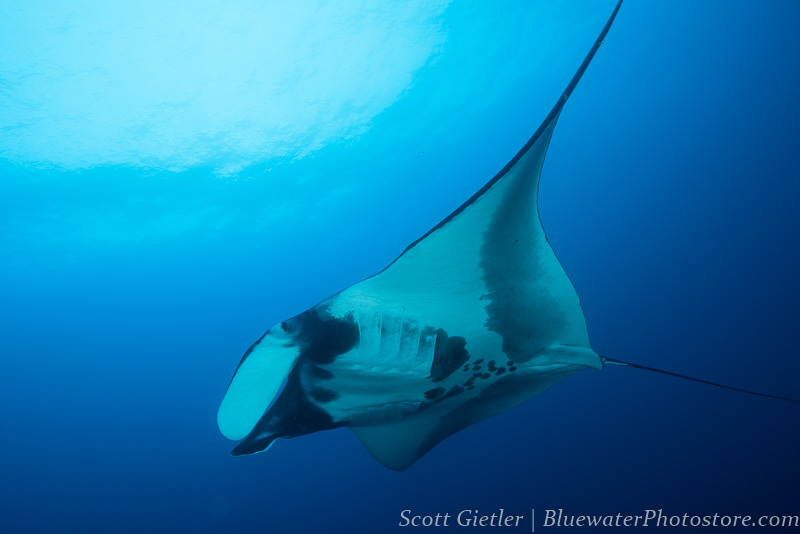 Check out this fantastic article by Bluewater Dive's owner, Scott Gietler, detailing his favorite underwater encounters in the Galapagos, and read our 2022 Galapagos Photo Workshop Trip Recap by Mark Strickland
---
Take a look at the Galapagos Master, Humbolt Explorer or the Blue Spirit Galapagos
OR View the availability of some of the best liveaboards in the Galapagos and book online at the best price!
---
Cocos Island, Costa Rica
The Eastern Pacific's third 'big animal' destination is Cocos Island, a remote tropical outcrop lying 340 miles southwest of mainland Costa Rica. It is another destination only accessible by liveaboard, and the transit from Puntarenas takes between 36 and 40 hours.
Cocos is a UNESCO World Heritage Site, boasting nutrient-rich waters that attract all manner of pelagic species to feed around its rocky coastline. Hammerhead sharks are the big draw here, with hundreds of individuals scattered through the mid-water finning in lazy synchrony against the island's strong currents. Other shark species such as Galapagos, silky, silvertip, and whitetip reef sharks are all prolific, and feeding frenzies at dusk are awesome to witness. Whale shark and manta sightings are quite common, and divers can expect to spot tuna, wahoo, jack, and dolphins, as well as endemic fish such as the red-lipped batfish. There is also often the opportunity for a land-based excursion to explore the rich rainforest of the island's interior.
Find out about other great places to dive in Costa Rica.
Read Ridlon & Carin Kiphart's article on diving in Cocos, which includes some great tips for shark photography.
---
Give the Argo or the Sea Hunter a look
OR View the availability of some of the best liveaboards in Cocos Island and book online at the best price!
---
DIVING THE EAST PACIFIC PRACTICAL INFORMATION
Diving Season: Year-round, although Socorro is only visited between May and November. Species sightings will vary depending on when you visit.
Water Temperature: Average 82oF (27oC) in the summer. Winter months can drop to 70oF (20oC) or lower in Cocos, where thermoclines can reduce the temperature to mid-60s (15-19oC) at depth.
Difficulty: Large surface swells, surge, strong currents, down-currents, and sometimes low visibility can lead to challenging conditions best suited to advanced divers. Negative descents are commonplace.
Recommended Duration: 10 nights.
---
Unsure which of the EAST PACIFIC destination to visit? Read our Top 3 Big Animal Diving to find out more.
---
SOUTH PACIFIC
For a colorful and vibrant experience both above and below the water, the South Pacific doesn't fail to disappoint. Remote island chains spread across a huge geographical area have evolved unique and unusual biodiversity found nowhere else.
Fiji
Located 1,300 miles northeast of New Zealand, this island nation of around 330 islands and a further 500 islets is undoubtedly prime for exploration by boat. And whilst Fiji is commonly regarded as a resort-based dive destination, the liveaboards here are rated as some of the best in the world. Departing from Lautoka, liveaboard visitors are blown away by the color and vibrancy of the soft corals, and the country's myriad of spectacular reefs more than live up to their title of 'soft coral capital of the world'.
The marine life is no less impressive, with a plethora of multicolored fish of every shape and size creating an extraordinary aquarium below the waves. Expect to spot angelfish, anemone fish, and anthias amongst the sponges, while moray eels lurk under coral heads, and turtles, tuna, and barracuda patrol above. Whilst sharks are not spotted on every dive, the shark dive at Beqa Lagoon attracts up to eight different species, including tiger and bull sharks.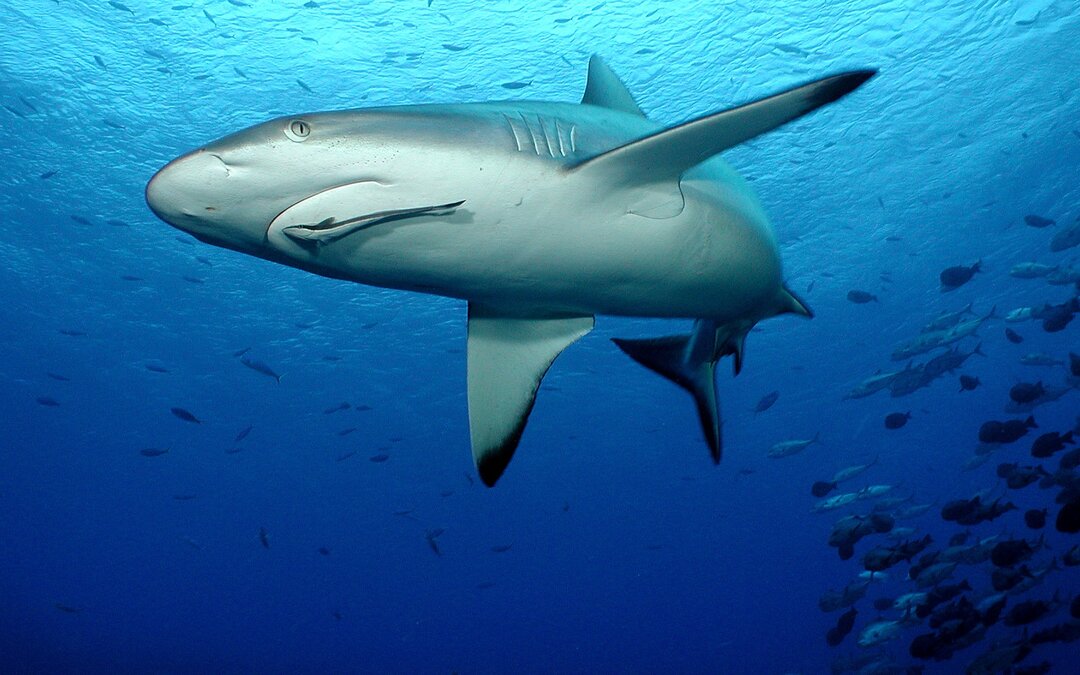 For a first-hand account of liveaboard diving in Fiji, have a read of Douglas Hoffman's journey aboard the Nai'a, or read our Fiji 2022 Photo Workshop Trip Recap Here.
---
View the Nai'a's availability and book online at the best price!
---
DIVING THE SOUTH PACIFIC PRACTICAL INFORMATION
Dive Season: Year-round, but we recommend the months of November and May.
Water Temperature: Between 78 and 84°F (25 and 29°C).
Difficulty: All levels.
Recommended Duration: 7 or 10 nights.
---
SOUTHEAST ASIA
Boasting the highest diversity of marine species in the world, Southeast Asia's Coral Triangle is a mecca for fish lovers, and in particular macro-enthusiasts. Remote sites spread over a huge area make liveaboard diving essential for those wishing to seek out the best spots.
Raja Ampat, Indonesia
This remote island chain in the heart of the Indo-Pacific Coral Triangle boasts the richest diversity of marine species on earth, and its hundreds of reefs are best explored by liveaboard. The most popular diving itinerary in Raja Ampat is a round trip departing and returning to Sorong, but some boats embark or disembark at Waisai, Kaimana, Bitung, Ambon, and numerous other destinations, allowing for a huge range of options including one-way trips.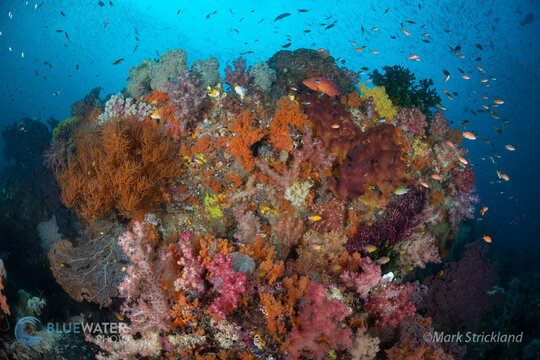 Cape Kri in the Dampier Strait and the Misool Islands further south are two key areas not to be missed. A rainbow of soft corals and anemones shimmer in lively currents, encouraging a bonanza of vibrant reef fish out to play. Mantas are also found year-round in Raja Ampat, with the region being one of the best places in the world to encounter both reef and oceanic manta rays. The warm waters and stunning top-side scenery will make you feel like you are sailing through paradise.
For a detailed account of a liveaboard trip through Raja Ampat, read Bluewater Trip Leader & Professional Photographer, Mark Hatter's latest report from the December 2022 Raja Ampat Photo Workshop.
Or for some photography tips and some fantastic underwater shots of Raja Ampat's vast biodiversity, check out Brent Durand's photo essay, or this fascinating macro piece from Janice Nigro.
---
There are a number of awesome liveaboards that sail Raja Ampat, such as the Damai I, the Dune Aurora, the Indo Siren, and the Ambai.
View the availability of some of the best liveaboards in Raja Ampat and book online at the best price!
---
Southern Komodo, Indonesia
The renowned island of Komodo offers world-class drift diving along the reefs of its southern coast. Protected within Komodo National Park, the island's many pinnacles create a focal point for thousands of schooling fish, and divers won't tire of gliding past vibrant walls covered in a plethora of marine life. The best dive sites are a couple of hours from shore, so a liveaboard trip cuts out the long daily transfers from most land-based resorts.
Upwellings of cool, nutrient-rich water create a thick plankton soup in Komodo's coastal waters, and whilst this can result in reduced visibility at certain times of the year, it supports an abundance of marine life. Some 260 species of coral and 70 types of colorful sponges create a vibrant home for tiny amphipods such as the unique ladybug, sea apple cucumbers, and a myriad of other critters including frogfish and stargazers.
Of course, larger filter feeders are also attracted to feed, and mantas can be found year-round at shallow southern sites such as Manta Alley. For access to great macro and some of the best drift-diving in Indonesia, a Komodo liveaboard departing from Labuan Bajo on Flores Island is a fantastic option.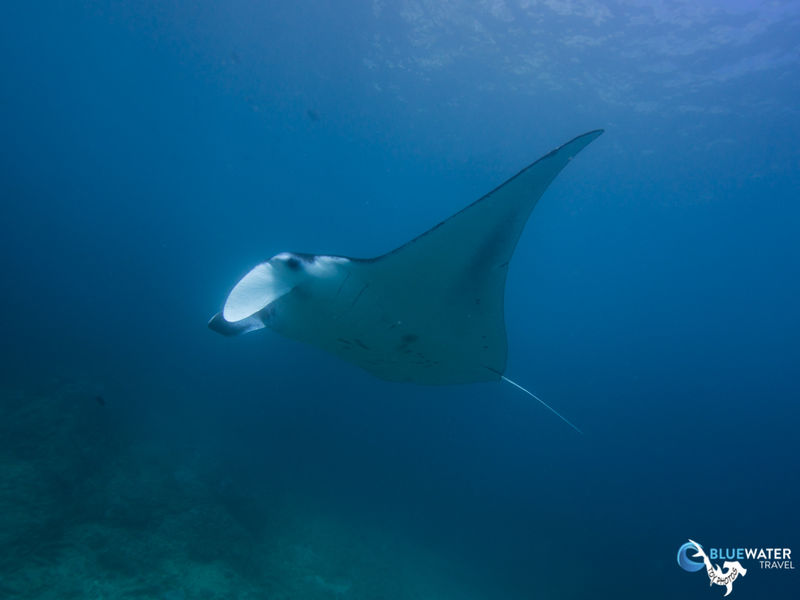 For photography and videography tips, read Dustin Adamson's commentary on shooting macro in Komodo, or Mark Strickland's report from his 2017 liveaboard trip around Komodo.
---
Check out the following Komodo liveaboards: the Indo Aggressor, the Manta Mae, or the White Manta Explorer, or view the availability of some of the best liveaboards in Komodo and book online at the best price!
---
Solomon Islands
Located around 1,000 miles east of Papua New Guinea in the Pacific Ocean, the Solomon Islands are as remote as it gets for liveaboard destinations. Departing from Honiara, only two boats service this isolated group of coral atolls, however, they are a sought-after destination and rightly so. Virtually unspoiled due to minimal impact from tourism and fishing, the marine habitat of these islands is rich and authentic, providing a rare opportunity to dive a frontier reef system. There are more pristine reefs here than anywhere else in the world, as well as caves and canyons, numerous WWII wrecks, and an excellent range of muck diving.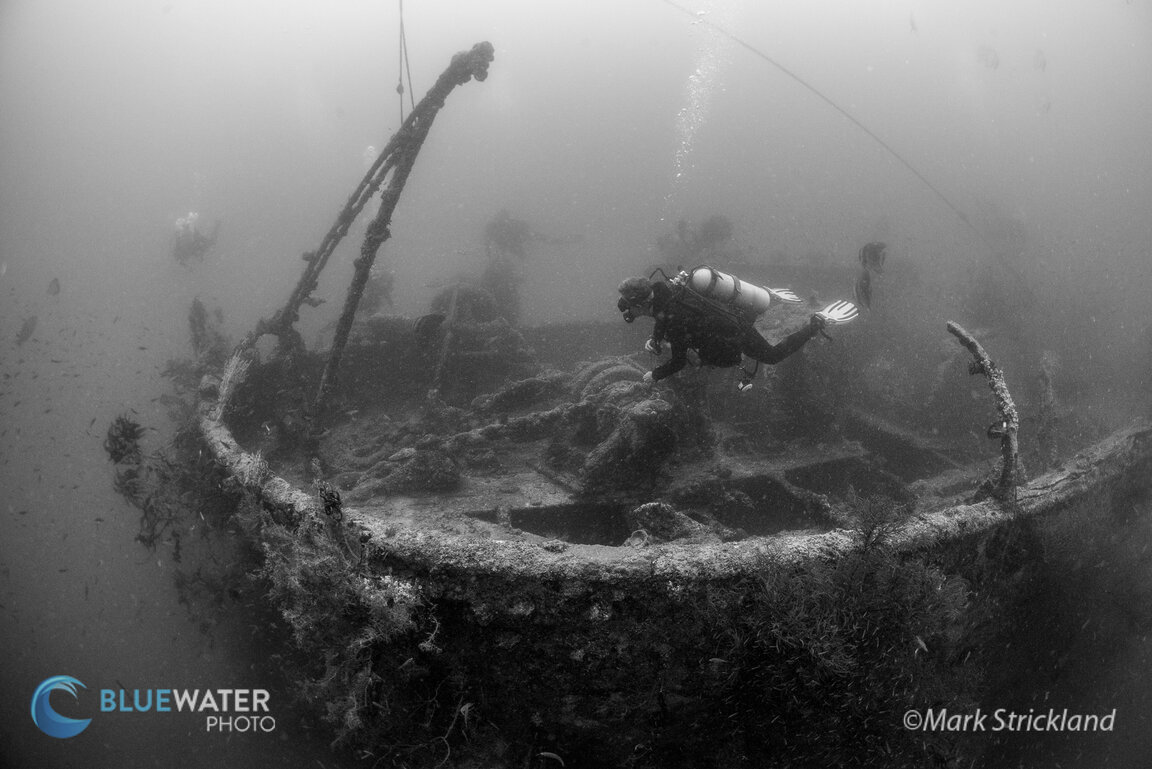 Liveaboard trips around the Solomon Islands last anywhere between seven and 14 nights, but only a fraction of these 900 or so islands can be explored in this short time. Dive sites are characterized by huge gorgonian sea fans, large and healthy hard corals, and colorful soft corals covering every surface. The best of the Indo-Pacific's marine species can be found here, with fascinating macro, bountiful small to medium-sized reef fish, and bigger pelagics such as manta rays, dolphins, and whales.
This sought-after destination is a truly unique experience and one that not many divers have had the privilege to visit.
Read Joanna O'Shea's guide to the best dive sites in the Solomon Islands.
---
Combination trips ae often the best way to reach remote destinations. Check out our guide to diving Cenderawasih Bay, which is often on a combined itinerary with Raja Ampat or Komodo.
---
View the availability of some of the Solomons Master or the Bikiliki and book online at the best price!
---
Tubbataha, Philippines
A liveaboard-only destination, the Tubbataha Reefs Natural Park is a remote and protected area in the Palawan region of the Sulu Sea. Diving here features pristine reefs, abundant fish life, and some great pelagic encounters. Almost half the coral species in the world can be found along Tubbataha's reefs, providing a home for 600 fish species, and almost a dozen types of shark. Expect to spot everything from tiger sharks and whitetip reef sharks to macro subjects such as nudibranchs, seahorses, and ornate ghost pipefish, to turtles, manta rays, and schooling barracuda and tuna.
Most liveaboards embark and disembark from Puerto Princessa and the transit to the UNESCO World Heritage Site takes around 10 hours. Although numerous boats service the route, diving is only available for a short window between March and June, so availability is limited. This is one of the Philippines' best-kept secrets, and for those that venture here, the rewards are endless.
---
We recommend the following amazing liveaboards, the Philippine Siren, the Atlantis Azores, the Infiniti, or the Nirvana, or view the availability of some of the best liveaboards in Tubbataha and book online at the best price!
---
DIVING SOUTHEAST ASIA PRACTICAL INFORMATION
Diving Season: Year-round, although October to May is the best diving season. Tubbataha is only diveable between March and June.
Water Temperature: 80-87oF (27-30oC), Southern Komodo has cooler waters around 66-74oF (22-24oC).
Skill Level: Suitable for all levels, although some experience in stronger currents is recommended.
Recommended Duration: 7 to 12 nights.
---
INDIAN OCEAN
Budget-friendly, and with a wide range of liveaboard options, the Indian Ocean offers a great taste of all types of diving. Reefs, wrecks, and pelagics can readily be found in various sites around the Indian Ocean, and reaching them is best done by liveaboard.
Maldives
A great destination for first-time 'liveaboarders' or those on a budget, the Maldives also boasts some of the most luxurious liveaboards afloat. Located in the Indian Ocean, 400 miles southwest of India, this island nation of 19 official atolls is best known for its excellent visibility and brisk currents. Most itineraries depart and return to Male, however, one-way trips are available from other locations such as Gan and Kooddoo at certain times of the year.
Wide-angle photography is at its best here, where hard and soft corals create a colorful aquarium for reef sharks, eagle rays, and plentiful small and medium fish species. The currents also encourage key pelagics to the outer reefs, and the whale shark and manta ray feeding spectacles are not to be missed.
Some of the best dive sites are in the Deep South, however, they cover such a large area that not all of them can be visited on a single trip. Ari Atoll and Male Atoll in the central islands are the key pelagic spots.
Diving the Maldives is often combined with a Sri Lanka diving trip.
For some great photos of Maldives marine diversity, have a look at Lea Moser's photo essay from her Maldives trip aboard the Marina.
Or check out our Trip Report from the 2019 Bluewater Sri Lanka & Maldives expedition.
---
View the availability of the Honors Legacy or the Duke of York, or check out some of the best liveaboards in the Maldives and book online at the best price!
---
Red Sea
An offshoot of the northern Indian Ocean, the Red Sea's diverse marine biology, stunning reefs, and exciting wrecks are a very viable alternative to some of the world's more remote liveaboard destinations. Trips here are good value for money, and various 7-night itineraries depart from Hurghada or Marsa Alam on Egypt's east coast.
The northern reaches of the Red Sea enjoy great expanses of flourishing coral reef, and the region's geographical isolation and unique climate mean it boasts almost 200 endemic fish species found nowhere else. Deep walls and canyons offer some awesome drift diving, while numerous wrecks such as the world-famous SS Thistlegorm make this a top wreck destination.
Further south, the remote reefs of The Brothers, Elphinstone, and Daedalus are only accessible by liveaboard. Steep drop-offs and deep walls attract oceanic whitetips, threshers, and the occasional hammerhead shark, as well as other big pelagic species. The Red Sea's huge variety of diving provides a liveaboard option for everyone.
For more information on visiting the Red Sea by liveaboard, read Bluewater Travel's 2019 Red Sea Trip Report on Blue Horizon.
Or take a look at Adam Svorboda's account of his trip to the southern Red Sea.
---
Take a look at the Sea Serpent or the Grand Sea Explorer or view the availability of some of the best liveaboards in the Red Sea and book online at the best price!
---
DIVING THE INDIAN OCEAN PRACTICAL INFORMATION
Diving Season: March to December.
Water Temperature: 80-86oF (27-30oC), the Red Sea can drop to 70oF (21oC) in the winter.
Skill Level: Suitable for all levels, although more remote sites can be challenging.
Recommended Duration: 7 to 10 nights.
---
Further reading
Still unsure whether a liveaboard is right for you? Check out these other articles.
Is a liveaboard right for you?
Best Liveaboards for Beginners
Check our our guide to scuba diving the Similan Islands, another fantastic liveaboard destination. Or discover our Great Barrier Reef Liveaboards.
---