By Jacqui | Date: 23 Dec' 2022
RAJA AMPAT 2022 Trip Recap
AN UNDERWATER PHOTO WORKSHOP BY BLUEWATER TRAVEL
Words & images by trip leader Mark B. Hatter
I'm happy to stake my reputation to report that our December 2022 Raja Ampat photo workshop was a resounding success!
As far as standards are concerned, first, the Damai II, our liveaboard for 10 days of Raja exploration, is arguably the best liveaboard operating in the region. Second, with its quantifiable proof of unrivaled biodiversity, the underwater world of Raja Ampat is the best diving on the planet. Add in 8 of 10 days of smooth seas, fair weather, an attentive crew, superb dining and a wonderful social mix of 12 divers from around the globe and we are left with the recipe for the making of a perfect diving adventure.
I was fortunate to have visited Raja Ampat in September 2022, just a few months before our December adventure and just after Indonesia was reopened to post pandemic diving. During that trip I was blown away with the abundance of schooling fish on nearly every dive site. Further, I was astounded with the near pristine condition of the stoney corals in the region. It's no surprise that many destination dive locations around the world are showing impact of climate change but, happily, Raja Ampat seems to be an exception to the rule.
Our December's exploration validated that my September observations were no fluke; dive sites were still loaded with schooling fish and the stoney corals were still as perfect as I've witnessed in five decades of diving.
Our trip was billed as a photo workshop and we had a very diverse group of guests with shooting experiences ranging from none to pro-level. Thus, we began early with a pre-trip Zoom meeting to learn the basics of general photography and the application of those basics to underwater image capture for the newest shooters. It was a dividend that paid off handsomely as the new shooters were able to "hit the water swimming" getting excellent image capture almost immediately.
The pre-trip instruction also freed up precious time between our four-dives-a-day schedule to work on post-processing instruction and techniques between diving, eating and sleeping.
For the accomplished shooters, we worked real-time underwater with more advanced, creative shooting techniques, including vertical shooting, adding secondary and tertiary subjects in our image capture and shooting sun bursts when conditions were optimal. We even spent a morning toward the end of the trip working split-level shooting on a beautiful fringe reef ringing a white sandy beach on a typically gorgeous Raja island.
While our still shooters were honing their skills and image capture on the never-ending reef tops of Melissa's Garden, the vertical walls of Cape Kri, the spectacular sea fans of Nudi Island and, the colorful soft corals of Boo Window, several of our guests engaged in shooting video. And like our still shooters, we had guests with experiences ranging from beginner to pro-level.
Interestingly, three of our videographers were shooting the new iPhone 14 in Divevolk housings producing truly stunning results! By the end of the trip our newly minted videographers had produced exceptional video shorts and stills which impressed even our one video pro!
At the end of the day, those of us with large, expensive kits for shooting stills and videos had to give kudos to the iPhone crowd who were even able to capture split images! Were we witnessing the beginning of a new era of disruptive technology? Time will tell.
One of the highlights of any Bluewater Travel underwater photo workshop is the image review. Here, our shooters present their images and videos on big screens to the review and constructive critique of the other guests and trip photo instructor. Of course, the reviews are strictly voluntary but on our trip all of our shooters and videographers boldly shared their images and video clips during the first review, which lead to demonstrated improvement in every shooter.
Our trip concluded with a fantastic final image and video review which did justice to the magical beauty of Raja Ampat and left our guests with not only memorable images and clips, but also with artistic work we all would be proud to display.
From massive schools of jackfish, sweetlips and fusiliers, to tiny pygmy seahorses and colorful nudibranchs, our guests presented wonderful, if not powerful, imagery. And, our video-pro shared an extraordinary macro clip taken during one of our many night dives: a small cuttlefish being dive-bombed, in slow motion, by an unidentified fish. It caught the cuttlefish by total surprise, showcasing yet another fantastical underwater event, which is the embodiment of Raja Ampat.
Of course, none of this would be possible if not for a seasoned, professional liveaboard boat and crew. This is where the Damaii II excels. Built in the classic Phinisi style of the region, the Damaii II's beautiful broad and long construction in gorgeous teak is spacious and comfortable, from the salon to the cabins.
Phinisi style boats are generally not known for spacious camera rooms but the Damaii II is an exception. With 12 individual rigging/charging stations (with US/European electrical outlets) and cabinet storage, even shooters with multiple systems have plenty of room to manage their kits. With the camera room on the upper deck right next to the dingy loading point, it proved to be super convenient. And, each diving station had a personal freshwater rinse tank for camera kits!
With its policy for no-charge rental equipment, I saved weight and lost-luggage-angst by leaving my entire diving kit at home and using the Damaii II's equipment.
Over the course of the adventure we dined like royalty with made-to-order breakfasts and multi-course lunches and dinners. And, many of us partook in the complementary massages when we could squeeze time between dives and image processing.
In Raja, time is only an illusion, important to only two things: the dive computer and scheduled flights to return home. I lost my connection with time on-board our trip, truly not knowing the days left until it was time to go. But, this is the way it should be and it defines, at least for me, some component to measuring a fantastic diving adventure.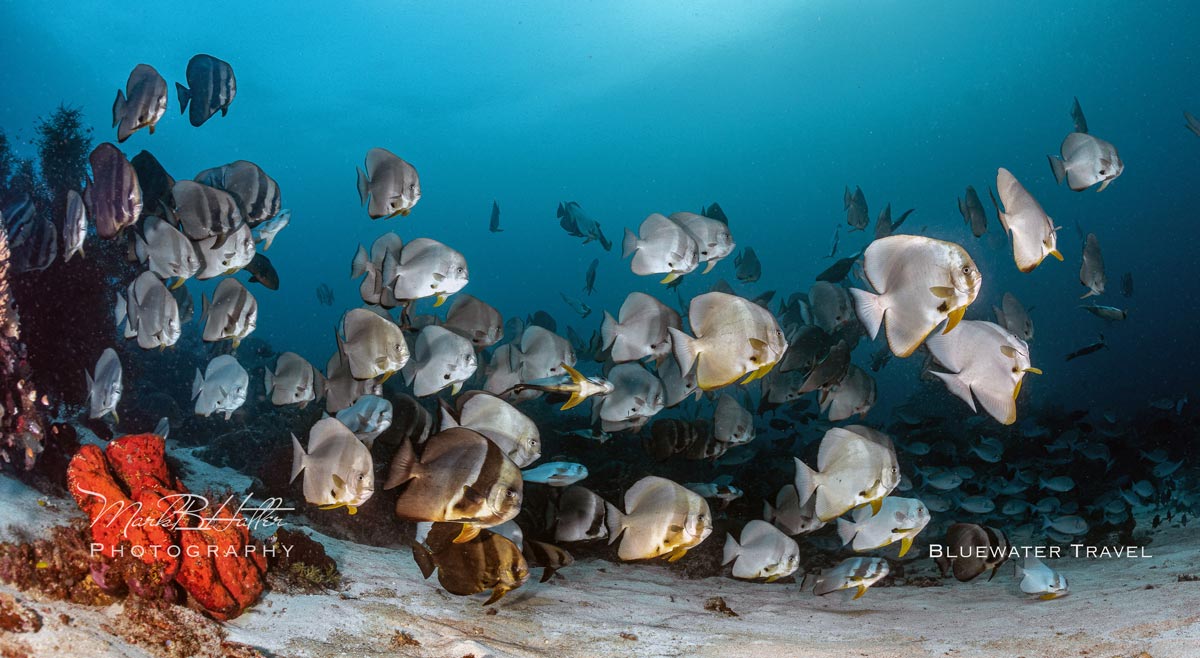 Our December Bluewater Travel Raja Ampat adventure is now my yardstick for measuring success.

JOIN OUR NEXT RAJA AMPAT UNDERWATER PHOTO WORKSHOP:
NOVEMBER 26 - DECEMBER 7, 2023