SCUBA DIVING IN BORNEO
BORNEO DIVING HIGHLIGHTS
An exciting and increasingly popular destination, diving Borneo offers huge variety, unique experiences, and some of the best marine life anywhere on the planet. Borneo may be difficult to get to, but it's unique cultural history, flora, and fauna make a scuba diving trip there completely worth it.
BORNEO DIVE RESORTS/LIVEABOARDS
The majority of diving is land-based from exclusive island resorts.
INTRO TO BORNEO
Located on the western edge of the Coral Triangle, the exotic island of Borneo is divided between the Malaysian states of Sabah and Sarawak to the north, the Kalimantan provinces of Indonesia in the south, and the Sultanate of Brunei on the north coast. The famous Derawan Islands sit just off the coast of East Kalimantan, however, diving there is covered in our separate Derawan destination guide. Also part of Borneo, the islands of Sipadan, Mabul, and Kapalai are covered in our Sipadan destination guide. As such, the rest of this page focuses on diving Borneo outside of Derawan, Sipadan, Mabul, and Kapalai.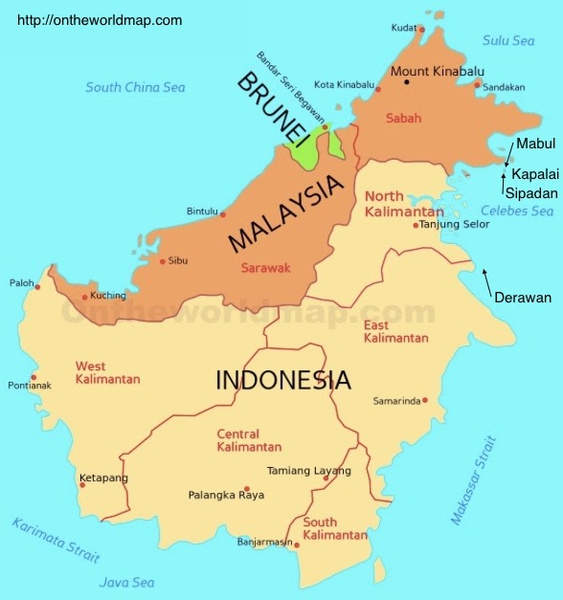 While Borneo may be visited less frequently than other popular
dive areas of Indonesia
, the marine life is no less impressive, with several archipelagos and a good number of isolated islands boasting pristine fringing reefs and the full catalog of Southeast Asian marine life. The northeast of the island boasts some of the best dive areas, several of them exclusive resorts where diving is reserved for guests only.
WHEN TO GO
The diving season across Borneo is year-round, with April to November offering the calmest surface conditions.
BORNEO DIVING INFORMATION

---
Here are some of Borneo's best dive locations:
Malaysian Borneo
Almost 190 miles (300km) northwest of Kota Kinabalu on Borneo's northern coastline, the tiny island of Layang Layang sits unobtrusively in the South China Sea. Rising 6,500ft (2,000m) from the deep ocean floor, this remote coral atoll boasts pristine reefs, a vibrant marine ecosystem, and an enviable range of sea creatures from macro residents through to pelagic visitors and several species of shark.
Over 280 miles (460km) to the east, the equally small island of Lankayan nestles just off Borneo's northeast coast in what is known as the 'Sea Turtle Corridor'. Green and hawksbill turtles abound, feeding and nesting around the island's shallow lagoons and white sandy beaches. Located within a protected marine park, Lankayan also boasts some excellent and colorful macro diving, with a good number of rare critters to be found.
On the southern side of the Tambisan Peninsula, the island of Mataking is perfectly placed for exploring the crystal clear waters of the numerous dive sites around local reefs and those of its neighboring east coast islands. Steep slopes and walls encourage large numbers of pelagic species close to shore, while healthy corals provide a home to a plethora of reef fish. Billed as an excellent alternative to Sipadan, diving here is exciting and the top-side resorts are luxuriously relaxing.
Each of these three minuscule tropical retreats hosts a single exclusive resort that manages all local diving, protecting the reef and ensuring dive sites remain uncrowded.
Only 70 miles (112km) from Kota Kinabalu, close to the border with Brunei, the island of Labuan offers some exciting wreck diving and is a great stopping-off point when traveling between the northern provinces of Sabah and Sarawak. Four major wrecks lie between 98 and 115ft (30 and 35m), including the USS Salute and the Dutch SS De Klerk, which were sunk during WWII.
Interested in wreck diving? Check out our list of the Best Places to Wreck Dive.
Indonesian Borneo
Although officially part of the Derawan Archipelago, the island of Sangalaki is a fantastic destination in its own right, its natural beauty and rich biodiversity preserved by the island management's strict eco policies. Surrounded by shallow lagoons and reefs that stretch a good distance out from shore, Sangalaki is a hotspot for large schools of manta rays that gather to feed on the nutrient-rich waters during the full moon. The island is also a breeding ground for green turtles, and as such is designated an Indonesian Marine Park.
Brunei
A relatively new addition on the global dive scene, Brunei's first dive operator opened only 10 years ago, and diving here is still new, exciting, and extremely uncrowded. The country's intriguing wrecks and frontier reefs hide a wealth of marine species ripe for discovery, with warm tropical waters and shallow reefs supporting a vibrant inshore ecosystem. While Brunei's coastline only has two oceanic islands, both are marine sanctuaries, and several inshore areas such as Pulau Berembang Nature Reserve, as also protected. Around 9 miles (15km) from shore, a number of oil platforms create an unusual dive amongst huge metal supports that create a temporary refuge for many reef species.
MARINE LIFE & PHOTOGRAPHY SUBJECTS
Less explored and with a good number of exclusive and well-managed dive areas, the marine life around Borneo's best sites is exceptional, undisturbed by the potentially harmful effects of heavy tourism. Close in around fringing island reefs, divers can expect to spot large schools of hump head parrotfish trundling through clusters of cardinalfish, anemonefish, and sweetlips, while large rays glide just off the sandy bottom. The corals here are pristine, with huge and impressive specimens of lettuce and staghorn coral covering many sites. These, in turn, provide a secure anchor for an array of colorful soft corals, sponges, huge delicate gorgonians, and feather stars.
Hiding amongst all this exciting substrate, a miniature world of macro species is thriving. Numerous varieties of elaborate nudibranchs, coral shrimps, decorator, porcelain, and spider crabs, as well as the rarer orangutan crab creep across the reef, while gobies, mandarin fish, ornate ghost pipefish, and jawfish can be spotted by the most patient divers. Giant frogfish and giant clams sit motionless amongst the coral heads, while pygmy seahorses blend seamlessly with their chosen sea fan.
For those keen to dive with larger pelagic species, the options are limitless where outer reef walls attract huge schools of barracuda, scads, jacks, snapper, and trevally to the edge of the blue. Hammerhead sharks and manta rays occasionally make an appearance beyond these swirling schools of gamefish, and countless turtles meander between the reef and the open ocean.
For the richest marine diversity in the world, check out our guide to Raja Ampat scuba diving.
DIVING CONDITIONS
Water temperature: Ranging from 77 to 86oF (25 to 30oC).
Visibility: 60 to 100ft (15 to 30m).
Depth Range: 16 to 131ft (5 to 40 m).
Diving Difficulty: Suitable for all levels, although some sites feature strong currents.
BEST DIVE SITES
Dogtooth Lair, Layang Layang
A fantastic dive offering excellent macro, a wealth of small and large fish, and some exciting pelagic visitors. Ledges and overhangs are draped in elaborate corals where whitetip reef sharks and rays shelter in large numbers. Mola mola and hammerheads can be spotted at the drop-off, waiting for their turn at one of several cleaning stations along the reef.
Interested in macro photography? Read about the "Macro Heaven in Anilao, Philippines" by Scott Gietler.
The Runway, Layang Layang
Steep walls, gullies, and dramatic drop-offs create an exhilarating backdrop for schools of jack cascading over the edge in seemingly endless numbers. Tuna, manta rays, and sharks patrol just off the reef while schools of fusilier and surgeonfish glitter and sparkle in the bright sunlight.
Gavin's Playground, Mataking
A 20-minute boat ride from the resort, inside Tun Sakaran Marine Park, this shallow little site is home to more mandarin fish than imaginable. Every nook and crevice is home to a brightly fluttering beauty, and this is in addition to a wealth of macro and other ornate critters.




Manta Parade, Sangalaki
As the name suggests, this is one of the key highways for manta traffic around the island. With the mantas often found close to the surface, this site is as good for snorkelers as it is divers, and if the mantas happen to be taking a break from feeding they can be found at one of the shallow cleaning stations along the edge of the reef.
Interested in diving with manta rays? Check out our top picks for the Best Manta Ray Diving in the World.
SS De Klerk, Labuan
A Dutch passenger and cargo steamer that was intentionally scuttled during WWII to prevent it from falling into Japanese hands. However, the Japanese managed to salvage it and renamed it Imbari Maru, before it hit a mine and sank for the second time just off the coast of Labuan. Lying on its side in 69ft (21m) of water, the wreck is now an accessible and relatively straight forward dive, offering some good penetration for experienced divers.
Interested in wreck diving? Check out our list of the Best Shipwrecks to Scuba Dive.
Rig Reef, Brunei
The dismantled remains of a decommissioned oil rig that now lie in 65ft (19m) of water just off the coast at Berakas. This artificial reef is home to a plethora of invertebrates while larger grouper and barracuda loiter in gloomy crevices. Schooling jacks patrol the wreckage as parrotfish flit to and fro.
TRAVEL INFORMATION

---
HOW TO GET TO BORNEO
Malaysian Borneo
The main gateway into Malaysian Borneo for most visitors is through Kota Kinabalu International Airport (BKI) in the far north of the island. There are numerous cheap flights daily from the Malaysian capital's Kuala Lumpur International Airport (KUL) to Kota Kinabalu. Direct flights are available from the UK and Europe to Kuala Lumpur, however, most US travelers will need to transit through Europe or the Middle East. Once in country, the dive resort will arrange private transport to their island.
Indonesian Borneo
The primary airport in the south of the island is Sultan Aji Muhammad Sulaiman Sepinggan International Airport (BPN) near Balikpapan. There are direct flights from Kuala Lumpur and Singapore, and as with the north, travelers will need to transit through Europe or the Middle East. Once in country, the dive resort will arrange private transport to their island.
Brunei
The country's main airport, Brunei International Airport (BWN), receives direct flights from Kuala Lumpur and other Asian hubs, as well as from London Heathrow (LHR). Travelers from the US will need to transfer either in London, the Middle East, or Asia.
BEST TIME TO DIVE BORNEO
Diving in Borneo is fantastic all year round, although conditions do vary throughout the season. From April to October waters are normally calm and glassy, comfortably warm, and with visibility up to 100ft (30m). The rainy season runs from November to March, and windy periods in January, February, and August can increase surface chop and reduce visibility. Although this brings cooler water and air temperatures, amazing marine encounters and great diving are still the norm. Air temperatures remain around 80oF (27oC) year-round.
Layang Layang Island Resort is only open between March and October.
Interested in Borneo? Check out diving in Romblon.
TRAVELING AROUND BORNEO
It is fairly simple and safe to travel through all regions of Borneo as long as official border points are used, however, don't expect to get anywhere quickly. Major cities are connected by regular bus and taxi services, but away from the main routes road travel is often tedious and boat transport is still heavily utilized. Much of the interior is connected via express river boats which are far quicker than traveling through the jungle by road, while ferries and speed boats service many of the coastal towns.
Air travel is often the only practical way to access the most remote locations, in particular nature reserves. The Malaysian states of Sabah and Sarawak are separated by Brunei, therefore it's easiest to fly between local airports.
HOW TO DIVE BORNEO
Diving is organized from island-based resorts, many with exclusive access to the local dive sites. Small speed boats will transport divers to and from the reef several times a day.
OTHER THINGS TO DO IN BORNEO
Borneo is a nature lover's paradise, with several protected National Parks and Conservation Areas boasting the world's oldest rainforest and some rare endemic species. Animals such as the Borneo elephant, Bornean clouded leopard, and of course, the Bornean orangutan attract scientists and wildlife enthusiasts from across the globe to observe these endangered species in their natural habitat. Sadly, deforestation and forest fires have destroyed as much as fifty percent of the lowland rainforest, so visiting a reserve is the best way to explore Borneo's wildlife.
For another great wildlife destination, check out our guide to diving Costa Rica, Komodo, or Zanzibar, Tanzania & Kenya.
More adventurous visitors can trek to the summit of Malaysia's highest mountain, Mount Kinabalu, and to experience the best of indigenous Bornean culture, a visit to the longhouses of Sarawak is a must.
For another great trekking and diving combo destination, head over to Bali for excellent diving and trekking up Mount Agung.
OTHER USEFUL INFORMATION
Currency: Malaysian Ringgit (MYR), Indonesian Rupia (IDR), Brunei Dollar (BND).
Language: Variants of Malay depending on the region, however, Chinese languages and English are also widely spoken.
Time Zone: Borneo Time (GMT+8).
Electricity: 240V.
UNDERWATER IMAGES

---