Similan Islands
---
SCUBA DIVING THE SIMILAN ISLANDS
The plentiful marine life of the Andaman Sea is showcased in all its glory in the Similan Islands. Comfortably warm waters and mild currents make for dream-like conditions, where large pelagics are often spotted feeding above the bountiful reefs. While scuba diving in the Similan Islands, you will see beautiful reefs, plentiful fish and occassional big animals.
THE SIMILAN ISLANDS DIVING HIGHLIGHTS
These world-famous islands stretch north-south in the Andaman Sea, 30 miles off the coast of southern Thailand. Covering an area of approximately 87 square miles, the nine islands of the archipelago, plus Ko Bon and Ko Tachai to the north, make up the Mu Ko Similan National Park.
The real draw here is the manta rays and whale sharks that visit the warm waters from December until April each year. Outside these months diving is still spectacular, however, with medium-sized species patrolling the bustling reefs, and plentiful macro hiding amongst the beautiful hard corals. The Similan Islands really do offer an amazing scuba diving liveaboard experience.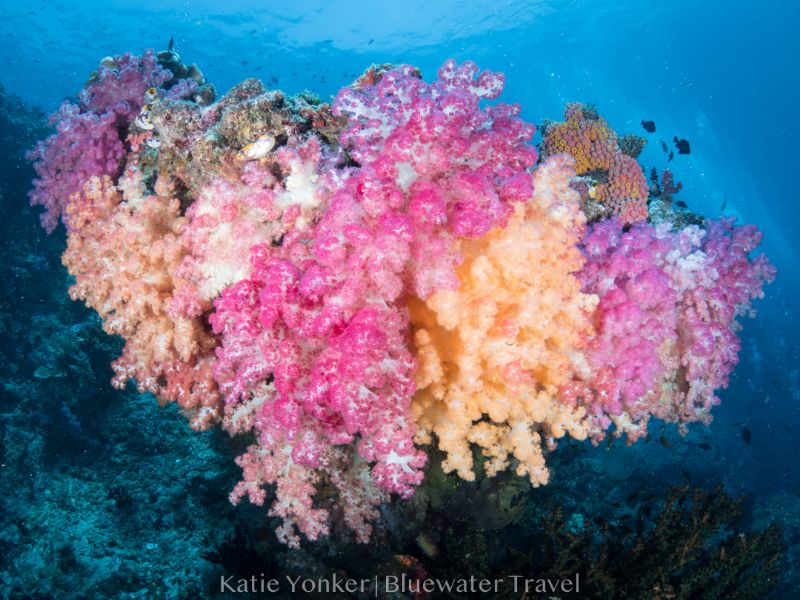 THE SIMILAN ISLANDS LIVEABOARDS
The Similan Islands National Park was closed to tourists in October 2016 due to the impact of huge numbers of day-trippers, but reopened two years later and has a current cap of 3,325 visitors per day. All tourist accommodation on the islands is now closed, except for a few park-managed tents and bungalows. In addition, access to three of the islands is restricted to protect nesting turtles, and one is privately owned. As such, a liveaboard is the most comfortable, and by far the most convenient way to access all these intriguing islands have to offer.
View Similan Islands liveaboard live availability and book online at the best price.


Diving Information

---
MARINE LIFE & PHOTOGRAPHY SPECIES
Most of Southeast Asia's extensive marine catalog can be found in the waters around the Similan Islands. The region's impressive corals were declared 'fully recovered' by the national park authorities in 2019, and the diversity of species living on the vibrant reefs only confirms this.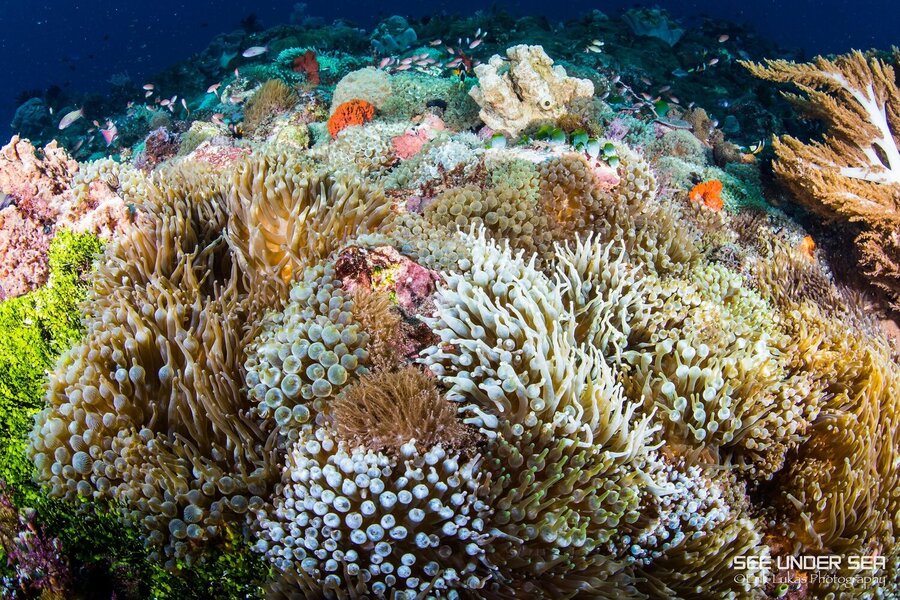 A good number of shark species can be found, including blacktip and whitetip reef sharks, zebra sharks, and leopard sharks. Blue-spotted ribbon tail rays and spotted eagle rays can often be seen sweeping across the sand, and schools of barracuda, giant trevally, and Napoleon wrasse are all regular visitors.
Four species of marine turtles live in the waters around the Similan Islands, with the beaches of Ko Huyong, Ko Payang, and Ko Payan (also referred to as Islands 1, 2, and 3) recognized as crucial turtle nesting sites for the leatherback and olive ridley turtles. Divers will often be accompanied by green or hawksbill turtles when they explore the outlying atolls.
The critter-life is no less exciting, with multicolored nudibranchs, pipefish, scorpionfish, and tiny octopus contributing to the rich macro scene.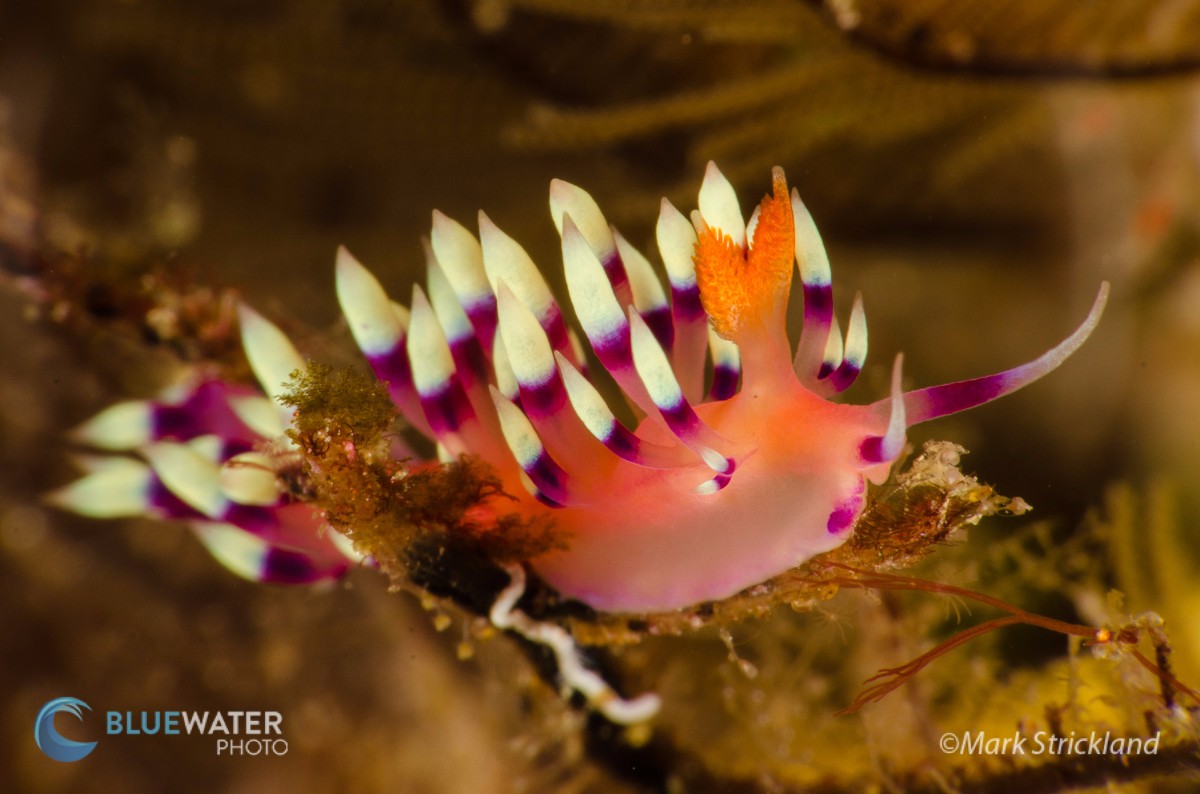 Between December and April each year, manta rays and whale sharks stop-off on their migration to feed in the Andaman Sea's plankton-rich waters. Individuals will often stick around for several weeks, and can regularly be sighted around the outer reefs and atolls.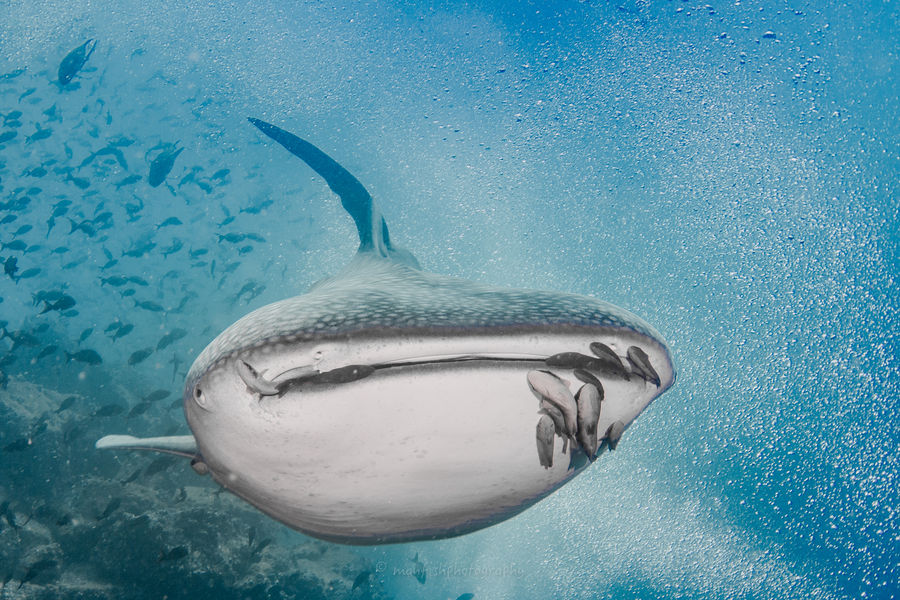 The fascinating underwater topography of these islands creates an ethereal backdrop to an exotic aquarium, where granite columns and stacks appear almost fluid in structure, shimmering and melting in the dazzling sunlight that pierces the crystal water. Diving the Similan Islands is a real treat, and one of the most unique and rewarding liveaboards trips you can experience.
Diving Conditions
Water temperature: 83-87°F (28-30°C) year-round.
Visibility: Excellent, up to 150ft.
Depth Range: Most dives are less than 100ft.
Diving Difficulty: There is a range of sites suitable for all levels, and many dives are easy and quite shallow.
Dive Sites
Travel Information

---
How to Get There
Thailand currently has six international airports, with Suvarnabhumi International Airport (BKK) in Bangkok being the main gateway to the country. It is easy to get anywhere from Bangkok.
How to Dive Thailand
Liveaboards are available to explore the Andaman Sea and reach dive sites you otherwise can't reach.
Best Time to Dive
Within the Gulf of Thailand, diving is available almost year round. November is the beginning of the monsoon season in which visibility drops and heavy rainstorms can occur but by the mid/end of December things typically have gone back to normal. On the Andaman side, the dive season is more limited. Some areas are only available to dive parts of the year (like the Similians and Koh Lanta). In general October - April is the best time to dive the Andaman Sea.
Topside & Non-Diving Activities
You can try to "island-hop" to different destinations comparing their offerings. Every island has its own personality, so depending on what you are looking for, certain islands would fit best. Looking for a night on the town? Koh Phi Phi on the Andaman side, or Koh Tao in the gulf would be a good start. Prefer a relaxing evening instead? The Andamans, Koh Lanta, or Koh Samui in the gulf could be better alternatives.
LIVEABOARD AVAILABILITY

---
Please contact us for the latest availability of the following boats: Diva Andaman, Similan Explorer, MV Hallelujah, Dolphin Queen, Deep Andaman Queen, MV Giamani, DiveRACE, MV Oktavia, and MV Pawara.
Other Useful Information

---
Practical Information
Currency: Thai Baht (THB).
Language: Thai is the national and official language of Thailand.
Main Airport Code: BKK.
Time Zone: UTC+7.
Electricity: The standard voltage is 220 V and the frequency is 50 Hz.
Vaccines: Please check the CDC website for updated information on vaccines, health concerns, etc. It is recommended that you are up to date with Typhoid, Tetanus/Diphtheria, Hepatitis, and Polio for any trip to the tropics.
Visa: U.S. citizens carrying a tourist passport and in possession of an onward or return airline ticket do not require a visa to enter Thailand.
UNderwater images
---