By AgnesA | Date: 08 Dec' 2020
Top 20 Dive Sites in the World
Every diver has their favorite site; a hidden gem on their doorstep they've explored a hundred times, or perhaps a once-in-a-lifetime vacation dive that conjures awesome memories. From historic shipwrecks to breathtaking marine life hotspots, spectacular coral reefs to lesser-known but equally special locations, we've pulled together our Bluewater best dive sites in the world. Each of these sites has been carefully selected by one of our well-traveled Trip Leaders, and they all guarantee some fantastic diving.
How many of them on your scuba diving bucket list?
Here are some of the best dive sites in the world. Pick one or scroll down to read the entire list:
1. Wolf And Darwin Islands, Galapagos, Ecuador
2. South Pass, Fakarava, French Polynesia
3. Anemone City, Alor, Indonesia
4. Richelieu Rock, Andaman Sea, Thailand
5. Tiger Beach, Grand Bahama, Bahamas
6. Roca Partida, Socorro, Mexico
7. SS Thistlegorm, Red Sea, Egypt
8. Blue Heron Bridge, Florida, USA
9. Cape Kri, Raja Ampat, Indonesia
10. Rapid Bay Jetty, South Australia, Australia
11. Apo Island, Dumaguete, Philippines
12. Los Islotes, La Paz, Mexico
13. Barracuda Point, Sipadan, Malaysia
14. Mellow Yellow, Vatu-I-Ra, Fiji
15. Blue Corner Wall, Palau, Micronesia
16. The Boiler, Socorro, Mexico
17. Magic Mountain, Raja Ampat, Indonesia
18. Manta Night Dive, Hawaii, USA
19. Dinah's Beach/Lauadi, Milne Bay, Papua New Guinea
20. Batu Bolong, Komodo, Indonesia
See also: World's Best Diving Spots, Top Remote Dive Destinations, and Solo Dive Travel Guide.
1. Wolf and Darwin Islands, Galapagos, Ecuador
Kicking off the list with a spectacular big ocean site, Wolf and Darwin Islands, on the fringes of the remote Galapagos archipelago, offer thrilling encounters with sharks and other pelagic superstars. Divers braving the challenging swell and strong currents will be well rewarded with sightings of huge schools of hammerheads, as well as regular appearances from Galapagos, silky, and whale sharks. For big animal fans who aren't averse to cooler waters, this site is not to be missed.
Bluewater Top Tip: Be sure to book a land tour to discover some of the Galapagos Islands' rare and endemic land species.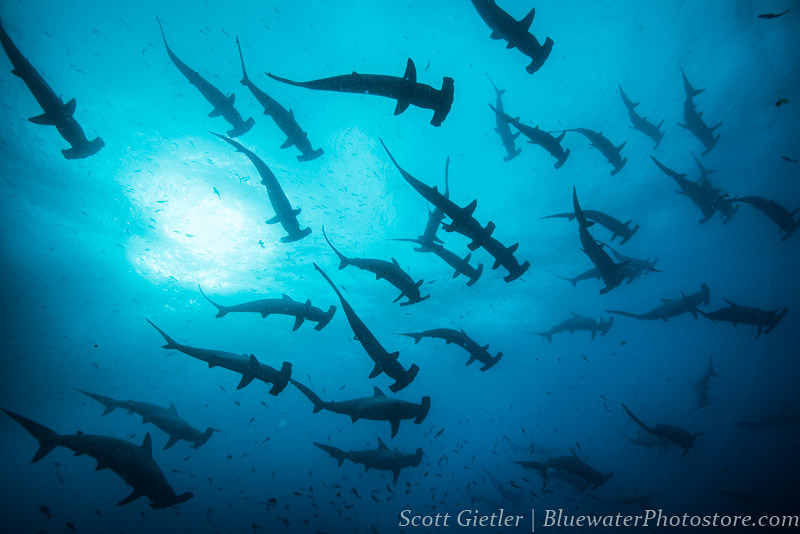 Join the April 2024 Galapagos Photo Workshop to experience some of the best shark diving.
2. South Pass, Fakarava, French Polynesia
French Polynesia is known as one of the best shark diving destinations in the world, and what better place to dive with them than in Fakarava Island's South Pass. Known locally as Tumakohua Pass, visitors can expect to encounter hundreds of lemon, whitetip, and hammerhead sharks patrolling the narrow sides of a submerged valley. The excellent visibility and dramatic topography provide the ideal setting for some top-notch shark encounters.
Bluewater Top Tip: French Polynesia is the ideal multi-center destination, with Moorea and Rangiroa also offering some great diving.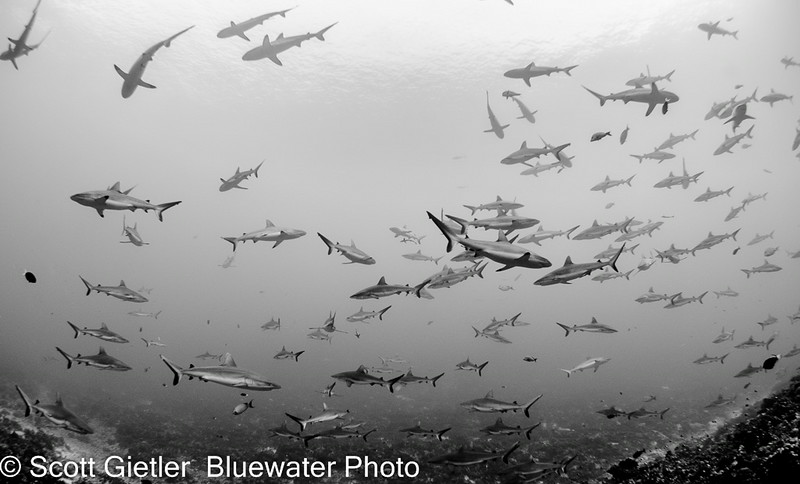 For some amazing humpback whale encounters, join our Moorea Group Trips in August/September 2024.
3. Anemone City, Alor, Indonesia
Beneath the little-known waters of the tiny island of Alor, a huge field of anemones is ripe for exploration. Quite possibly the largest of its kind in the world, this unique site is characterized by small volcanic boulders smothered in thousands of individual anemones in all colors, shapes, and sizes. Between the gently waving anemone fingers, countless clownfish dart to and fro, frantically protecting their patch from an unseen threat. It's easy to become absorbed in the individual dramas of this strangely mesmerizing city.
Bluewater Top Tip: Alor boasts some world-class muck diving, so don't forget to pack your macro lens.
4. Richelieu Rock, Andaman Sea, Thailand
A remote, rocky outcrop off the west coast of Thailand, Richelieu Rock attracts a huge diversity of marine life along its healthy reefs. Widely regarded as the best dive site in Thailand, visiting pelagics such as manta rays, whale sharks, and tuna mingle with resident reef species to create a variety and diversity of marine life that's difficult to beat. To top it off, some excellent macro critters can also be discovered amongst the huge and intricate coral heads.
Bluewater Top Tip: Richelieu Rock is often on the itinerary of Similan Islands or Surin Islands liveaboard trips.
See the liveaboard live availability and find a liveaboard in the Similan Islands.
5. Tiger Beach, Grand Bahama, Bahamas
The tiger shark mecca of the Caribbean and arguably the world, the small sand flat of Tiger Beach is tucked away in an inconspicuous corner of the Bahamas and has a fearsome reputation. Divers can mix with dozens of these awesome predators as well as lemon sharks, Caribbean reef sharks, and countless tropical reef species during baited shark dives. This shallow site boasts clean, white sand and sparkling water, providing excellent photo conditions and some impressive subjects.
Bluewater Top Tip: As well as the liveaboards departing from Freetown in Grand Bahama, Tiger Beach can also be accessed by liveaboard from West Palm Beach, Florida.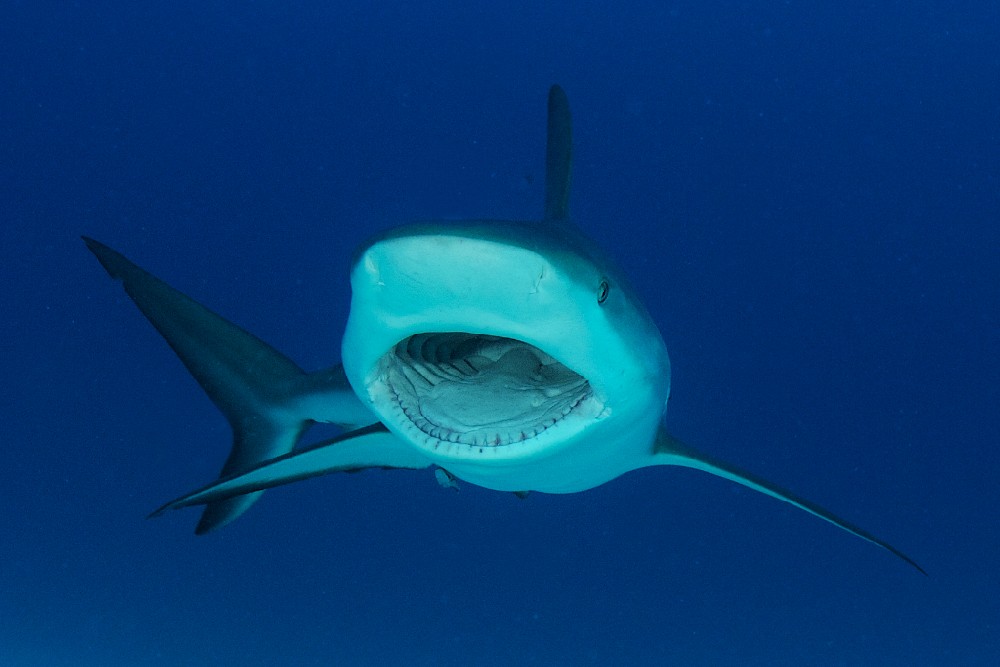 Find a liveaboard in the Bahamas that can take you to some of the best dive sites for shark diving.
6. Roca Partida, Socorro, Mexico
The only destination to feature twice on our list, Roca Partida is an epic dive site featuring the pick of Socorro's exciting big animal action. Conditions at this isolated pinnacle are often challenging, but the strong currents and cool water upwellings attract huge numbers of silky, Galapagos, oceanic whitetip, and hammerhead sharks, as well as dolphins, whale sharks, and massive schools of jack and barracuda. Divers willing to brave the 24-hour crossing from mainland Mexico will be well rewarded.
Bluewater Top Tip: Time your trip to catch specific species; November/December for whale sharks, February/March for humpback whales, and May/June for baitballs and more whale sharks.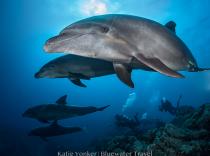 Join our next photo workshop trip to Socorro in February 2024 and read all about our latest adventures there from our Socorro Trip Report.
7. SS Thistlegorm, Red Sea, Egypt
A firm favorite amongst visitors to the Red Sea, the SS Thistlegorm is an exciting military wreck offering exploration opportunities for all standards of recreational diver. Swimming through the dark cargo holds reveals a fascinating collection of wartime artifacts including jeeps, motorbikes, a shipment of boots, and plenty of ammunition. The wreck is home to abundant soft corals and some interesting macro hidden amongst the superstructure; a must-see for every wreck enthusiast.
Bluewater Top Tip: Visiting the Thistlegorm on a liveaboard trip gives you out of hours access to explore once the busy day boats have left the site.
See some of the best liveaboards in the Red Sea to take you to the amazing dive sites in Egypt.
8. Blue Heron Bridge, Florida, USA
A favorite of the Bluewater team, Blue Heron Bridge is a world-renowned site located at West Palm Beach's Phil Foster Park. Popular with snorkelers as well as divers, a huge diversity of marine life can be found in the lagoon's shallow waters. Macro critters such as seahorses, nudibranch, and pipefish abound, and the warm, sheltered waters offer a refuge for countless juvenile tropical fish. The site is easily accessible and offers something for all standards of diver.
Bluewater Top Tip: Visibility can be drastically reduced by the tides, so for the clearest water plan to start your dive half an hour before high slack water.
9. Cape Kri, Raja Ampat, Indonesia
The epitome of Raja Ampat in all its hugely diverse glory, Cape Kri in the Dampier Strait holds the world record for the most fish species identified in a single dive. The marine biodiversity here is the most impressive on the planet, with a whole host of weird and wonderful creatures encountered on every dive. While currents can often be brisk, this brings a multitude of reef fish out to play.
Bluewater Top Tip: To experience the best of Raja Ampat and visit as many sites as possible, look for a one-way liveaboard trip.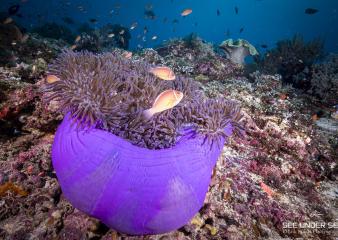 See all the Raja Ampat Liveaboard options that can take you to some of the most biodiverse dive sites.
10. Rapid Bay Jetty, South Australia, Australia
At first glance this inconspicuous jetty doesn't appear promising, however, amongst the pier pilings, a multi-colored aquarium of schooling fish and some very unique macro is ripe for discovery. Rapid Bay Jetty is one of the most reliable sites in Australia for spotting the leafy sea dragon, a stunning relative of the seahorse and pipefish, evolved to blend seamlessly with its brown kelp habitat. Hiring a guide is often the best way to spot these amazing but rare fish.
Bluewater Top Tip: Leafy sea dragons can reach a foot (30cm) in length, so photographers will need a wide-angle lens to capture them.
11. Apo Island, Dumaguete, Philippines
While most visitors to Dumaguete may be there for the world-famous muck diving, nearby Apo Island is an extraordinary wide-angle dive in its own right, boasting a huge variety of marine species in all shapes and sizes. Steep walls crammed with hard corals are a sanctuary for countless critters, crustaceans, and eels, while millions of bright tropical fish dart between the coral heads. Huge schools of jack swirl above, completing a breathtaking scene of overwhelming color and movement. Apo Island will impress even the staunchest of macro photographers. The Philippines is also one of our top family-friendly dive destinations, with Apo Island a perfect site for both divers and snorkelers.
Bluewater Top Tip: For a complete change of scene, spend a day snorkeling with the whale sharks at nearby Oslob.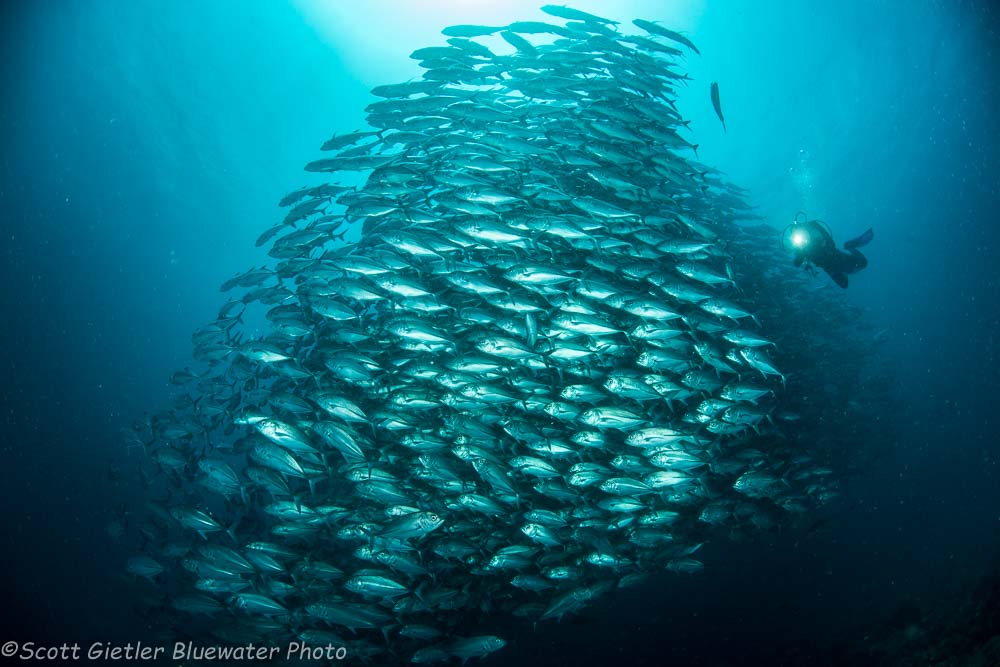 Read all about our last trip there from our Dumaguete Dive Report.
12. Los Islotes, La Paz, Mexico
It's hard to beat the joyful experience that is diving amongst the sealions at Los Islotes in the southern Sea of Cortez. These playfully inquisitive and often mischievous creatures provide hours of entertainment as they dart to and fro, teasing divers into a game of tag. While the sealions are without a doubt the star of the show, the site's rocky promontories are home to a variety of shoaling fish, including sardines, angelfish, and surgeonfish.
Bluewater Top Tip: The shallow nature of the site, and the surface antics of the sealions, make this a perfect site for snorkelers.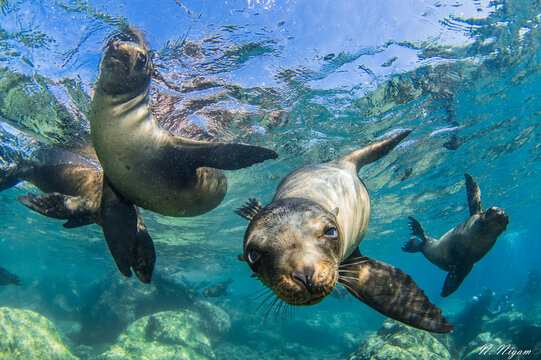 Read more about our encounters with lazy sea lions in Los Islotes and other amazing marine life in La Paz from our La Paz Trip Report.
13. Barracuda Point, Sipadan, Malaysia
An iconic site in an iconic destination, Barracuda Point showcases the creme de la creme of Sipidan's world-famous diving. True to its name, divers will encounter hundreds of chevron barracuda schooling in mesmerizing fluidity along a vibrant reef teeming with 3,000 species of fish. Other big ocean gamefish also congregate around the island's steep drop-offs, with shoals of trevally, dogfish tuna, and even hammerhead sharks making an appearance.
Bluewater Top Tip: A permit is required to dive Sipidan, so make sure you let your operator know in advance that you want to dive there.
14. Mellow Yellow, Vatu-I-Ra, Fiji
Located at the heart of the soft coral capital of the world, Mellow Yellow is one of several fantastic dive sites found in the Vatu-I-Ra Passage in Fiji's Bligh Waters. As the name suggests, this site is home to a large population of yellow soft corals thriving in the passage's brisk current. The water along the bright reef is thick with millions of orange, pink, and purple anthias, creating a magical underwater aquarium that has to be seen to be believed.
Bluewater Top Tip: This is a great place for photographers to practice their wide-angle technique, and two strobes are essential to capture the color in the corals.
Join us to discover the amazing coral reefs in Fiji at our Fiji Photo Workshop in November 2024.
15. Blue Corner Wall, Palau, Micronesia
On the southwest tip of Palau, the sweeping currents and steep drop-offs of Blue Corner Wall attract the full spectrum of Micronesian marine life in all its diverse glory. A huge range of reef fish can be discovered here, as well as vast shoals of schooling jack, barracuda, and snapper, Napoleon wrasse, and several types of reef shark. For divers able to tear their gaze away from the wall and out into the blue, eagle and manta rays can often be spotted gliding alongside turtles, tuna, and even the occasional whale shark.
Bluewater Top Tip: Palau offers some fascinating WWII history, so a land trip is a must.
See the live availability among the best liveaboards in Palau.
16. The Boiler, Socorro, Mexico
Socorro's world-famous dive site is renowned for magical encounters with some very docile manta rays. As the name suggests, The Boiler promises often-tumultuous dive conditions, however, all this is forgotten once divers descend to the top of the submerged plateau and join the mantas at their cleaning station. These graceful creatures swoop and glide in a daily secret dance just above the reef, and even appear to play in the exhaust bubbles omitted from scuba sets. The experience is otherworldly and a rare chance to interact with these magnificent gentle giants.
Bluewater Top Tip: Comparable with the Galapagos and Cocos, Socorro is the most accessible of the Pacific big animal destinations, and is easily reached from the US.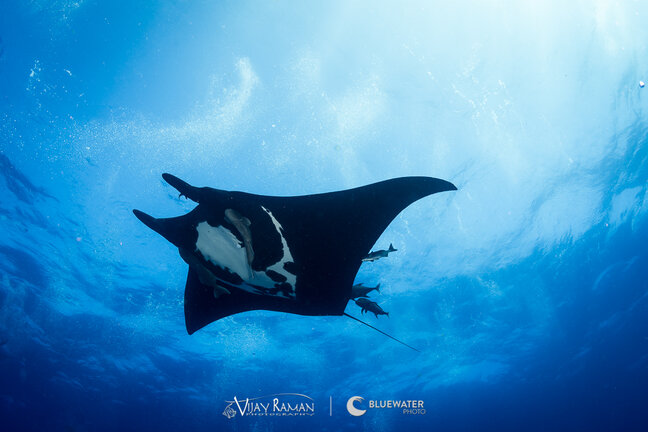 Read our full article on the top three destinations to dive with big animals- Socorro, Cocos, and Galapagos, and see the best liveaboards in Socorro.
17. Magic Mountain, Raja Ampat, Indonesia
A kaleidoscope of color and a fantastic mix of creatures great and small make this one of the most popular sites in the Misool region of Raja Ampat. A submerged ridge starting at only 18ft (6m), the site consists of stepped ledges, each a microcosm in its own right. Hard coral gardens support unique macro life, and where the ridge ends and the currents pick up, large pelagics and schools of fish can be spotted in the blue. This site is a must on a Misool itinerary.
Bluewater Top Tip: Drift diving is the norm in Raja Ampat, so it is essential to bring a DSMB with you.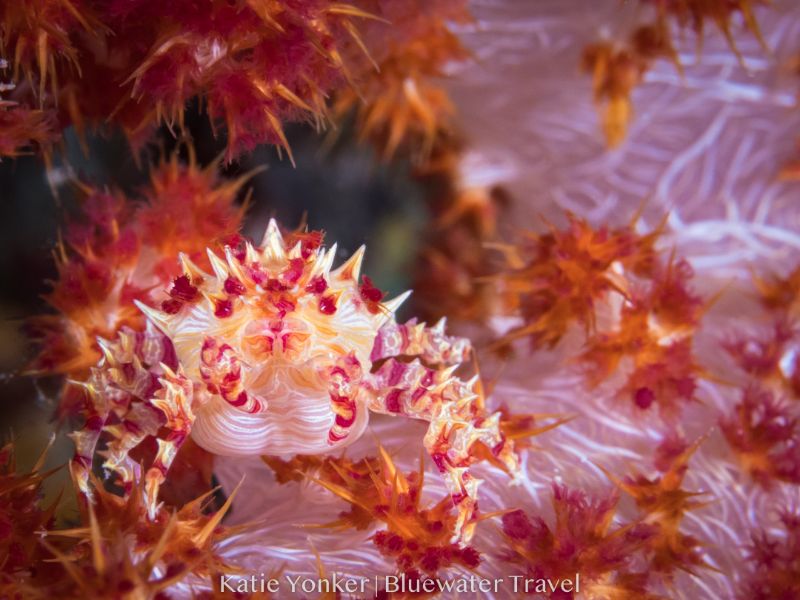 Join our Raja Ampat Photo Workshop in November/December 2023 to capture some amazing critters.
18. Manta Night Dive, Hawaii, USA
Another fantastic manta ray dive site, the Hawaiian island of Kona is famed for its year-round night-time encounters with mantas. Feeding on the plankton attracted by the bright lights of Kona's beach resorts, these graceful filter feeders gather in their dozens just offshore and created an exhilarating spectacle as they swoop in and out of divers' torch beams. Snorkelers can also experience the show, and this is one of the top marine adventures on the island.
Bluewater Top Tip: The best months to visit this popular tourist destination are September and January when resorts are less crowded.
19. Dinah's Beach/Lauadi, Milne Bay, Papua New Guinea
Encompassing the very best of Milne Bay's exceptional dive scene, Dinah's Beach by the small village of Lauadi seems insignificant at first glance. However, credited as the original home of muck diving, this stretch of black sand sinking below the waterline is crammed full of critters and is a mecca for macro photographers seeking out the weird and the wonderful. Most of the site's minute inhabitants live in the shallowest 30ft (10m) sloping substrate, so divers should have more than enough time and gas to explore.
Bluewater Top Tip: There is always something new to see here, so visiting the site at different times will provide a few surprises.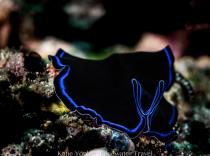 20. Batu Bolong, Komodo, Indonesia
A classic south Komodo site, Batu Bolong is characterized by fierce currents racing on either side of a small but vibrant pinnacle. Divers will explore the steep walls in a zigzag route, discovering the healthy reef whilst avoiding the worst of the current. The shallower reaches feature stunning hard coral formations smothered in tropical fish, while out in the blue reef sharks, turtles, and huge tuna loiter with a watchful intent.
Bluewater Top Tip: Komodo is the perfect liveaboard destination where both northern and southern sites can be explored to their full potential.
Join our August/September 2024 Bali to Komodo Photo Workshop.
---


Dreaming of diving some of these dive sites? Keen to book the best dive vacation possible? Contact us at info@bluewaterdivetravel.com and we'll help you plan your dream vacation!