Galapagos underwater Photo workshop May 2026
This will be an epic 10-night trip to see hammerheads, mantas, penguins, batfish, seahorses, Galapagos sharks and more. The trip is timed for the best hammerhead encounters, best visibility, and best water temps. The trip will be on the excellent Galapagos Master.
WHY JOIN THIS TRIP?
FREE daily photo workshops and tutorials
Best time for hammerhead encounters
Modern luxury liveaboard - the Galapagos Master: great amenities and spacious cabins
25% off rental photo gear from Bluewater Photo
Timed for best water temps and visibility
Trip Overview
"I have put together an epic trip to the Galapagos, where we will help people get incredible photos of hammerhead sharks, mantas, penguins and more. I have picked a boat with the best possible itinerary for this purpose at the best time of year - this will truly be a trip of a lifetime." - Scott Gietler
The unique and isolated islands of the Galapagos are home to truly extraordinary creatures: Schooling hammerheads and a large variety of other sharks, mantas, sea turtles, and sea lions, as well as endemic species such as penguins, flightless cormorants, and extensive schools of fish.
Scott has done extensive research to choose the best possible time of year and route for this trip. He will be making sure photographers and non-photographers alike have an incredible trip.
The Galapagos Master is a first-class yacht with capacity for just 16 divers. Its spacious cabins and well-designed dive amenities ensure a comfortable and relaxing trip. A spacious indoor lounge boasts cushioned bench seating and a plasma screen for photo viewing, and there is an indoor camera set-up station with numerous charging points and storage drawers situated to the rear, providing ample room for a full photography charter group. Further camera preparation areas can be found on the rear deck next to the dive deck.
Read reviews on diving Galapagos here
Marine Life to Photograph
Thanks to their extreme isolation, the Galapagos Islands have some of the most unique marine life on the planet. Here are just a few examples of marine life you're likely to see: dolphins, sea lions, penguins, turtles, marlin and large schools of fish, silky sharks, Galapagos sharks, whale sharks, reef sharks, hammerhead sharks, eels, and manta rays. This is a wide-angle photographer's paradise, but don't leave the macro lens at home: frogfish, octopus, seahorses, nudibranchs and other small subjects are found at various dive sites.
Diving Conditions
The trip takes place during the warm season in the Galapagos, with the highest water and air temperatures. We may experience afternoon rain showers, but the sun shines again after the rain.
Water temperature is 21-30C (70-86F) with some cooler thermoclines at depth. The northern islands are generally warmer. Visibility stays at an excellent 12 to 33 meters (40-100 feet).
Inclusions
Accommodations in a Lower Deck cabin, double occupancy

All meals and snacks throughout the cruise
FREE daily photo workshops and tutorials
Coffee from the espresso machine, tea, fruit juice, and soft drinks
Land-based tours
Airport transfers
Exclusions
Galapagos National Park fee ($100 cash, paid upon arrival in San Cristobal)

Ingala Transit Card ($20 payable at Guayaquil International Airport)
Nitrox ($225 cash, payable onboard)
Airfare, additional transfers, and hotels
Alcoholic beverages
Equipment/computer/underwater torch rental
Dive insurance
Fuel surcharge
Gratuity
TRIP TYPE
This trip is a PHOTOGRAPHY WORKSHOP. It will be led by one of our photo instructors and will include daily underwater photography tutorials, in-water photography support, and one-to-one advice and guidance as required.
What to expect from our Photo Workshops
Daily photo workshops

- Your photo instructor will schedule seminars each day on topics including, but not limited to, equipment type and selection, the concept of underwater photography, lighting and composition techniques, and post-processing. They will also include additional topics relevant to the location and your experience.

In-water support

- Where possible, each dive group will spend time underwater with the photo instructor, receiving in-water support and guidance on their shooting techniques. Participants can also request in-water assistance during the workshop and the photo instructor will do his or her best to accommodate all requests.

Consecutive days of practice & review

- Each day you will have the opportunity to practice the techniques and skills learned in the previous day's tutorials. If you are new to underwater photography you will likely see a vast improvement in just a few days.

Daily photo image reviews

- You are strongly encouraged to bring your laptop, a thumb drive, edit your photos, and submit your shots for review from both the instructor and your peers. These are fun and interactive sessions encouraging you to improve throughout the trip.

Quality time with fellow photographers

- Both new and experienced photographers from past workshops have expressed the advantages of joining a trip with like-minded divers with a passion for underwater photography.

Suitable for everyone

- New and experienced photographers are welcome on all our trips. Gain the necessary skills to start shooting great photos, increase your confidence in finding the best underwater shots, or hone specific skills. We also encourage non-photographers to join, as many of them really enjoy the daily photo reviews, learning about underwater photography, and some have even returned to a photo workshop with an underwater camera setup!
Enjoy free, unlimited access to a wealth of knowledge and advice from your photo instructor.
Trip Schedule
The itinerary can be variable and will be planned according to the direction of the trip leader and cruise director on board. They will have a good idea at that time of the conditions at the various locations.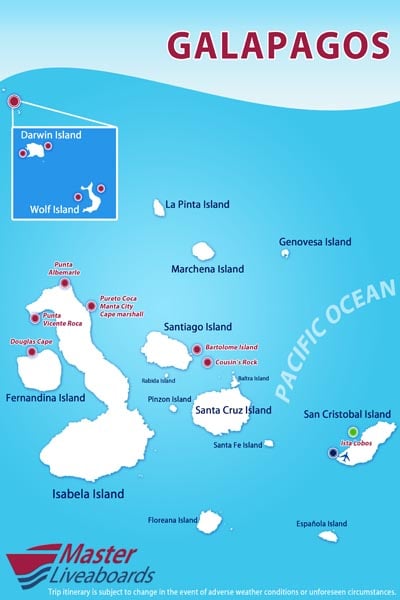 About the Galapagos Master
The new Galapagos Master liveaboard used to be the "Deep Blue" - a very well-laid out boat. The Master Liveaboard fleet, owned by the Siren Fleet (WWDS), has refitted the boat with new engines, new compressors, new generators, new water-makers, individual air-con, an entertainment system in each room, a dedicated camera station, new dive gear for rent, and Nautilus lifelines, along with many other small improvements.
Read the report on our previous Galapagos trip and great reviews of the Galapagos Master!
ABOUT THE TRIP LEADER
Flight Information
The trip will begin and end in San Cristobal.
When the time comes (no sooner than 1 year before departure) we can assist you with flight suggestions and booking.
Guests will fly into Guayaquil International Airport (code GYE) or Quito (code UIO), then take one of the daily 1-hour flights to San Cristobal (code SCY).
Embarkation begins on May 7th; it is recommended that guests arrive on the 6th and stay in a nearby hotel, although if you are tight on time it is still possible to arrive on the 7th and immediately board the boat.
Disembarkation is the morning of May 17th; you will take one of the daily flights out of San Cristobal back to GYE or UIO. Have at least 3-4 hours layover before your international departure, or stay a night near the airport if you want to play it safe.
Payment Schedule
Deposit: $800
Payment 2: $2,400 - Due 2/15/25
Payment 3: $4,000 - Due 8/15/25
Final Payment: Due 11/15/25
Photo Gallery
---
Galapagos Photos & Video from Previous Trips
TRIP DOCUMENTATION
A resource of information for guests who have signed up for the trip.
Master Liveaboards Trip Information
Domestic Flight Schedule - N.B. the prices quoted may not be accurate and are currently under revision. Please contact us for the latest flight prices.