Destination: Ecuador
Master the Galapagos (7 & 10 Nights) | From $708++/night

---
Galapagos Master Quick Pitch
The Galapagos Master dive liveaboard offers premiere dive cruises on a spacious first class yacht, complete with trip itineraries that take divers to the best sites, including Wolf & Darwin Islands.
Location
The Galapagos Master embarks and disembarks at the island of San Cristóbal. Book your international flight into and out of Quito or Guayaquil International Airport in Ecuador from where there are daily domestic flights to San Cristóbal (SCY). Their representative will meet you at the airport.
Dive Overview
Excellent diving with large marine life. The Galapagos Master liveaboard boasts specialized scuba dive service for an exceptional holiday.
[See: Galapagos Dive Travel Guide]
Check Out This Awesome Video!
Accommodations
Types of Cabins, Amenities and Photos

---
Galapagos Master Cabin Overview
She has 8 well-appointed modern cabins accommodating 16 divers.
General Facilities

---
Galapagos Master Boat Features
Spacious indoor lounge
Cushioned bench seating
Plasma screen for movie and photo viewing
Indoor camera set-up station, with numerous charging points (US flat pin plug)
Shaded outdoor bench seating
Sun-deck
Bow area with additional cushioned loungers
Indoor dining area complete with cocktail bar
Galapagos Master Dive Facilities
Individual set up areas
Under bench storage for all your personal items
Rinse tanks
2 shower heads
2 deck heads
Food & Drinks Aboard Galapagos Master
All-inclusive western & local food served in buffet style. A selection of wines and beer are available.
Galapagos Master Deck Plan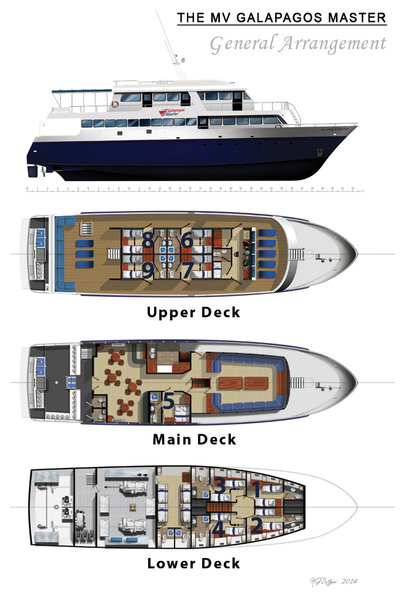 Schedule, Rates & availability
Galapagos Master Schedule & Rates

---
Prices are in USD, per person and do not include park and port fees.
[See also: Inclusions & Exclusions]
INCLUSIONS
Full board, including water, tea, coffee, snacks between meals and after dives
Diving and dive guides
Island tours
Transfers on departure and arrival days between San Cristobal Airport
Up to 4 dives daily
Weights, weight belt & SMB
Exclusions
Mandatory: US$100 Galapagos National Park Fee (payable on arrival at San Cristobal Airport) & US$25 Ingala Transfer Card (payable on arrival at Guayaquil Airport or Quito Airport)
Equadorian departure taxes (between US$28 -41) if not included in your flight ticket
Full dive equipment rental (from US$45 per dive day)
Nitrox (US$150-200)
Alcoholic beverages (prices vary)
Satellite internet
Master Liveaboards merchandise (prices vary)
Laundry
Crew gratuities


Important Note
Optional extras payable on board the Galapagos Master are priced in USD. Galapagos Master can accept cash payment only on board in USD, Euro, GBP, and AUD.
RATES & AVAILABILITY
For more information on other departure dates, rates, and on availability email us at info@bluewaterdivetravel.com or call us at +1-310-915-6677 and we will gladly help you plan your dream dive vacation!
Dive Information & Itineraries

---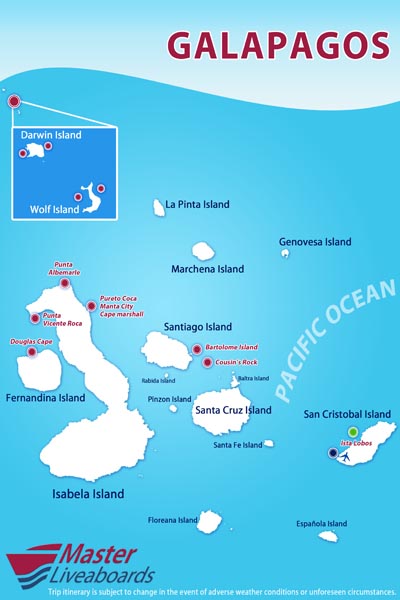 Master the Galapagos Itinerary (7 & 10 Nights)
On a typical day, they offer up to 4 day dives. However, the 4th day dive may be substituted for a night dive when the boat is anchored within a sheltered cove. A 7-night itinerary provides for between 18-20 dives, whilst during our 10-night itineraries, up to 30 dives will be possible. The diving day aboard the Galapagos Master is scheduled as follows:
Light Breakfast followed by a briefing and Dive 1
Full Breakfast, relaxation period, briefing and Dive 2
Lunch, relaxation period, briefing and Dive 3
Snack, relaxation period, briefing and Dive 4, where possible
Dinner
To allow guests to explore the Galapagos to its fullest, on days 2, 7 and 10, dives 3 and 4 will be substituted by an island visit at North Seymour, Santa Cruz or Isla Isabela. 10, dives 3 and 4 will be substituted by an island visit at North Seymour, Santa Cruz or Isla Isabela.
Dive Overview
Diving in the Galapagos can be challenging, even for the experienced diver. At many sites, currents can be strong and visibility may diminish due to currents and an influx of nutrients. It is highly recommended that guests have training beyond beginner level and a minimum experience of 50 dives, preferably in similar conditions. If the dive crew feel that you do not have the relevant skills or experience to dive the more challenging sites safely then they may stipulate that you sit out some dives.
Water temperature ranges from 21-30°C (70-86°F) between December and May when manta rays are more commonly sighted. However, it drops to an average of 16-24°C (60-75°F) between June and November when the Humboldt Current comes up from the south, bringing with it plankton; making this the best time for seeing whale sharks. Thermoclines can also be expected and divers are advised to bring suitable thermal protection.
Other Information

---
Boat Specifications
Year built: 2004
Year renovated: 2015
Length: 32.3 meters
Beam: 7.5 meters
Cruising speed: 12.5 knots
Engines: 2 x MTU 6062 475 HP
Max guests: 16
Number of cabins: 9
Number of bathrooms: 10
Tenders: 2
Water capacity: 16 tonnes
Practical Information
Time Zone: UTC-5
Local Currency: USD (US Dollar)
Language Spoken: English
Electricity: 110 & 220V
Payment Onboard: Cash (USD, Euro, GBP, AUD and NZD)
Underwater Gallery

---