By AgnesA | Date: 18 Aug' 2021
Galapagos Islands Trip Report
August 2021
Camera gear: Nikon D850 in a Subal housing with dual INON Z240 strobes, 8-15mm Nikon fisheye lens and the 16-35 Nikon rectilinear wide angle, both behind a Zen 230mm dome port.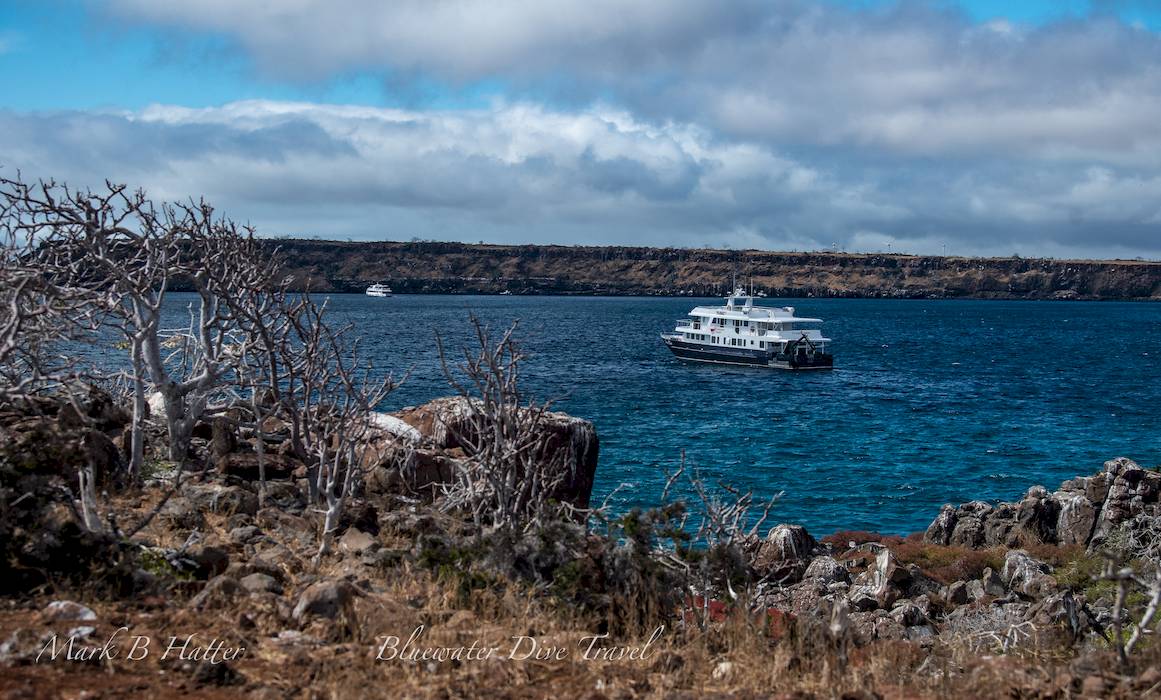 Fifteen guests and I just completed an amazing seven-day diving adventure and underwater photography workshop in the Galapagos Islands. The trip was organized by Bluewater Travel and I was the trip leader. Head dive guide and professional naturalist Jeffrey greeted us at the airport in San Cristobal, as guests and I from around the world arrived from both Guayaquil and Quito, our penultimate stop in Ecuador. Fortunately for all, our full travel checklist of kit as checked baggage (dive gear and photography equipment) arrived as scheduled into San Cristobal.
After clearing customs, transferring to the boat, completing safety briefings, and gearing up, we were excited to begin our trip with a checkout dive in the local harbor. The dive provided an opportunity for the guests to determine the appropriate lead weight necessary for diving the thicker wetsuits needed for much of the Galapagos.
The shallow checkout dive proved more than just an opportunity to balance our kits with lead. A group of juvenile Galapagos sea lions came over to play and kept us entertained to the point that I almost forgot the 63-degree water temperature (I'm from Florida guys, I even take hot showers in the summer)!
The next morning Galapagos Master sailed to Baltros where we completed a more extensive checkout dive, this time with our camera outfits and diving to about 60 feet, giving all a chance to get their photo gear dialed in. After the dive, we took the RIBs to a nearby island for a land tour of reptiles, boobies, and frigate birds. Along the way, Jeffery gave us fascinating information about the flora and fauna of the Galapagos.
With the main event still many hours of sailing away, we departed for Darwin Island upon returning to the Galapagos Master mid-afternoon.
We made good time on a mostly calm sea and arrived at Darwin ahead of time, easily allowing our guests and me to complete four full dives off the south end of the legendary Darwin's Rock. There, over the next two days, we'd have drive-by encounters off "The Balcony," with the denizens which make the Galapagos Islands so popular for big animal divers. From scalloped hammerheads, silky and Galapagos sharks to schools of bigeye jacks and giant trevally (GTs), The Balcony did not disappoint.
Oddly, for most of us who'd not yet dived Darwin, the 79-degree water was a pleasant and welcome surprise. To be sure, we dived Darwin, which is a few degrees above the equator, in the Northern Hemisphere summer, where the prevailing current is considerably warmer than the currents bathing the islands below the equator, as we'd soon discover.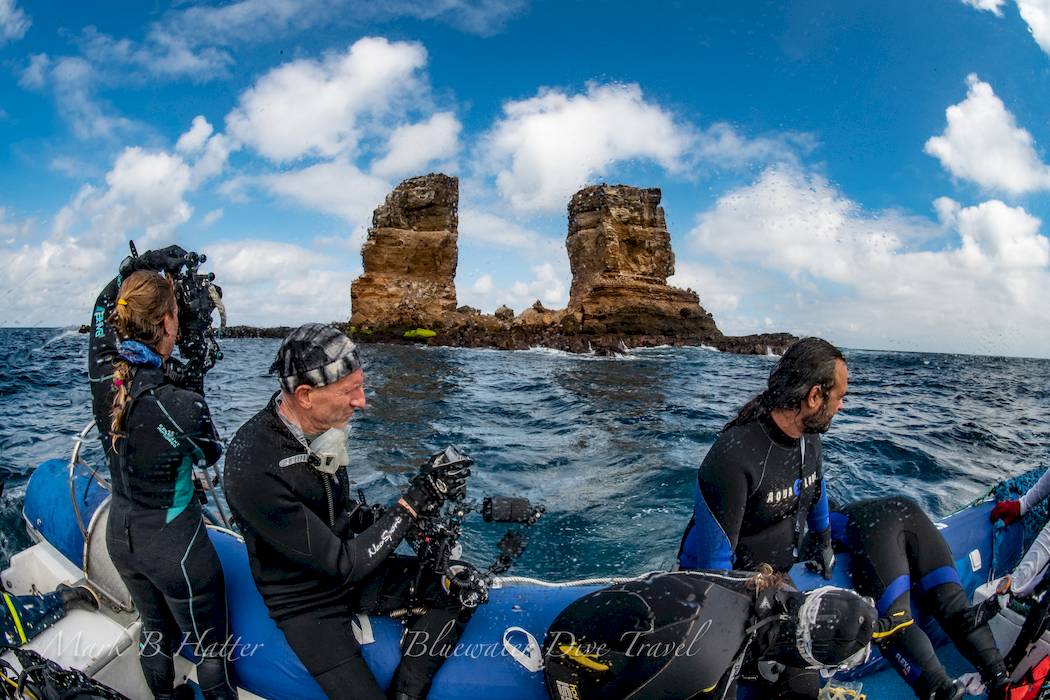 Whale sharks are one of the premier animals that all divers hope to encounter, and those that cruise the upper slopes of Darwin can be exceptionally large. For the divers in my group, we had the good fortune of seeing just how big these animals can grow. About midway through the dive, as I trained my camera on a school of barber fish opposite the drop-off, our divemaster grabbed my fin with such force I thought I was violating some important rule while diving. As it occurred, he was drawing my attention toward the drop-off where the largest whale shark I've ever encountered, easily 40 feet plus, cruised past our awestruck assembly. Of course I was unprepared and didn't get a single image. Ironically, the few images our group was able to manage could not pay tribute to the animal whose length and girth were too large for the intermediate length rectilinear wide-angle lenses we'd employed for the more distant hammerheads!
After two days and eight dives at Darwin, we steamed a few hours south to Wolf Island where we anticipated a bit of an anticlimax with the schooling sharks of Darwin. Ironically, the supercharged current at "Landslide" proved to be a more powerful attractor to all manner of sharks and rays than that at Darwin.
With our legs wedged between rocks, our upper bodies buffeted in the strong current reminding me of the scene in The Matrix where Neo was bending freakishly in slow motion to avoid Mr. Smith's bullets. The big animals of Darwin and Wolf love strong currents and put on quite a show for each of the four dives we completed that day. For me, the highlight was the group of eagle rays which literally "flew" stationary in the current for minutes at a time at arm's length from our positions between the rocks.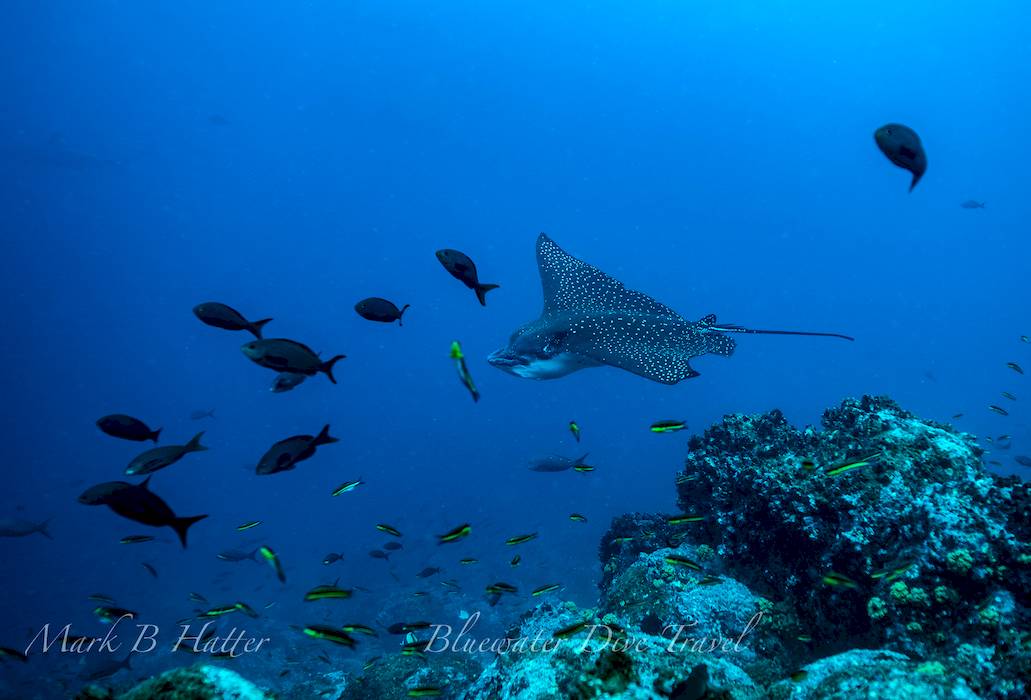 It was another long sail that evening to the south where winter is in full swing and the ocean and air took a decidedly different turn in temperature.
At Fernandina Island, diving in 58 degrees, nutrient-rich green water, we shot the Galapagos batfish off a western wall at 60 feet. Admittedly, the 7-millimeter suits most of us employed seemed a bit too thin, and we were eager to warm up back aboard the Master with cups of hot cocoa. And it was important for all to warm our core as the next dive was scheduled at noon where we had a very short window to shoot marine iguanas feeding along the shore of Fernandina.
Our good juju continued, the sea was calm with no swell, and our RBI drivers were able to drop us in literally right next to shore where the majority of iguanas were feeding in shallow water. The comical lizards were ambivalent to our camera lenses as they grazed on the lush green and red algae covering the volcanic rocks. Even pesky damselfish, nipping the heads of several feeding iguanas I encountered, were largely ignored.
Another hours-long run took us to our day's final dive at Vicente Roca, a site on the northwestern end of Isabella Island, where we hoped to encounter mola mola at a cleaning station off the western wall at around 80 feet. It was a late afternoon dive and a thick layer of warm, murky water obscured our entry and descent. However, at 40-feet we punched through a cold thermocline of 61-degree water where the light was so low it seemed like twilight. Alas, our time was short and the mola mola were a no-show. But the warm, turbid water near our safety stop was most welcome, helping to offset the chill we'd acquired from the empty cleaning station below.
We capped our trip the next day with two dives at Cousins Rock. Of course, we would have gladly dived a third (or maybe a fourth) time at Cousins, but the law of physics and flying protocols kept us grounded just after our second dive. Plus, there was plenty of kit to dry out on Galapagos Master's upper deck in preparation for packing for the journey home.
At Cousins, the visibility was excellent and the various stair-step ledges held sea turtles and white tip sharks, great subjects for the wide angle shooter. After lunch, we rounded out the afternoon with a trip to town on the island of Santa Cruz and a visit to the Darwin Center to see a few of the remaining 14 different species of giant tortoises, which still inhabit several of the larger islands.
The following morning, now back in San Cristobal, our packed kits were transported to the airport by our attentive boat crew as we said our farewells and exchanged emails. Our trip on the Galapagos Master liveaboard has been more than just another diving adventure. It was a journey back in time to a still pristine, yet fragile ecosystem, supporting some unique species of animal life found nowhere else on the planet.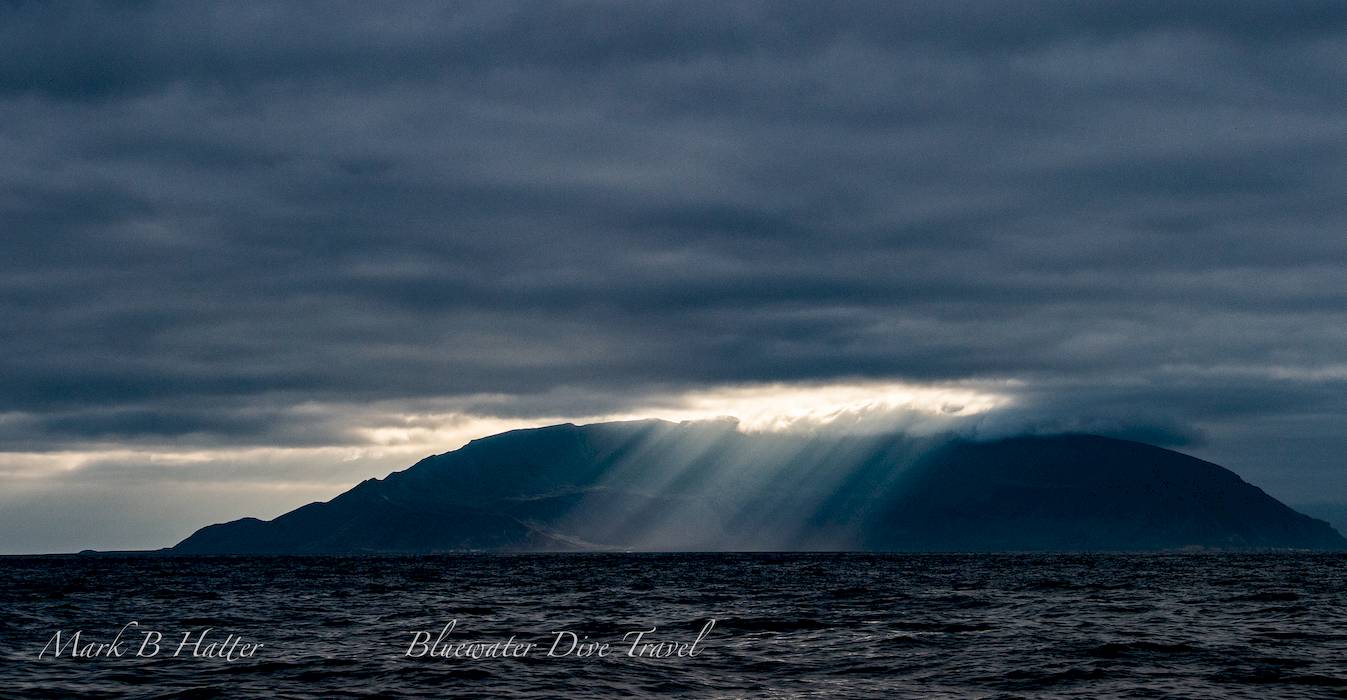 ---
Upcoming Galapagos trips
Join our next photography workshops on the Galapagos Master:
Galapagos April 22 - May 2, 2022 (10N)
Galapagos Nov 7 - 14, 2022 (7N)
Galapagos May 15 - 15, 2023 (10N)
Galapagos Apr 25 - May 5, 2024 (10N)
Can't make it to one of those trips? See also the liveaboards available in the Galapagos or email us directly to book your next dream dive vacation!
---
New to liveaboards? Check out our article on the World of Liveaboard Diving.
OR
Check out our article on the Best Liveaboard Destinations for Beginners.
---