By Travel Editor | Date: 01 Sep' 2018
Bluewater Travel Photo Workshops
World class dive destinations!
Why Join Our Photography Workshops?
25% off photo gear rental from Bluewater Photo.
No hidden cost - Our daily photo workshops are included in the price of your trip. A Photo Professional will be on hand, both above and below the surface, to assist you with all elements of your photography, at no extra cost.
Suitable for all - New and experienced photographers are welcome on all our trips. Gain the necessary skills to start shooting great photos, increase your confidence finding the best underwater shots, or hone specific skills under expert guidance and 1-to-1 assistance throughout the trip.
Designed around photography - We aim to work with resorts and liveaboards that provide photographer-friendly facilities. Their dives guides are also there to facilitate the best photos, as well as show you the reef.
Experienced dive travel experts & photo instructors - Our knowledgable team of Trip Leaders and Photo Professionals have years of experience in the field. Bluewater Travel comes from the same underwater photography enthusiasts behind uwphotographyguide.com and bluewaterphotostore.com. Click here to learn more about us.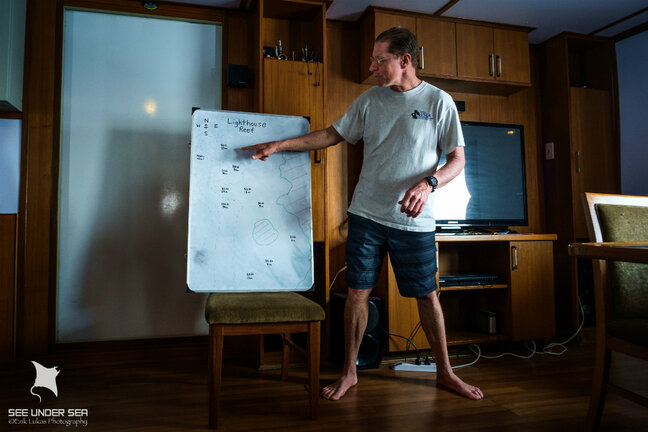 What You Can Expect from Our Photo Workshops
Daily photo workshops - Our expert instructors will cover everything from equipment type and selection, choosing what's right for you, provide a high-level understanding of photography, discuss the concept of underwater photography, explain lighting and composition techniques, and offer practical hands-on tips, plus post-processing advice and more!
Consecutive days of practice & review - Keeps things fresh in your mind and allows you to practice what you have learned. Many new photographers experience noticable improvements within the first few days of a trip.
Daily photo image reviews - Our experts will critique and dicuss your shots, encouraging you to improve throughout the trip.
Quality time with fellow photographers - Sharing information and knowledge, trading ideas, peer critiques, the opportunities are endless.
And most importantly, unlimited access to a wealth of knowledge and advice from our photo leaders.
Testimonials
"The daily workshops were fun and also informative for everyone on our boat, from novice photographers to experienced professionals. We learned tips and tricks about lighting, framing and even post-processing. I have since applied a number of the techniques during future trips and have noticed significant improvement in my photos."
"He was patient, knowledgeable, organized, and friendly. He had a concern for all of us--travel-wise and photography-wise. He was one of the best. I'm a better shooter as a result of their instruction."
"This was my first photography workshop, so I didn't know what to expect. They always stopped by to see my photos when I was working on them and offered feedback. They were always eager to answer questions when I had them. They were fun to dive with, too!"
"Fantastic - very patient with everyone and knowledgeable."
"Assistance on the boat, and generally accessible attitude, particularly helpful."
"Bluewater sent an excellent trip leader and teacher. I highly recommend him. He is patient, exceptionally knowledgeable, has an excellent demeanor, and great communication skills. I look forward to going on another workshop."
"Over many decades of diving, I've gone on a number of photo workshops on liveaboard trips, but none come close to the standard set by Mark Strickland! Every day we had an hour or more discussion about some aspect of underwater photography, including some specialized topics that helped a lot, plus an image review of three or four shots each diver had taken that day. Mark's critiques were always constructive and our photos got steadily better. Mark is also a great guy, fun to travel with, fun to dive with. He never minded being asked for help, either! All in all one of the best trips ever! And we for sure will go on another of his trips soon!"
Have a non-photographer buddy? No worries! We are also completely non-photographer friendly and always have a few non photographers joining our trips!
---
View all 2023 Underwater Photo Workshops
View all 2024 Underwater Photo Workshops
View all 2025 Underwater Photo Workshops
View all 2026 Underwater Photo Workshops
Got Questions? Ready to Book?
Call us today at +1-310-915-6677 or email us at info@bluewaterdivetravel.com
And let us book your dream vacation at the best price!