Socorro Island Diving, Mexico
---
Socorro diving highlights
Socorro scuba diving is an underwater adventure filled with exciting encounters with large marine animals including the friendly giant manta rays, playful dolphins, breaching humpback whales, various rays, and over 7 shark species including whale sharks!
Socorro Island is nicknamed Mexico's "Little Galapagos" due to its unique ecosystem and attraction of large pelagic animals. The archipelago hosts some of the world's best dive sites for large pelagics, comparable to other Pacific giants, namely the Galapagos in Ecuador, Cocos Island in Costa Rica, and Malpelo in Colombia. Among these other amazing scuba diving destinations, Socorro Island is the easiest one to get to from the Americas and most parts of the world.
See our comparison article on diving Socorro, Cocos, and Galapagos.
intro to SOCORRO ISLAND diving
Socorro Island is a small volcanic island situated 600km off Mexico's west coast. Diving Socorro is renowned for its big animal encounters, manta rays, and sharks.
Socorro Island is one of the islands out of the 4 main islands which form the Revillagigedo Archipelago in Mexico. Socorro Island along with Roca Partida, San Benedicto, and Clarión make up the Revillagigedo UNESCO World Heritage Site and are all amazing spots for scuba diving. These 4 islands combined are commonly referred to the Socorro Islands or simply "Socorro".
Socorro scuba diving is easily accessible to those who live in the United States. Divers fly into Cabo San Lucas (CSL) or San Jose Del Cabo (SJD) where most boats depart from.
More on How to Get to Socorro or View Location on Google Map
See this amazing video of diving the Socorro Islands.
Socorro Diving Liveaboards
The only way to scuba dive in Socorro is via liveaboard. There is a good number of liveaboards, from budget to luxury. Most Socorro trips last 8 nights and the crossing from Cabo to Socorro typically takes about 24 hours. Check out the two liveaboards of our Preferred Partners, Pelagic Fleet - Solmar V or the Quino El Guardian and Rocio Del Mar.
View Socorro liveaboard availability
best Time to Dive in socorro
The Socorro diving season runs only from November to May and liveaboard itineraries correspond. Manta rays are consistently present throughout this liveaboard diving season.
Want to dive with whale sharks? November to January offers a great chance for whale shark encounters in the Socorro Islands. And if swimming with humpback whales is your dream, they are often spotted between February and March.
More on Socorro diving season
Difficulty level
We recommend Socorro diving for experienced divers due to the exposed nature of the diving. The islands often see choppy seas and strong currents (which attract the rich pelagic life). The diving is correspondingly rugged, with rocky structures and some huge walls.
Socorro Diving information
---
Marine Life & Photography Subjects
Manta rays
Socorro Island is known for its manta cleaning stations, where divers and underwater photographers can often spend many dives with the gentle flying giants. They're regularly found when the water is warmer in the late spring.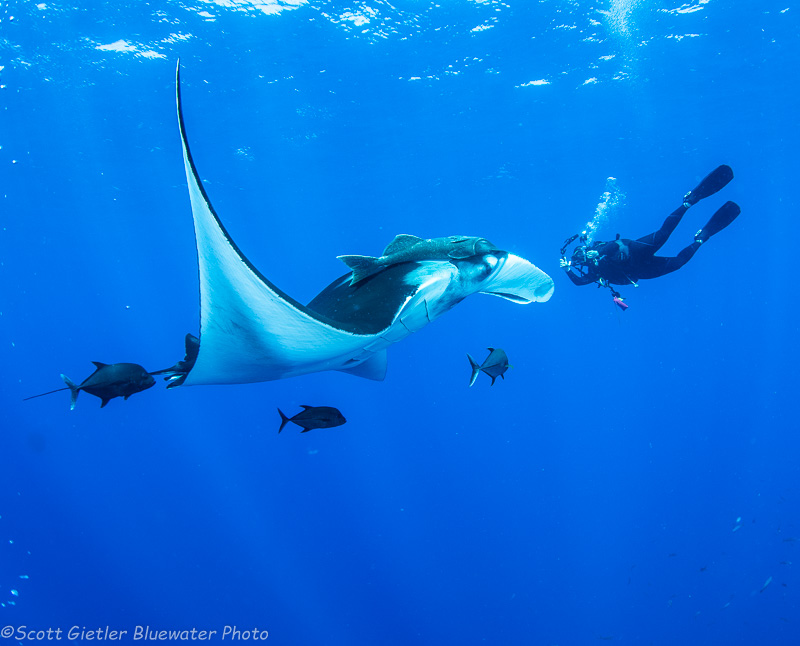 There aren't many places in the world that can match the manta ray experience in Socorro. Having visited so many places in the world, our team of travel advisors agreed that swimming with manta rays of Socorro Island is something that should be on anyone's scuba diving bucket list. The manta rays in Socorro are just incredibly friendly!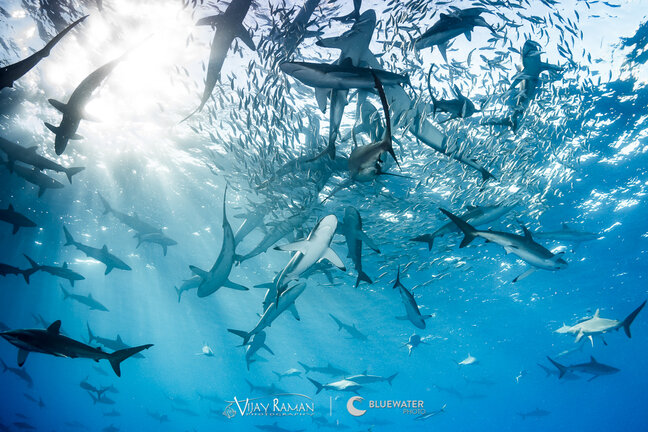 For another awesome manta ray destination, check out our Maldives liveaboards.
Various sharks!!
Galapagos, silky, oceanic whitetip and hammerhead sharks are common in Socorro, as well as dolphins, whale sharks (best in November) and schools of pelagic fish like jacks and barracuda. The shark dives in Socorro Island are simply world-class, placing them high on our list of best locations for shark diving.
Whales and other big marine life
Another "signature experience" at Socorro Island: swimming with a group of bottlenose dolphins that often visit divers and typically make several close passes.
Divers often see large gamefish like tuna, wahoo, and marlin, something few other destinations can offer.
When the water cools during winter months, from December to April, divers are often treated to humpback whale sightings.
Photos by Christina Ricafort (L) & Nirupam Nigam (R)
Macro photography in Socorro
While it's not really the best place to go for macro photography, divers who insist on bringing along their macro lens would be able to find eels, octopi, nudibranchs and a variety of other critters.
Macro photography is rarely the highlight of a Socorro dive trip, so it will be a great idea to ask in advance if macro photography opportunities will be present during your Socorro liveaboard trip.
Socorro Diving Conditions
Water Temperature: Water temps range from 21-23C/70-74F during the winter and 24-28C/76-82f during late fall and spring. Usually, a 5mm wetsuit with an optional hooded vest works well at Socorro. Note that dive gloves are not permitted at Socorro by law
Depth Range: 33 - 100ft (10 - 30m)
Visibility: varies depending on the dive site, season, currents and other conditions. Roca Partida often has the best visibility, reaching over 100 feet. There are sometimes reports of lower visibility in November/December (when whale sharks are found feeding on plankton).
Typical Socorro Dive
Liveaboards will typically run 3 to 4 dives per day, diving the best sites at Socorro: Roca Partida and San Benedicto Islands. Clarion is quite a bit beyond, so it is usually not visited on a week-long trip.
To learn more about diving in Socorro, read about our 2022 trip here.
Best Dive SItes in Socorro
Here are some of the best dive sites in Socorro:
1. EL FONDEADERO, SAN BENEDICTO ISLAND El Fondeadero is often dived first. It's generally pretty calm and not too deep so its where some boats go checkout dive. There are three large pinnacles full of lobster, fish, eels and occasionally shark.
2. THE BOILER, SAN BENEDICTO ISLAND A large pinnacle rises to about 20 feet from the surface, so you can't see it from topside. The surf and swell running across the top sometimes making the water look like its boiling. The pinnacle is small enough to swim around during one dive and it's very majestic looking from all angles. The bottom is at around 160' so getting your weights right and not being too heavy is very important. This area is a popular cleaning station for the giant Pacific manta. They gather here to be cleaned by the Clarion Angelfish.

It is usually just a matter of a few minutes in the water before the mantas started to show up. As they approach, they look you right in the eye, and you DO feel like you are communicating with them. On a past trip in March we were fortunate enough to see a humpback whale underwater here, and shortly after, a Tiger shark.

Here's why we think this is one of the best dive sites in the world.
3. THE CANYON, SAN BENEDICTO ISLAND "El Canyon" is on the south end of the island. It was here that we had seen many mantas, dolphins, Galapagos sharks, silky sharks, and schools of hammerheads off the point.
4. CABO PEARCE, SOCORRO ISLAND Cabo Pearce is located on the east side of Socorro Island. You can expect to see dolphins, humpback whales and mantas.
5. PUNTA TOSCA, SOCORRO ISLAND Punta Tosca is another site on Socorro Island. There are often playful, sociable dolphins here, and sometimes Silky sharks.
6. THE AQUARIUM The afternoon dives were done on the other side of the island at a spot called "The Aquarium". We could see whales just offshore the entire time we were there and we enjoyed a beautiful sunset.
7. ROCA PARTIDA Roca Partida is a guano-covered pinnacle about 85 miles from San Benedicto Island. About 100' high and as long as a football field, the pinnacle is in the middle of nowhere and is a magnet to pelagics. This is where you can see many sharks, mantas, huge schools of fish, and whale sharks (you must be very lucky). Oceanic white tips and hammerheads are often seen here around the beginning of the year.
BEST TIME TO go scuba DIVing in SOCORRO
November to May is the prime scuba diving season in the Socorro Islands, and the liveaboard itineraries correspond. During these months all the mantas and sharks are plentiful.
The best time to dive Socorro would depend on what you want to see as many of the marine animals are seasonal. Manta rays are present pretty much throughout the main diving season although they can be seen in abundance in the spring months. Humpback whale is also present around this period of time, although sightings are not guaranteed.
Here at Bluewater Photo & Travel we run our annual Socorro Island trips and photo workshops around the month of March because the waters are warmer, it's a great time to see manta rays in abundance, and there's a good chance to see humpback whales.
November to December is a great period of time to dive with whale sharks in Socorro. The water temps are slightly lower but after running a successful Socorro trip in December 2017 we decided to do it again with the Nautilus Under Sea in December 2019!
Join our next trips to Socorro in February 2023 and February 2024!
Socorro travel Information
---
How to Get To Socorro
The only way to get to and dive Socorro is on a Liveaboard due to the remoteness of the island. There are no day boat trips so you're only option is booking a liveaboard trip.
Divers fly into Los Cabos International Airport (SJD). Once through immigration, you'll make your way to your liveaboard's departure point at either San Jose Del Cabo (15 mins) or Cabo San Lucas (40 mins). Most boats take about 24 hours to reach Socorro from either city.
other Things to do
Cabo San Lucas, and to a lesser degree San Jose Del Cabo, offer a range of non-diving activities, including golf, fishing, village visits, and various other options. Once you're at sea, however, topside activities are limited to standard liveaboard entertainment: catching up with fellow divers, editing photos, reading, etc. There is not much else to do there!
Find out more about diving Cabo San Lucas.
socorro liveaboards

See the availability of liveaboards in Socorro and book online. Best price guaranteed. No credit card fees.
---
Please contact us for the latest availability of the following boats: Socorro Aggressor and MV Valentina.
Other Useful Information
---
Practical Information
Currency: Mexican Peso
Language: Spanish is the official language in Mexico but most people today learn English as a second language
Time Zone: UTC-7
Electricity: 127 V 60 Hz
Useful Tips for San Jose Del Cabo
Socorro liveaboard trips typically leave from San Jose del Cabo. Here are some useful tips that you can use before and after your trip!
1) "Los Cabos" refers to Cabo San Lucas and San Jose del Cabo. Cabo means "Cape" in Spanish. San Jose and San Lucas are how the "locals" refer to the two areas.
Both San Jose and San Lucas are beautiful places on the ocean, but you don't really swim in the ocean here at your resort, you just look at it.
2) Getting through the airport was fairly quick and efficient, but you might have to wait a little bit for the shared van ride to leave.

San Jose is about 25 minutes from the airport. A shared van ride to San Jose Hotels is $14. A taxi is $50. If you can manage to get an Uber at the airport, then that's the way to go, because Uber is WAY cheaper than taxis to get around.

Bonus Tip #1:

Uber doesn't charge your card, you pay cash (Dollars or Pesos) to the driver. San Jose del Cabo is much closer to the Rocio del Mar boat than Cabo San Lucas. But Cabo is not THAT far away either.

3) You can pay in dollars everywhere here. If you get a price in pesos, just use your phone calculator to convert it. No need to change money.

4) Bluewater owner Scott Gietler led a

trip to Socorro in March 2019

and stayed at the Holiday Inn Resort before the trip. It is on the ocean, it has a great pool, it is pretty nice. All meals and alcoholic drinks are included, which means it can actually end up being cheaper in the long run. This place is great for families and couples.

If you'd like us to arrange your stay before or after your Socorro trip, just

let us know

! We can also plan extensions for you.

Bonus Tip #2:

Google Maps shows the hotel in the completely wrong location!

5)

March is spring break month - you have to book airfare and hotels early!