Destination: Mexico
Itineraries: Socorro (9-12 days) & Guadalupe (5 days) | From $420++/night

---
Solmar V Liveaboard Quick Pitch
Solmar V is a popular and comfortable liveaboard offering unmatched service with unforgettable dive trips to the Socorro Islands and Guadalupe. The 112ft dive vessel has one of the most experienced crew to take you out exploring and offer you all the support you need during the trip. It is an excellent liveaboard for scuba divers, with a large dive deck and spacious personal equipment tables for setting up your gear. Solmar V is one of Pacific Fleet's original liveaboards.
Liveaboard Locations
The trips to Socorro start and end in Cabo San Lucas, Mexico, while the trips to Guadalupe (currently unavailable) start and end in San Diego, California.
If you're new to the world of liveaboard diving, check out our guide to liveaboard trips.
Dive Overview
Socorro diving is all about big animal encounters! It's famous for personal encounters with the Giant Pacific manta rays. Common shark sightings include hammerhead schools, white tips, silver tips, silkies, duskies, Galapagos sharks, and, occasionally, tigers. You may also see bottlenose dolphins and humpback whales while diving from the Solmar V liveaboard. Guadalupe (currently unavailable) is all about the great white sharks! Find out more about cage diving with sharks.
solmar v Accommodations
Types of Cabins, Amenities and Photos

---
Solmar V Liveaboard Accommodation Details
No. of Cabins: 12 cabins for up to 22 divers.
Cabin Types: 12 staterooms (10 doubles & 2 singles).
Air Conditioning: Yes. Individually controlled.
En-Suite Bathroom: Yes.
solmar v Facilities

---
Solmar V Liveaboard Boat Features
Relaxation Facilities: Indoor lounge with Plasma HD TV, stereo sound system, and media library.
Photography Facilities: Camera table on the dive deck and separate camera rinse bins.
Other Facilities: Spacious dive deck, charging stations, and towels.
Food & Drinks: All-inclusive 3-course meals with flexible mealtime. Mexican beer and Chilean wine included. Special diets can be requested at least two weeks before departure.
SOLMAR V Deck Plan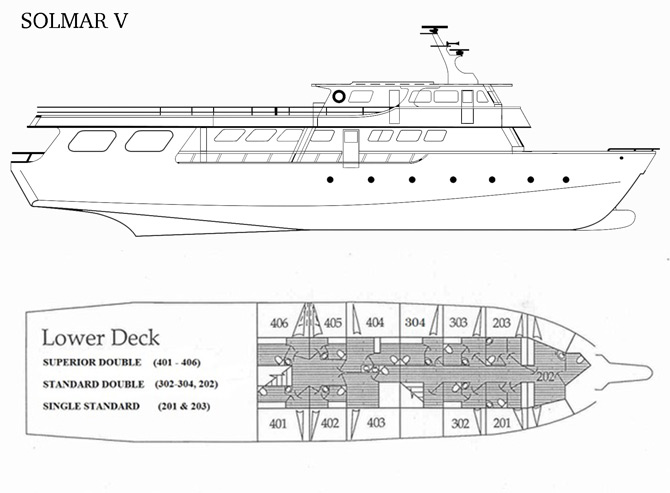 Schedule, Rates & Availability
Solmar V Liveaboard Schedule & Rates

---
Prices are per person in USD and do not include 16% Mexican VAT and the Socorro or Guadalupe park fee (1500MXN per diving day/per person). Click on 'Booking Request' to see cabin options and to book.
[See also: Inclusions & Exclusions]
Inclusions
Accommodation
Diving (9-Day Trips: 16 - 19 dives, 10-Day Trips: 19 - 23 dives, 11-Day Trips: 23 - 26 dives)
Socorro:Complimentary transfer from Host Hotel in Cabo San Lucas to the Marina on departure date
Guadalupe: Scheduled group transfer San Diego or Tijuana Airport - boat San Diego or Tijuana Airport
WIFI
Full board & snacks
Soft beverages, beer and wine with dinner
12 L tanks & weights
Nitrox on Socorro trips
Port fees and fuel surcharge
Every guest is provided a Nautilus Lifeline
Exclusions
National Park fee ( Socorro: 1500MXN per diving day per guest. Guadalupe: 225 USD per 3 night trip, to be paid on board)
Diving Insurance
Mexican IVA Tax: 16 % from guest's booking amount, to be paid in advance
$15 chamber fee to be paid on board
International & domestic flights
Visa Fee
Transfers
Alcoholic Beverages
Crew gratuities
Travel insurance
Equipment rental on Socorro trips
Courses on Socorro trips
Extra services
solmar v Dive Information & Itineraries

---
Diving from Solmar V Liveaboard
Expect one of the most-diver-friendly boats you have ever seen! For each dive site, the divemasters will give the group a thorough dive briefing and answer any questions you might have before getting into the water.
New to liveaboards? Check out our article on the Best Liveaboard Destinations for Beginners.
Diving in Socorro
Better known as the Socorro Islands, the archipelago is located in the eastern Pacific Ocean approximately 250 nautical miles south of Cabo San Lucas, Mexico – at the tip of the Baja Peninsula. These islands have been compared to the Galapagos Islands in Ecuador or Cocos Island in Costa Rica because of the big animal encounters they provide. The Revillagigedos Islands consist of 4 islands – San Benedicto Island, Socorro Island, Roca Partida and Clarion. They are wild, remote, and unpredictable.
Giant mantas, humpback whales, playful dolphins, tuna, over 7 shark species plus, on occasion orcas give you the best animal diving on earth!
Socorro is one of the best liveaboard destinations in the world. Check out the full list here.
[Read More: Socorro Dive Travel Guide]
Diving in Guadalupe
Departing from Cruiseport Marina in Ensenada, Mexico, Solmar V pioneered luxury liveaboard cage diving to Guadalupe Island starting in 2005. We provide our guests with a safe and secure environment to meet the apex predator of the sea – the Great White Shark.
Located in the Pacific Ocean approximately 165 miles west of Ensenada, Mexico, Guadalupe Island has become the world's best location for viewing, photography and video of great white sharks. The visibility is often more than 100' and the water temperature averages between 65F-70F. This is cage diving at its most exciting and, because you will be using surface supplied air (hookah) instead of scuba tanks, this adventure is open to both divers and non-divers alike. These 5-day trips are shorter than the other diving excursions so they are perfect for a great mini-vacation.
[Read More: Guadalupe Dive Travel Guide]
You may also want to check out diving in Australia, where shark cage diving originated.
Solmar V Liveaboard Sample Itinerary - Socorro Island
DAY 1: Departure from Cabo San Lucas about 4 p.m. to San Benedicto Island.
DAY 2: Arrival at San Benedicto about 1-2 p.m.(crossing takes 22-24 hours) rest of the afternoon is spent diving.
DAY 3: Day is normally spent diving around San Benedicto and considering weather possibilities for a crossing to Roca Partida. After sunset boat departs to Socorro Islands - crossing takes 4-5 hours. Might go to Roca before Socorro, if the weather allows.
DAY 4: Arrival Socorro Island early a.m. then quick check-in at Navy Base for clearance. Most of this day is spent scuba diving around Socorro Island. If conditions are good here or it is humpback whale season they might stay another day but usually they depart back to either San Benedicto or Roca Partida after sunset.
DAY 5: Arrival early a.m. to San Benedicto or Roca Partida, with scuba diving all day.
DAY 6, 7: These days are spent diving numerous sites around San Benedicto and/or Roca Partida depending on weather and if they have been able to get to Roca Partida previously.
Both islands are known for most of the large animal encounter on our trips. Departure after a full day of diving on day 7 back to Cabo.
DAY 8: Arrival in Cabo after a 22+ hour crossing, depending on weather conditions, which means the boat usually arrives after sunset on this day.
Guests overnight in port and disembark the next morning after breakfast on board. The dock has a great location near town for those who want to get off and stretch their legs or visit the local night spots.
DAY 9: All clients must disembark after breakfast no later than 9 a.m. The crew will help you with your bags and in arranging airport transportation.
solmar v Guadalupe Itinerary Details
The Solmar V starts the Guadalupe season at the beginning of August and runs through October. Our trips are all 4 nights/5days with 3 full days of cage diving. Clients are picked up on day one at 10 a.m. at our host hotel in San Diego close to the airport and escorted safely down in an air-conditioned luxury coach to Ensenada, Mexico. It's actually a beautiful, scenic drive down the coast once you get past all the Tijuana border traffic. This is about a 1 1/2 hour drive, departing Cruiseport Marina at approximately 12 noon. It's an eighteen-hour crossing putting us at the island early morning of day 2. We start operations immediately and day 2, 3 and 4 are spent cage diving with great whites. At the end of day 4, we wrap up and start back to port arriving by noon on day 5. The luxury coach is waiting to drive our clients back to San Diego that afternoon. However, because the border crossing at Tijuana can take time, we advise clients not to book any return flights until late that evening or the next day.
Want to discover other locations for diving with sharks? Check out our list of the Best Shark Diving in the World.
Pacific Safari
Explore the open ocean right off Cabo prior to or after your trip. The rendezvous point where the Pacific meets the Sea of Cortez creates ideal conditions for wildlife encounters. Join us aboard Solmar V's little sister, The Mobula, in the search for sharks, whales, marlin, mobula rays, mola-mola, sea lions, whale sharks, baitballs, tons of dolphins, and even orcas.
Other Information

---
boat specifications
Year Built: 1980
Year Renovated: 2006
Length: 112 feet
Speed: 10-12 knots
Maximum guests: 22
Number of cabins: 12
Number of bathrooms: 13
Tenders: 2 x 21 achilles w/60 HP Mercury
Fuel capacity: 30,000 litres
Water capacity: 3,200 gallons per day
Watermaker: 3,200 gallons per day
PRACTICAL INFORMATION
Time Zone: UTC-7
Local Currency: MXN (Mexican Peso)
Language Spoken: English & Spanish
Electricity: 110 V
Underwater Gallery

---
Guadalupe
Socorro