Destination: Mexico
Socorro & Guadalupe (5-10 Nights) | From $350++/night

---
Nautilus Explorer Liveaboard Quick Pitch
Luxury dive liveaboard serving small groups of divers in Guadalupe and the Socorro Islands, the Nautilus Explorer was custom built for diving and designed to offer the highest level of comfort and safety for its guests. Expect spacious rooms and cabins, convenient layout for diving, first-class facilities, top-notch dining services and excellent dives throughout your trip.
Why You'll Like Nautilus Explorer
Custom built for divers
Extra comfort with hot tub, ample fresh water and near silent generators
Air conditioning and heating throughout
13 cabins/25 guests/4 dive pros
Free transfers from/to the airport
Up to 4 meals a day included: buffet and table service combining American, European and Mexican tastes
Liveaboard Locations
The trips to Socorro start and end in Cabo San Lucas, Mexico, while the trips to Guadalupe start and end in San Diego, California.
Dive Overview
Excellent pelagic and shark diving. Huge manta rays, sharks, and humpback whales are some of Socorro's underwater stars. As for Guadalupe, be prepared to make all your great white dreams country by joining liveaboard trips between August and October.
[Read More: Socorro and Guadalupe Dive Travel Guides]
NAUTILUS EXPLORER Accommodations
Types of Cabins, Amenities and Photos

---
Nautilus Explorer Cabin Details
Triple Stateroom - J
Triple stateroom with private ensuite. Bunk bed on one side. Double bed on the other side.
Premium Suite - Emerald
On the Nautilus Explorer, one large premium suite is available on the upper deck and is twice the size of the other suites. It has a separate bedroom and lounge, each with a large flat-screen TV, ensuite with full-size bathtub and shower.
Superior Suites - Dofleini, Rosario, Nautilus
Three superior suites on the upper deck with large windows, desk, and wardrobes. Two of these suites have doors that open directly outside. The third suite boasts a large flat-screen TV.
Staterooms - A, B, C, D, E, F, G, H
The lower deck has 8 comfy staterooms that are approx. 90 square feet with central air conditioning. Six of the staterooms have side-by-side beds. Two of the staterooms have large full beds and an additional storage area. An affordable triple occupancy stateroom is also available.
Premium Emerald
Superior Suites
Stateroom (L) & Triple Stateroom (R)
General Facilities
Boat Features, Facilities and Photos

---
Nautilus Explorer General Features
Sun Deck: 2 on the upper deck and 1 hot tub deck
Indoor Lounge: 1 in front of the dive deck with PC and Mac computers and a 42-inch TV
Air Conditioning: In all indoor areas
Other Facilities: Photo station, camera room, charging stations, camera station, separate camera rinse
Food & Drinks: 4 meals/day. American, European, Mexican cuisine with a mix of buffet and table service. Bread and pastries baked on board. Beer, wines, and spirits available.
Internet: Available at an extra charge
Deck Plan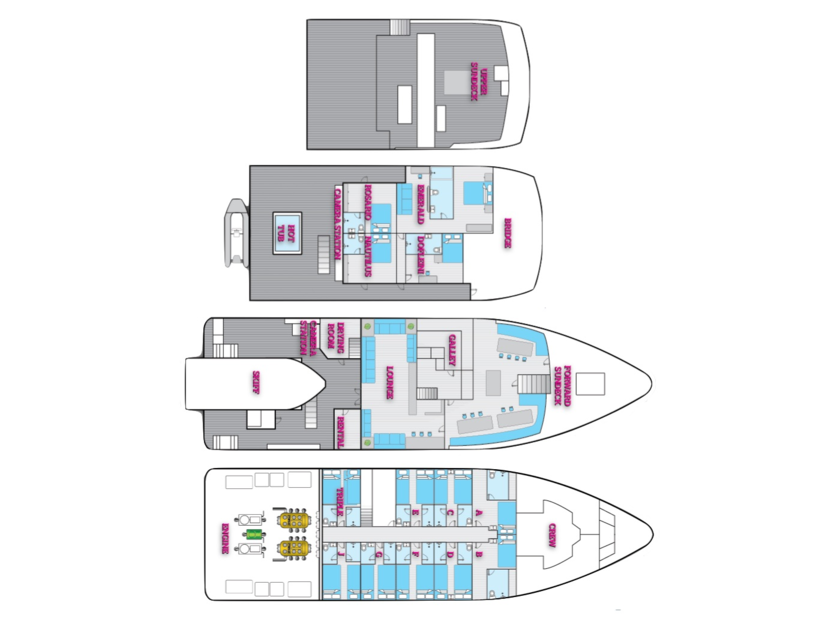 Schedule, Rates & Availability
Nautilus Explorer Liveaboard Schedule & Rates

---
Prices are per person in USD and include 5% tax, which is often not included on other websites. Scroll down to see the full inclusions & exclusions. Click on 'Booking Request' to see cabin options and to book.
Package Inclusions
Accommodation
All meals (continental breakfast, breakfast, lunch, dinner, and dessert), non-alcoholic beverages, and snacks
Use of kayaks and stand up paddleboards (on Socorro Island trips only)
Weights, weight belts, aluminum 80's and air,
Daily room service, towels,
In-water divemaster and e

nd of trip slideshow DVD

Onboard facilities such as the hot tub and lounge.
Package Exclusions
Port Fee of $65.00 USD per person
Transfers between airport and hospitality suite
Gift shop purchases
Bar
Crew gratuities
Dive gear rentals
Nitrox is available for $20.00 USD per dive day.
Optional wi-fi access on board.
Rates & Availability
For more information on the rates and on availability email us at info@bluewaterdivetravel.com or call us at +1-310-915-6677 and we will gladly help you plan your dream dive vacation!
Dive Information & Itineraries

---
Socorro Itinerary Overview
Socorro Island is part of the Revillagigedos, a group of small islands off the coast of Baja California, Mexico. Dive sites include Socorro, San Benedicto & Roca Partida but may change due to ocean conditions. The manta behavior here is unique in the world. The 12-to-16-foot giant mantas of Socorro seek out intimate interactions with divers. They communicate with us, from locking eyes in a first contact to gently swimming just overhead to be tickled by bubbles. Sometimes they hover alongside or underneath a diver, where they often stay, curious and seemingly in want of a connection that has left more than one diver with tears of joy.
It's one of the reasons we stay committed to the Socorro Islands (a.k.a. the Revillagigedo Archipelago), well worth the full-day motor south from Cabo San Lucas. Volcanic in origin, these islands serve as an oasis amid the Sea of Cortez, 250 miles off the Baja Peninsula coast. The raw lava flows and active volcanoes in these islands resemble the lost world of "Jurassic Park," which seems fitting as these outpost islands, including
Roca Partida, beckon not just to giant mantas but to a host of big animals.
Your journey will include four dives per day (subject to weather and unforeseeable circumstances)—each an opportunity to encounter resident pods of playful dolphins. You may also see up to 10 varieties of shark: schooling scalloped hammerheads, solitary giant hammerheads, Galápagos, whitetip reef, silver-tip, silky, tiger and oceanic whitetips. The list also includes whale sharks and dusky sharks and on occasion even a thresher shark.
On most days, we enjoy visibility of 70 to 100 feet. When the current picks up, the ash from these volcanic isles can rise, reducing the visibility to 30 feet. For the wide-angle experience that is big-animal diving, this isn't ideal. But, we're still cruising one of the most pristine underwater environments—so we then choose dives where we're closer to the reefs and marine life such as eels, octopuses and Socorro lobsters.
Guadalupe Itinerary Overview
Guadalupe Island is a volcanic island 150 miles off the west coast of Baja California and outperforms every other great white shark destination with shark-seeing consistency and beautiful diving conditions.
Great white shark encounters at Guadalupe Island are nothing short of spectacular. Guadalupe feels like a remote outpost at the end of the earth but is actually incredibly easy to get to. Our trips meet in San Diego, California with coach transfers to Ensenada, Mexico. It's the best destination in the world for calm, clear water and a consistently high probability of multiple shark encounters per day.
The sheer number of animals in the bay we dive is jaw-droppingly amazing. We see great whites on three out of four dives. The bay itself is home to 228 recognized individuals ranging from 12 to 19 feet long! At times, we have seen as many as nine sharks on one dive—and that's because Guadalupe is just the sort of place where magic regularly happens in the water.
All certified divers will have the opportunity for a minimum of three dives per day in the submersible cages—and your trip includes the opportunity for unlimited time in the surface cages. Divemasters are in the water during every submersible-cage dive to ensure your safety. Note that the surface cages open at 6:30 a.m., and diving in the submersible cages begins at 8 a.m. Both are available until dusk.
Other Information

---
Boat Specifications
Year Built: 2000
Length: 116 feet
Beam: 27 feet
Construction Material: Steel hull
Speed: 12-knot maximum service speed
Water capacity: Unlimited with high capacity watermaker
Compressors: 2 x water cooled Coltri MC-30
Rebreather friendly
Dive skiffs: 3 x high-speed large inflatables
Passengers: 25
Crew: 10-11
Cabin: 13
Practical Information
Time Zone: UTC-6
Local Currency: Mexican Peso (MXN)
Language Spoken: English & Spanish
Payment Onboard: Cash, Visa & Mastercard
Underwater Photos

---