SCUBA DIVING CENDERAWASIH BAY HIGHLIGHTS

---
CENDERAWASIH BAY HIGHLIGHTS
Home to the largest marine park in Indonesia, Cenderawasih Bay is a far-flung and hard-to-reach destination relatively new on the diving scene. And while it may not match neighboring Raja Ampat for mind-blowing biodiversity, Cenderawasih Bay still boasts an enviable catalog of marine life and is quickly gaining a reputation as the go-to destination for awesome whale shark encounters.
---
LOOKING FOR A LIVEABOARD IN INDONESIA?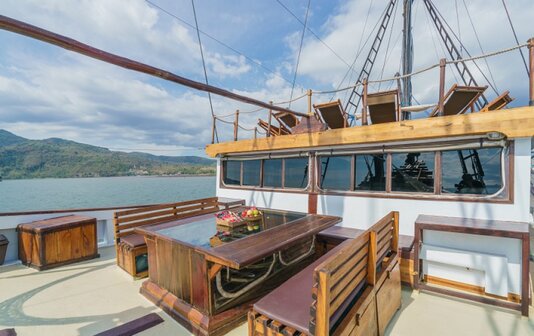 The MY Oceanic and SMY Ondina are two top choices! They have been operating for more than 20 years, pioneering many of the most reputed areas in the region. Their itineraries visit Raja Ampat, Komodo, Alor, Ambon, Cenderawasih Bay and the Banda Sea, giving you easy access to some of the best dive sites in the world. If you want to know more about these two liveaboard options, don't hesitate to contact our expert dive travel advisors at info@bluewaterdivetravel.com.
---
CENDERAWASIH BAY LIVEABOARDS
For now, access to Cenderawasih Bay is limited to liveaboards, with cruises departing from various ports around the bay. Some boats combine a trip with diving in northern Raja Ampat, with many of these liveaboards departing from Sorong in West Papua. Some Komodo-based boats also visit Cenderawasih Bay.
INTRO TO CENDERAWASIH BAY
Located on the east coast of Indonesia's West Papua region, Cenderawasih Bay is the next frontier in remote Indonesian diving. Where Raja Ampat to the west of West Papua is still deemed by many as an isolated destination, Cenderawasih Bay is one step further off the beaten track. Diving here is limited to five months each year, and the dive sites remain unspoiled and reasonably unexplored.
Visitors to Cenderawasih Bay will discover clear, calm waters and a wide variety of diving, from encounters with whale sharks and marine mammals to excellent macro, and some notable Japanese WWII wrecks. On the outlying atolls expect dramatic walls with prolific sponge life and schooling fish, while abundant and healthy reefs are found throughout the area's 18 large and small islands.
Interested in diving wrecks? Check out our list of the Best Shipwrecks to Scuba Dive.
WHEN TO GO
Diving is possible here year-round, however most liveaboards offer trips between June and October when other Indonesian sites are affected by inclement weather.
CENDERAWASIH BAY DIVING INFORMATION

---
MARINE LIFE & PHOTOGRAPHY SPECIES
Teluk Cenderawasih National Park covers an area of over 5,600 square miles and includes a huge range of subsurface habitats, from mangrove and reef system through to deeper marine waters. The region's confused geological history has resulted in several very colorful endemic species evolving in relative isolation from the rest of Indonesia. New animals are still being discovered, and many other rare species such as the pygmy seahorse, frogfish, ghost pipefish, and mimic octopus are found in the area.
Over 150 species of coral have been recorded in the bay, including numerous soft corals, and blue and black hard corals. These, in turn, provide a home for over 200 species of fish such as the brightly colored parrotfish, schooling damselfish, rabbitfish, butterflyfish, and anemonefish to name a few. It is not uncommon to spot one of several species of shark, including whale sharks, whitetip and blacktip reef sharks, the endemic epaulet shark, and even the occasional scalloped hammerhead. And to top it off, marine mammals such as dolphins, pilot whales, and the endangered dugong may make an occasional appearance.
DIVING CONDITIONS
Water temperature: 80-86oF (27-30oC) year-round.
Visibility: 33-98ft (10-30m).
Depth Range: 16-130ft (5-40m).
Diving Difficulty: Suitable for all levels.
BEST DIVE SITES
Kwatisore Bay
Without question, the big-ticket attraction in Cenderawasih Bay is diving with whale sharks. Concentrated around Kwatisore Bay, near the town of Nabire, dozens of these huge fish loiter under local fishing platforms to scoop up small fry that fisherman scatter across the surface of the water. While this practice is an old tradition rather than an attempt to lure whale sharks for waiting tourists, none-the-less it has put Cenderawasih Bay firmly on the map as a world-class whale shark destination. This is one of the very few places where it is possible to scuba dive rather than just snorkel with whale sharks, and participants will often find themselves vastly outnumbered by these gentle giants. Such a concentration of sharks in close proximity, and the unlimited time divers can spend with them, combines to create an exceptional experience and some truly epic photo opportunities.
Manokwari and Mansinam Island
Cenderawasih Bay was used as a harbor by the Japanese fleet during WWII, and it is now possible to find all sorts of military memorabilia spread across the bay's sandy bottom. There are also a good number of wrecks in the Manokwari area, including the 390ft Shinwa Maru, off Masinam Island, and a P40 Tomahawk fighter plane, complete with instrumentation and pilot's seat still in place. These wrecks and artificial reefs are now home to all sorts of critters, as well as moray eels, grouper, and other crevice-loving species.
Numfoor
Good coral growth covers the steeply sloping walls of this outer reef, and great shoals of barracuda, jack, and snapper swirl in the strong currents. Large tuna and grouper, as well as gray reef and white tip sharks, can also be spotted. The clear water and endless blue make for a dramatic dive.
Manim Island
The carcasses of at least seven landing-craft litter the seabed off Manim Island, all within recreational dive limits, and covered in colorful displays of coral, sponges, and gorgonians.
Roon Island
Large rocks and boulders are covered in the most prolific green sun-coral growth in the area. Schools of fusiliers, barracuda, and the occasional reef shark can be seen.
TRAVEL INFORMATION

---
HOW TO GET TO CENDERAWASIH BAY
The majority of international flights arrive in Indonesia via Soekarno-Hatta International Airport (CGK) in Jakarta on Java, Sam Ratulangi International Airport (MDC) on North Sulawesi, or Ngurah Rai International Airport (DPS) on Bali. Cenderawasih Bay's remote location and relatively new status on the tourist map makes getting there a fairly complicated process. Most visitors will need to reach one of the following towns to join their liveaboard:
Rendani Airport (MKW) in Manokwari - fly from Jakarta via Makassar's Sultan Hasanuddin International Airport (UPG).
Douw Aturure International Airport (NBX) in Nabire - fly from Jakarta or Juanda International Airport (SUB) in Surabaya, via Ambon's Pattimura Airport (AMQ).
Frans Kaisiepo International Airport (BIK) in Biak - flights from Makassar and from Sentani International Airport (DJJ) in Jayapura.
Domine Eduard Osok Airport (SOQ) in Sorong - direct flights from Jakarta and North Sulawesi, or fly from Bali via Makassar.
Please note that baggage allowances on domestic flights can be minimal, and excess baggage charges are strictly enforced.
HOW TO DIVE CENDERAWASIH BAY
As a liveaboard only destination, there is an increasing number of boats servicing the Cenderawasih Bay area. The most common departure ports around the Bay are Manokwari, Nabire, and Biak, however, this is not exclusive.
Some liveaboards also offer itineraries that include the northern Raja Ampat area, and these boats often depart from the more accessible port of Sorong on West Papua's west coast. One way trips are also an option, starting or finishing in Sorong.
Trips tend to last anywhere between 7- and 14-nights and most boats offer up to 4 dives per day including a dusk or night dive.
BEST TIME TO DIVE CENDERAWASIH BAY
Whale sharks are present in Cenderawasih Bay year-round, and water temperatures maintain a fairly constant 80-86oF (27-30oC) throughout. It can rain in West Papua at any time, however, the main rainy seasons are July/August and November/December.
Whilst dedicated liveaboards service the area between June and October, many of the Raja boats visit the sheltered waters of the bay between July and September when strong wind and rain can make diving in Raja Ampat unpleasant.
OTHER THINGS TO DO IN CENDERAWASIH BAY
Other than diving and snorkeling, there is not much to do except relax in the Cenderawasih Bay area, and visitors need to be prepared for little or no internet connection. Hiking and nature watching are possible, and there are some cultural tours available to visit local tribes.
OTHER USEFUL INFORMATION

---
PRACTICAL INFORMATION
Currency: Indonesian Rupiah (IDR).
Language: Indonesian, but English is widely spoken by tourist resort and liveaboard staff.
Time Zone: Eastern Indonesia Time (GMT +9).
Electricity: 220V/110V.
UNDERWATER IMAGES

---