By bettyr | Date: 26 Jul' 2019
Coral reefs are the foundation of our underwater ecosystems, providing both food and protection for marine life. At the same time, they play an important part in the diving experience, ensuring that every dive is a colorful experience.
Here at Bluewater Travel, we have the privilege of conducting dozens of trips and photography workshops in countless scuba diving destinations around the world every year, many of which have amazing coral reefs! To make it easier for you to choose your next vacation spot, we've rounded up a list of the world's 5 best coral reef destinations, for scuba diving and snorkeling.
1. Raja Ampat, Indonesia
Raja Ampat is located at the intersection of the Indian and Pacific Ocean, right in the heart of the prestigious Coral Triangle. The powerful deep sea-currents funnel nutrients into the coral reefs, making Raja Ampat a "species factory." Home to over 600 species of hard coral, or about 75% of the total in the entire world, Raja Ampat contains the richest coral reefs on the earth.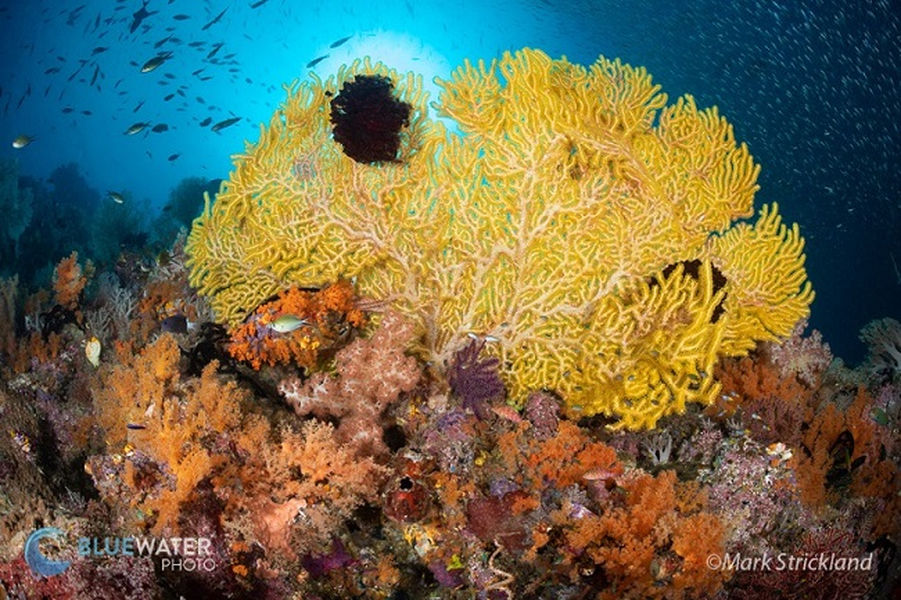 Aside from colorful corals, divers who visit Raja Ampat can also see nearly 1,300 species of tropical fish, rare and endangered sea turtles and other marine animals including some endemic species such as the Raja Ampat epaulette shark, also known as the walking shark; the tasseled wobbegong shark; and the Papuan garden eel. Larger marine animals, including manta rays, are also frequently spotted at some of the sites, such as Manta Sandy in the Dampier Strait.
Some of Indonesia's best diving can be found in the Dampier Strait, a vast area which separates the islands of Waigeo (North) and Batanta (Central Raja Ampat); and Misool Island which is located in South Raja Ampat.
Raja Ampat has vast amounts of colorful soft corals and large sea fans. Huge coral bommies are often covered with schools of fish, hard and soft corals, and sea fans. These corals are prevalent in both the northern and southern areas of Raja Ampat, near Cape Kri and Misool.
"Diving through the southern sites of Boo Windows, Majic Mountain, Whale Rock, and Nudi Rock, I came upon endless fields of beautiful soft corals, massive coral bommies, and gorgeous sea fans. The amount of fish and invertebrate life was staggering, as was the biodiversity. The dives sites are awash in beauty. I can highly recommend putting a Raja Ampat trip near the top of every diver's dream list." - Bluewater owner Scott Gietler
"From its azure blue waters and picturesque green jungle islands, to the expansive healthy hard and soft coral reefs below abounding with marine life, Raja Ampat is a destination that even seasoned divers will enjoy. The hard coral reefs are unmatched in their extent and health, often stretching unbroken as far as the eye can see. When currently flow, you will find colorful soft corals in every color of the rainbow. Raja Ampat offers an excellent variety of all creatures, large and small, and should be at the top of every diver's bucket list." - Bluewater travel advisor/trip leader, Katie Yonker.
Cape Kri, which lies not far away from the Dampier Strait, is also often referred to as the most diverse dive site in the world when it comes to fish life. Dr. Gerald Allen documented 374 species of fish here in a single dive--a world record!
Misool Island is replete with colorful soft corals as well as abundant mangrove forests. There are even some places where you can see both together, with soft corals growing on the mangrove roots themselves, giving those who see this a chance to capture it on wide-angle photography.
Liveaboard or dive resort?
Liveaboard diving is the way to go if you want to visit Raja Ampat's diving spots, from north to south, in a single visit. There are many great liveaboard options in Raja Ampat, from budget to luxury. Some of the world's most luxurious liveaboards, such as the Arenui and the Damai I & II, can be found in Raja Ampat.
However, if you prefer spending some time on land, there are a good number of great land-based options available. Most dive resorts in Raja Ampat offer iconic over-the-water bungalows. Some of the resorts which offer such bungalows include Misool Eco Resort in the south, and Papua Paradise Eco Resort, Papua Explorers Dive Resort, and Kri Eco Resort in northern Raja Ampat.
View all liveaboards OR dive resorts in Raja Ampat
How to get there
There are several routes to get to Raja Ampat, but one of the easiest ways is to fly to Jakarta (CGK), and then on to Sorong (SOQ). Most dive resorts and liveaboards provide return transfers from and to the airport either for free or with a reasonable surcharge.
Please note that some liveaboards may depart from a different town, depending on the itinerary that you choose. Always consult with your dive operator or travel advisor prior to booking your flights.
Practical Info
Diving Season: October to May. Northern Raja Ampat is accessible year-round.
Water Temperatures: 28-30 °C (82-86°F)
Wetsuit: 3mm wetsuit or a shorty, but a full wetsuit is still recommended to avoid bites and cuts.
Snorkeler Friendly?: Yes
---
Join our next photography workshops
Raja Ampat: December 2021 - Trip Leader Craig Dietrich
Raja Ampat: February 2022 - Trip Leader Maya Hanna Saad
Raja Ampat: December 2022 - Trip Leader Mark Hatter
Need more options? View all liveaboard and dive resorts in Raja Ampat
Read also our Raja Ampat Trip report to get a glipmse of diving there.
---
2. Solomon Islands
Also, a part of the Coral Triangle, the reefs in the Solomon Islands contain around 494 coral species, making the Solomon Islands one of the most diverse coral systems in the world. With a total coral reef area of 3,591 km2, various marine life such as whales, dolphins, dugongs, and turtles thrive.
In the Solomon Islands, you'll see coral gardens in areas such as Kaukau, while at a seamount known at Twin Tunnels you'll find various fans and black coral trees. There are also find big coral cabbage formations, particularly at Ghavutu Island near Tulagi, and at Leru Cut there are huge orange fan corals and red sea whips. The Solomons also has amazing underwater crevices and structures that create some of the most beautiful underwater seascapes in the world.
Some of the best places for diving the Solomon Islands are Mary's Island and Barracuda Point.
One of the best coffee table books ever published, featuring underwater photography, is "Within a Rainbowed Sea", by Chris Newbert. A large number of the photos in that book were photographed in the Solomon Islands.
"The Solomon Islands offer a tremendous variety of underwater terrain and habitats, with coral gardens, walls, muck, pinnacles, fringing reefs, caverns & crevices, and a wealth of WWII plane and shipwrecks. Being part of the 'Coral Triangle', marine biodiversity is also outstanding, with a huge range of fish and invertebrate species. In addition, there are great opportunities for cultural interactions with the islanders, lots of unspoiled natural scenery, and end-of-the-world ambiance… truly an exotic destination." - Bluewater trip leader Mark Strickland
LIVEABOARD OR DIVE RESORT?
Taking a liveaboard or a combination of both is recommended for the best diving experience.
The MV Bilikiki is the first full-service liveaboard in the Solomon Islands, often referred to as the area's gold standard. Another popular option that is worth considering is the Solomons Master, which visit the Solomon Islands most of the year, before sailing to Papua New Guinea towards the end of the year.
Some popular resort options that are worth considering are Uepi Island Resort, Raider's Hotel and Dive, or Agnes Gateway Hotel.
From the U.S. or Europe, you can get to the Solomon Islands via Australia, either through Brisbane (BNE) or Cairns (CNS) or through Fiji (NAN). From there, another plane will take you to Honiara (HIR), the capital.
PRACTICAL INFO
Diving Season: April to December. January to March is the monsoon season.
Water Temperatures:

27-31°C (81-88°F)

Wetsuit: 3mm wetsuit or a shorty, but a full wetsuit is still recommended to avoid bites and cuts.
Snorkeler Friendly?: Yes
---
---
3. Papua New Guinea
Dubbed "The Underwater Photographer's Paradise," Papua New Guinea, also commonly referred to as PNG, is part of the Bismarck Archipelago and forms the southern ridge of the Ring of Fire. Another area located in the Coral Triangle, PNG contains around 52,000 km2 of reef systems and around 400 species of coral, with lots of healthy, colorful coral gardens. Other marine life such as whales and dolphins also frequent this area. There are also many WWII wrecks that make for interesting dives.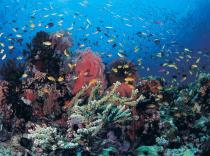 Kimbe Bay is among Papua New Guinea's must-dives. Here's how Bluewater Travel's Mark Strickland describes Kimbe Bay:
"Situated off the north coast of New Britain, surrounded by volcanic mountains and generally deep water, Kimbe Bay offers a wide spectrum of underwater habitats including coral gardens, pinnacles, drop-offs, and mucky slopes. Marine life is similarly varied, and reflects the outstanding biodiversity associated with its location in the famed "Coral Triangle".
Most sites feature hard and soft corals, sponges and gorgonians, and are home to a great variety of critters and reef fish. Many also feature schooling species like spadefish, jacks, and barracuda. There's also a healthy population of sharks, and marine mammals like dolphins and pilot whales are encountered with some frequency. This region is also home to a number of historic plane and shipwrecks, including a largely intact Japanese "Zero" fighter plane. Best of all, there is relatively little diver traffic, so you're likely to have sites all to yourself!"
There are also a good number of land-based cultural opportunities on a trip to PNG. Papua New Guinea is a place to see traditions and lifestyles you will not witness elsewhere in the world. There are over 7,000 different cultural groups in PNG, bringing unparalleled richness and diversity in art, dance, weaponry, costumes, singing, music, architecture, and much more.
Liveaboard diving is a great way to explore PNG's many islands and beautiful dive sites. MV Oceania, MV Febrina, Solomons Master are great options to consider. If you prefer to stay on land, check out Walindi Plantation in Kimbe Bay or Tawali Dive Resort in Milne Bay.
View all liveaboards or dive resorts in Papua New Guinea.
HOW TO GET THERE
Fly in either from Australia, either through Brisbane (BNE) or Cairns (CNS) or from any of these Asian capitals--Singapore (SIN), Hong Kong (HKG), Manila (MNL), and Tokyo (HND). You can also come from Truk (TKK) or Honiara (HIR).
DIVING CONDITIONS
Diving Season: Year-round with May to December being the peak season. But it may vary depending on where in PNG you'd like to dive. Contact us for assistance.
Water Temperatures:

27-31°C (81-88°F)

Wetsuit: 3mm wetsuit or a shorty, but a full wetsuit is still recommended to avoid bites and cuts.
Snorkeler Friendly?: Yes
---
View available liveaboards and dive resorts in PNG
Read our Papua New Guinea Trip Report to have an idea how it is to dive there.
---
4. FIJI
Fiji is an archipelago located in the south Pacific Ocean. Its islands and people have been mostly left untouched by the modern world. Containing over 10,000 km2 of coral reefs, Fiji contains 42 percent of the world's coral species (around 390 species). Often referred to as the soft coral capital of the world, the array of colors that corals in Fiji will present to you is nothing short of dazzling.
The best places to see these soft corals up close and personal are the Bligh Waters between Viti Levu and Vanua Levu, which is replete with coral reefs and pinnacle; the Somosomo Strait found between Taveuni and Vanua Levu; as well as the marine protected area at Namena Island.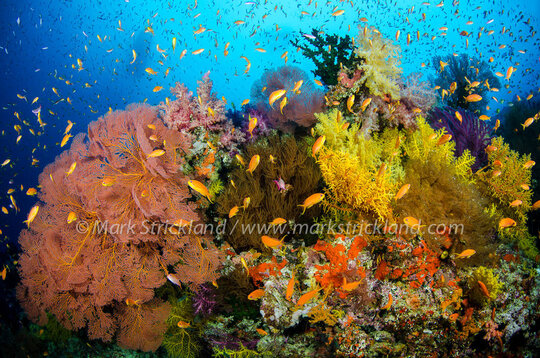 "Fiji has a reputation as the soft coral capital of the world, and divers who have been to Fiji can attest to that honor. The soft coral gardens found at dive sites around the Bligh Waters and Rainbow Reefs regions in Fiji will mesmerize any diver with the cacophony of colors and multitude of anthias dancing around them. Bula!" - Bluewater travel advisor/trip leader Tim Yeo
One place to look out for in Fiji is the Rainbow Reef, home to the Great White Wall, which is famous the world over for the white coral proliferating in the area. Vatu-I-Ra Passage in the Bligh Water region hosts some of the best dive sites for soft coral gardens in all of Fiji. Dive sites like Mellow Yellow and Black Magic Mountain give Fiji her reputation as the soft coral capital of the world.
Fiji is also famous for its shark dives off Pacific Harbor and Beqa Lagoon, where divers can observe up close bull sharks, tiger sharks, nurse sharks, silvertip sharks and more.
Also, you'll see more than 1,000 different types of invertebrates, 400 corals, and over 400 marine plants at Fiji's Grand Central Station and Chimneys, which have been preserved by the Namina Marine Reserve. The tidal currents and warm waters make it the perfect place for soft corals to bloom. Turtles and 58 species of sharks frequent here as well.
Find out why Fiji is one of our top family-friendly dive destinations here!
LIVEABOARD OR DIVE RESORT?
Most divers dive from a resort in Fiji as there is only one dive liveaboard operating there. Fiji has excellent dive resorts like Volivoli Beach Resort or Paradise Taveuni that gives divers access to Bligh Waters and Rainbow Reef respectively. If you prefer to liveaboard diving, the Nai'a Liveaboard is a great choice. However their trips fill up early, so book your trip on the Nai'a in advance!
View all dive resorts in Fiji, or find out why Volivoli is our Preferred Partner.
HOW TO GET THERE
Since Fiji is very tourist-friendly, there are flights directly from Los Angeles (LAX) to Nadi (NAN), the capital. Coming from elsewhere, it's easiest (and fastest) to fly from Australia, since Fiji is just four hours away from Sydney (SYD), or seven hours from Auckland (AKL), New Zealand. If you are going to other islands, you'll take a plane or a boat from Nadi.
Diving Conditions
Diving Season: May to October is the peak season for diving, but Fiji can be dived year-round if you don't mind short bursts of rain.
Water Temperatures: 26°- 31°C (

79-88

°F)

Wetsuit: 3mm
Snorkeler Friendly?: Yes
Considered one of the seven wonders of the underwater world, the Red Sea is located in the northernmost part of the Indian Ocean and is rimmed by shallow submarine shelves and extensive fringing reef systems. The reefs here are approximately 1,200 miles long and over 5,000 years old. Over 300 hard coral species make their home here, with the dominant corals being Acropora and Porites.
When diving in this part of the world, you'll see significant differences between the northern Red Sea and the southern Red Sea, with the former being home to more wrecks, including the world-famous Thistlegorm. It's also an excellent location for swimming with dolphins.
But if it's corals you're looking for, then the southern Red Sea is the place to be, since this is where the best soft coral gardens can be found. Divers may also see plenty of sharks, mantas, and whale sharks, especially in the islands of Big Brother, Little Brother, Elphinstone, and Daedalus.
"Very few top dive destinations can be combined with amazing topside attractions, and the Red Sea is one of them. Apart from having the some of the best soft coral gardens, good chances to see oceanic white tip sharks, hammerhead sharks, thresher sharks, whale sharks, and mantas, and some world-class wrecks, divers can also extend their trip to visit ancient temples, burial sites, and ruins in Luxor and Cairo.- Bluewater travel advisor/trip leader Tim Yeo
LIVEABOARD OR DIVE RESORT?
The Red Sea is renowned its wide selection of luxury liveaboards, which are more affordable than similar liveaboards in other dive destinations across the globe. The Blue Horizon, also known as the Red Sea Master, and the Emperor Elite are great options in the Red Sea. Other great choices are the Red Sea Aggressor III for the southern area and the Red Sea Aggressor II for liveaboard trips to the northern Red Sea.
View all Red Sea liveaboards


HOW TO GET THERE
It's easy, not to mention affordable, to get to Sharm (SSH), Hurghada (HRG), and Marsa Alam (RMF) from many cities in Europe. From the U.S., you can fly to Sharm directly as well, or to Cairo (CAI) first, and then get a connecting flight to Sharm.
Practical Information
Diving season: Year-round
Water Temperatures: Average at 30°C (86°F) in June to August and reaching its coldest at 22°C (72°F) in February.
Wetsuit: 3mm in the warmer months and 5mm or 7mm in the colder months
Snorkeler friendly?: Yes.
Other places in the world to SCUBA DIVE WITH amazing corals
Of course, there are many other places around the globe where you can go scuba diving with spectacular corals, such as the biggest coral reef in the world Australia's Great Barrier Reef. Diving the Great Barrier Reef you'll see corals you won't see elsewhere.
In the Caribbean, we've got the Palancar Reef in San Miguel de Cozumel, Mexico, with its stunning variety of colors, so wondrous that it's referred to as the "underwater Garden of Eden." And let's not leave out Belize Barrier Reef, the second-largest in the world, with its 56 different types of corals, and 300 species of fish.
Neighbouring Fiji and the Solomon Islands, Vanuatu has some spectacular reef systems and huge coral specimens in crystal clear waters, perfect for photography.
In southeast Asia, we have the Philippines, home to amazing coral reefs, excellent marine biodiversity, and prominent pelagic fish action in certain areas, especially in the world-famous Tubbataha Reefs Natural Park. And don't forget the beautiful corals and inshore reefs of Bali. And in Indonesia, destinations such as Bunaken diving have some of the most impressive reefs in SE Asia.
Where have you seen the best corals in your travels? Let us know in the comment section if there's a particularly beautiful area with corals that you'd like to recommend!
BOOK YOUR NEXT DIVE TRIP
If you're looking for that 'next big trip' - hopefully this list of the world's best coral reefs has helped either add some new ones or help prioritize your list! If you have any questions on any of the above locations, or any others, please let us know and our travel advisors would be happy to help!
Bluewater Travel can book you on any of the group trips that we have listed above, or help arrange a trip just for you! We'll provide recommendations and get you booked on any boat or resort, help sort out your flights, transfers, and just about everything else you need to have an amazing trip--all that at no additional cost than doing it all yourself.
Email us, call us at +1-310-915-6677 or write to us through the live chat box to start planning your trip!
FURTHER READING
Check out these useful resources from our sister websites, Bluewater Photo, and Underwater Photography Guide
Wet Wide Angle Lens Buyer's Guide
Best Underwater Cameras (2019)
Comprehensive Guide to Shooting Wide-Angle
Coral Reefs Now More Resistant to Ocean Warming (2019)