Destination: Fiji
PO Box 69 Waiyevo, 0000 Waiyevo, Fiji | Full-board + 2 dives from $208/ppn.

---
Paradise Taveuni Quick Pitch
Family owned and operated, Taveuni is a boutique oceanfront resort with a friendly staff and newly renovated bures. Paradise Taveuni, formerly known as Susie's Plantation Resort, is just north of Vuna Point at the southern end of Taveuni, one of the island's most beautiful areas.Set on an elevated piece of land, Paradise offers impressive sea and sunset views and plenty of strategically placed hammocks and sun lounges from which to enjoy them. The bures and vales are an incredible way to experience Fiji.
Quick Information
No of Rooms: 16
Dive Center: On-site
Amenities: AC (in Vale Lomanis only), mini-fridge, pool, free shore dives, activities (snorkeling, kayaks, fishing), Wifi, spa
Wi-Fi: Paid WiFi is available in public areas
Nearest Airport: Matei Domestic Airport
Airport shuttle: Yes, free
How to Get There
The resort is located on Taveuni Island, a 1-hour drive from Matei Airport. Free transfers are available to and from Matei Domestic Airport located in Taveuni.
Dive Overview
Easy access to over 40 dives sites. Fiji offers excellent dive diversity. Fiji is home to an amazing variety of fish life, including colorful angelfish, anemone fish, anthias, frogfish, hawkfish, moray eels, ghost pipefish, and countless other photogenic species.
[Read More: Fiji Dive Travel Guide]
Check Out This Great Video!
Accommodations
Types of Rooms, Amenities and Photos

---
Paradise Taveuni Room Overview
Re-opened since June 2016, Paradise still offers 16 accommodation choices. Each of the newly built lodgings includes ocean views from each room, tropical outdoor shower in your own private lava-rock garden, generous king bed, spacious deck to read and enjoy the views and air conditioning.
Paradise Honeymoon Bure with 1 King bed in private bedroom, lounge room, indoor bathroom, outdoor couple shower and Deluxe Tub in private garden, Honeymoon Dining Vale with hammock & couple sun loungers.
Deluxe Oceanfront Bures with 1 King bed in private bedroom, lounge room, modern bathroom with bath tub and shower, outdoor shower and Deluxe Tub in private garden, sundeck & Day Bed.
Oceanview Bures with 1 King bed in private bedroom, lounge room, indoor bathroom, outdoor shower in a private garden, sundeck & Day Bed.
Oceanview Family Bures with 1 King bed in 1 room, 2nd bedroom has 1 king bed or 2 single beds, indoor bathroom, outdoor shower in a private garden, sundeck & Day Bed.
Deluxe Oceanfront Vales with 1 King bed with lounge furniture, modern bathroom with shower, outdoor shower in private garden, sundeck & deck furniture.
Deluxe Oceanfront Family Vales - Interconnecting Vales – with 1 king bed in each Vale or up to 4 single beds in room #2, both rooms with lounge furniture, indoor bathroom, outdoor shower in private garden, sundeck & sun lounges.
Resort Facilities

---
Paradise Taveuni Features
Restaurant
Swimming pool
Bar/lounge
Spa
Dive center
Paid Wi-Fi
Paradise Taveuni Activities
Diving
Snorkeling
Cultural activities
Spa
Fishing
Whale Watching
Kayak
Hiking
Surfing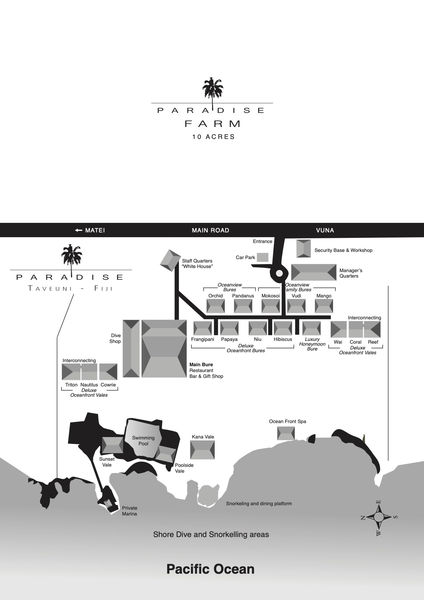 Packages & Rates
The actual rates are based in FJD. The starting price indicated above may vary based on the current exchange rate.

---
Jump To:
Paradise Taveuni Nightly Rates
2019/2020 Rates
All rates are in Fiji Dollars, are exclusive of Fiji Taxes. Rates are valid 1st April 2019 – 31st March 2020.
Accommodation

1 Adult

2 Adults

Family

Paradise Honeymoon Bure

975

975

-

Deluxe Oceanfront Bure

675

875

1,050

Deluxe Oceanfront Vale

625

825

1,000

Deluxe Oceanfront Family Vale

-

1,175

1,500

Oceanview Bure

625

825

1,000

Oceanview Family Bure

-

825

3 adults: $1000

2 couples: $1200
Inclusions
All meals – Full cooked breakfast, 1 course lunch and 2 course dinner
Matei airport return road transfers
Complimentary Salusalu (Fijian floral lei) on arrival
Complimentary Welcome Foot rub on arrival (15 mins)
Complimentary Gift Pack
Bure or Vale serviced daily
Complimentary tea, coffee & cookies
Complimentary snorkelling gear hire (mask, fins & snorkel)
A large selection of complimentary resort activities
Dive Packages
Check out Paradise Taveuni DEMA Specials here, valid for travel until December 2020.
Paradise Taveuni Packages
Paradise offers a selection of various rates to suit everyone – Honeymooners, Wedding Couples, Divers, Families, Single travelers, Adventurers and Groups. Paradise specializes in Tailor-Made Vacation Packages. Drop us an email at bookings@bluewaterdivetravel.com or call us today at 310-915-6677 and let us help you plan your dream dive vacation!
Dive Information & Itineraries

---
Fiji Dive Overview
With Rainbow Reef and Vuna Reef just a short boat ride away, Paradise Taveuni offers you some of the best diving in the world. Fiji, known for being the soft coral capital of the world, will give you some of the most memorable dives of your life exploring astounding soft corals and diverse marine life, all on the world-famous Somosomo Strait. With over 40 sites on hand, Paradise offers divers like The Great White Wall, Orgasm, The Zoo and many more dive sites that you will reminisce on for the rest of your life.
Fiji Dive Sites
For your convenience, Paradise Taveuni has classified their dive sites into levels of experience: Level 1 for beginner diver (Maximum depth 18 meters, gentle with no current), Level 2 for intermediate diver (depths range from 20-25 meters, some current, some surface waves at times) and Level 3 for advanced diver (depths up to 30 meters, expect current and exposed surface conditions at times). Here are a few of their favorite sites:
Orgasm (Vuna Reef) Level 2 - Vuna Reef at its finest! This wall dive faces Open Ocean and it is here that we have seen some of our favorite regulars: Sharks, Rays and Napoleon Wrasse. As well as drift by schools of Spanish Mackerel or Giant Tuna from the deep. All of this in only 60f /18m, a truly awe-inspiring dive site that never seems to disappoint us.
The Great White Wall (Rainbow Reef) Level 3 - The soft coral capital of the world's signature dive offers an astounding wall of pure white soft coral. This site is definitely the world famous Rainbow Reef's top draw. A coral encrusted swim – through leads onto the wall from the reef top. A dazzling
myriad of color and life inhabits the reef top. Manta rays glide past with ethereal grace. On exiting the water from this site an awed silence lasts awhile before an excited chatter that lasts for days starts among divers. Not to be missed!
The Zoo (Rainbow Reef) Level 3 - An extreme marine experience! Schools of Barracuda are common here, swimming above the White Tip reef sharks resting on the sand. Moray Eels, Groupers and small reef fish are plentiful and lucky divers will glimpse the graceful bronze whaler sharks patrolling the deep blue waters.
[Read More: Fiji Dive Travel Guide]
Dive Center Information

---
Paradise Taveuni Dive Center Overview
Paradise Taveuni dives daily on the legendary Rainbow Reef only a 20-minute boat trip from the Resort. With over 30 dive sites to offer, you won't visit the same site twice, unless you want to. Every day, divers from all over the world choose Paradise Taveuni to experience the extraordinary formations of hard and soft corals and an abundance of fish life including: Anemonefish, Maori Wrasse, Lionfish, Reef Sharks, Rays, Turtles and much, much more. With a variety of deep wall drop off's and shallow drift dives; there is something here for every diver. Paradise dives daily on Rainbow Reef on their new dive boat, Taveuni Explorer, one of the best day dive trip boats in Fiji. Paradise offers Nitrox for only FJ$20 per tank. Paradise Dive also offers various PADI dive courses.
Other Information

---
Practical Information
Electricity: 240 Volt
Time zone: UTC+12:00
Languages: Hindi & English
Accept credit card?: Yes (VISA, Mastercard, American Express
Underwater Gallery

---