Destination: Indonesia
Desa Wolwal, Alor Island, Indonesia | Full board + 2 dives from $267/ppn

---
Alami Alor Quick Pitch
Alami Alor is located in Alor's Kalabahi Bay and designed with avid scuba divers in mind. They are strategically placed in Kalabahi Bay to have quick and easy access to world-class muck diving sites right in front of their resort and coral reef diving in the adjacent Pantar Strait. Their mission was to create a small and personal dive resort in an area with exceptional diversity and beauty in the marine environment. At the resort, they strive to accommodate guests' personal preferences when it comes to scuba diving, resort hospitality and cultural experiences.
Quick Information
No of Rooms: 5
Dive Center: On-site
Amenities: Waterfront A/C bungalow accommodation, full board, coffee, tea, drinking water, wifi, laundry service, camera room, nitrox
Wi-Fi: Free WiFi is available
Nearest Airport: Alor Island Airport (Mali Airport)
Airport shuttle: Yes, free on Thursday & Saturday
How to Get There
Alami Alor can arrange airport transfers. Upon arrival in Alor, you will be greeted outside the airport by a driver who will transport you 40 minutes by car to a small port. They will meet you there with the speedboat and transport you a further 10 minutes to the resort. Return to the airport is also arranged by the resort in the same way. Transfers to and from the airport are free of charge on Thursdays and Saturdays, and charged at USD $30 per person each way for all other days of the week.
Dive Overview
Alor, east of Komodo and Flores, has spectacular coral reefs with great diversity, sometimes strong currents and stunning topside scenery.
Accommodations
Types of Rooms, Amenities and Photos

---
Alami Alor Room Overview
Guest bungalows are located on the resort's waterfront. In each air-conditioned bedroom, you will find either 1 king or 1 king plus 1 single spring bed, wardrobe and work desk. The open-air garden bathroom has a western toilet, natural stone sink and hot water rain shower. There is a seating area plus hammock or sun loungers in front of each bungalow. Each bungalow is stocked with drinking water and an afternoon coffee & tea service is delivered to the terrace daily.
The bedroom (LEFT) & open-air shower (RIGHT)
Resort Facilities

---
Alami Alor Features
Guest lounge
Sundeck area
Free WiFi
Dive Center
Restaurant
Bar
Business Center
Alami Alor Food & Drinks
Assortment of dishes influenced mostly by tropical Indonesian and Asian style, but also international cuisines
Local beer and wines are available for purchase
Alami Alor Activities
Diving
Snorkeling
Local tours
Package & Rates
Alami Alor Dive Resort Rates

---
RATES & AVAILABILITY
For information regarding rates, availability, and packages dropus an email at bookings@bluewaterdivetravel.com or call us today at 310-915-6677 and let us help you plan your dream dive vacation!
Dive Information

---
Alor Dive Overview
Scuba diving in Alor gives divers the chance to experience multiple types of tropical diving in one location and without crowds. From crystal clear coral dives to magical muck dives filled with crazy critters, there is something for everyone. Water temperatures in the bay average 26C-28C but at times there can be thermoclines as low as 20C on the coral reef dives in the southern section of the straight.
Alor Muck Diving Sites
Alor is emerging on the world scene as a top muck diving destination. Muck diving sites are typically on black sand and volcanic rock slopes which are plentiful inside the Kalanahi Bay located 2-10 minutes from the resort by speedboat. These sites are famous for at first appearing quite plain and devoid of corals and swimming fishes, but on second look be full of some of the planet's most fascinating and bizarre bottom-dwelling creatures. Here are some of our favorite muck diving sites:
SECRET BAY, Kalabahi Bay, Alor - This tiny black sand bay makes a great day muck dive but is one of our favorites for night dives. We have seen coconut, long arm and starry night octopus, dwarf cuttlefish, stargazers and some really great nudis here.
PERTAMINA PIER, Kalabahi Bay, Alor - This muck dive is located under the fuel depot pier with black sand under the pillars and a rocky slope to the side. The central pier section can be good for an assortment of seahorses and pipefish plus coleman shrimp, zebra crabs or brook's urchin shrimp in the numerous fire urchins. Mandarin fish can usually be spotted in the rocky slope along with ghost pipefish and frogfish.
BLACK RHINO, Pura - This is one of our favorite places to go on the hunt for rhinopias. Paddle flap, weedy and lacy have all been spotted here at some point. This black sand with
coral slope is also home to Indian walkmans and many types of nudibranch, shrimps and crabs.
HOT ROCKS, Beang Bay, South Pantar - Possibly our favorite muck dive in the Alor Archipelago, Hot Rocks is ever changing but never fails to entertain us. We have seen juvenile rhinopias, many species of frogfish including painted, warty, freckled, ocellated, striated and hispid (we have had 7 hairy frogfish on 1 dive!), also rare nudis and headsheild slugs, seahorses, snake eels and more.
SEA PEN SLOPE, Beang Bay, South Pantar - Another of our favorites in Beang, this delicate sandy site is a great place to search for wonderpus, blue ring, poison ocellate and many other types of octopuses, tozeuma shrimp, robust, halimeda, velvet and ornate ghost pipefish, and lavish decorator crabs.
Alor Coral Reef Dive Sites
Each site in the Strait is diverse with its own topography and color scheme including walls, slopes and seamounts. Some sites are known for their beautiful panoramas of dense coral, anemone and sponge coverage mixed with smaller reef fish and unique macro life such as anemone fish and shrimp, eels, frogfish, leaf and bearded scorpionfish, pygmy seahorses, schools of black snapper and unicornfish, stingrays, sea snakes, reef sharks, a wide assortment of nudibranchs and more. Others provide us with the chance to experience pelagic fish given the right tide and moon phase. Here are some of our favorite coral reef dive sites:
CATHEDRAL, Alor - Cathedral is a beautiful coral wall covered in both soft and hard corals with a small cave swim through. Located in south Alor, this site can get some big thermoclines from 27C on the surface reaching as little as 14C deeper than 30m! The cooler water that tends to pass here is apparent in the reef condition with vibrantly colored hard and soft corals. Bargibanti and pontohi seahorses, leaf fish, scorpionfish, sea snakes, blue ring octopus can all be found on the wall with the possibility of bamboo sharks in the shallow overhangs or large marbled rays passing deep in the crystal clear cold water.
MAX'S POINT (Max's Big Blue), Alor - You never know what will be seen in the blue here. We have had schools of unicornfish, schools of pickhandle barracuda, grey reef and white tip reef sharks, mola-mola, huge marble rays, dolphins and even a blue whale (yes, during the dive!)
WOLANG CAVES, Alor - Two fantastic caves in the south of Alor. The first cave we enter offers great wide angle shots with a chance of white tip reef sharks towards the back of the cave. This cave has a huge chamber where divers can surface. The second cave is covered with sponges and full of small fish, lobsters, decorator crabs and nudibranch. Great possibilities for wide-angle or macro photography.
APURI, Pura - South Pura is not only one of the most unique places in Alor, but in the entire world. It is the densest concentration of anemone anywhere on the planet! Apuri village is located here southeast and at the start of the fields. It provides a beautiful sloping landscape to look for macro subjects such as nudibranch and small shrimps,
squat lobsters and crabs. It is a must to always keep an eye in the blue as passing thresher sharks and mola-mola are not uncommon here.
RED SAND BEACH & RED WALL, Pura - This large site is very unique and has something for everyone. The Red Wall is a beautiful backdrop going down to 35m+ full of overhangs followed by a coral slope and a red volcanic sand bay. The Red Wall is a good place to see sweetlips, groupers, black snappers and schools of fusiliers, while the slope and red sand bay are best for macro such as nudis, Indian Walkman, snake eels. Gas vents in the volcanic red sand spew bubbles as we complete our safety stop hunting for little critters.
THE GREAT WALL (of Pantar), Pantar - One of the Pantar Strait's most beautiful walls, the Great Wall aka Bamah Wall is covered in vividly orange and pink colored sponge, soft corals and orange anthias. Aside from the spectacular condition of the reef and the topography, we can see a variety of marine life such as napoleon wrasse and bumphead parrotfish, giant and bluefin trevally, schools of black snapper and fusiliers plus tons of macro such as bargabanti pygmy seahorses, flatworms, nudis, leaf fish, and whip coral shrimp.
CURRENT ALLEY, Pantar - This site is great for big fish when the conditions are right. Schooling scalloped hammerheads, great hammerhead, grey reef sharks, white tip and black tip reef sharks plus giant trevally, dogtooth tuna, napoleon wrasse and also devil and eagle rays have all been spotted on this deep wall.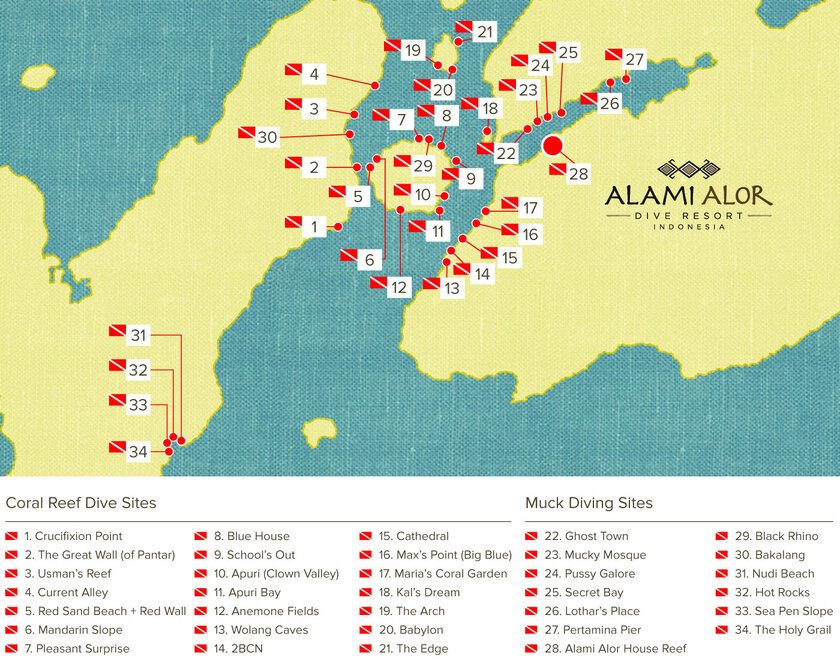 [Read More: Alor Dive Travel Guide]
Dive Center Information

---
Alami Alor Dive Center Overview
The Dive Center at Alami Alor houses both an equipment room with individual guest equipment lockers and terrace with a dive scheduling board and beverages. The front terrace is where guests will meet their guide before dives and view marine-life identification books and complete log books upon return. Access to the water for boat dives and house reef dives is done via the dive center's jetty.
Dive Center Facilities & Services
Rental equipment available
Camera room
Fiberglass speedboats with 4 stroke engines
Boats are fully equipped with drinking water, towels, first aid and oxygen, spare parts, toolkit, binoculars and communication devices
Nitrox available
Other Information

---
Practical Information
Electricity: 220v
Time zone: GMT+8
Payment methods: Cash (IDR, USD, EURO and GBP)
Underwater Gallery

---