By bettyr | Date: 10 Feb' 2020
Easy to get to and with a superb range of diving to suit all tastes, Mexico offers one of the most accessible and exciting scuba dive spots in the world. From big species encounters in the Sea of Cortez, to the serenity of the Yucatan's cenotes, it is impossible not to be blown away by the variety and scale of the Mexican dive scene.
Furthermore, Mexico is a fantastic family destination and great for non-divers, with a huge range of top-side activities and snorkeling experiences that are second-to-none. Here we select our top dive locations around Mexico and her outlying islands, showcasing the best of this colorful region and its spectacular world-class diving.
Mexico's BEST DIVING SPOTS
Pick a destination or scroll down to read the entire list:
1. Socorro - Sharks and Rays Abound
2. Cozumel - A Colorful Aquarium of Marine Life
3. Riviera Maya Cenotes - Surreal Subterranean Encounters
4. Isla Mujeres - Pelagics Coming In to Feed
5. Isla Guadalupe - Thrilling Great White Shark Encounters at Guadalupe Island
6. Northern Sea of Cortez - Huge Diversity of Unique Marine Life
7. La Paz - Pelagics Galore
8. Cabo San Lucas & Cabo Pulmo - Diving and Snorkeling for Everyone
9. Chinchorro Banks - Unexplored Reef in Pristine Condition
Join our next photo workshops to La Paz in October 2023 and Socorro in February 2024.
---
1. SOCORRO ISLANDS
SHARKS AND RAYS ABOUND
On a par with the Galapagos and Cocos Island, the Socorro Islands are a world-class UNESCO World Heritage Site boasting a bounty of shark species and numerous pelagic giants in its Pacific waters. The four islands that make up the Revillagigedo Archipelago sit 240 miles from Cabo San Lucas on Mexico's Baja California Peninsula, and are only accessible via liveaboard. Diving here is not for the faint-hearted, as deep ocean currents and heavy weather batter the dramatic walls and pinnacles of the island's coastline. However, for those willing to endure the often-rough 24-hour sea crossing, the rewards are phenomenal. Dive after dive will proffer extraordinary encounters with some true superstars of the underwater world.
Socorro's reputation as a world-class shark destination really comes into its own at Roca Partida, where dive after dive showcases the islands' huge marine diversity. Here, vast numbers of Galapagos, silky, and hammerhead sharks fin lazily into the strong current, while whitetip reef sharks pile up in the crevices along the rocky reef. Large gamefish species such as tuna, wahoo, and marlin are attracted by baitballs of schooling jacks, as well as the occasional sighting of a whale shark or humpback whale.
Arguably the best place in the world to dive with oceanic manta rays, The Boiler is a submerged pinnacle used as a cleaning station by these gentle giants year-round. Divers can watch from enticingly close by as mantas glide and swoop overhead, seeming to play in their bubbles. The experience is truly breathtaking; a rare opportunity to get up close and personal with these magnificent creatures.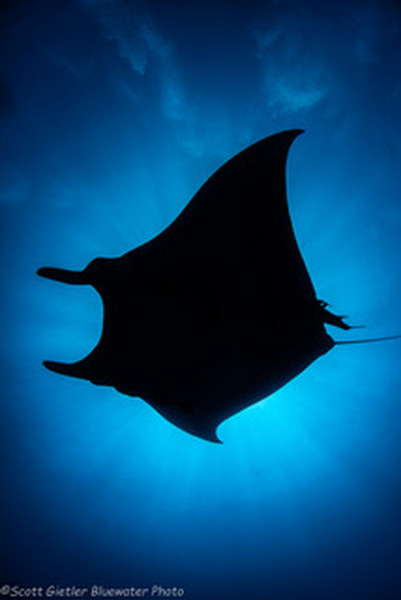 Socorro also has some very friendly dolphins at Cabo Pearce, and no trip is complete without a dive interacting with this delightful pod.
Join our next Socorro Big Animal Photo Workshop in February 2024.
Learn more on Socorro diving from our dive travel guide or read about our adventures there from our 2023 Socorro Trip Report.
Find out why Socorro is at the top of our list of places to dive with hammerheads here.
See also our 360 video to experience the feeling of diving Socorro:
PRACTICAL INFORMATION
Diving Season: The main season is November to May, however, species sightings vary in this time. November and December is whale shark season, February and March is humpback whale season, and May/June is baitball season.
Water Temperature: 70 to 74oF (21 to 23oC) in February and March and up to 82oF (28oC) in November, December, May, and June.
Difficulty: Best suited to experienced divers due to choppy seas and often strong currents.
Non-diving Activities: Liveaboard-only activities.
Nearest Airport: Los Cabos International Airport (SJD).
---
2. COZUMEL
A COLOURFUL AQUARIUM OF MARINE LIFE
On Mexico's northeast coast, near Cancun and Playa del Carmen, the island of Cozumel basks in the warm waters of the Carribean Sea, and its barrier reef is home to an abundance of tropical species. Divers flock here to enjoy easy drift dives along Cozumel's steep but vibrant walls, with a bonanza of colorful hard corals, sponges, and gorgonians creating an aquarium backdrop for all manner of fish life, turtles, rays, and the occasional reef shark.
There are over 45 dive sites around Cozumel, with diving to suit all levels. The southern end of the island has been a marine park for more than 20 years, and the reef here is in particularly good health with 105 different types of coral and over 260 species of fish. In the clear shallow waters of the southern and northern reefs, divers will often encounter hawksbill turtles, eagle rays, and schooling jack, with moray eels, lobsters, and frogfish found hiding amongst the coral heads. Non-divers can also explore the shallower reefs, with snorkeling and glass-bottom boat tours to some of the Caribbean's best sites.
Along Cozumel's near-shore coastline, the dives become progressively deeper and more challenging towards the center of the island. Exciting drop-offs and coral topography create an intricate maze ripe for exploration, and sites such as Palancar Reefs, Panta Sur, and Columbia feature huge coral formations and swim-throughs full of marine life.
Cozumel is within easy reach of Playa del Carmen on the mainland, providing an excellent opportunity for day trips to dive and snorkel the famous cenotes. Accomodation options are plentiful, from large all-inclusive resorts to small boutique hotels, hostels, and AirBnB.
Learn more on Cozumel diving and see the selection of best dive resorts in Cozumel.
Read about our top 10 dive sites in Cozumel here.
PRACTICAL INFORMATION
Diving Season: Year-round. December through to April is peak holiday season and can be busy. We suggest diving between May and July when the water is warm and the weather is good.
Water Temperature: 77 to 85oF (25 to 29oC).
Difficulty: All levels of diving.
Non-diving Activities: Cozumel is a very popular tourist resort and a great family destination. It boasts a wide range of beach and resort activities, spas, great shopping, restaurants, and a lively nightlife. Watersports such as kayaking and paddleboarding are popular, as are cultural tours to the Mayan ruins.
Nearest Airport: Cozumel International Airport (CZM).
---
3. RIVIERA MAYA CENOTES
SURREAL SUBTERRANEAN ENCOUNTERS
Even the most seasoned diver is guaranteed to be impressed by the spectacular rock formations and blue-green sunlight typical of the Mexican Cenotes. Located in the Riviera Maya on Mexico's Yucatan Peninsula, this freshwater system of limestone sinkholes, caverns, and caves draws visitors from all over the world to explore the vast network of subterranean channels. Tulum is often used as a base for this exceptional cave diving spot.
Once underwater, follow narrow tunnels that curve and twist, before opening unexpectedly into huge cathedral-like caves. Light and shadow flicker in competition against the ethereal limestone formations, where sunbeams pierce straggling vegetation hanging through collapsed rock.
The crystal clear water is filtered to such an extent that little marine life can survive, however diving here is all about the underwater topography. Snorkelers and divers of all levels can enjoy the unique scenery where large entrance caves connect to dimly lit caverns, allowing a safe introduction to cave diving. At the boundary between the caverns and caves, signs warn of the dangers and technical experience required for full cave diving. Dos Ojos is perhaps the most famous of all the cenotes, and at a depth of 27ft is simple enough for all levels of divers and snorkelers alike. Diving Tulum is a once in a lifetime experience.
Learn more about diving in Riviera Maya.
PRACTICAL INFORMATION
Diving Season: Year-round.
Water Temperature: 77oF (25oC).
Difficulty: Entrance caverns suitable for snorkelers and all levels of diver. Deeper caves marked by a sign should only be explored with the relevant experience.
Non-diving Activities: The Yucatan boasts a buzzing resort life with long sandy beaches, watersports, and plenty of shopping in Playa del Carmen. The Mayan ruins are fascinating to visit for a day-trip.
Nearest Airport: Cancun International Airport (CUN).
---
4. ISLA MUJERES
PELAGICS COMING IN TO FEED
Two exciting events draw divers and underwater photographers each year to Isla Mujeres on the northeast tip of the Yucatan Peninsula near Cancun. Through the summer months, huge numbers of whale sharks gather to feed on plankton and krill around the shallow waters of Isla Holbox. There are so many whale sharks that snorkeling tours almost guarantee a sighting, and despite a large number of tourist boats, there are generally more than enough sharks for everyone to have an individual encounter. It is also possible to snorkel with these giants further offshore where they feed on bonito and tuna eggs during spawning events. Sightings of whale sharks are less consistent here, but there is a good chance of spotting manta rays joining the feast.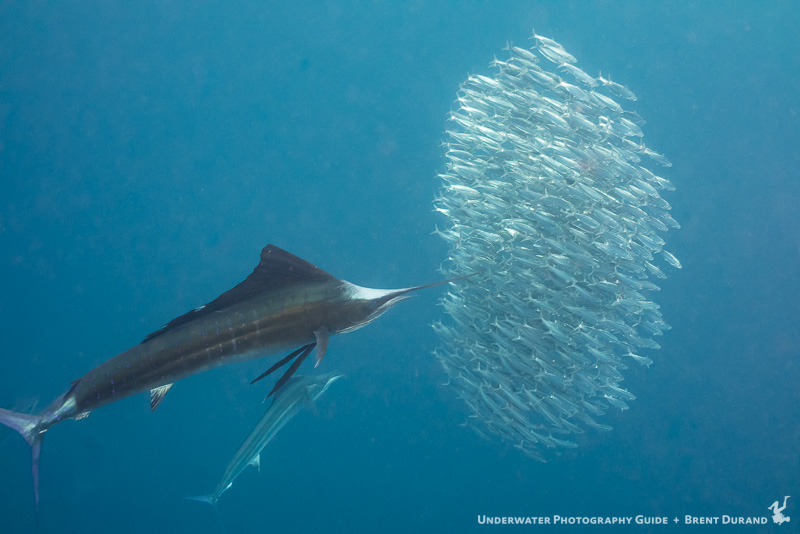 During the winter months, but in particular January and February, schools of sailfish are the big-ticket attraction, and these lighting-quick predators appear in vast numbers around Isla Mujeres. Migrating from the Gulf of Mexico, they shelter in the lee of the Yucatan Peninsula and feast on sardines forced into shallow water by upwellings along ocean ridges. While most visitors opt to snorkel amongst the sailfish, it is also possible to dive with them, and catching a glimpse of these unique fish hunting and bait-balling their prey is a thrilling experience.
While most visitors wanting to dive Cancun will visit Playa del Carmen or Cozumel, Isla Mujeres should not be missed.
Learn more about Isla Mujeres diving.
PRACTICAL INFORMATION
Diving Season: Year-round. Whale shark season is June to September, and sailfish season is mid-December to mid-March.
Water Temperature: 78 to 82oF (25 to 28oC).
Difficulty: All levels of diving, also great for snorkeling.
Non-diving Activities: Deep-sea fishing is very popular, and there are lots of wildlife activities such as the turtle hatchery, swimming with dolphins, and visiting Isla Contoy nature reserve.
Nearest Airport: Cancun International Airport (CUN).
---
5. ISLA GUADALUPE
THRILLING GREAT WHITE shark ENCOUNTERS
Note: Diving in Isla Guadalupe has been suspended indefinitely by the Mexican Government in 2023.
If diving with great white sharks takes your fancy, you'll be hard pushed to find anywhere better than Guadalupe Island. Diving here is all about the great whites, and this is one of the best scuba diving destinations in the world to get up close and personal with these awesome predators.

Located 150 miles off the west coast of the Baja California Peninsula, Isla Guadalupe is only accessible by liveaboard, and the visiting boats specialize in shark-cage diving. Trips depart from San Diego in the US, or Ensenada in the north of Mexico, and normally provide 3 days of diving.
The great white season is from August to October, with numerous lively young males arriving ready to mate early in the season, and the larger males making an appearance from late September onwards. The largest females arrive well into October when the weather is starting to turn, however, this is peak breeding season, and leads to some breathtaking interactions.
While great white sharks are the star of the show, divers will also spot the endemic Guadalupe seals and sea lions feeding on large schools of mackerel while the sharks are distracted by the cages. In addition, the boat journey out and back affords the chance to spot whales and dolphins.
Cage diving in Guadalupe is suitable for shark-diving enthusiasts and beginners alike, and it is possible to experience the great whites with no diving qualifications at all! This makes it a great trip for non-diving friends and family keen for a taste of adventure.
Learn more about diving Isla Guadalupe and read all about diving with great white sharks from our Guadalupe Trip Report.
PRACTICAL INFORMATION
Diving Season: August to October.
Water Temperature: 70-75oF (21-24oC).
Difficulty: Suitable for all levels.
Non-diving Activities: Liveaboard-only activities.
Nearest Airport: San Diego International Airport (SAN).
---
6.NORTHERN SEA OF CORTEZ
HUGE DIVERSITY OF UNIQUE MARINE LIFE
The Sea of Cortez is a 700-mile stretch of water separating the Baja California Peninsula from the rest of mainland Mexico. The northern end of the gulf enjoys a temperate climate and is well isolated from the Pacific Ocean, creating a unique habitat that supports the highest abundance of marine mammals found anywhere in Mexico. The Sea of Cortez region is so valuable to North America's biodiversity that it is a UNESCO World Heritage Site, with three-quarters of the designated area made up of marine habitats.

Vital to the region's success is the plankton-rich water supporting a thriving food chain of more than 800 types of vertebrate. Key predators include whales, dolphins, and sea lions, as well as a resident pod of fin whales. However, the stars of the show are undoubtedly the whale sharks that feed in the shallow waters of the northernmost Bahia de Los Angeles during the summer months. Day boats take snorkelers out into the bay to swim with dozens of these gentle giants, and to watch them gorge on the nutritious plankton soup.
From the largest to some of the smallest fish in the sea, the nearby Midriff Islands boast some fascinating macro, with huge numbers of nudibranchs, such as the vibrant but carnivorous sea tiger, playing out a multicolored slow-motion drama. There are also several types of blenny and a variety of jawfish displaying flashy mating colors if you catch them in season.
This is by far the most accessible liveaboard from the western US, simply fly to Phoenix and then catch a shuttle across the border to the boat. Also on the itinerary of some liveaboards departing from the south, the northern reaches of this fascinating body of water are worth exploring in their own right.
Join our next Sea of Cortez Photo Workshop in August 2023.
Learn more about diving the Sea of Cortez from our dive travel guide or read about our adventures there from our 2022 Sea of Cortez Trip Report.
PRACTICAL INFORMATION
Diving Season: July to December offers the best visibility and calmest waters. The whale sharks gather in July and August.
Water Temperature: 69 to 75oF (20 to 24oC), although the shallow waters of Bahia de Los Angeles are warmer in the summer.
Difficulty: Suitable for all levels.
Non-diving Activities: Whale shark encounters are snorkeling only, so can be enjoyed by divers and non-divers alike.
Nearest Airport: Phoenix Sky Harbor International Airport (PHX).
---
7. LA PAZ
PELAGICS GALORE
As the capital of Baja California Sur, La Paz offers visitors access to a great range of diving in the southern Sea of Cortez. One of the biggest attractions here is the whale sharks that visit La Paz Bay in October and November when plankton blooms are at their richest. Swimming with these gentle giants is a humbling experience, and one of the highlights of a La Paz trip. Also in La Paz Bay, the hammerhead shark nursery, which has been decimated by fishing in recent years, is regenerating, and sightings of these once abundant sharks are becoming more frequent again. Please note, La Paz Bay is closed for swimming with whale sharks from May until early-October each year.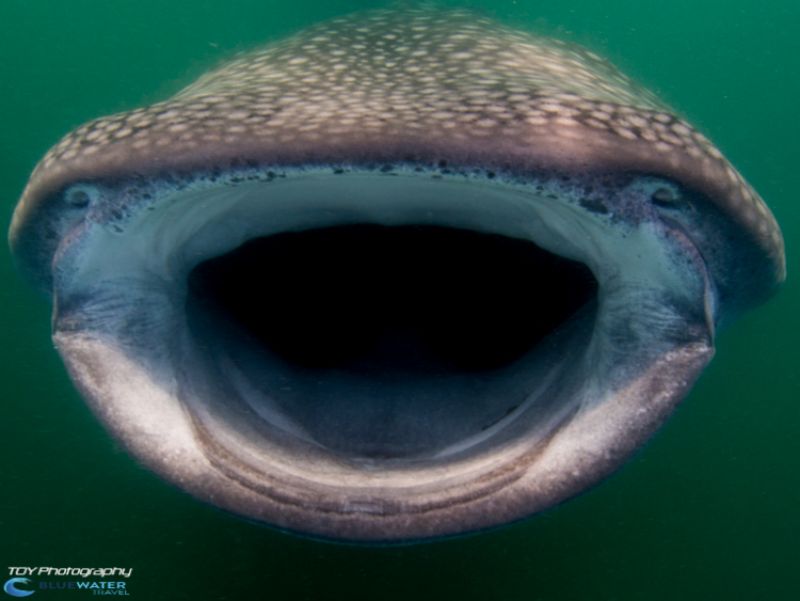 Further offshore, the renowned El Bajo seamounts are the best place to encounter oceanic pelagics, with mobula rays, hammerhead sharks, dolphins, marlin, and tuna all taking turns to steal the show.
For a unique experience, the sea lion colonies at Isla Los Islotes are great fun to dive amongst, with dozens of curious and playful youngsters providing a circus of entertainment to willing spectators. Just as entertaining is watching the show from the surface, and many visitors choose to snorkel rather than dive. The sea lion colonies are closed for breeding from 1 July to 31 August each year.
Learn more about diving the La Paz and read all about our last trip there from our La Paz Trip Report.
PRACTICAL INFORMATION
Diving Season: October and November are the best months to visit the southern Sea of Cortez.
Water Temperature: 72 to 84oF (24 to 28oC).
Difficulty: All levels of diving, although the offshore seamounts can experience rough swell so are suited to more experienced divers.
Non-diving Activities: Snorkeling with whale sharks and sea lions is a great experience for non-divers, as well as wildlife and fishing excursions, and kayaking trips.
Nearest Airport: Manuel Márquez de León International Airport (LAP).
---
8. CABO SAN LUCAS & CABO PULMO
DIVING AND SNORKELLING FOR EVERYONE
Situated 40 miles apart on the southern tip of the Baja California Peninsula, Cabo San Lucas and Cabo Pulmo catch a diverse range of tropical reef and pelagic species where the Sea of Cortez meets the Pacific Ocean. On the southernmost point, the sheltered San Lucas Bay offers great introductory diving amongst rocky reefs and corridors, where sites such as Santa Maria and Chileno Bay are chock full of critters and small tropical fish, nudibranchs, and lobsters. California sea lions appear in abundance here too, adding a sense of mischief to the dive. San Lucas Bay is also home to the area's famous Sand Falls site, where sand eroded from the surrounding cliffs cascades down ravines to create unusual underwater scenes.

Further out at the dramatic offshore walls and plateaus of Gordo Banks, oceanic pelagics regularly pass through on migration further into the Sea of Cortez. Humpback and gray whales can be spotted between December and May, and this is also the best time to catch a glimpse of scalloped hammerhead sharks. The diving here can be tricky, with strong currents and rough surface conditions, so is best suited to experienced divers.
On the eastern side of the peninsula, Cabo Pulmo is a protected National Marine Park covering 27 square miles of the northernmost hard-coral reef in North America. Frailes Rock in the south of the park is home to yet another sea lion rookery, and these youngsters really know how to entertain! The snorkeling is fantastic here, and the shallow waters allow great access to explore the fascinating macro and tropical fish of the inshore reefs.
Through the winter months, humpback, gray, and sperm whales can be spotted around El Bajo seamount (not to be confused with El Bajo at La Paz), where bait-balls of schooling jack offer a tasty pit-stop for these migrating giants. Other open ocean visitors include mobula rays, hammerhead sharks, and the occasional whale shark.
This plethora of marine life also provides a fantastic experience for non-divers, with open ocean safaris offering whale-watching and guided snorkeling with sharks, mobula rays, whales, and many of the region's other migratory species.
Learn more about diving Cabo San Lucas.
PRACTICAL INFORMATION
Diving Season: December to May is the best time to spot pelagics, however June to November offers better underwater conditions.
Water Temperature: Average 80oF (27oC) during the summer months and 68 to 75oF (20 to 24oC) in the winter.
Difficulty: Inshore sites for all levels, some offshore sites are only suitable for experienced divers.
Non-diving Activities: Cabo San Lucas is a lively resort that offers plenty of entertainment, cultural tours, and watersports. ATV and buggy rides into the desert dunes are great fun. Cabo Pulmo is far quieter, with snorkeling and relaxing as the main top-side activities.
Nearest Airport: Cabo San Lucas International Airport (CSL) and Los Cabos International Airport (SJD).
---
9. CHINCHORRO BANKS
UNEXPLORED REEF IN PRISTINE CONDITION
A five-hour drive south of Cancun, protected within the Sian Ka'an Biosphere Reserve, the Chinchorro Banks are a hidden gem on the Mesoamerican Barrier Reef. While thousands of divers flock to the northern resorts of Cozumel and Cancun, very few are aware of the unique biodiversity and pristine habitats found along this isolated atoll.
Diving the banks is only possible from the mainland, and a 30 to 60-minute speedboat ride from Xcalak, Majahual, or Costa Maya will take you out to one of the best scuba diving destinations in the Northern Hemisphere. Relax on easy drift dives over the colorful coral or explore some of the nine fascinating wrecks spread along the reef. French angelfish and queen angelfish school in a colorful patchwork, while lobsters, grouper, and stingrays loiter under the coral heads and swim-throughs. The warm, clear waters are perfect for snorkeling, and shallow wreck sites such as Forty Canons are just as intriguing explored from the surface as they are underwater.
For a truly unique experience, the bravest divers can get up close and personal with American saltwater crocodiles. Whilst carefully managed for the safest experience, this is still an adrenaline-filled encounter and provides some great photo opportunities.
Learn all about diving with crocodiles from our Mexico Crocodiles & Cenotes Trip Report.
PRACTICAL INFORMATION
Diving Season: Year-round.
Water Temperature: 78 to 82oF (25 to 28oC).
Difficulty: All levels.
Non-diving Activities: Majahual on the mainland has a good number of resorts, restaurants, and attractions, including watersports and ATV hire. Xcalak is much quieter, offering not much more than snorkeling and beaches.
Nearest Airport: Cancun International Airport (CUN).
---
FURTHER INFORMATION
Besides all these above mentioned amazing diving spots, Mexico offers so much more. You can also do some whale watching in San Ignacio. Visit Puerto Vallarta on the Pacific coast for some great diving, where you can also see humpback whales and maybe even spot some manta rays and whale sharks. Lastly, in Xcalak, where the saltwater crocodiles are, you can also dive with manatees. Between November and March, adventurous divers can go scuba diving with bull sharks in Playa del Carmen for a thrilling experience. Lastly, in Puerto Morelos scuba divers can enjoy some nice and easy shore diving.
Currency: Mexican Peso (MXN).
Language: Spanish.
Time Zone: Northern Sea of Cortez and La Bufadora - Pacific Standard Time (GMT-8), La Paz and Cabo San Lucas - Mexican Pacific Standard Time (GMT-7), Yucatan and Cozumel - Eastern Standard Time (GMT-5).
Electricity: 127V.
---
Further Reading
See also these useful resources from our sister websites, Bluewater Photo, and Underwater Photography Guide
Best Underwater Photography Destinations
Wet Wide Angle Lens Buyer's Guide