Country: Mexico

---
Intro to Isla Mujeres
Isla Mujeres is an island in the Gulf of Mexico, about 13 kilometres (8.1 mi) off the Yucatán Peninsula coast. Isla Mujeres is a year-round dive destination known for big animal encounters like whale sharks and mantas. Easy diving with abundant marine life like turtles make this a great family dive destination.
DIVING INFORMATION

---
MARINE LIFE
This is a great place for whale shark tours, and divers can also enjoy beautiful corals, wrecks, and spot a variety of pelagic species.
There are two distinct snorkeling opportunities off Isla Mujeres that attract divers and underwater photographers year after year. These are swimming with sailfish from mid-December to mid-March and swimming with whale sharks during the summer.
Those who wish to dive with sailfish will spend up to 8 or 10 hours on a boat searching for the sailfish as they hunt and control schools of baitfish. Sea conditions can be rough, and like any natural encounter, the sailfish are not guaranteed to show up. The encounters with sailfish will be brief, but it is an incredible experience.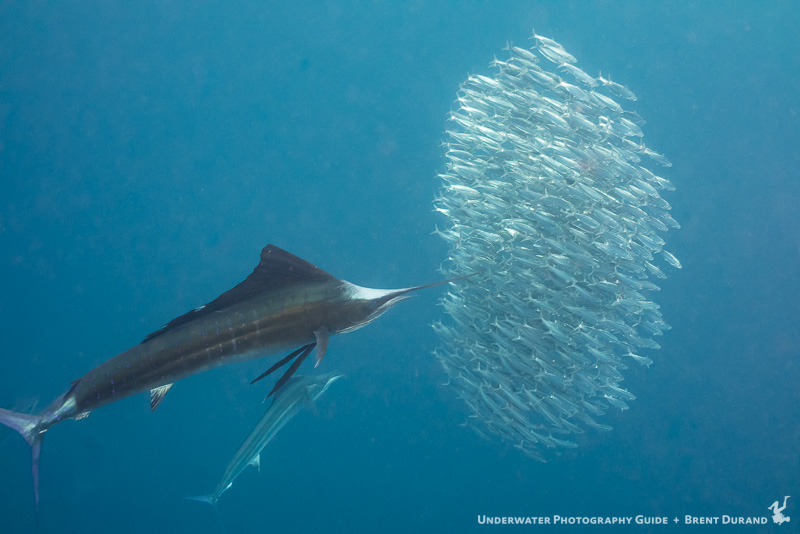 Whale sharks gather during the summing in two areas. Most operators will snorkel off Isla Holbox, where the whale sharks gather to feed on plankton and krill. Other operators will take snorkelers way off Isla Mujeres to clear blue water, where whale sharks and mantas feed on bonito eggs after spawning events. Depending on the day, there can be many whale sharks or not many whale sharks.
Read more about other fantastic dive destinaions in Mexico.
DIVING CONDITIONS
Water Temperature: 78 - 82ºF (25-28ºC)
Visibility: Consistently 80-100 feet (24-30 meters)
Depth Range: 30-40ft
Current: Many of the sites have little to no current
TRAVEL INFORMATION

---
HOW TO GET THERE
Flying to Cancun (CUN) is easy thanks to all the visiting tourists. The drive from the airport to the Isla Mujeres ferry is about 30 minutes and the ferries run every half hour during the day.
HOW TO DIVE Isla mujeres
There are plenty of dive resorts and dive centers you can choose from. Liveaboard diving is not available here.
Best time to dive isla mujeres
This is a year-round dive destination, but the specific marine life encounters are seasonal. June-September is the best time for whale shark encounters.
TOPSIDE & NON-DIVING ACTIVITIES
Take a day trip to Isla Contoy, a natural wildlife reserve and bird sanctuary
Visiting El Meco Mayan Ruin on Isla's Mainland
Chichén Itzá, the the capital of the ancient Maya empire, now a UNESCO World Heritage Site
Turtle Farm (Tortugranja) - Government-sponsored hatchery for endangered sea turtles.
Swim with dolphins at Dolphin Discovery
Fishing & boat charters
OTHER USEFUL INFORMATION

---
PRACTICAL INFORMATION
Currency: Mexican Peso
Language: Spanish is the official language in Mexico but most people today learn English as a second language
Main Airport Code: CUN
Time Zone: UTC-5
Electricity: 127 V 60 Hz