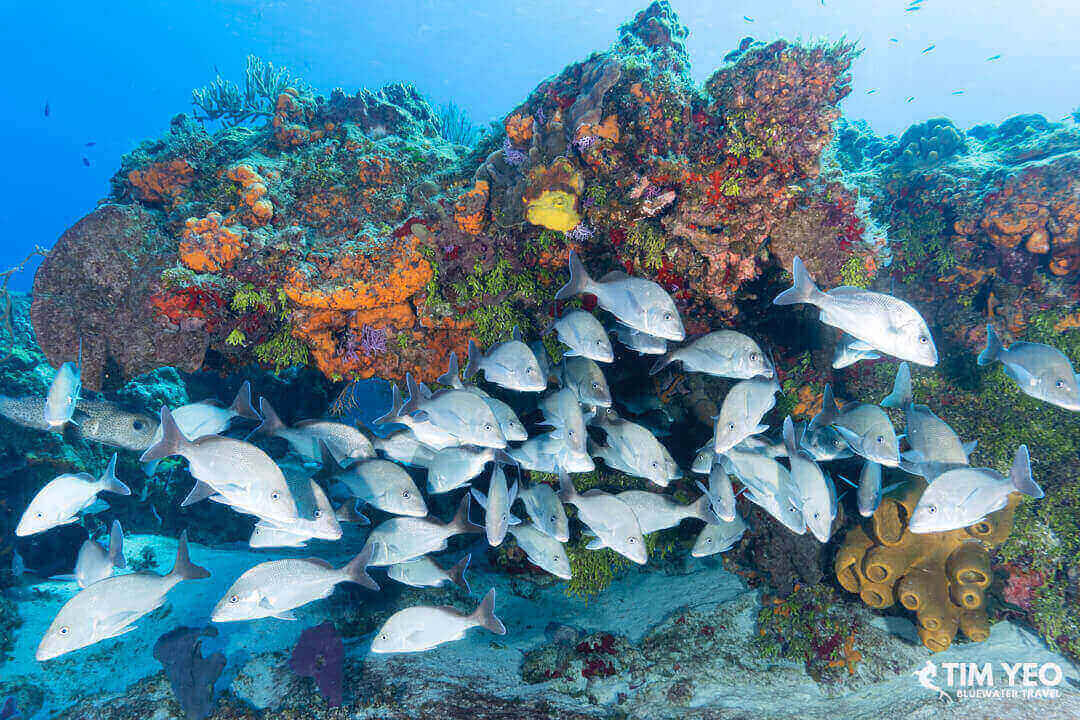 Cozumel is a popular year-round tourist hotspot in Mexico, and the ten best Cozumel dive resorts are the best way to explore some of the best diving in the area. Discover amazingly healthy reefs in Cozumel's marine protected area, and ongoing coral restoration projects outside of the marine park. Cozumel diving boasts impressive walls, spectacular drift dives, and a good range of dive sites for novice and seasoned divers alike. With warm waters and stellar visibility, Cozumel is often referred to as a must-see destination for divers. It is also considered one of the world's top 10 locations for technical diving, with a variety of walls, caverns, and cenotes accessible. The variety of dive sites and the abundance of wildlife in Cozumel make it one of the most well-known dive destinations in the Caribbean.
Topside, the island of Cozumel offers white sandy beaches, great snorkeling, and various land-based activities to choose from, including a visit to the Mayan ruins. This array of activities, combined with the many land-based Cozumel dive resort options, make Cozumel a great destination for divers and non-divers of all ages.
With direct flights to Cozumel International Airport (CZM) from numerous American cities, visiting Cozumel's best dive resorts is hassle-free. For visitors wishing to see more of Mexico, including the famous cenotes, flying into Cancun and visiting Playa Del Carmen is a great option. From there simply take the ferry to reach the dive resorts in Cozumel.
For another great family dive destination, check out our guide to scuba diving Thailand.
---
The best Cozumel Dive Resorts
Most Cozumel dive resorts are located along the western coastline of the island, where most of the dive sites are. Divers can find a wide variety of options, for all kinds of budgets from laid-back hostels to 5-star all-inclusive resorts. With plenty of choices, there are great Cozumel dive resorts for divers and non-divers alike!
Dive resorts in Cozumel are the perfect place to relax and unwind topside during surface intervals and for visitors who prefer to stay out of the water. Lounge on white sand beaches and cool down in the turquoise sea, or relax poolside with a cocktail and a good book. Explore the ancient Mayan ruins and learn about the history, food, and culture of the Mexican people. There are plenty of Cozumel activities to experience at the best Cozumel dive resorts!
Find more information on the diving season, marine life, dive sites, and how to get to Cozumel on our in-depth guide to diving in Cozumel.
---
how to book Dive Resorts in Cozumel
Bluewater Travel can help you book one of the ten best dive resorts in Cozumel and over 40+ destinations in the world at the same price or even lower than booking any other way. We are experts on accommodation, diving, and logistics in Cozumel. Email us today or leave us a message through the live chat box to start planning your dream dive vacation in Cozumel!
Interested in learning more about diving Cozumel? Check out Bluewater's Cozumel Group Trip report.
Looking for an underwater camera to make the most of your Cozumel scuba diving memories? Check out our sister site, Bluewater Photo.