Tanzania

---
Tanzania Safari Highlights
Imagine herds of wildebeest or zebras running by you. Or witnessing lions quarreling or hippoes sunbathing. African safaris in Tanzania can offer you all that and plenty more. The famous Serengeti National Park or the Ngorongoro Crater are filled with exciting wildlife viewings. The highest mountain in Africa, Kilimanjaro, and the rest of the landscape, will give you beautiful photo opportunities. Not to mention the friendly locals who are ready to show you the local culture and tribes.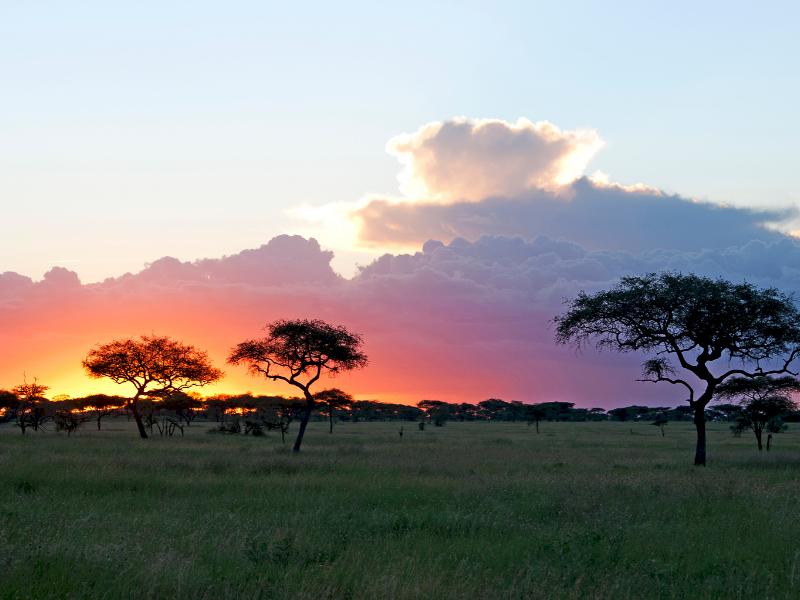 Tanzania Wildlife
Besides the big five of Africa, here is some of the wildlife you can spot while on a Tanzanian wildlife safari:
Wildebeest
Lions
Leopards
Hyenas
Buffalos
Rhinos
Hippos
Baboons
Elephants
Giraffes
Zebras
African Wild Dogs
Cheetah
Ostrich
Tanzania national parks
TARANGIRE NATIONAL PARK
Away from the busier areas, Tarangire National Park promises visitors wilderness and adventure. The vast savannah is dotted with baobab and acacia woodlands and is home to large herds of elephants, buffalo, and zebra. You can also spot Thomson's gazelle, wildebeest, gerenuk, and much more. Moreover, there are more than 500 species of birds in this national park, such as the yellow-collared lovebirds and the world's largest bird, the stocking-thighed ostrich.


THE SERENGETI NATIONAL PARK
This park has become synonymous with African Safaris, boasting golden sunsets over the savannah, clouds of orange dust, and the famous Great Migration. You can also spot black-maned lions, leopards, rhinos, and African wild dogs here. The Serengeti is one of the oldest and most complex ecosystems in the world, making it a world-famous wildlife safari destination.
NGORONGORO CRATER
The Ngorongoro Crater is unique for having the highest density of lions in the world, including the unique black-maned lions. It is an incredible sanctuary for wildlife and you can see herds of zebra and gazelle, black rhinos and hippos cooling off in the muddy water, elusive cheetahs, thousands of flamingos, and much more. The Maasai tribes also live in this area, and visitors can visit a Maasai village to learn about their culture.
LAKE MANYARA NATIONAL PARK
Here you have the opportunity to see tree climbing lions, elephant herds and huge number of baboons. It is home to over 400 species of birds including pink flamingos. The lake itself covers an area of 89 square miles (230 square kilometers). The park has also hot springs that reach 140 F (60C).
RUAHA NATIONAL PARK
This is one of the most exciting dry season destinations and it is also the second largest park in Tanzania. You can see great of impala, waterbuck, wild dogs, lions and leopards. Additionally about 10,000 elephants reside here.
MIKUMI NATIONAL PARK
The fourth largest national park in Tanzania offers excellent year round wildlife viewing. Lions, zebra, impala, and buffalo herds migrate across it. The park itself is less known and visited, which offers a great opportunity for a quiet and exclusive experience.
UDZUNGWA MOUNTAINS NATIONAL PARK
Udzungwa is unique as its closed-canopy forest spans altitudes of 820ft (250 m) to above 6,560ft (2,000m). It is home to endemic primates, birds and other animals not found anywhere else in the world. It is also a beautiful destination for hikers.
MAHALE MOUNTAINS NATIONAL PARK
There are no roads in Mahale, which means you can only walk or sail. The park itself has the highest diversity of primates of any park in Africa. You can also track chimpanzees in the wild and there are around 1,000 left here.
KATAVI NATIONAL PARK
Due to its remote location, Katavi is extremely exclusive and untouched area. There are a huge numbers of hippoes and crocodiles. Though it is the largest park in Tanzania, it has less than 1000 visitors per year.
Accommodations in Tanzania
SAFARI LODGES
A lodge is usually a large, solid structure made from stone, bricks, timber, and thatch, but one that still blends in with the surrounding landscape. Lodges tend to have more amenities with hot water on tap, running showers, and flushing loos. Lodges are not necessarily luxurious, but they can still be basic in terms of service and style and a great option for those that are a little nervous about seeping in the bush.
PERMANENT TENTED CAMPS
Camps will usually be tented – either full canvas tents or structures with canvas walls and a solid roof and floor for example – and generally with fewer rooms than a lodge. These can be bigger and more luxurious than any safari lodge. If you're looking for an accommodation option with all the comfort of a lodge but more intimate, and usually offering a better safari experience, then a permanent camp will suit you best.
MOBILE TENTED CAMPS
Tented and with a very small number of rooms, bush camps are incredibly private and designed to give you a real, return-to-the wild experience. Most are built-in remote areas that may be inaccessible for part of the year; at this time, the bush camp will usually be broken down and then rebuilt for the start of the next season. Facilities vary but you can expect en-suite bathrooms, comfortable beds, great food and drinks, and plenty of little extras in the main area.
MOBILE WALKING CAMPS OR FLY CAMPS
A mobile walking camp is set up as part of an expedition most for two or three nights. There's no denying that fly camps are the simpler accommodations you'll find on safari, but that's a part of the charm. Think walk-in, no-frills tents, modest beds, or comfy bedrolls and outdoor bucket showers and loos in a private enclosure to the back.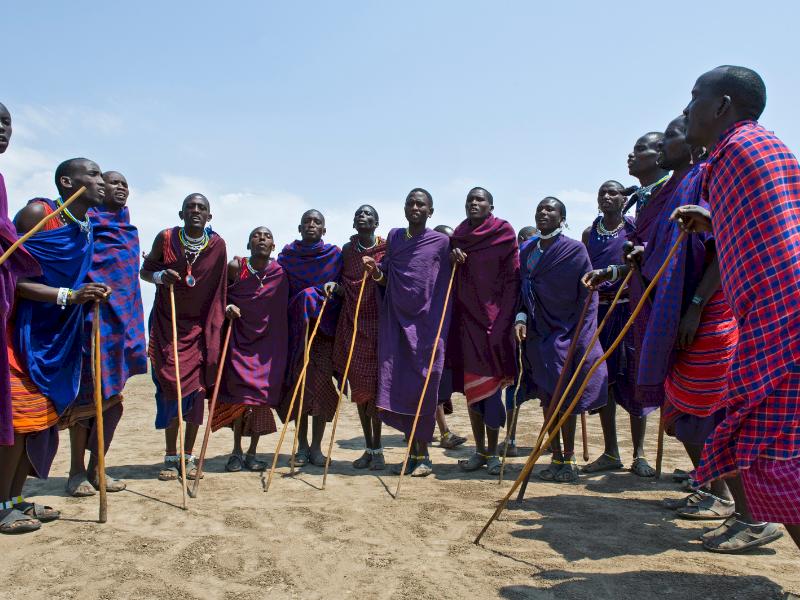 when to go
Tanzania can be visited all year round. During the dry season fron June to October the wildlife viewing is generally the best. The wildebeest migration in Serengeti is around June and the wildebeest calving is in late January and February. The peak of the wet season is from March to April. Bird watching is best from November to May.
TRAVEL INFORMATION & WHAT TO PACK
CLOTHING
Bring comfortable clothes and dress modestly to respect the local people and culture. Be prepared with clothes both for warm weather conditions on the plains and colder temperatures in the hilly and mountainous areas. Also, the early mornings and evenings can be surprisingly cool! Wear neutral-colored clothes on safaris and especially in lighter tones or khaki as tsetse flies are attracted to dark colors. We also recommend packing light. Most of the lodgings offer a laundry service at an extra cost, but many of them also do only hand washing and don't accept underwear.
FOOD & WATER
We recommend bringing your own water bottle as many lodges and camps have a water dispenser to fill your bottle with drinking water. To support the community, local produce is used as much as possible. Trying new foods will be part of the experience!
ELECTRICITY
Electricity supplies in rural areas are mostly provided by generators or solar panels. Though the camps and lodges can provide lighting and power in guest rooms, most of the rooms do not have electricity sockets. Ask about the charging facilities in the accommodations. The electricity supply in Tanzania is 200V/AC50Hz. The plugs do vary and we recommend taking multi-adapters to cope with 3 square pin sockets and 2 round pin sockets.
LOCAL CURRENCY
The local currency is the Tanzanian Shilling. All international airports have money-changing facilities and there are banks and ATMs available, but we recommend changing your money upon arrival as it is difficult to change money whilst on safari. Credit cards are accepted in larger hotels and restaurants, but it is preferable to travel with cash.