Scuba diving in Australia, the Land Down Under
Check here for the latest travel advisory to Australia in the light of the current coronavirus outbreak.
Scuba diving in Australia, especially liveaboard trips to the Great Barrier Reef and the Coral Sea, offers tremendous volume and diversity of marine life, well managed marine parks, professional dive operations and diving suitable for all experience levels. There is great diving at every depth and a variety of marine life including sharks, minke whales, and large potato cod (potato grouper). In Adelaide, there is some exceptional diving off jetties, where you can see the leafy sea dragon. Sydney, Melbourne, Perth and Ningaloo Reef all offer their own unique animals and experience. Australia waters hands-down offer some of the best scuba diving in the world, and is worth many trips back.
Interested in diving in Australia? View the live availability of some of the best liveaboards in Australia and book online at the best price or check out our sidebar for specials and land-based options.
AUSTRALIA'S BEST dive sites & DIVING DESTINATIONS
Here are some of the best scuba diving destinations in Australia:
1. The Great Barrier Reef - World's biggest coral reef system
2. Ningaloo Reef- Beautiful coral and best place to swim with whale sharks
3. South Australia - The spot for cage diving with great white sharks
4. New South Wales - Dive sites with unique marine biodiversity
5. Victoria - Unique piers and great wreck dives
6. Western Australia - Lesser visited sites and home to some rare species
7. The Yongala Wreck - One of the best wrecks to dive in the world
8. Flinders Pier - Meet the weedy sea dragons
9. Osprey Reef - Best for diving with sharks
10. Fish Rock Cave - Best cavern and cave diving
---
1. The great barrier reef
World's largest coral reef system
On many scuba divers bucket lists, the world's biggest coral reef system has plenty of amazing dive opportunities to offer. Being so rich in marine life, it is not just one of the best scuba diving spots in Australia but it has become one of the best diving destinations in the whole world. Much of the reef is also protected, which is why it is also one of the best dive areas in Australia. The Great Barrier reef is home to many shark species including whale sharks and hammerhead sharks. The reef is also a great opportunity to spot whales like the dwarf minke whales or sperm whales. Much other fish like barracudas, giant groupers, blue-spotted rays, turtles and parrotfish can be seen. Besides big pelagics, the Great Barrier reef has offered some beautiful healthy coral, great visibility, and numerous dive sites for different levels of divers. Even though it is highly popular among scuba divers and scuba snorkelling as well, there are also some great dive sites that are rarely visited.
Interested in diving with whales? Check out our list of the Best Places to Swim With Whales?

Want to know more about diving the Great Barrier Reef? Read all about it in our Great Barrier Reef Dive Guide.
PRACTICAL INFORMATION
Diving Season: Year-round, with summer months having warmer waters and better visibility but winter months are best to see large marine mammals
Difficulty: Beginner to Advanced.
Nearest Airport: Cairns International (CNS)
Topside Activities: Plenty of options like hiking, wildlife parks, water rafting, and more.
2. Ningaloo Reef
Whale shark encounters!
Located on the west side of Australia, the Ningaloo Reef is home to the second-largest coral reef and an area not to be missed. The Ningaloo Marine Park has also been listed as a world heritage site, why it offers good competition for the Great Barrier Reef. This area is not only great for its amazing coral, but it is one of the best places to swim with whale sharks. The highest chance of seeing these creatures is during the months of April and May. During the winter months, you can even see manta rays. Humpback whales, turtles, and dolphins can be seen very often. The Ningaloo Reef is also one of the best spots in Australia for macro as it is home to many beautiful critters.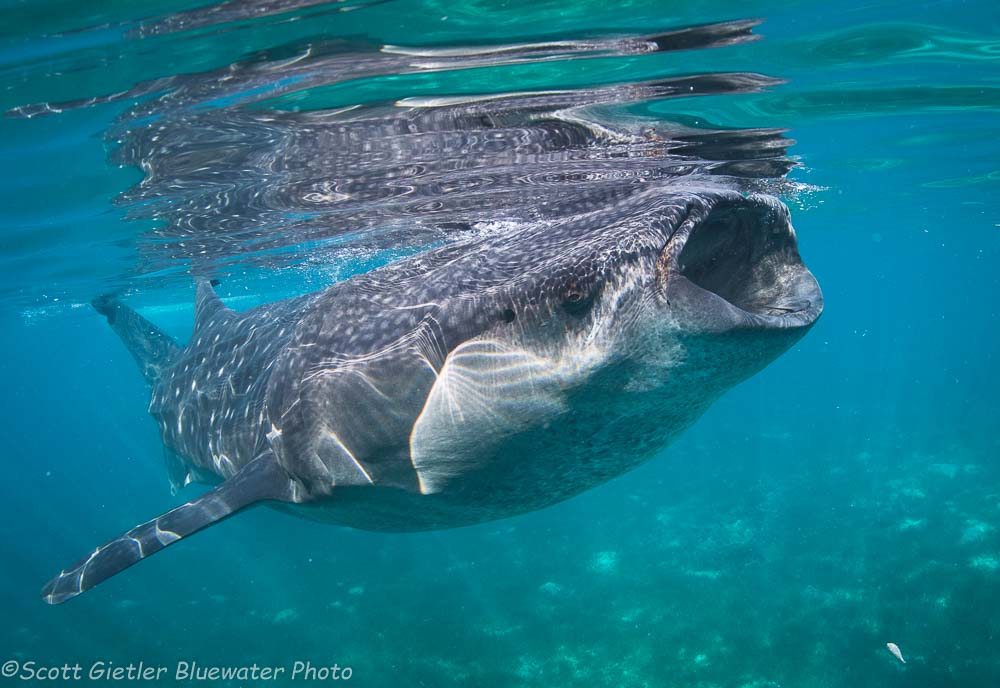 Check out this article of Exmouth and Ningaloo Reef by Christine Shepard.
PRACTICAL INFORMATION
Diving Season: Year-round. Summer months are rainier, spring is best for seeing whale sharks, and the winter season is best for spotting big pelagics like mantas, dolphins, and even dugongs when lucky!
Difficulty: Beginner to Advanced.
Nearest Airport: Learmonth Airport (LEA)
Topside Activities: Explore gorges or it's gorgeous beaches.
---
3. South Australia
Great Wrecks, migration of cuttlefish and great white sharks!
Diving in South Australia offers true pleasure to all the wreck divers. Throughout the area, there are many shipwrecks to explore. This generally less visited dive area, it is great for escaping the crowds and discover some true gems. South Australia does not only have some nice boat dives but also some very good shore dives. The marine life is wonderful and you can even see some seals and leafy sea dragons in this dive destination. Besides that, from May to August you are able to witness a spectacular event, the migration of the Australia Giant Cuttlefish.

Moreover, this is the spot where adventure lovers come to scuba dive with the great white shark. South Australia is considered among one of the world's best places to shark cage dive and the only place in Australia where you can meet these majestic creatures. For a thrilling adventure of meeting the ultimate apex predator of the seas, visit the Neptune Islands. You can get real close with great white sharks and have the opportunity to surface or floor cage dive. In Neptune Islands you can experience shark diving like never before.
PRACTICAL INFORMATION
Diving Season: Year-round. The Australian Giant Cuttlefish can be spotted during the summer months only.
Difficulty: Beginner to Advanced.
Nearest Airport: Adelaide International Airport (ADL)
Topside Activities: Visit national parks or try wine tasting!
4. New South Wales
rare coral and fish species
Like the above-mentioned areas, New South Wales does not lack options for scuba divers either. One of the most popular holiday destinations, Byron Bay with some of the best beaches, great waves for surfing, and of course great scuba diving, is located there. Another UNESCO heritage site, the Lord Howe Island with rare coral and fish species offers absolutely amazing dives. The most southern coral reef with a mixture of currents of different temperatures has brought scuba divers some unique endemic species that cannot be seen elsewhere. The marine life and flora and fauna is truly wonderful. What is even better, only a limited number of tourists are allowed there, which means you are very likely to have the dive site for yourself! Some of the exciting marine life you can encounter in New South Wales are leopard sharks, cuttlefish, rainbow runners, moray eels, pufferfish, and sea spiders among many.
PRACTICAL INFORMATION
Diving Season: Year-round. During the winter season, the water temperatures can get quite low and reach around 50F (10C).
Difficulty: Beginner to Advanced.
Nearest Airport: Sydney Airport (SYD)
Topside Activities: Visit Sydney, beautiful beaches or the Blue Mountains.
5. Victoria
unique piers and great wrecks
Fantastic variety of marine life brings you octopuses, seals, seahorses, eels, nudibranch, weedy seadragons, and plenty of others. Victoria has also some great dive sites for wreck divers. Some of the piers in Victoria have created some unique dive sites with a mystical atmosphere for marine life seeking shade and shelter. There are also many islands offshore where the underwater world is very beautiful and you can see plenty of colorful reefs.
PRACTICAL INFORMATION
Diving Season: Year-round.
Difficulty: Beginner to Advanced.
Nearest Airport: Melbourne Airport (MEB)
Topside Activities: Visit museums & galleries or go hiking and discover its amazing nature
6. Western Australia
spot some rare endemic species
Down from Ningaloo Reef, the rest of Western Australia is rich in marine biodiversity. As a lesser-visited area, many rare and endemic species like to call it their home. Some of the marine life you can see in the area are sharks, cuttlefish, octopus, trevally, mackerel, squids, turtles, dolphins and the list goes on. There are more than a hundred islands there where the underwater world is waiting to be explored. Not only diverse marine life, while diving in Western Australia, scuba divers can also discover some amazing wrecks. Additionally, the marine reserve protects the area from fishing or development, which is why the dive sites are well preserved and truly beautiful.
PRACTICAL INFORMATION
Diving Season: Year-round. The water temperatures are the coldest during fall and go under 67F (20C), while early spring is the warmest and the temperatures rise above 74F (23C).
Difficulty: Beginner to Advanced.
Nearest Airport: Perth Airport (PER/ YPPH)
Topside Activities: There are great museums and galleries to visit, beautiful beaches to enjoy and you can go and explore the outback.
explore one of the best wrecks
One of the best shipwrecks to dive in the world, located near Townsville in Queensland. You can spot giant groupers, eagles rays, manta rays, sea turtles, sea snakes, huge schools of Barracudas, giant trevallies, and various species of sharks. Sometimes, during the summer months, some lucky divers have even spotted minke or humpback whales! Excellent hard and soft coral and gorgonians sea fans can also be found here. The bottom of the wreck reaches 108ft (33m) and the dive site has often strong current, which is why it is recommended for experienced divers. The wreck is still in great condition and thus, many scuba divers call it their favorite wrecks to dive.
Interested in diving with manta rays? Check out our article about the Best Manta Ray Diving in the World.
PRACTICAL INFORMATION
Diving Season: Year-round. The calmest conditions are in September. The best visibility is during the winter months. The summer months are the high season.
Difficulty: Advanced.
Nearest Airport: Townsville International Airport (TSV)
8. Flinders Pier & RAPID BAY JETTY
MEET THE WEEDY SEA DRAGONS
These popular shore dives will give you a chance to meet the peculiar weedy sea dragons. These relatives of the seahorse are perfectly camouflaged amongst their kelp habitat. Flinders Pier is also a great dive site to spot stingrays and eagle rays, cuttlefish, crabs, and different sponges. Unlike other piers, Flinders Pier has a grass bottom that attracts plenty of life and is why weedy sea dragons love this place. Rapid Bay Jetty may seem like an unassuming site on the surface, but below the waves the pier supports are a playground for schooling fish and home to some fascinating macro.
PRACTICAL INFORMATION
Diving Season: Year-round, but is weather dependent.
Difficulty: Beginner to Advanced
Nearest Airport: Melbourne Airport (MEB)
Topside Activities: Visit Melbourne streets to see the fantastic street art, go shopping or see the national parks.
---
9. Osprey Reef

Best place to dive with sharks

Located in the Coral Sea on a remote atoll called Osprey Reef, there are plenty of dive sites not to be missed. North Horn is one of the most famous and is a proper shark hub. Grey Sharks, Silvertip, Great Hammerhead Sharks, and even the Tiger Shark can all be seen at North Horn. Besides diving with sharks, you can also meet other pelagics like barracuda, turtles, rainbow runners, trevallies, tuna, and sometimes even manta rays can be spotted here. Whales and dolphins can be also spotted by scuba divers. The conditions are generally calm, but the occasional mild current offers a great opportunity for a nice drift dive. Since it's a remote area, it is only accessible by a dive liveaboard.

Interested in diving with sharks? Check out our list of the Best Shark Diving in the World.

PRACTICAL INFORMATION

Diving Season: Year-round. The best visibility is from September to November.
Difficulty: Beginner to Advanced
Nearest Airport: Cairns International (CNS)
---
10. Fish Rock Cave

Fantastic cave diving

If diving caves and caverns are something that interests you, you must add Fish Rock Cave to your list. The dive site does not only display a cave, but the cave itself is full of marine life. The caves are covered with gorgeous pink coral. Diving through the cave you can meet nurse sharks, wobbegong, morays, octopus, lobsters, and turtles. Scuba divers can always expect to see a lot of marine life, which makes this cave unique. Different sharks are also pretty much guaranteed to see during each dive. The cave has two different entrances, a shallow large entrance with a lot of light coming through and a deep entrance.
PRACTICAL INFORMATION
Diving Season: Year-round
Difficulty: More suitable for advanced divers
Nearest Airport: Sydney Airport (SYD)
Other great dive sites in Australia
Some of the best dive sites in Australia:
Navy Pier - Located in Exmouth, close to the Ningaloo Reef. Wobbegong shark, the grey nurse shark, whitetip reef shark, nudibranch, flat worms, frog fishes, scorpions fishes, and stone fishes are often spotted there.
Shelly Beach - This shore dive will take you through some great big boulders with gorgeous reef, seagrass, and beautiful white sand. You can spot some rays and even wobbegongs.
Cod Hole - Located on The Great Barrier Reef. Besides the large potato cods and Maori wrasses, you can also spot whitetip reef sharks, emperor angelfishes, and triggerfishes.
Lonsdale Wall - This great wall dive provides scuba divers with exciting swim-throughs where stunning soft coral, hanging sea fans and sponges have taken over. A variety of fish like to take shelter under the ledges, overhangs or undercuts. You can spot cuttlefish, seastars, nudibranch, blue devilfish among many others.
---
AUSTRALIA LIVEABOARDS AND DIVE RESORTS

There are many options for liveaboard trips in Australia. Most of them include the Great Barrier Reef. Joining a dive liveaboard will give you the ultimate diving holiday in Australia and will also show you some beautiful sites that dive boats are not able to visit. Australia also has plenty of dive resorts, which are more suitable if you want to also discover some of the great topside activities Australia has to offer.

See our live availability to some of the best liveaboards in Australia.

---

Australia Travel Information & Tips

about the country

The largest country in Oceania, but the smallest continent in the world, is located in between the Indian and Pacific ocean. Traveling and

backpacking around Australia

is extremely popular, not least because of sites like the Great Barrier Reef. From the northwest, it shares its borders with Indonesia and with New Zealand from the southeast. Australia is very biodiverse above and underwater and has some absolutely breathtaking places to see. Australia is divided into six states: Queensland, New South Wales, Victoria, Tasmania, Western Australia, and South Australia. All of the areas are provide excellent diving opportunities.

INTRO TO SCUBA DIVING IN AUSTRALIA

The continent located south of the equator attracts scuba divers all year round and mainly to dive the Great Barrier Reef. Nevertheless, the island itself is huge and offers countless of beautiful dive sites beyond the famous reef. The choices for scuba divers are endless from colorful coral reefs, wrecks, giant kelp forests, and big pelagics. You can even dive with the great white sharks! Besides enjoyable fun dives, Australia is also a great place to get your dive certification in the first place as it has dive sites for all levels of divers. More experienced divers can also upgrade their skills by taking some technical diving courses.

Check out diving the Mesoamerican Barrier Reef from Belize or the Yucatan in Mexico.




DIVING INFORMATION

---

MARINE LIFE

Most scuba divers go diving in Australia to see the world heritage area, the Great Barrier Reef, that is home to more than 1500 fish species. Though Australia has a very diverse marine life, the destination is still best for seeing big fish rather than macro life. You can spot lots of different species of sharks like blacktip, whitetip sharks or wobbegongs. Whales are also quite common and you can see some humpback whales and minke whales. The Great Barrier Reef is also home to all the six of the whole world's seven turtle species.
Here are some of the marine life you are likely to see when scuba diving in Australia:
Sharks
Turtles
Whales
Manta Rays
Dolphins
Seals
Sea Lions
Giant Clams
Maori Wrasse
Clown Fish
Cuttlefish
Octopus
Seahorse
Goblinfish
Leafy Seadragon
Nudibranch
Ribbon Reef / Osprey Reef video
BEST TIME TO DIVE AUSTRALIA
The best time to dive fluctuates for what area of Australia you are diving. Numerous areas are accessible year-round, but the southern parts can have bad weather between May-October.
weather & DIVING CONDITIONS
Water Temperatures: Can be anywhere between 70 - 87 degrees.
Visibility: Visibility on day trips will be between 50 and 100 ft. while further sites reached via liveaboard can be up to 150 ft.
Depth Range: The majority of dive sites will be relatively shallow, 30 - 60 feet.
TRAVEL INFORMATION
---
HOW TO GET THERE
There are several airlines that fly non-stop between Australia and the US. The airport in Sydney offers the best options for international and domestic flights. Perth, Melbourne and Adelaide also have many international flights.
Continue your travels with a trip to neighbouring Thailand.
HOW TO DIVE AUSTRALIA
Although you can take day trips out to dive - in general, the further you go the better the diving becomes. Due to this, liveaboards are typically better to properly experience what all Australia diving has to offer. In general, the Great Barrier Reef is the most popular, but the Coral Sea is better. Many divers will visit as part of an Australia packages tour, often stopping off at various dive sites around the country.
TOPSIDE & NON-DIVING ACTIVITIES
Besides numerous underwater adventures, the country itself has great topside activities being home to some gorgeous beaches, unique wildlife, mountains, and rainforests. Due to Australia's size, it is near impossible to cover all the things you can do while visiting Australia. It is also dependent on what areas you are visiting. But to touch on a few; no trip can be complete without learning of Australia's Aboriginal culture, try taking a hike to the sacred site of Uluru to catch the sunrise or sunset. For you city lovers, climb the Sydney Harbor Bridge or see a show at the iconic Sydney Opera House. Or just take a drive along The Great Ocean Road - a scenic drive you won't forget. Australia is an inspiring place to visit, find out all about it.
Liveaboard availability

---
The rates shown below are per person in USD. The actual rates provided by the operators are based in Australian Dollar (AUD). The pricing at the time of booking may vary depending on the latest AUD/USD exchange rate.
Other Useful Information
---
Practical Information
Currency: Australian Dollar (AUD)
Electricity: 230V 50Hz
Language: English
Time Zone: Australia has 5 standard time zones: Australian Western Standard Time (AWST) - UTC+8; Australian Central Western Standard Time (ACWST) - UTC+8:45; Australian Central Standard Time (ACST) - UTC+9:30; Australian Eastern Standard Time (AEST) - UTC+10; Lord Howe Standard Time (LHST) - UTC+10:30
Entry Requirements: You must have a valid U.S. passport and a visa to enter Australia. Most U.S. passport holders traveling to Australia for tourism or business purposes for less than 90 days can obtain an Electronic Travel Authority (ETA).