Turkey Scuba Diving
---
Scuba diving in turkey Highlights
Turkey is a popular tourist destination for all kinds of travelers, and has also become renowned as an excellent Mediterranean scuba diving destination. There are tunnels, caverns and plenty of wrecks to explore as well as some interesting marine life to see. Turkey is also a popular destination to get certified because it's relatively inexpensive, and there are many dive operations to choose from. Another unique aspect of scuba diving in Turkey is the archaeological sites that are dotted along the coastline, where divers can see artifacts from Turkey's ancient past.
JUMP TO:
Introduction - Top Destinations - How to Dive - When To Go
Marine Life - How To Get There - Other Things To Do
Introduction to Scuba Diving in Turkey
Home to over 8,000km of beautiful coastline, Turkey has some of the best dive sites in the Mediterranean. Excellent visibility, many fascinating wrecks and pristine marine parks make the country a popular destination with scuba divers from all over the world. The diving can be either liveaboard-based or resort-based, with plenty of options to choose from. The wide range of resorts for families and mixed groups of divers and non-divers prove popular. People who want to maximize their time in the water often opt for a liveaboard option.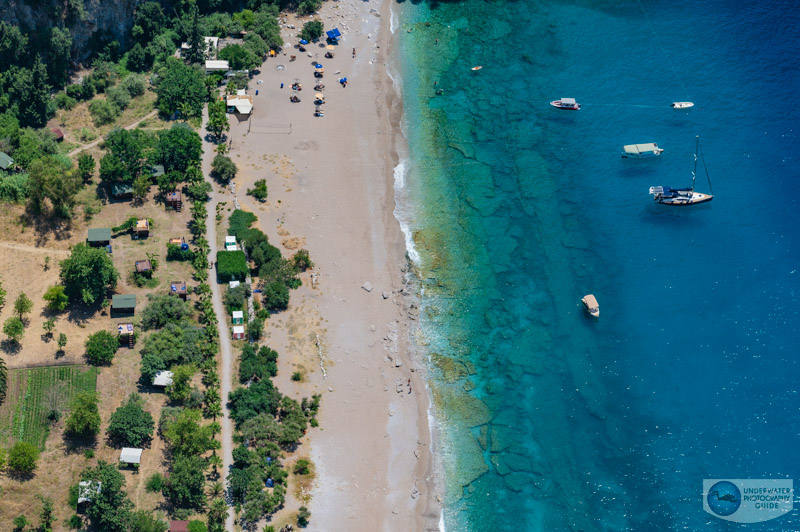 The traditional Turkish gulets ferry divers to and from the various dive sites. The boats are common in Turkey and make a liveaboard or day trip a unique experience.
Check out some other great liveaboard destinations.
Divers can't visit Turkey and pass up the opportunity to dive some of the best wrecks in the world. The country has many well-known wrecks to explore, both modern and ancient, some sunk on purpose and some by accident. Some examples of these wrecks include HMS Majestic, Lighters and The Steamship.
Top Diving Destinations in Turkey
There are many excellent dive sites to choose from in Turkey. You can dive wrecks to reefs and everything in between. The destinations you dive will also depend on your topside activities and where you choose to stay. The country is vast, so it's unlikely you'll be able to hit all of the dive locations dotted along the coastline you want. You'll have to be selective and think about what you want to get out of a diving trip to Turkey.
Kas
Kas is considered one of the best places for scuba diving in Turkey and one of the best diving destinations in the Mediterranean in general. There are 25+ dive sites in Kas that encompass everything there is to offer in Turkey, from wrecks to caves and walls to canyons. On a good day, the visibility can reach up to 130ft (40m). The village of Kas itself is small and unspoilt, and you'll find calm bays along its coastline. In addition to the marine life, wrecks and canyons, you'll discover amphoras and other historical artifacts from ancient civilizations littered around some of the dive sites.
Ayvalık
While the diving season in Ayvalık is technically in the summer, you can dive the destination's warm waters throughout the year. The Aegean coast, where Ayvalık is located, is home to islands, reefs, and both shallow and deep-water wrecks. There are over 60 dive sites to explore, containing an incredible amount of biodiversity. One of the best things about diving in Ayvalık is that no matter the weather and sea conditions, one of its 60+ dive sites will always be accessible.
Gökova
Gökova is known for its fascinating luna-like underwater landscape, with unusual rock formations and large drop-offs, making it a popular destination for those who enjoy wall diving. It's one of the more remote locations on this list which means anybody who goes scuba diving in Turkey and wants to visit Gökova will have to set aside at least a few days to get to and enjoy this beautiful coastal town.
Bodrum
Bodrum is one of the most popular places amongst scuba divers in Turkey. There are lots of great dive operations in the area, and you'll get to see colorful corals, sea sponges and more which aren't common in other parts of the Mediterranean. Bodrum is also home to an excellent underwater archaeology museum if you are looking for a topside activity on days when you're not diving.
Fethiye
Fethiye is a city on Turkey's southwestern Turquoise Coast, otherwise known as the Turkish Riviera. The crystal clear waters of Fethiye attract scuba divers and snorkelers alike. The pristine nature of these waters is backed up by the "Blue Badge" status of the beaches, signifying their cleanliness. The visibility can often reach 30 to 40 meters, which makes the area great for underwater photography.
Liveaboard or Resort?
Scuba diving in Turkey provides you with a wealth of options to choose from. Many resorts and liveaboards operating in the area cater to divers of all ability and experience levels. The team here at Bluewater Travel can help you navigate the wide range of options available to help you find the best resort of liveaboard to suit your need, so don't hesitate to reach out to us by emailing info@bluewaterdivetravel.com or calling +1 310-915-6677.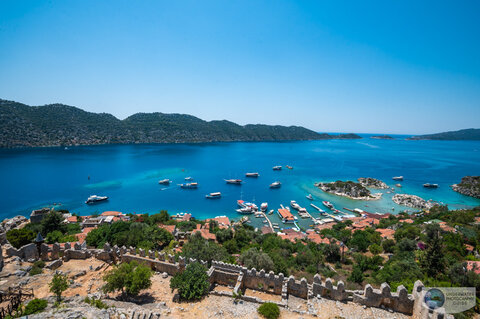 For enthusiastic divers looking to log as many dives as possible, one of the many liveaboards in the area is likely the best option. You'll dive multiple times per day, and you'll often avoid the large crowds at the popular dive site by diving them either early in the morning or later in the afternoon once all the day boats have left.
Families and groups of divers and non-divers may be better off inquiring about the best dive resorts in Turkey where there are non-diving activities for people to enjoy.
When is The Best Time To Go Scuba Diving in Turkey?
One of the great things about scuba diving in Turkey is that you can do it year-round. Water temperatures get as low as 16°C in early February and as high as 28°C in mid-August, so there's a big difference depending on the time of year you visit. The main diving season runs from May until November, but diving outside of these months also has advantages. Since diving in Turkey is very popular, the dive sites can get quite busy, especially in peak season, so as long as you're happy to suit up in a 5-7mm wetsuit or even a drysuit in the winter, you'll get to experience Turkey's dive sites in peace and quiet.
Marine Life in Turkey
In recent years, the azure waters of Turkey's coastline have been the stage of an underwater invasion. Lionfish were accidentally introduced to the area in the mid-1980s and have reproduced at extremely fast rates, affecting the native marine life by feeding on young fish before they get a chance to mature. This has resulted in lionfish taking over to a large extent.
Despite their destructive nature and poisonous spines, Lionfish are beautiful fish and make great underwater photography subjects.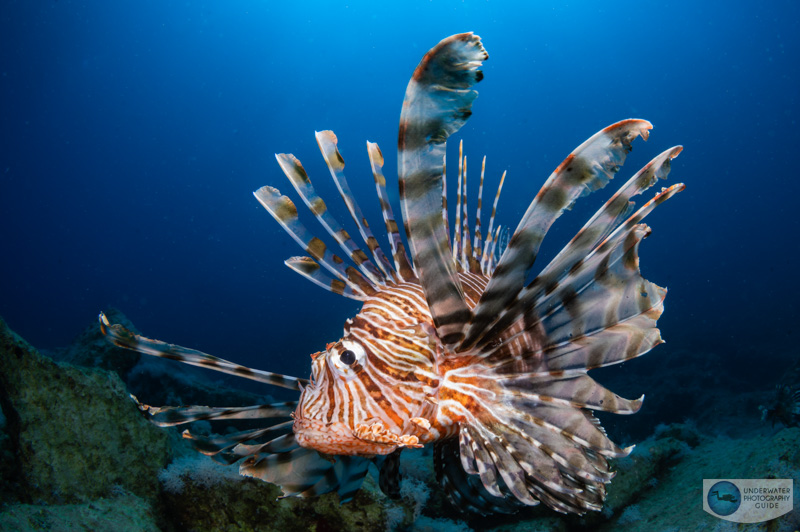 But it's not all bad news, there are still many other fish and marine mammals to see while scuba diving in Turkey. Rainbow wrasse, Mediterranean parrotfish, painted comber, and small red scorpionfish are all common. Plus, if you get really lucky, you may encounter some bigger marine mammals such as dolphins, sharks and whales.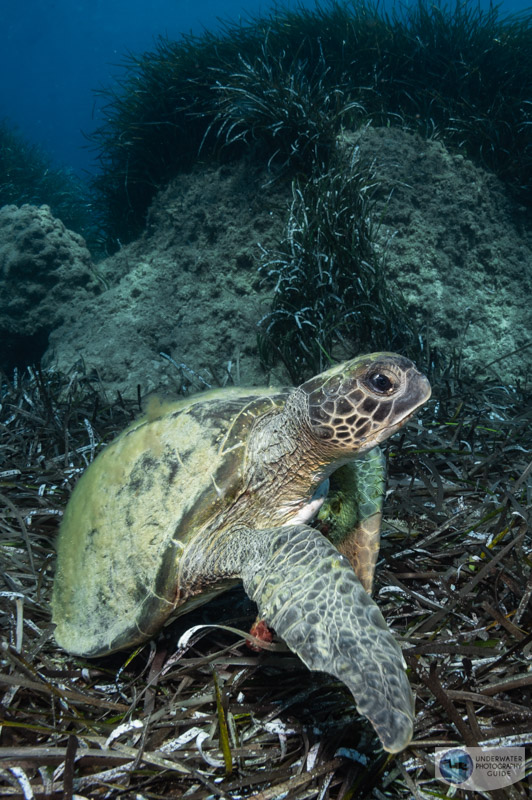 How to Get to Turkey
Turkey's capital, Istanbul, is a major transport hub for flights around the world. Its geographical location where Europe and Asia meet makes it a huge connection hub for intercontinental flights and, as such, is very easily accessible. There are flights into Istanbul Airport (IST) from most major cities.
From Istanbul, there are many options for getting to your final destination. Regularly scheduled buses, trains, and domestic flights are inexpensive and will take you to any amazing dive destinations along the coast.
Other Things to Do in Turkey
Turkey is a popular holiday destination with many Europeans and other people from around the world, so it's not surprising that there are plenty of fun topside activities and first-class accommodation options.
Turkey is a country full of rich history, from colossal monuments to ancient ruins. The Hagia Sophia (Aya Sofya) Mosque is known as one of the world's most beautiful buildings. The ruins of Ephesus give a remarkably well-preserved insight into what the ancient towns and cities of the Turkish empire would have looked like.
And, of course, a visit to Cappadocia is a must for anybody with a head for heights. An early morning hot air balloon ride among hundreds of others is a once-in-a-lifetime experience and sure to highlight your time in Turkey.
How Safe is Scuba Diving in Turkey?
Turkey is a top-rated destination for divers from Europe and Russia and has a well-established and robust diving infrastructure. Dive safety standards in Turkey are high, and all reputable operators follow established industry best practices for safety. Local dive guides and instructors are knowledgeable, experienced, and used to working with divers of all abilities.
Do I Need a Wetsuit to go Scuba Diving in Turkey?
Thermal protection both for when you're topside between dives and while diving is strongly recommended. Depending on the time of year, a 3mm to 5mm wetsuit will be required, especially for longer or deeper dives. A good jacket or jumper is recommended for staying warm between dives on windy days or during the colder months.
Related: Check out diving in the Red Sea.
PRACTICAL INFORMATION
Currency: Turkish Lira (TRY)
Language: Turkish


Main Airport Code: IST
Time Zone: UTC +3
Electricity: 240 V
Interested in going diving in Turkey? Contact us for booking or more information.