By AgnesA | Date: 04 Feb' 2021
Stretching from Turkey in the west to the far eastern tip of arctic Russia, and south as far as the tropical Indonesian island of Java, Asia is the largest continent on earth. Covering one-third of the globe's landmass and bordered by the Arctic, Pacific, and Indian Oceans, Asia offers an extraordinary variety of environments and access to some of the world's best scuba diving spots in places such as Malaysia, Indonesia and the Philippines.
Although it may appear to be a world away, diving Asia is far easier than you might think. Modern flight schedules and an ever-increasing demand are only making access to Asia diving easier. Here at Bluewater Travel, our Agents and Trip Leaders have dived extensively across the Asian continent and have selected their top picks for the best diving in Asia.
ASIA'S BEST DIVING SPOTS
Pick a destination or scroll down to read the entire list:
1. Indonesia - Mind-blowing biodiversity
2. The Philippines - Huge variety and choice
3. Malaysia - Exotic and exclusive
4. Sri Lanka - New discoveries and wrecks abound
5. Thailand - Hassle-free fun for all
1. INDONESIA
Mind-blowing biodiversity
Made up of more than 17,000 islands spread across 735,000 square miles, Indonesia is the world's largest island nation. Located on either side of the equator and bordered by both the Indian and Pacific Oceans, Indonesia boasts world-renowned dive destinations such as Raja Ampat, Komodo, and Bali, as well as dozens of lesser-known but equally fantastic sites.
What sets Indonesia apart from other Asian dive destinations is the huge abundance and variety of marine life found below the waves. Warm waters and tropical reefs are home to over a quarter of the world's fish species and at least 70% of all coral species. Cape Kri, in the country's Raja Ampat archipelago, holds the record for having the highest marine biodiversity on earth!
For those with a passion for macro photography and muck diving, Lembeh Strait in North Sulawesi is generally regarded as the world's best macro destination. Divers from around the globe flock to Lembeh in the hope of spotting incredible critters such as the hairy frogfish, flamboyant cuttlefish, rhinopias, harlequin shrimp, and the stunning mandarin fish.
Indonesia also boasts some excellent big animal diving with destinations such as the Derawan Islands and the Banda Sea drawing pelagics and sharks close to shore for some exciting underwater encounters. For a chance to spot some of the largest fish in the sea, Cenderawasih Bay on the eastern side of West Papua is famed for its resident whale shark population, while the island of Nusa Penida in the popular resort of Bali, has some great diving spots with manta rays and mola mola.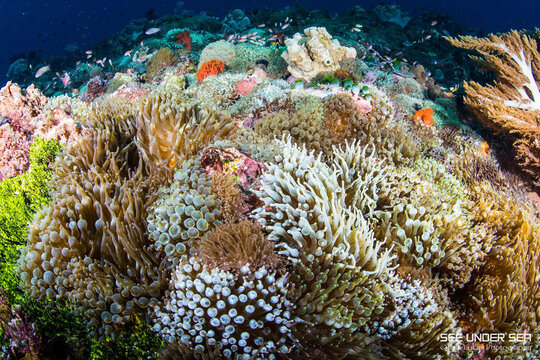 Indonesia is one of our Top 10 Macro Photography Destinations. Read more here...
PRACTICAL INFO
Diving Season: Most of Indonesia can be dived year-round, however some liveaboard-only areas are visited at certain times of the year.
Water Temperature: The water temperatures remain quite consistent throughout the country, hovering at 82°- 85°F (26°- 29°C) year-round.
Getting There: Jakarta's Soekarno-Hatta International Airport (CGK) is the main travel hub. Ngurah Rai International Airport on Bali (DPS) is best for diving Bali, Komodo, and Wakatobi, and Sam Ratulangi International Airport in Manado (MDC) also serves international flights.
How to Dive Indonesia: Many of the remote areas are best explored by liveaboard, but popular destinations also offer a wide choice of resorts.
2. THE PHILIPPINES
Huge variety and choice
Covering an area of nearly 120,000 square miles in the Western Pacific Ocean, the Philippines is a nation of over 7,600 islands lying north to south just above the equator. Encompassing a vast range of environments and habitats, the Philippines offers divers endless subsurface and topside options.
Many of the Philippines' best dive destinations are less accessible than those of neighboring Indonesia, however, this only adds to the appeal and sense of adventure experienced by those that visit. Sites are uncrowded and marine life is thriving, and whatever your passion the Philippines is sure to deliver.
The Philippines holds its own when it comes to marine biodiversity, and the protected Tubbataha Reefs National Park is a fantastic destination for spotting a huge array of life, big and small. Another great area is Puerto Galera on the island of Mindoro, where divers of all abilities can explore dozens of sites and revel in the rich marine life at Verde Island. Anilao and Dumaguete are the Philippines ' world-class macro destinations, and they rival Lembeh in Indonesia for their quantity, diversity, and quality of macro subjects. Also at Dumaguete, the phenomenal Apo Island provides a wide-angle perspective on the region's exceptional and vibrant marine life.
Moving further north, the island of Cebu is famed for its whale shark encounters along the coast of Oslob, as well as the thrilling sardine run at Moalboal. And to top it all off, Malapascua Island off the northern tip of Cebu is one of the few places in the world that thresher sharks come in close to the reef. As if all this marine life wasn't enough, Coron Bay on the eastern side of Busuanga Island offers some of the best wreck diving in Asia.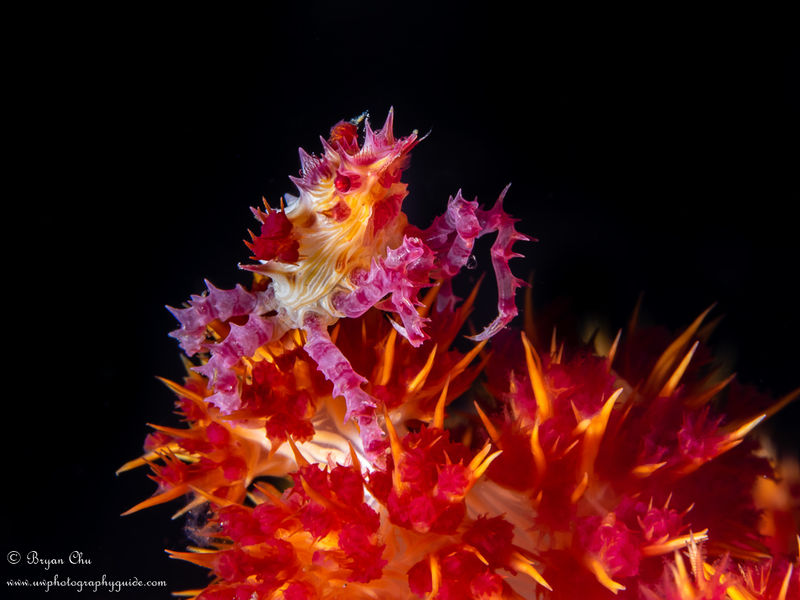 PRACTICAL INFO
Diving Season: Year-round, but species sightings vary depending on the season.

Water Temperature: Water temperatures throughout the country hover at 79 - 88˚F (24 - 31˚C) year-round.
Getting There: Ninoy Aquino International Airport (MNL) in Manila serves international flights from the major US and European cities. Mactan-Cebu International Airport (CEB) is the other major hub.
How to Dive The Philippines: Many of the remote areas are best explored by liveaboard, but popular destinations also offer a wide choice of resorts.
3. MALAYSIA & SIPADAN
Exotic and exclusive
While less popular amongst divers than other Southeast Asian destinations, the diving in Malaysia still has a lot to offer those keen to explore and try something different - and Sipadan offers some of the best scuba diving in the world.
Separated by the South China Sea, Malaysia is split into two main landmasses, Peninsular Malaysia south of Thailand, and to the east, Malaysian Borneo. As with the county itself, the diving in Malaysia is very different in each region. Peninsular Malaysia offers comfortable conditions and easy tropical reef dives, while Malaysian Borneo is characterized by deep ocean pinnacles and dramatic big animal encounters.
The best dive sites on Peninsular Malaysia run down the region's east coast, from the Perhentian Islands and Redang in the north to Tioman Island close to the causeway connecting Malaysia with Singapore. The Perhentian Islands are a true tropical paradise; long white sandy beaches, stilted huts, and warm, clear water providing access to rich reefs covered in life. Islands such as Redang, Lang Tengah, and Tenggol tell a similar story, while Tioman also boasts some deep WWII wrecks.
Malaysian Borneo covers roughly a quarter of the island's northern reaches, however, some of Asia's best dive locations are located off its northwest coast. One of the highlights is Sipadan, an iconic destination offering some of the world's most rich and varied marine life along bountiful reefs and deep walls. Other exclusive resort islands around Malaysian Borneo's coastline include Layang Layang, Lankayan, Mataking, and Labuan, all offering private access to exciting open ocean sites. It's not uncommon to encounter sharks, game fish, and other pelagics on the outer reefs and walls of these remote islands.
Malaysia is one of the best dive destinations in the world and also one of our Top 10 Macro Photography Destinations. Read more here...
PRACTICAL INFO
Diving Season: Peninsular Malaysia is best dived from March through to September, while diving in Malaysian Borneo is fantastic all year round.
Water Temperature: 82 - 86oF (28 - 30oC) in Peninsula Malaysia, dropping as low as 77oF (25oC) in Malaysian Borneo.
Getting There: Kuala Lumpur International Airport (KUL) is Malaysia's main airport, while the main gateway into Malaysian Borneo for most visitors is through Kota Kinabalu International Airport (BKI) in the far north of the island.
How to dive Malaysia: Peninsular Malaysia is mainly explored from resorts, as are the private islands to the north of Malaysian Borneo. Sipadan is normally a liveaboard destination.
4. SRI LANKA
New discoveries and wrecks abound
Located off the southern tip of India, and surrounded by the Indian Ocean, Sri Lanka's 1,000 miles of coastline offer a huge variety of year-round dive opportunities in comfortable conditions. Sri Lanka has long been a destination on the topside travelers' itinerary, however, it has only recently become a country of note for divers. As such, the diving infrastructure in Sri Lanka is less developed than other established destinations. The exciting element to this is that new sites, reefs, and wrecks are regularly being discovered, and marine life is in great health.
The annual monsoon dictates which side of Sri Lanka is open for diving at different times of the year. On the west coast, newly discovered reefs around Kalpitiya and Negombo offer excellent inshore dives teeming with tropical species. Further south, the Galle area has some fascinating underwater topography and unique black coral formations.
The draw for many divers is that Sri Lanka is emerging as an excellent wreck diving destination. Along both the east and west coasts, scores of shipwrecks in varying depths offer exciting diving suitable for all abilities. Colombo offers some of the best access on the west, while the world-famous aircraft carrier HMS Hermes is sunk off the eastern town of Batticaloa. Also on the east coast, Kalmunai and the natural harbor of Trincomalee are home to numerous military ship and plane wrecks, ripe for exploration.
Read about encountering blue whales in Sri Lanka here...
PRACTICAL INFO
Diving Season: Sri Lanka is seasonal with diving on opposite coasts depending on the monsoon.
Water Temperature: 80 - 86oF (27 - 30oC) year-round.
Getting There: The main airport is Bandaranaike International Airport (CMB).
How to dive Sri Lanka: There are no dive resorts, however, many operators and dive shops are linked to local hotels.
5. THAILAND
Hassle-free fun for all
Located north of the equator at the center of the Indochinese Peninsula, Thailand's 1,200 miles of coastline offer diving on both the east and west coasts. Hundreds of islands in the Gulf of Thailand and the Andaman Sea ensure a vast array of marine life is thriving in warm, comfortable waters.
Thailand may seem like the tried and tested dive destination, but it has maintained its iconic popularity for good reason. Easy to get to from all over the world, and with a reliable internal transport network, diving Thailand is easy and hassle-free, boasting a well-established infrastructure of resorts, liveaboards, and dive operators.
Thailand has always been a popular choice for those looking to try scuba diving or take a beginner course. On the country's east coast, islands such as Koh Tao and Koh Samui offer long stretches of white, sandy beach leading to clear, blue water, colorful reefs, and plenty of small fish life. Southwestern islands such as Koh Phi Phi are similar, while some of the less touristy islands like Koh Lipe feature stunning soft corals, plentiful turtles, and even the chance to spot a dugong.
Further out in the Andaman Sea, the Similan Islands and Surin Islands are remote National Park areas featuring healthy, well-preserved reefs, a huge range of corals, and rich marine life big and small. On the eastern side of the country, the Gulf of Thailand offers destinations such as Pattaya with its excellent wreck sites and impressive corals, and Koh Chang National Marine Park.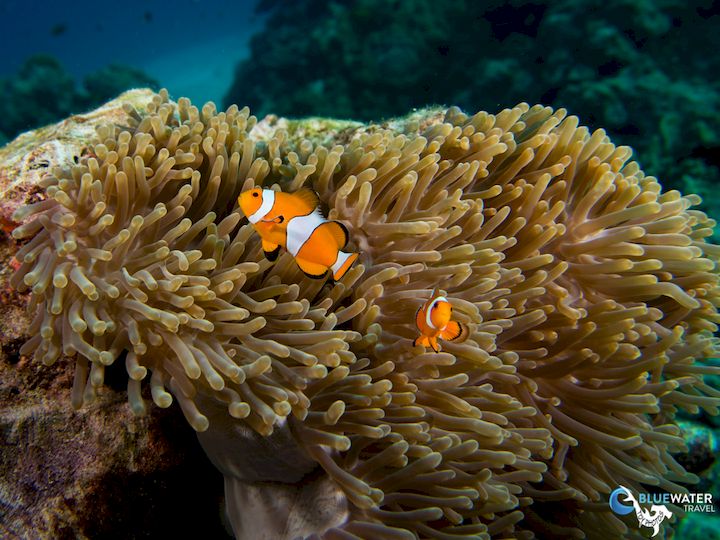 PRACTICAL INFO
Diving Season: The Gulf of Thailand is year-round, whereas the Similan and Surin Islands have limited access.
Water Temperature: 81 - 84oF (27 - 86oC)
Getting There: Thailand currently has six international airports, with Suvarnabhumi International Airport (BKK) in Bangkok being the main gateway to the country.
How to Dive Thailand: Resorts are spread throughout the islands, but a liveaboard is the best way to explore the Similan and Surin Islands.
---
FURTHER READING
Check out these useful resources from our sister websites, Bluewater Photo, and Underwater Photography Guide
Asia's Best Underwater Photography Destinations
Top 10 Macro Photography Destinations
Wet Wide Angle Lens Buyer's Guide