Scuba Diving in Guadalupe Island, Mexico
---
The 2022 Guadalupe season was closed and we cannot guarantee that 2023 season will open. Please contact us for up-to-date information and bookings.
Guadalupe ISLAND Diving Highlights
Boasting great visibility, Guadalupe Island protected marine area outperforms both Australia and South Africa for shark sightings, making it one of the best dive destinations in Mexico. Guadalupe Island liveaboards are the only way to dive here, and there are a good number of mid-range to luxury liveaboards available in the area between the months of August to October.
Read more about Guadalupe Island and her Shark Conservation Success Story here.
intro to Guadalupe Island
Guadalupe Island, or Isla Guadalupe, is a small volcanic island located 150 miles off the west coast of Baja Califonia in Mexico. Its remote Pacific location and large population of seals attract huge numbers of great white sharks to feed and breed each year. As such, Guadalupe Island is one of the best destinations in the world for cage diving with great white sharks. It is also one of the very few places in the world where you can see these majestic sharks up close.
Check out our trip report from our recent trip to Guadalupe here.
Dive Overview
It's all about scuba diving with the great white sharks in Isla Guadalupe! You can enjoy some of the world's best encounters with these amazing creatures from the safety of a cage. Diving and snorkeling are not permitted outside a shark cage, and operators will offer at least one submersible cage with some also supporting a surface cage. The latest cage to be used at Guadalupe is the SPOC (Self Propelled Ocean Cage) which allows divers to travel alongside the great whites at speeds of up to 5 knots. Read all about the SPOC and how to book a trip in it.
There are no dive sites at Guadalupe Island. Operators lower the cages into the water at different spots around the island based on the conditions of the day and the patterns of great white shark sightings at the time. With this system, most liveaboard operators can guarantee you an encounter with a Guadalupe Island great white shark.
Have you considered shark cage diving where it was originally invented in Southern Australia?
N.B. In October 2020, the Mexican Government amended national park user fees specifically for Guadalupe and Revillagigedo (Socorro) National Parks. The new user fee amount's specific purpose is "To reinforce the protection, management, restoration, conservation and sustainable usage of protected areas." The new fee is $1,500 pesos per diving day per guest, approximately $75 USD per day.
Diving Information
---
Guadalupe ISLAND Marine Life
Great whites, great whites, and more great whites! In summation, this is why you dive Guadalupe Island. Local elephant seals, sea lions, and Guadalupe fur seals can be seen on land or occasionally in the water (these are what attract the sharks in the first place). It's not uncommon for divers to encounter six or eight great whites in the water on a single dive! Seeing a great white shark during your trip there is pretty much guaranteed.
Check out our dive Australia guide for more great white cage diving options. You may also want to check out our guide to diving the Great Barrier Reef.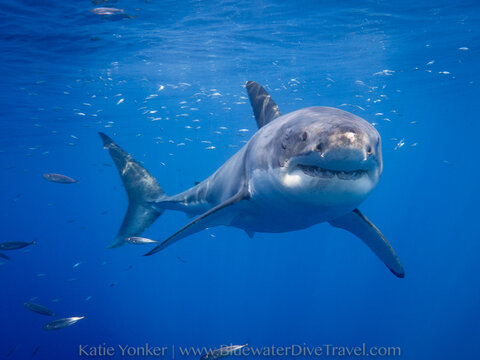 Diving Conditions
Water temperature: Between 70 - 75 oF
Visibility: 100-150 ft
Currents: Mild
Travel Information
---
How to Get to & How to Dive Guadalupe
Guadalupe Island is very small and uninhabited, therefore the only option to dive there is via liveaboard. Guadalupe Island liveaboard trips depart from San Diego, California, USA and Ensenada, Baja California, Mexico. Trips to Guadalupe usually run for 5-days, with 3 days of diving.
Want to learn more about liveaboard diving? Check out this article.
BEST TIME TO DIVE ISLA GUADALUPE
Guadalupe Island is accessible via liveaboard between August to October, when the ocean is calmest. August and September provide the best conditions, while you can expect more rain in October. In general, there are 3 "seasons" within the Guadalupe Island sharks season. August to mid-September hosts numerous younger male sharks looking to interact with any females arriving early to the area. They are often rambunctious and crowd the cages. Late September through October, the larger, more seasoned male sharks come to the area. They will be more calculating in their movements and can be up to 17 feet in length. October through late November boasts the biggest sharks. The aged females and males dominate the area, and the smaller males are scared off. While weather can be wet with rougher sea from October onwards, you also get bigger male and female sharks later in the season for the culmination of the breeding period! The infamous large females come into the area during this period.
Interested in more sharks? Check out our article on the Best Shark Diving in the World and our Top Places to dive with Hammerheads.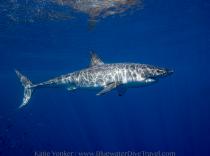 Topside & Non-Diving Activities
Reaching Guadalupe Island must be done via liveaboard. Due to this, you are subjected to whatever entertainment your host organization provides. Most supply endless amounts of films, information regarding great whites, etc so fear not - you'll always be doing or learning something... unless you don't want to of course - then just bring a nice book.
Liveaboard availability
---
Please contact us for the latest availability of the following boats: Socorro Aggressor and Horizon Charters.
Other Useful Information
---
Practical Information
Currency: Mexican Peso
Language: Spanish but most people today learn English as a second language
Main Airport Code: SAN
Time Zone: UTC-7
Electricity: 127 V 60 Hz