Scuba Diving in la paz

---
LA PAZ DIVING HIGHLIGHTS
As one of the most popular diving destinations in Mexico, La Paz and its nearby islands offer a wide range of diving opportunities and some unique big animal encounters that are hard to beat. Many of the best experiences are just as exciting and accessible for snorkelers, making La Paz a great family destination and perfect for groups with non-divers.
For another great snorkeling destination, read our guide to diving French Polynesia.
Interested in diving La Paz? View the live availability of some of the best liveaboards in La Paz and book online at the best price or check out our sidebar for specials and workshops!
LA PAZ LIVEABOARDS & DIVE RESORTS
While some Sea of Cortez liveaboards depart from La Paz and visit local sites, the majority of diving here is resort-based. Sites are accessed either from shore, on small pangas, or from larger day-boats, depending on the location and conditions.
INTRO TO LA PAZ
Situated on the southeastern edge of Mexico's Baja California Peninsula, La Paz is one of the easiest warm water dive destinations to reach from the US. The area's diversity of dive sites includes wrecks, caves, offshore pinnacles, and rocky reefs, as well as some sheltered inshore diving and snorkeling in the Bay of La Paz.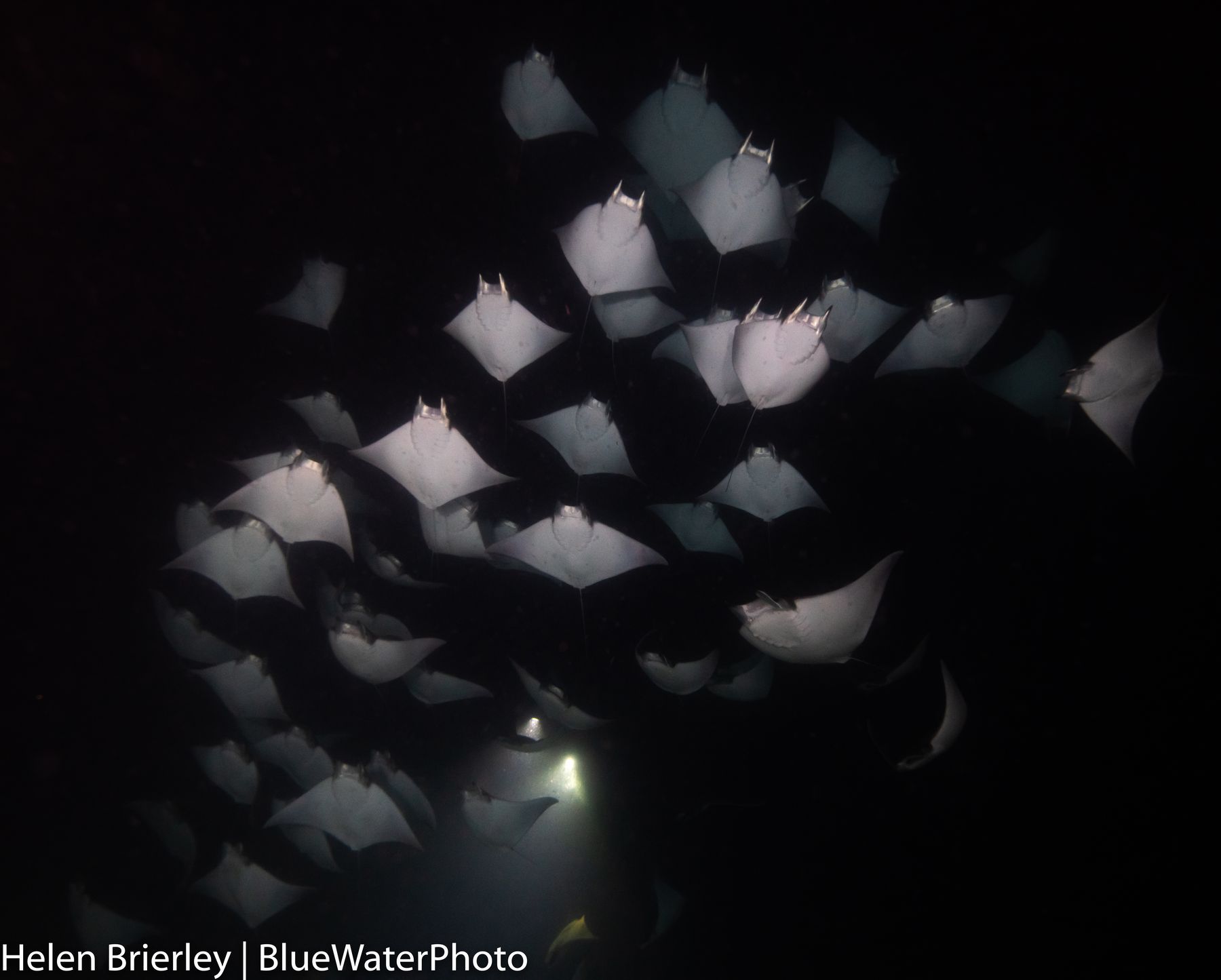 By far the region's biggest attraction is year-round access to some of the ocean's most impressive pelagic species. Depending on the time of year, divers can expect to spot whale sharks, hammerhead sharks, sea lions, mobula rays, and several types of whale, as well as a myriad of other local and migratory species. There is so much marine life here that Laz Paz is included in the Sea of Cortez UNESCO World Heritage Site designation.
Read more about the Sea of Cortez in our recent trip report here.
WHEN TO GO
Diving is available in La Paz year-round, but when you go will depend on what you want to see. We would recommend diving between October and November when the sea lion colony is diveable, the whale sharks should already have arrived in the bay, water temperatures are still high, but the topside conditions are not as hot as in the summer.
More on the best time to dive La Paz.
Learn all there is to know about La Paz and see if this is the destination for you! (video)
And check out this video from one of our previous trips!
LA PAZ DIVING INFORMATION

---
LA PAZ MARINE LIFE & PHOTOGRAPHY SUBJECTS
La Paz's protected location at the entrance to the Sea of Cortez makes for a great base to spot both migrating pelagics and local specialties. Around 850 marine species are found in these waters, from the biggest of fish and marine mammals to macro species such as seahorses and nudibranchs.
List of some of the marine animals you may see around La Paz:
Whale shark
Hammerhead shark
Gray whale
Humpback whale
Mobula ray
Eagle ray
California sea lion
Turtle
Dolphin
Marlin
Tuna
Wrasse
Moray eel
Angelfish
Seahorse
The Bay of La Paz is considered one of the best destinations in the world to swim with whale sharks, and these huge fish flock to the southern Sea of Cortez in the fall to feed on plankton. Robust licensing restricts the number of boats and individuals that can be in the water at any one time, therefore there is a good chance of achieving a one-to-one encounter with these gentle giants. The La Paz whale sharks are found quite close to shore, and this is a great place for non-divers to snorkel and swim with them without a lengthy boat journey to a remote offshore location.
Hammerhead sharks were a common sight in La Paz waters until fishing decimated their numbers in the 80s and 90s. The good news is that the hammerhead nursery in the Bay of La Paz is slowly regenerating, and sightings of these unique sharks around El Bajo seamount are becoming more frequent again. Also at El Bajo, expect to encounter key pelagics such as mobula rays, eagle rays, dolphins, marlin, and tuna, all against a dramatic offshore backdrop of steep walls and rocky reefs.
One of the most memorable experiences at La Paz is a visit to the sea lion colonies at Los Islotes. Although sea lions will likely pop up on many dives around the area, Los Islotes is home to a rookery of around 400 sea lions and pups, and snorkeling or diving with these inquisitive youngsters is a real treat.
Read all about our recent trip to La Paz here.
BEST TIME TO DIVE
June to November has better visibility and warmer water, with October and November being the peak time for whale shark sightings. Whale sharks follow the plankton blooms, so visibility will often be reduced on whale shark trips. The Bay of La Paz is closed for swimming with whale sharks from 1 May to 30 September each year.
The water is cooler from December through to May, however, this is the best time to spot hammerhead sharks, whales, and mobula rays. December to March is also tourist high season in Mexico, and like many other resorts, La Paz can get busy and experience an increase in accommodation rates.
The sea lion colonies are active year-round, however, they are closed for breeding from 1 June to 31 August each year.
DIVING CONDITIONS
June - November: The summer months are hot and humid top-side, with some rain towards the end of the season. Water temperatures are at their warmest with an average of 80oF (27oC). Visibility is very good outside plankton blooms, often approaching 80ft.
December - May: The top-side conditions cool off over the winter, with lots of sunshine and the occasional rain shower. Water temperatures also cool down, reaching an average of 72oF (24oC).
LA PAZ DIVING DIFFICULTY
La Paz offers diving and snorkeling suitable for all levels. Swimming with whale sharks and diving and snorkeling with the sea lions can be enjoyed by everyone. The colorful inshore reefs of Playas Tecelote and El Coyote offer excellent snorkeling in calm, clear waters.
The offshore sites at El Bajo are best suited to experienced divers. Large swells and strong currents can make for tricky conditions, especially over the winter months.
BEST DIVE SITES IN LA PAZ
1. Los Islotes - One of the biggest sea lion colonies in the area can be found just off Isla Partida, to the north of La Paz. Two large rocky promontories featuring a natural arch create a fun game of hide-and-seek for extremely playful pups, keen to get involved in any diving or snorkeling activity. Also, expect to see large shoals of sardines, angelfish, and surgeonfish amongst the rocky coral reefs. This shallow site is great for snorkelers.
2. El Bajo - A group of three isolated seamounts 8 miles from Los Islotes, that attract a great number of pelagic species around steep walls, canyons, and drop-offs. This is a prime spot for catching a glimpse of whale sharks and manta rays, as well as schooling hammerhead sharks, who have been known to gather here in their hundreds. Resident species include panamic green moray eels, octopus, tuna, and schooling amberjack.
3. La Reina - One of the most beautiful sites in the area, this large reef is located just north of Isla Cerralvo at a depth of around 80ft. Large gorgonians and brain coral dominated the landscape. Divers are also likely to encounter several resident manta rays.
4. Swanee Reef - An exciting dive site on the southern tip of Isla Espirito Santo, featuring huge coral heads, gorgonians, and sea fans smothering the rocky reef. Shoals of small fish school and then vanish from larger predators, and a good amount of macro can be discovered when the visibility is good.
5. Salvatierra Wreck - A great dive for novice divers or those with no wreck experience, the Salvatierra sunk in 1976 after hitting Swanee Rock, leaving a scar on the reef that is still visible today. Much of the cargo of trucks is still intact, as are both propellers, and the artificial reef attracts a wide variety of marine life.
Also on Swanee Reef, the wrecks of the Fang Ming and C59 make for fascinating dives, and cement La Paz as a great wreck-diving destination.
LA PAZ TRAVEL INFORMATION

---
La Paz is serviced by Manuel Márquez de León International Airport (LAP), with flights from the US via Mexico City, Guadalajara or Los Angeles. Flights from other continents also connect in Mexico City. Once on the ground, it's a quick shuttle ride to the dive resorts.
Many visitors also choose to fly directly into Cabo San Lucas International Airport (SJD) and then take a 2.5-hour shuttle north to La Paz. This is a beautiful drive in the Baja California Desert with glimpses of both the Pacific Ocean and the Sea of Cortez.
HOW TO DIVE LA PAZ
La Paz offers a great range of resort accommodation to suit all budgets. Inshore diving is either from the shore or from small pangas where divers will backward role into the water. Access to offshore sites such as El Bajo is via larger day boats that offer more facilities and are better suited to heavier seas. Most resorts will arrange whale shark trips with one of the locally licensed operators.
View our next dive trips to La Paz or contact us to start planning your dream trip! (LV PAGE)
OTHER THINGS TO DO
Many of the best experiences around La Paz are open to snorkelers as well as divers, so this is a great place for divers and non-divers to travel together. There are also many other water-based activities available, such as whale and bird watching tours, fishing, and kayaking. La Paz has a healthy resort-life, with lots of shopping, a wide choice of restaurants, bars, and clubs, spas, and good beaches.
LIVEABOARDS IN la paz

See the availability of liveaboards such as Rocio del Mar in La Paz and book online. Best price guaranteed. No credit card fees.
---
The rates shown below are per person in USD. Some operators may quote in a different currency and the final pricing may vary depending on the latest exchange rates.
New to liveaboards? Let's help you get started with our Guide to Liveaboard Diving.
OTHER USEFUL INFORMATION

---
PRACTICAL INFORMATION
Currency: Mexican Peso (MXN).
Language: Spanish, but many people speak English, especially in tourist areas.
Main Aiport: Manuel Márquez de León International Airport (LAP).
Time Zone: Mexican Pacific Standard Time (GMT-7).
Electricity: 127V.