By JennyH | Date: 14 May' 2023
Top 10 night Dives in the World
Most divers feel a certain way about night dives, but whether they love them or loathe them, our top 10 night dives in the world deserve a spot on every divers' must-dive list. Unless wildly popular and somewhat famous, night dives aren't often promoted, advertised, or even talked about. Many divers think of night dives as an add-on to their dive package, although some true night dive enthusiasts will plan trips focused solely on diving in dim or dark waters.
Where are the best night dives in the world? From dives with backlit manta and mobula rays to impressive shipwrecks and unassuming harbors, the team at Bluewater Travel has compiled a list of our 10 most memorable night dives that you won't want to miss.
How many of them on your scuba diving bucket list?
Here are our top 10 night dives in the world. Pick one or scroll down to read the entire list:
1. Isla Espiritu Santo, La Paz, Mexico
2. USAT Liberty Wreck, Bali, Indonesia
3. Seahorse Bay, Lombok, Indonesia
4. The Pier, Anilao, Philippines
5. Buddy Dive House Reef, Bonaire
6. Gili Air Harbour, Lombok, Indonesia
7. Manta Night Dive, Hawaii, USA
9. Selayar House Reef, Sulawesi, Indonesia
10. Veterans Park, California, USA
See also: World's Best Diving Spots.
1. isla espiritu santo, la paz, mexico
The first entry on our list of 20 best night dives is so spectacular it was filmed in the BBC documentary Blue Planet II. La Paz is known for unique marine life encounters and the night dive at Isla Espiritu Santo is no exception. This La Paz night dive is famous for massive congregations of mobula rays, which generate impressive bioluminescence with their movements in the water.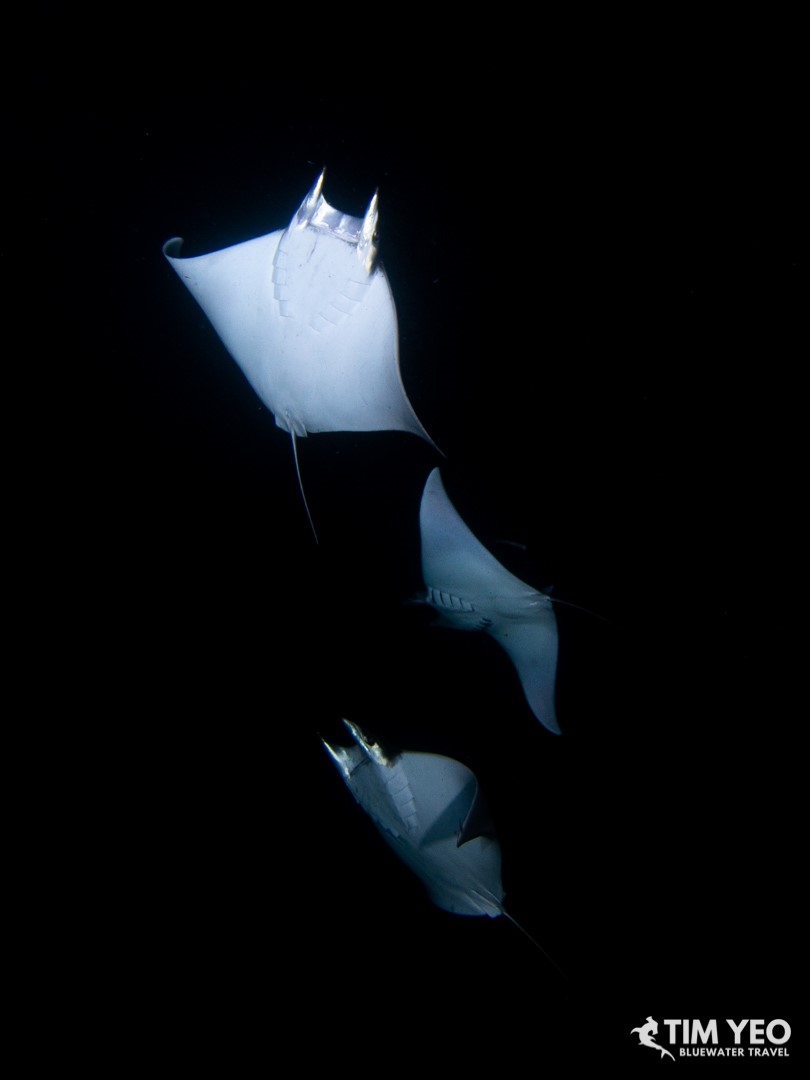 "My favorite night dive is Isla Espiritu Santo. Torches in the water attract the mobula rays and they chase all around the divers. You can turn off your torch and see their outlines just with the bioluminescence." – Jessie, Travel Advisor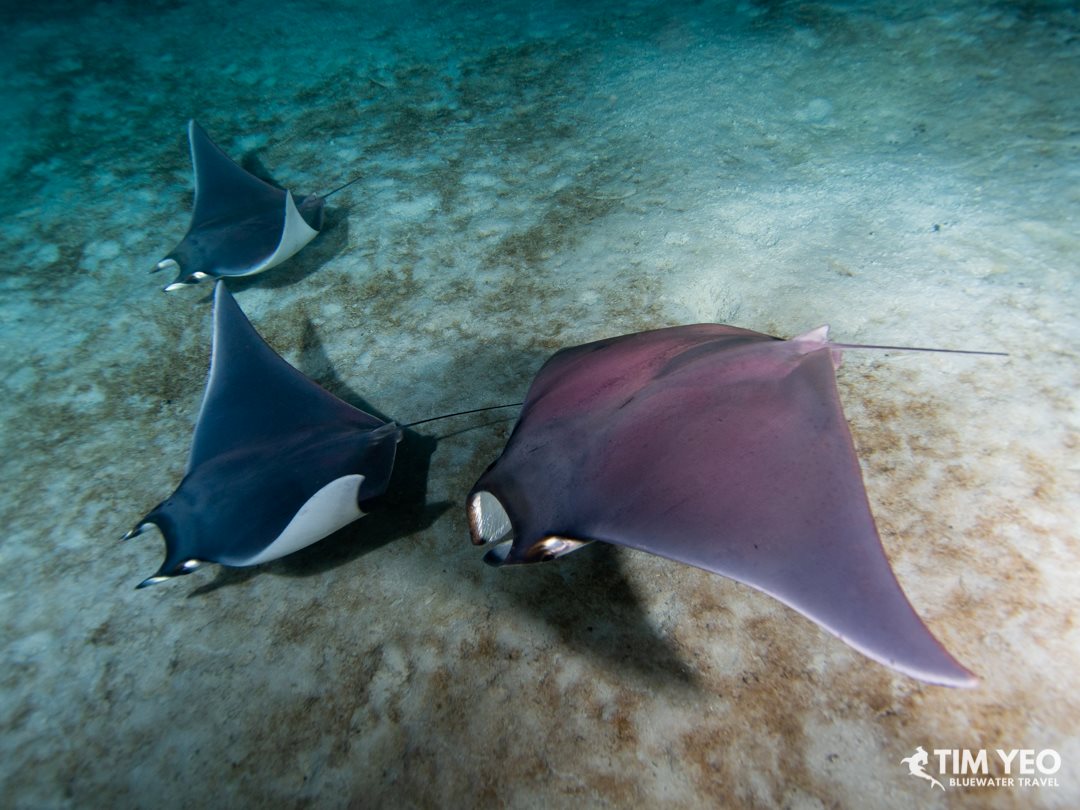 "My favorite night dive is the mobula night dive in La Paz. Dozens of mobula rays come into the bay and the depth is 20 feet or less, so you can stay there for a long time just observing the mobula rays flying all around." – Tim Yeo, General Manager
Bluewater Pro Tip: Make your trip to Baja Mexico even more unforgettable by adding on a whale watching trip in San Ignacio Lagoon!
Join the October 2023 La Paz Photo Workshop or our October 2024 Explore Baja Workshop to experience this incredible night dive.
2. usat liberty wreck, bali, indonesia
While there are many Bali night diving opportunities, one of the best night dives is the USAT Liberty Wreck in Tulamben. This large shipwreck has broken into pieces over the years since it sank, lending it an eerie silhouette underwater, especially at night. The wreck is easily located from shore and is an excellent dive at any time of day or night, with dawn and night dives drawing fewer crowds absent of divers on day trips from South Bali. The size of the wreck makes it perfect for exploring on multiple night dives, with tons of interesting critters to spot including octopuses, basket stars, and lobsters.
"It's my favorite night dive because of the three very friendly groupers and a huge moray eel that like to follow you the whole time, feeding on fishes attracted by your lamp." – Anne, Travel Advisor
Bluewater Pro Tip: Make the most of your trip to Bali by exploring a huge variety of dive sites from Menjangan Island to Nusa Penida. Read more about the different dive areas in Bali here.
Read our guide to the best wreck diving in the world here.
3. seahorse bay, lombok, indonesia
A small dive site on the west coast of the island of Lombok, Seahorse Bay is well-deserving of a spot on the best night dives list. The gentle slope of the sandy bay (30m max) and calm waters with barely any current offer ideal conditions for divers to spot the rich variety of marine life that can be found between 4 to 15 meters deep. Look for a diverse range of photography subjects, including several species of octopus, seahorses, frogfish, ribbon eels, pipefish, crustaceans, and nudibranchs.
"Seahorse bay is my absolute favorite night dive site, where I never fail to discover something new. Three creatures made my dive even more special: the blue-ringed octopus, the coconut octopus, and the mimic octopus spotted all in one single dive." – Sany, Travel Advisor & Special Projects
Bluewater Pro Tip: Diving in Lombok is less popular than neighboring Bali, but is home to some incredible dive sites including those around the Gili Islands, and the less crowded South Gilis and Blongas Bay. Combine a trip to Lombok with other top dive destinations in Indonesia.
4. the pier, anilao, philippines
For exceptional muck diving, The Pier in Anilao is one of the best night dives in the world. This shallow dive site enables night divers to spend in excess of 90 minutes exploring the site to discover the variety of fascinating critters. Anilao is home to some of the best diving in the Philippines, and the well-trained dive guides are experts at spotting the tiniest and rarest marine life in the area.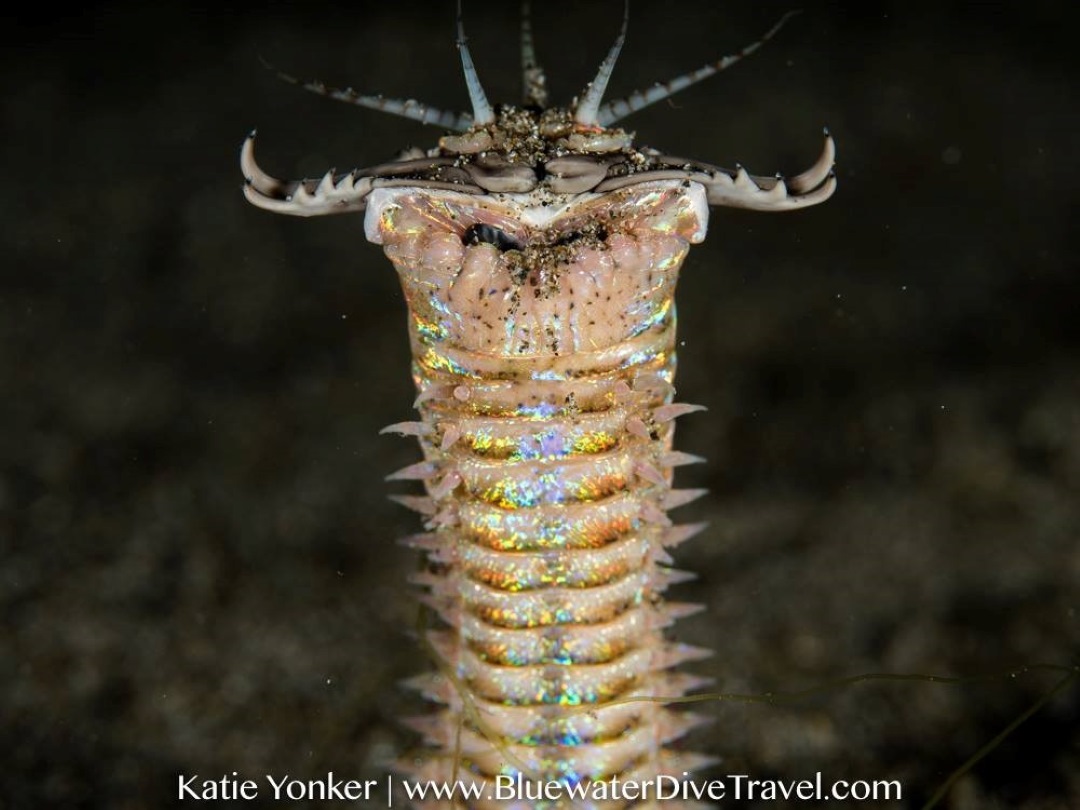 "My favorite night dive is The Pier in Anilao. With an average depth of about 15 feet, this night dive can easily exceed 90 minutes. This is a great spot for some amazing photo opportunities, whether it be stargazers, octopus, or the horrifying Bobbit worm, there's always something fascinating lurking in the dark." – Katie, Travel Advisor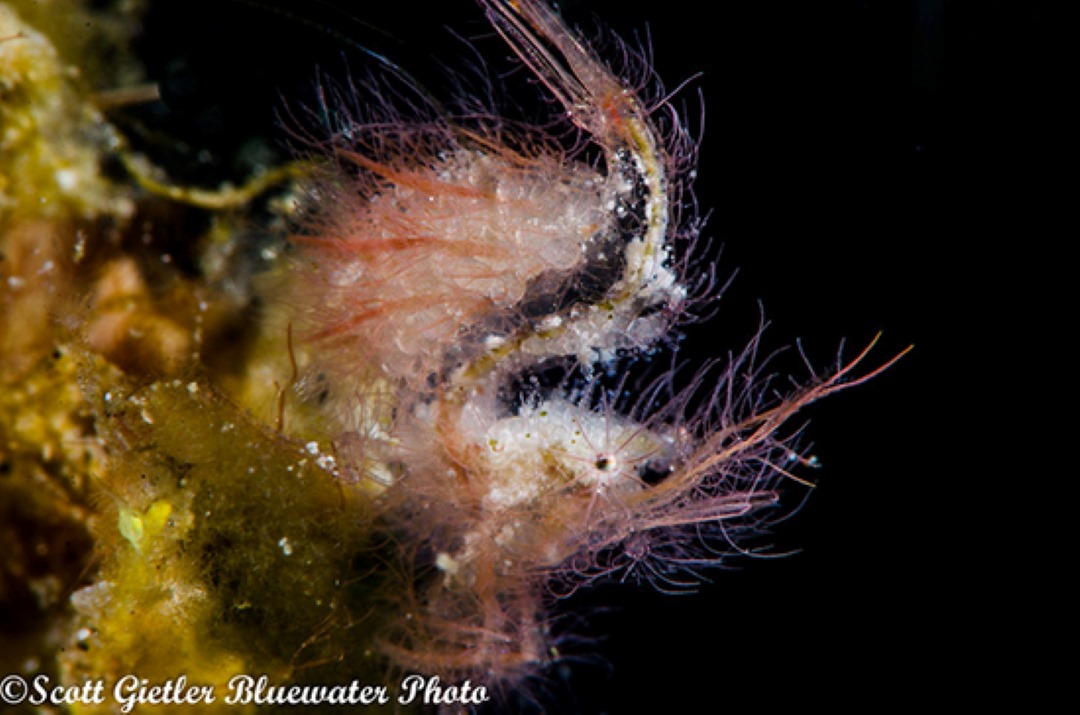 "During a night dive at The Pier, I would often see market squid, bobtail squid, mimic octopus, bobbit worms, stargazers, and various crab and shrimps. Its protected location means there are never currents, and it is truly a marine lover's paradise." – Scott Gietler, Founder
Bluewater Pro Tip: Bring your macro lens for Anilao's incredible muck diving, and make sure to try blackwater diving for a unique underwater experience.
Join our December 2023 or Spring 2024 Anilao Photo Workshops to experience this incredible night dive.
5. buddy dive house reef, bonaire
This Bonaire shore dive site is the perfect place for a night dive, with excellent infrastructure to make the site easily accessible and navigable. The sloping reef and sandy bottom are home to hundreds of varieties of fish, corals, and critters, so there is no shortage of things to see during the daytime or nighttime. Moray eels, frogfish, octopus, seahorses, and resident tarpon are among the highlights.
"There was this large school of HUGE tarpon that seemed to be there all the time. At night, they were attracted to the lights and swam with me the entire dive. Super cool and spooky all at the same time!" – Jaime, Travel Advisor
Bluewater Pro Tip: Plan multiple dives at this site to explore it fully, both during the day and at night.
Find out why Bonaire is home to some of shore diving in the world here.
6. gili air harbour, lombok, indonesia
Another compelling dive site in Lombok, Gili Air Harbour is easily accessible from shore and includes a combination of reef and muck diving. Many divers begin exploring the site at dusk to observe the resident mandarinfish perform their mating dances in the reef and then proceed to the mucky bottom where plenty of critters can be spotted. Highlights can include the nocturnal harlequin shrimp, eels, sea robins, and more.
"I'm generally not a fan of night dives, but I love the night dive at Gili Air Harbour. There's such a variety of marine life that you never know what you'll encounter, and you will likely have to consult a creature identification book afterward!" – Jenny, Travel Advisor & Special Projects
Bluewater Pro Tip: This dive site is not safe to explore during the day due to high boat traffic and covers a large enough area that it's worthy of several night dives.
7. manta night dive, hawaii, usa
This dive is not only one of the best night dives in the world, but also on our top 20 dive sites in the world list. Known as the "Manta Night Dive" on the island of Kona, is famous for the congregations of mantas drawn to the area by the bright lights of the area's beach resorts. Divers can hover back and enjoy the spectacle of the manta rays dancing in the torch beams.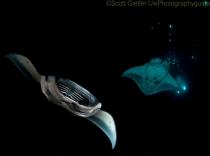 With the action taking place near to the surface, this night dive is also suitable for snorkelers, who can appreciate an overhead view of the action. It is truly an unforgettable experience for the whole family.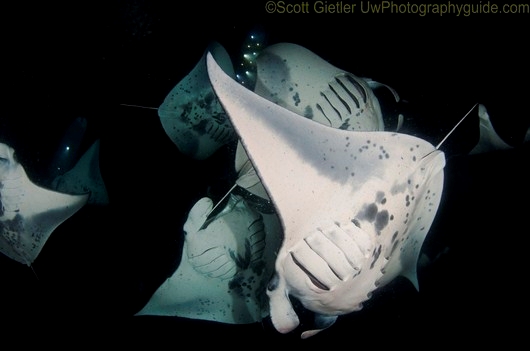 Bluewater Pro Tip: Make the most of your trip to Hawaii by island hopping and experiencing the best scuba diving across the Hawaiian Islands.
Discover more places to dive with manta rays here.
8. riviera maya, mexico
Night diving in Riviera Maya is an amazing experience not to be missed during a dive holiday in the region. Caribbean reefs show a different side of the marine environment when the nocturnal creatures are active. Warm, calm waters make this an ideal area for night dives no matter a diver's experience level.
"The shallow reef is great for night diving for extended bottom time and hundreds of octopus from tiny to large. You can see lots of sleeping parrotfish and all sorts of nighttime Caribbean critters." – Jaime, Travel Advisor
Bluewater Pro Tip: Don't miss a daytime dive trip to explore the famous Mexican cenotes during a trip to Riviera Maya!
9. selayar house reef, sulawesi, indonesia
A remote island located off the southern tip of Sulawesi, Selayar Island is one of the lesser-known dive destinations in Indonesia. The idyllic scenery extends from the white sand beach to a spectacular vertical coral wall at the end of the long jetty, which serves as a unique house reef for both daytime and night diving. This pristine wall spreads outwards in both directions from the entry point and offers plenty to explore over multiple dives. Highlights include pygmy seahorses, rare nudibranchs, and a variety of crustaceans.
"Selayar House Reef is a gorgeous wall dropping down 50+ meters and is covered in stunning hard and soft coral. The corals alone are worth exploring at night, with their colors more vibrant in the torch light, but a variety of critters come out to play, including an octopus I spent about 20 minutes moving along the wall with." – Jenny, Travel Advisor & Special Projects
Bluewater Pro Tip: Take advantage of this incredible house reef by getting up early for a morning dive or heading out on a night dive before or after dinner.
10. Veterans Park, Californa, united states
The squid run at this cold-water beach dive site is one of the more challenging of our favorite night dives, but well worth it. This spawning event is only seen every few years, when hundreds of thousands of squid congregate to mate, lay eggs, and die over the course of a few days or sometimes even weeks. Divers are entranced by walls of squid and underwater photographers can capture some unique images.
"My favorite night dive is the squid run at Veterans Park, Los Angeles, California. It's an incredible experience being surrounded by millions of mating squid just a hundred yards away from Los Angeles." – Nirupam Nigam, President, Bluewater Photo
Bluewater Pro Tip: To enjoy this spectacle to the fullest, it's best to dive in a drysuit and plan to revisit the site in the early morning to watch the squid continue to spawn during daylight hours.
Read more about the squid run and see more photos from this incredible event here.
---

Want to experience our most memorable night dives? Keen to book the best dive vacation possible? Contact us at info@bluewaterdivetravel.com and we'll help you plan your dream vacation!