Hawaii diving is exciting and varied, with the best scuba diving in Hawaii found around all of the most popular islands. With volcanic origins and its isoated geographical location, Hawaii is a great scuba diving destination within easy reach of the continental US. Fascinating underwater topography provides a backdrop to a myriad of marine life, including migrating humpback whales and a variety of unique endemic species not encountered anywhere else.
An overview of scuba diving in hawaii
An island chain of 137 islands spread over 1,500 miles of the central Pacific Ocean, Hawaii is the only US state located outside North America. Most of the area's dive tourism is centered around the main islands of Kona (also known as "The Big Island"), Oahu, Maui and Molokini, Molokai, and Kauai, with many of the most popular dive sites within easy reach of Honolulu on Oahu. However, the best diving in Hawaii can be found throughout the archipelago, and the whole area is ripe with a choice of very varied dive sites offering a range of experiences for all tastes and abilities.
Scuba diving in Hawaii is some of the best in all of the USA. Check out the full list here.
where is the best scuba diving in hawaii
Some of the best scuba diving in Hawaii can be found on Big Island along the southwest coast of Kona, and also at sites close to Honolulu on Oahu. These sites are accessible and close to plenty of accommodation and transport links, making them the most popular in Hawaii. With many sites accessible by boat, Hawaii is also home to some of the best shore diving in the world.
HAWAII'S BEST DIVE SITES
Click on the destination of your choice or scroll down to read the entire list:
1.

Oahu

- The Wreck Capital of Hawaii

2. Kona - Manta Ray Heaven
3. Maui & Molokini - A Unique Conservation District
4. Lanai - Fascinating Topography and Unusual Species
5. Molokai - Spectacular Drift Dives
6. Kauai - Sea Turtles Galore
See also: Diving Conditions - How to Get to Hawaii - Practical Information
---
1.Oahu
The Wreck Capital of Hawaii
With at least 10 wrecks easily accessible to recreational divers in the waters around Oahu, this Island offers the best wreck diving in Hawaii. Perhaps the best known is the airplane wreck of the Corsair which crashed and sank in 1946. The YO-257 and San Pedro that sit next to each other in less than 100 feet of water off the coast at Waikiki are also a popular dive. They were sunk intentionally by the Atlantis Submarine Company to add interest to their tourist submarine trips, however, both wrecks are now fantastic artificial reefs, home to eagle rays, pufferfish, frogfish, and many turtles. Also at Waikiki, the wreck of the Sea Tiger sits at 120 feet and offers some reasonable penetration dives. Use an underwater strobe to capture the best colors.
Interested in diving other wrecks? Check out diving in Truk Lagoon or check out our list of the Best Shipwrecks to Scuba Dive.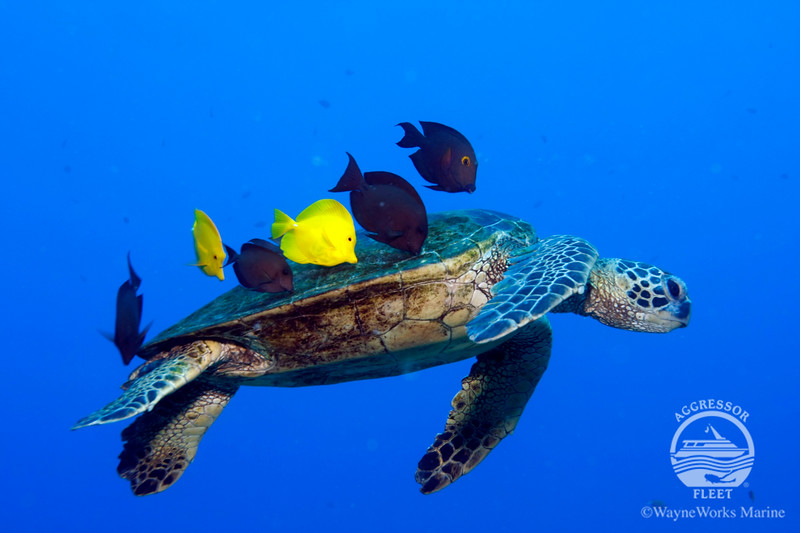 For those seeking a unique adventure, several operators run shark cage diving trips off Oahu's North Shore. Hawaii is home to 40 of the world's 140 or so shark species, and cage diving participants can expect to spot Galapagos, sandbar, and tiger sharks, as well as the occasional blue, silky, or hammerhead shark.
---
SCUBA DIVING HAWAII BIG ISLAND: Manta Ray Heaven
Arguably the most famous dive area in the state and home to some of the very best scuba diving in Hawaii, Kona boasts over 50 dive sites along its fascinating western shoreline. One of the most popular Kona dives (and one of the best dives in Hawaii) is the night-time encounter with manta rays, where dozens of pelagic giants sweep silently through torch beams, feeding on plankton attracted to the shore lights of Kona's beach resorts.
Kona also offers a plethora of other great experiences including underwater lava formations, the opportunity to try blackwater diving in Hawaii, and some great spots for hanging out with turtles. Popular dive sites include the Eel Cove, Turtle Pinnacle, and Long Lava Tube. The blackwater dives involve taking a boat at night over deep depths, and waiting for the biochemistry magic to happen - hundreds of larvel stage critters rising to the surface, along with squids and weird jellies.
For another unique blackwater diving experience, check out scuba diving in Anilao.
Check out some of our Photo Tips for Blackwater Diving.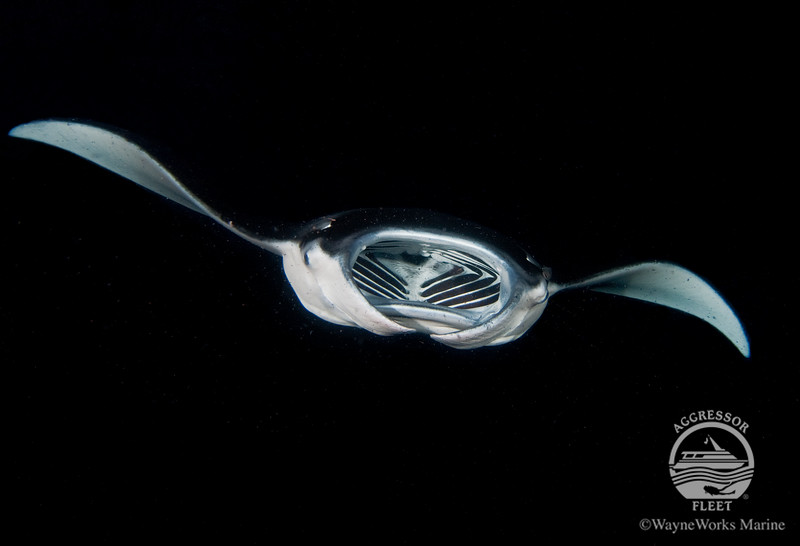 Check out our Maldives dive guide and Maldives liveaboards for another awesome manta ray destination.
Scuba diving on the Big Island isn't just limited to Kona's west coast sites. There are also great spots around the east and south coasts that are less-frequently dived but no less interesting. Shore diving from Hilo offers a chance of spotting turtles, spinner dolphins, and whales, while the black sands at Punaluu are a unique draw.
---
3.Maui & Molokini
A Unique Conservation District
Another fascinating location, scuba diving in Maui includes several fun wreck dives including the St Anthony and the Carthaginian. Both wrecks are within recreational dive limits and were sunk as artificial reefs, providing a home to large schools of damselfish, surgeonfish, goatfish, and butterflyfish.
Just 30 minutes boat ride from Maui, Molokini Crater is a semi-submerged volcano and Marine Life Conservation District that is home to many colorful reef species such as Hawaii's state fish, humuhumunukunuku apua'a! The Back Side of the atoll is a magnet for larger pelagic species, including humpback whales throughout the winter.
For another great humpback whale destination, check out diving in the Dominican Republic.
For an unforgettable interaction with Pacific gray whales, learn about San Ignacio Lagoon here.
---
4.Lanai
Fascinating Topopgraphy and Unusual Species
Most commonly accessed via a 45-minute crossing from Maui, Lanai's caves and caverns boast exceptional visibility as well as a host of unusual fish and invertebrate species, making it home to some of the best scuba diving in Hawaii. Lanai's two most popular dive sites are Cathedral I & Cathedral II, huge chambers accessed through a vaulted arch, allowing just enough light for tube corals and sponges to grow on large boulders strewn across the floor.
For more cave diving destinations, check out our article on the Best Cave Diving Destinations.

---
5.Molokai
Spectacular Drift Dives
Molokai's pristine reef offers a plethora of fantastic dive sites ranging in depth as the shallow corals give way to deeper walls. Most dives are drift-dives, with the opportunity to spot elusive pelagics such as the Hawaiian monk seal or hammerhead sharks. Popular dive sites in Molokai such as Fish Bowl, Fish Rain, and Deep Corner are teeming with smaller fish life and rare animals.
Like drift diving? You may want to check out another great drift diving destination - Cozumel.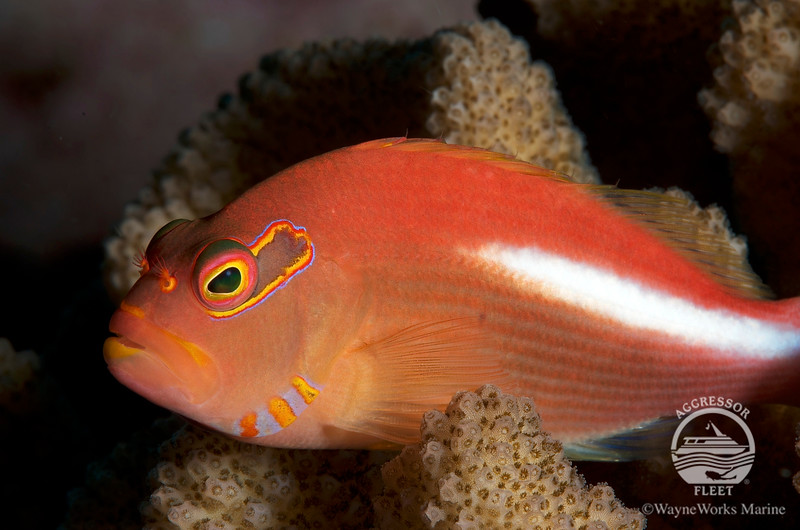 ---
6.Kauai
Sea Turtles Galore
Scuba diving in Kauai offers encounters with Hawaiian green sea turtles at sites such as Sheraton Caverns and Prince Kuhio's where an abundance of these creatures seem unperturbed by divers and their cameras. Turtle Bluffs is home to several turtle and whitetip reef shark cleaning stations, as is Tunnels Beach. Known for its impressive geological formations, this site is also a great place to spot octopus amongst the collapsed lava tubes of the inner and outer reefs. Humpback whales are often heard singing underwater during dives in Kauai, and incredibly lucky divers may even see them! Don't miss a trip to experience some of the best scuba diving in Hawaii at nearby Niihau if conditions allow.
WHEN TO GO Scuba diving in hawaii
Scuba diving in Hawaii can be done year-round, with the tropical climate providing consistently pleasant water temperatures which reach their peak in September. Hawaii is a very popular tourist destination, but September and January tend to be the least crowded months.
Hawaii DIVING CONDITIONS
Water temperature: 75-80oF (24-27oC).
Visibility: 75-100 ft (25-30m), but can vary depending on rainfall and run-off.
Depth Range: 10-130ft (3-40m).
Diving Difficulty: Suitable for all levels, including snorkelers.
HOW TO GET TO HAWAII
Honolulu's Daniel K. Inouye International Airport (HNL) on Oahu is the main gateway to the region, however, Kahului Airport (OGG) on Maui, Allison Onizuka Kona International Airport (KOA) on Kona, and Lihue Airport (LIH) on Kauai also receive international flights. The best deals on flights to Honolulu tend to be from Los Angeles, although there are also direct flights from many other North American cities. Flights from Europe tend to connect in the US, and flights from Asia connect in Japan.
Once in the area, domestic flights and inter-island ferries are available between the islands, although flights can be expensive in peak season.
For another great destination easy to reach from the US, read about diving in Belize here.
HOW TO scuba DIVE HAWAII
A popular tourist destination, scuba diving in Hawaii is solely resort-based. Guests can enjoy the comfortable water temperatures and fantastic underwater topography via shore dives or from boat rides.
For another great shore diving destination, check out our guide to Bali diving.
The Kona Aggressor II used to operate in the area but it has recently been taken out of service, leaving Hawaii without any liveaboard options currently.
Learn about other exciting Agressor Fleet destinations.
how much is it to go scuba diving in hawaii
Scuba diving in Hawaii is solely resort-based with a great range of accommodation options to suit all budgets. This means you can keep your vacation affordable if needed, or you can enjoy a high-end resort if preferred. Scuba diving rates generally include equipment hire and diving in a small group. Cost range from $120 to $150 for a 2-tank dive.
TOPSIDE & NON-DIVING ACTIVITIES
Hawaii is the home of surfing, and there are numerous other watersports such as SUP-ing, foiling, and kayaking on offer. More adventurous visitors can take a trip up to Hawaii Volcanoes National Park and see the steam rise as lava rushes into the ocean. Nature lovers can hike through lush rainforests, or simply enjoy a dip and snorkel the amazing inshore reefs. Explore the stunning beaches surrounding the Hawaiian Islands' coastlines for stunning photography or just rest and relaxation. Taste the flavors of the Pacific Islands by picking up some local grindz or visiting a luau.
OTHER USEFUL INFORMATION
---
Currency: US Dollar (USD).
Language: Hawaiian and English.
Time Zone: Hawaii-Aleutian Standard Time (GMT-10).
Electricity: 120V.
---