By GillF | Date: 10 May' 2021
The mysterious world of cave diving offers exciting access to an intriguing underwater environment that has to be seen to be believed. From shallow caverns streaming with light to the deepest darkest holes and passageways, every cave system offers new and exciting discoveries. But be warned, exploring an underwater cave can be hazardous, even for those cave divers properly qualified and experienced to do so. Always dive within your qualification limits and with an experienced guide.
Cave and cavern diving is not restricted to technical divers. Many cave systems offer a variety of experiences suitable for all levels of diver and snorkeler. These are great places to learn the art of cave diving beginning with a recreational cavern course, followed by an introduction to cave diving, and finally the full cave diving certification. But what is the difference between cavern diving and cave diving?
---
cavern diving
Cavern diving usually takes place in an overhead environment close to a cave mouth and within the light zone. This means there should always be some daylight illuminating the cavern. There are guidelines around the distance a cavern diver can explore away from the cave entrance. This varies depending on the agency but is normally around 130 feet (40m). These rules are in place for safety reasons, allowing less experienced divers a taste of the magical world of submerged caves whilst maintaining safe limits.
Cave Diving
Any type of diving that involves going beyond the lightzone and deeper into a cave system than 130 feet (40m) is classed as cave diving. Because of the extreme nature of this activity, the only limitations are those of the individual diver and their equipment. Cave diving is a potentially dangerous activity and should only be carried out by those properly qualified to do so.
---
With such a variety of amazing cave diving spots, deciding on the best place to cave dive is no easy task. But, worry not! We've rounded up a list of the best cave diving spots in the world complete with information on what to see, when to go, and where to stay, so that you can pick the perfect spot for your next cave diving trip, hassle-free!
world's Best cave Diving Spots
Pick a destination or scroll down to read the entire list:
1. Cenotes, Mexico - Stunning Scenery Accessible to All
2. Blue Holes, The Bahamas - Blue Hole Capital of the World
3. Orda Cave, Russia - A Stunning Underwater Labyrinth
4. Lanai Cathedrals, Hawaii - Fascinating Topography Home to Unique Creatures
5. Turtle Cavern & Turtle Tomb, Sipadan - An Eerie Subterranean Graveyard
6. Gozo, Malta - A Hidden Gem in the Mediterranean
7. Florida Springs, USA - The Original Home of Cave Diving
8. Chandelier Cave, Palau - Adventure Behind the Reef
9. Sra Keow & Song Hong Caves, Thailand - On the Frontier of Cave Exploration
10. Bayahibe Caves, Dominican Republic - Beautiful Diving in Easy Conditions
Can't wait to start planning your next dive trip? Our team at Bluewater Travel can help you book a resort or liveaboard for cave diving anywhere in the world.
---
beautiful scenery accessible to all
Scattered across Mexico's Yucatan Peninsula, the cenotes are a vast, world-famous network of sinkholes and underground passageways, eroded into the surrounding limestone bedrock over many thousands of years. Where the roof of caves near the surface has collapsed, vast cathedral-like chambers allow access into the entrance caverns of this subterranean maze. Shafts of sunlight pierce the fresh water below, creating stunning light and shadow effects on the surrounding rock features. Stalagmites and stalactites contribute to the ethereal feel, while vegetation drapes through cracks, creating a veil to the outside world. The cenotes are so beautiful that snorkelers and open water divers can explore some of the more popular ones, even without a cavern or cave qualification.
For the full cave-certified diver, the start of the true inner caves is marked by a large sign, preventing inexperienced divers from straying too far. There are an estimated 6,000 cenotes on the Yucatan, providing access to extensive cave networks such as Sistema Ox Bel Ha, Sistema Sac Actun, and Sistema Dos Ojos. One of the most famous cenotes is Dos Ojos (Two Eyes), a pair of circular holes that provide multiple shallow dives in beautifully decorated passageways. Another popular site, Chac-Mool begins with a large well-lit cavern and before a second chamber with an air pocket and many stalactites. Both Dos Ojos and Chac-Mool also offer longer penetration dives for technical divers.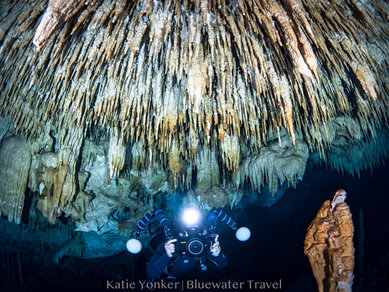 Photos by Katie Yonker.
How to dive the cenotes
The cenotes can be dived year-round and are unaffected by adverse weather conditions. Site facilities vary, with the most popular cenotes charging an entry fee for access to car parking, changing, and restroom facilities as well as safe ladder access in and out of the water. There are often professional underwater photographers ready to take snaps for a fee. The most remote cenotes can involve a jungle hike carrying equipment, but as there are no safety facilities these sites are best left to experienced divers. Most of the dive centers in Playa and Tulum offer cenote diving trips and packages, and will also run cavern and/or cave diving courses.
Most visitors will fly in and out of Cancun International Aiport (CUN) and then drive south to the popular resort of Playa del Carmen or the quieter town of Tulum. These are both great bases for exploring the nearby cenotes. Playa has a multitude of accommodation options, many shops, and a lively nightlife, whereas Tulum is a more sleepy option. There are also various upmarket resorts spread along the coast.
Diving Conditions
Temperature: Average 75 to 77oF (23 to 25oC).
Visibility: Excellent due to a lack of particles in the water.
Non-Diving Activities: Visiting the Mayan ruins, spending time on the stunning beaches, watersports, shopping, nightlife.
Required Skill Level: All levels, from snorkeler through to technical diver.
---
2. Blue holes, the Bahamas
blue hole capital of the world
Blue holes are found all over the world, however, the highest concentration of them is on the island of Andros in the Bahamas. Created in much the same way as cenotes, the blue holes of Andros are scattered throughout the island and submerged around its shallow coastal reefs. There are over 200 of these mysterious craters to explore, and many also have horizontal tunnels and passageways eroded into steep sides. The blue holes were created during the Pleistocene Epoch when sea levels were 300 feet lower, exposing the limestone Bahama banks to rainwater erosion. Once sea levels rose again many of these holes became submerged. Their bright blue rim and deep blue or black center are down to the depth of water at each of these points.
One of the most famous landlocked blue holes is Stargate, a spectacular but challenging dive that starts with a huge giant stride into a fairly small hole in the ground. Erosion has created fascinating formations in the rock reminiscent of candle wax. More accessible is the 663 foot (202m) deep Dean's Blue Hole on Long Island. Divers descend to a depth of 66 feet (20m) where the 100 foot (30m) wide hole widens into a cavern almost 330 feet (100m) wide. Many of these oceanic blue holes are perfect for new divers and snorkelers as they attract large marine life such as turtles, rays, and sharks inside the crater.
how to dive the blue holes
The Bahamas tropical climate allows for year-round diving, and water temperatures rarely drop below the mid-70s. The region is renowned for its clear waters and excellent visibility. There are a good number of land-based dive operators and resorts in the Bahamas, although less so on Andros as it is fairly underdeveloped. Liveaboards are a great option for exploring the Bahamas' many islands and reefs. The is a particularly high number of sites well-suited to new divers.
Lynden Pindling International Airport (NAS) in Nassau is the largest international gateway into the country. The Grand Bahama International Airport (FPO) also receives international flights as does Exuma International Airport (GTT). Domestic flights are readily available between the islands. The more touristic Bahamian islands offer a wide range of activities and family attractions including watersports, golfing, cultural tours, shopping, and spas. Islands such as Andros are much quieter, and offer peaceful getaways in nature.
DIVING CONDITIONS
Temperature: Summer 88oF (31oC), winter 72oF (22oC).
Visibility: 80 to 100 feet (24 to 30m).
Non-Diving Activities: Dozens of tourist activities including watersports, shopping, and cultural tours.
Required Skill Level: All levels, including snorkelers.
---
3. orda cave, Russia
a stunning underwater labyrinth
In western Russia, directly below the Ural Mountains, Orda Cave offers cave divers a unique experience in the longest underwater system in Russia. At almost 3.2 miles (5.1km) long, Orda is unique in that it is carved from gypsum rather than limestone. Instead of the usual stalagmites and stalactites, the walls of the caves and passageways take the form of huge blocks and striated columns which give off a blue hue under torchlight. Crystal clear mineral water provides excellent visibility, and water depths of only 50 to 60 feet (15 to 18m) allow for long forays limited mainly by the chilly water.
Exploring Orda is not for the faint-hearted, but the rewards are more than worth the challenge. Near-freezing water temperatures, minimal surface facilities, and a long trek 230 feet (70m) down a wooden staircase to the entrance don't detract from the stunning world that awaits below the surface. Huge white tunnels, vertical rock cracks, archways and windows in the walls, air chambers, and boulder fields create one of the most unique and spectacular cave dives in the world.
HOW TO dive orda cave
The water temperature in Orda Cave is constant year-round, however, conditions on the surface can be harsh during the winter. There is accommodation on-site with heated rooms and hot showers, and porters are available to carry equipment down to the entry point.
The get to Orda, divers will need to fly internationally to Domodedovo Moscow Airport (DME) and then take a domestic flight to Perm International Airport (PEE). Orda village is a 2-hour drive south of Perm, and the cave site is 1 mile (1.5km) outside the village.
DIVING CONDITIONS
Temperature: 41oF (5oC) year-round.
Visibility: Up to 148 feet (45m).
Non-Diving Activities: Not much!
Required Diving Skill Level: Technical cave-certified divers only.
---
4. lanai cathedrals, Hawaii
fascinating topography home to unique creatures
In the center of the Hawaiian archipelago, the island of Lanai offers divers of all abilities the chance to experience two bucket-list cavern dives. Known as Cathedrals I & II, vast vaulted tunnels in the reef are lit by periodic spots of sunlight streaming down into the gloom. At the far end, numerous holes in the rock create a stained glass window effect, the entire eponymous scene a breathtaking sight. Exiting the cavern is exciting in itself, the water surging through a narrow chimney sucks divers out onto Lanai's thriving reef amongst a vibrant world of tropical corals and fish. With a maximum depth of 65 feet (19m), the Lanai Cathedrals can be explored by all.
The caves and caverns around Hawaii are of volcanic origin, created when lava flows hardened under the water. Diving the entire island chain, divers can discover tunnels, arches, and swim-throughs, lava tubes, chimneys, and countless other fascinating structures to explore. Many of these boulder-strewn grottos are home to unique dark-loving critters and creatures, a good number of them endemic to Hawaii.
Hawaii is on our list of the best diving in the USA. Check out the full list here...

Photo by Aggressor Fleet.
HOW dive lanai cathedrals
Hawaii's tropical climate means Lanai can be dived year-round, and also makes it a popular vacation destination. Air and water temperatures peak in September and maybe too hot for some, therefore, September and January tend to be the quietest tourist months.
Almost all diving is from shore-based resorts, and many of the operators on nearby Maui run day trips to dive Lanai's Cathedrals. The boat journey is around 45-minutes, which allows plenty of time for a two-tank trip. There is one liveaboard, the Kona Aggressor II, that offers 7-night itineraries around the islands.
Honolulu's Daniel K. Inouye International Airport (HNL) on Oahu is the main gateway to the region, however, LAX offers direct flights into Ellison Onizuka Kona International Airport (KOA). The best deals on flights to Honolulu tend to be from Los Angeles (LAX), although there are also direct flights from many other North American cities. Flights from Europe tend to connect in the US, and flights from Asia connect in Japan.
Once in the area, domestic flights and inter-island ferries are available between the islands, although flights can be expensive in peak season.
DIVING CONDITIONS
Temperature: 75 to 80oF (24 to 27oC).
Visibility: 75 to 100 feet (25-30m), but can vary depending on rainfall and run-off.
Non-Diving Activities: Surfing, SUPing, and other watersports, nature hikes, and volcano visits.
Skill Level: Suitable for all levels of diver.
---
5. turtle cavern & Turtle tomb, sipadan
an eerie subterranean graveyard
Turtle Cavern, and the maze of passageways beyond known as Turtle Tomb, are a fascinating but eerie dive off the northwest corner of Sipadan in Malaysian Borneo. As the name suggests, dozens of turtles have met their demise here, after becoming lost in the confusing network of tunnels. The floor is littered with the skeletons of these unfortunate creatures, some thousands of years old, others far more recent. There is also the remains of a dolphin that met a similar fate.
The entrance to Turtle Cavern is a gaping hole in the reef at 60 feet (18m), easily explored by competent recreational divers with a guide. Swimming 490 feet (150m) into the cavern, a narrow passageway on the left guides divers to a second large chamber known as Turtle Tomb. This section of the dive is more advanced and only suitable for cavern-qualified divers accompanied by an experienced guide. The crystal clear water can silt up easily from the fine dust that covers the floor of the cave, and without a guide, it is easy to become disorientated and miss the exit.
How to dive turtle cavern & turtle tomb
Sipadan can be dived year-round, although conditions tend to be at their best between April and October.
As a protected island, Sipadan is only diveable from the nearby islands of Mabul and Kapalai. There plenty of resorts and operators that run day trips to Sipadan, and the boat journey normally takes 20 to 30 minutes. A permit system is in place to limit the number of divers that can visit each day, and permits are not allocated in advance. Therefore, to ensure a better chance of diving Sipadan advise your resort ahead of time and plan to spend multiple days diving in the area.
Getting to Sipadan's neighboring islands of Mabul and Kapalai can be quite a task. Kota Kinabalu International Airport (BKI) is the main gateway, and flights are available from many of the major Asian hubs. Once at Kota Kinabalu, a domestic flight takes you to Tawau Airport (TWU) on the southern tip of Malaysian Borneo. From Tawau, resort transport will transfer you the 90-minute journey to the port town of Semporna where you'll board a boat out to your resort.
Diving Conditions
Temperature: 79 to 86oF (26 to 30oC).
Visibility: Up to 100 feet (30m).
Non-Diving Activities: Sipadan is a protected island and access ashore is not allowed. The neighboring islands offer resort-style activities such as watersports, spas, nature walks, and time spent on the beach.
Required Skill Level: Intermediate to Advanced with a cavern certification.
---
6. gozo, Malta
a hidden gem in the Mediterranean
Just south of Italy in the center of the Mediterranean Sea, the small island nation of Malta offers European divers an exciting variety of sites along its rocky shoreline. However, it is Malta's tiny island of Gozo that boasts the best dive spots for cavern and cave divers. Networks of caves, caverns, swim-throughs, and tunnels are present at many dive sites, each of them intriguing to explore. And where the Mediterranean may be lacking in marine life, Gozo more than makes up for it with its unique underwater topography.
Some of the best dive sites in Gozo are suitable for all levels of diver, such as Cathedral Cave (also known as Blue Dome). This submerged vault is entered through a crack in a near-vertical wall at 16 feet (5m). An air pocket inside attracts striking rays of light to pierce the gloom before a field of boulders leads the way out towards the blue ocean beyond. Another unique spot is the Inland Sea, beginning in a landlocked lagoon on the far west of the island. Divers follow an impressive 260 feet (80m) tunnel out towards the sea, exploring crevices and caves full of dark-loving critters on the way. Gozo's most famous site is the Blue Hole at Dwejra. At a maximum depth of 46 feet (14m), the hole boasts a large cavern on one side and an archway out to the sea on the other.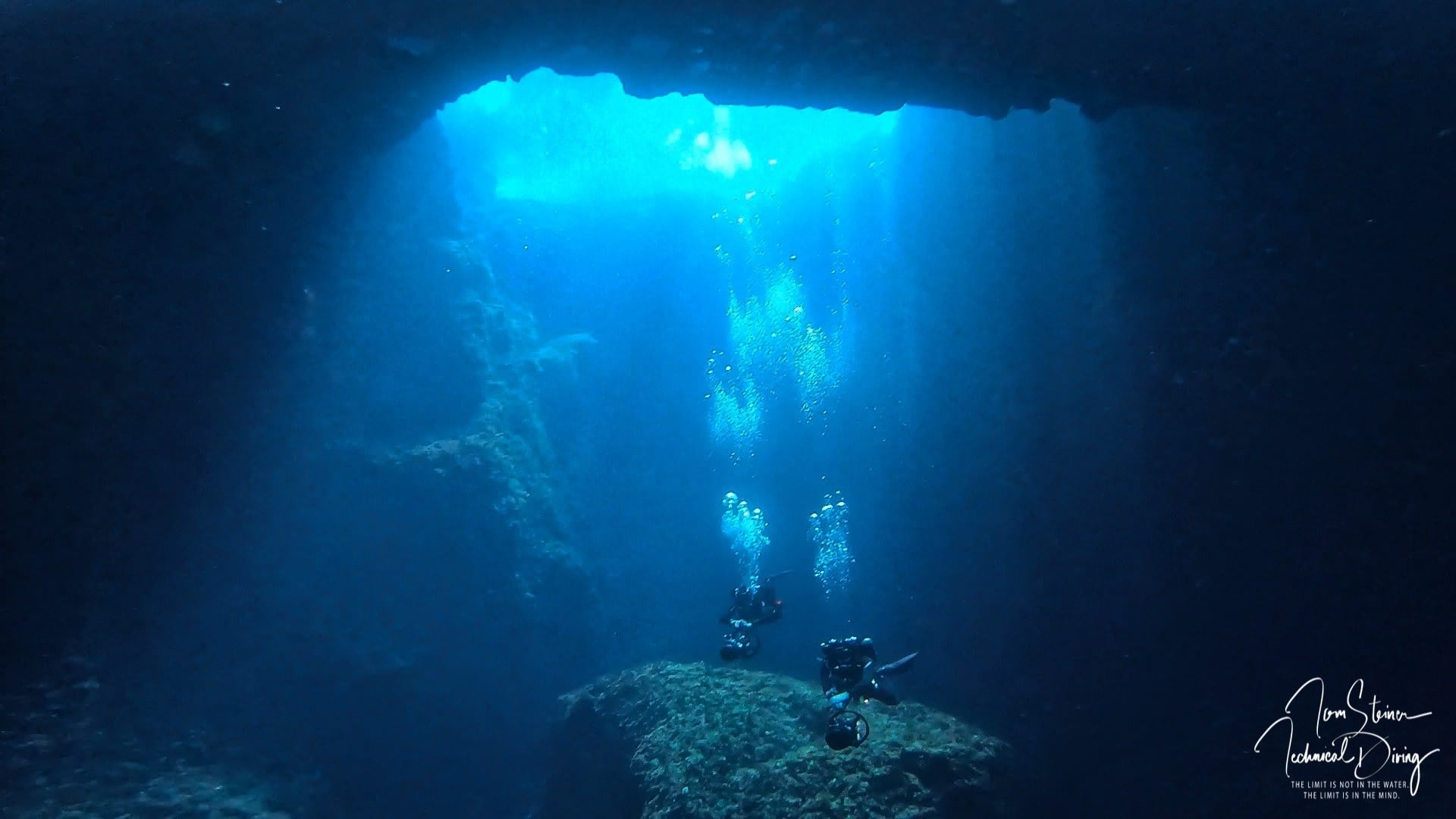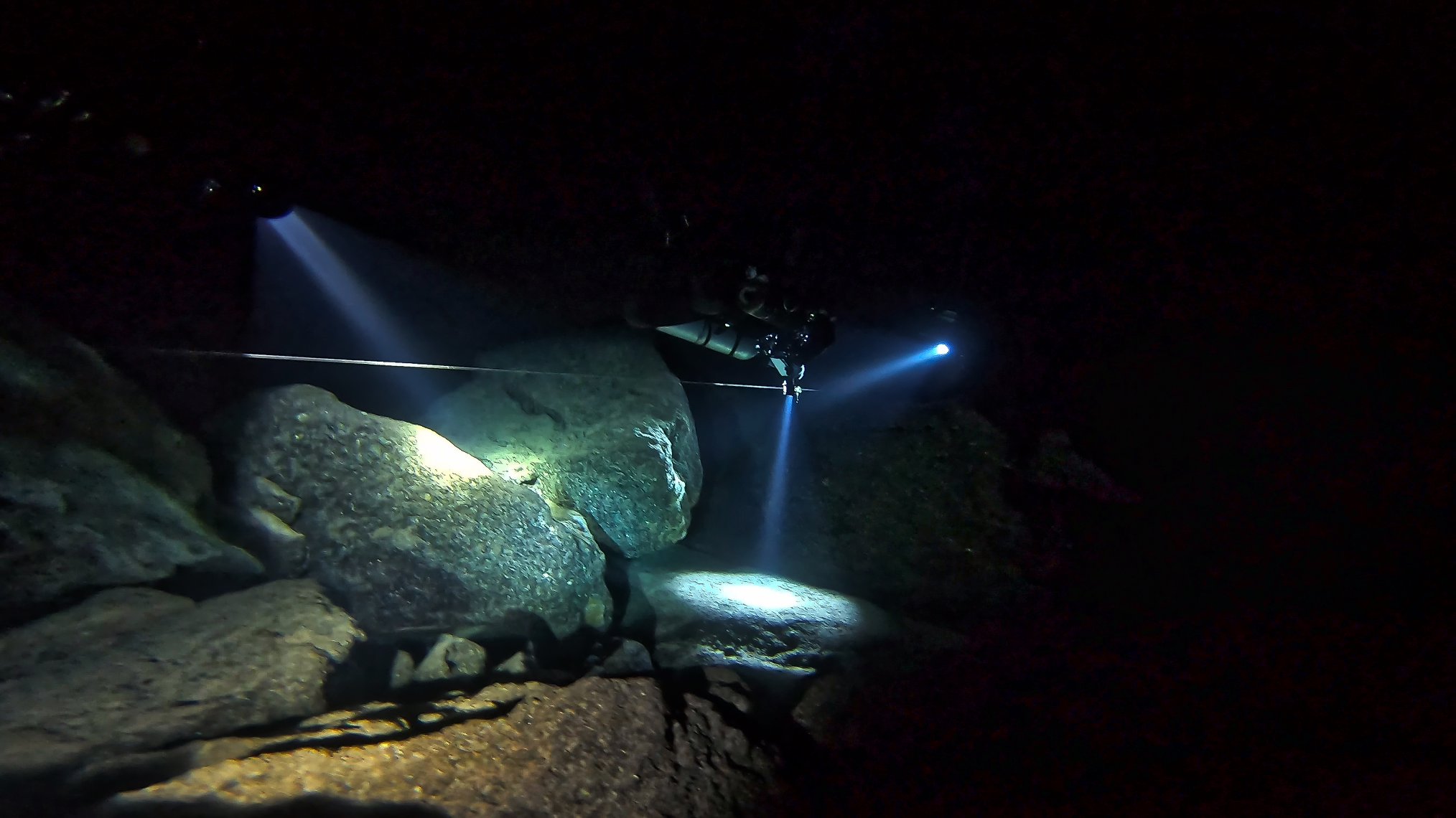 How to DIVE gozo
Gozo can be dived year-round, however water temperatures in the winter months warrant the use of a semi-dry or drysuit for most divers. The island also experiences quite high winds and the associated sea states through the winter but is small enough that there are normally a few sheltered sites still accessible.
Gozo has a smaller population and is less-developed than neighbouring Malta, however, there are several very good dive operators to choose from. Accommodation options are varied, from beach resorts through to small guest houses, and plenty of AirBnB-style apartments.
Travelers to Gozo will need to fly internationally to Malta International Airport (MLA) and then take a shuttle or drive to Cirkewwa in the north of the island. From here a vehicle ferry makes regular daily crossings to Gozo. There are flights to Malta from most European Cities, and also from some of the Middle East hubs.
Diving Conditions
Temperature: 57 to 79oF (14 to 26oC), with the warmest temperatures in August.
Visibility: 82 to 130 feet (25 to 40m), although it reduces in heavy rain.
Non-Diving Activities: Gozo is a sleepy version of neighboring tourist island, Malta. Explore historic sites, take nature hikes, enjoy the beaches.
Required Skill Level: Divers of all abilities will find suitable sites.
---
7. florida springs, usa
the original home of cave diving
Beneath the rolling countryside of northwest Florida, a vast collection of subterranean tunnels and caves offers access to the US's most extensive cave diving network. Including the famous systems of Wakulla Springs and Indian Springs (now known as Sherlock Springs), the flooded passages of systems such as the Woodville Karst Plain were the exploration ground of various cave diving pioneers including Sheck Exley and William Hogarth Main, and many of their diving methods are now widely accepted as standard practice the world over by today's cave divers. The Woodville Karst Plain extends for 450 square miles (1,200 square kms), however, its complexity and challenging dive conditions mean it is only accessible to the few experienced cave divers of the Woodville Karst Plains Project.
For recreational divers keen to explore below Florida's surface, the High Springs around Branford and the Merritt's Mill Pond area in Jackson County offer some exciting spring dives. Peacock Springs is one of the largest and best-explored sites, offering nearly 30,000 feet (over 9,000 m) of charted tunnels and chambers. Nearby Ginnie Springs is also popular with divers while Little River Springs offers intriguing corkscrew-style swim-throughs, and the crystal-clear waters and stunning scenery of Maddison Blue Spring are well worth a visit.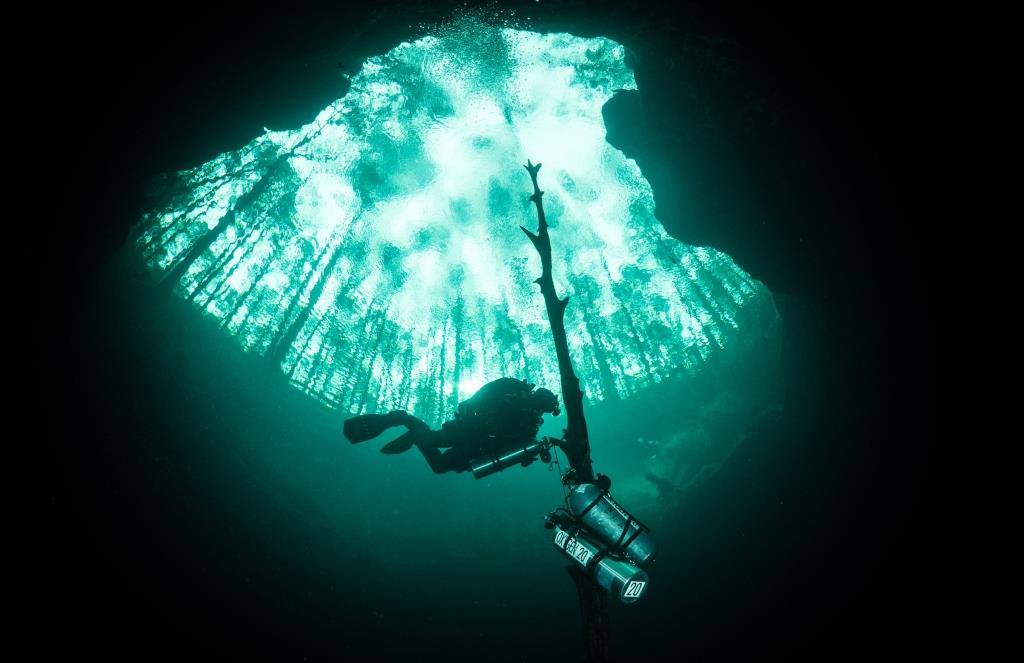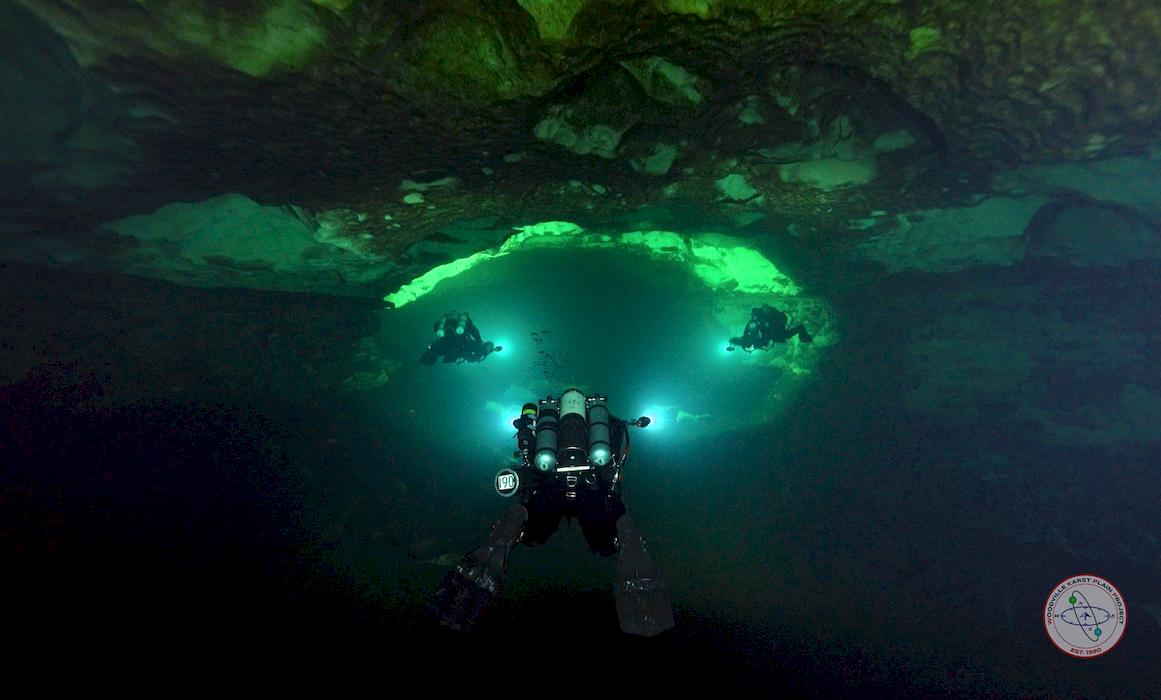 how to dive the florida springs
This hugely popular area consists of dozens of springs and entry points, some on private land and others with public access. While they can be dived independently, inexperienced divers should contact one of the many local operators for advice and support on where, and where not, to dive. Conditions in the springs can vary massively, and local knowledge is paramount in navigating this system safely. The systems can be dived year-round.
Tallahassee International Airport (TLH) is the closest major airport, and services flights from all over the US. Once in Florida, visitors can take their pick of a wide range of accommodation options to suit all tastes and budgets. Many of the spring systems fall within state parks and conservation areas, so hiring a car will make access far easier.
DIVING CONDITIONS
Temperature: 58 to 66oF (14 to 18oC).
Visibility: Affected by rain and surface run-off, algae, and tanins so very variable, 3 foot to 140+ foot (1 to 42+m).
Non-Diving Activities: Some of the more popular springs have been developed into swimming and leisure sites.
Required Diving Skill Level: Snorkeler to technical diver, resitrictions are in place to prevent non-quaified divers fom venturing too far.
---
8. chandelier cave, palau
adventure behind the reef
Located in Malakal Harbor, just a stone's throw from the main dive shops in Koror, Chandelier Cave is a spectacular cavern boasting stunning stalactites clinging to its ceiling. The cave is a series of five connecting chambers, four of them flooded by seawater and the fifth, dry, and only accessible through the third and fourth chambers. Eroded into Palau's limestone bedrock during a previous ice age, the first cavern is entered at a depth of only 13 feet (4m) and the system has a maximum depth of 36 feet (11m). This makes it the perfect entry-level experience for novice cavern divers.
Chandelier Cave offers excellent visibility, and rock formations reflected in the glassy water surface create a surreal experience above as divers explore the cavern's many nooks and crannies. A series of haloclines create shimmering mirages in the water column, and from the very far end of the cavern, divers can look back and see the green/blue of the ocean at the entrance. Of the many dark-loving critters that inhabit Chandelier Cave, perhaps the most exciting is the mandarin fish that can sometimes be spotted around the cave mouth.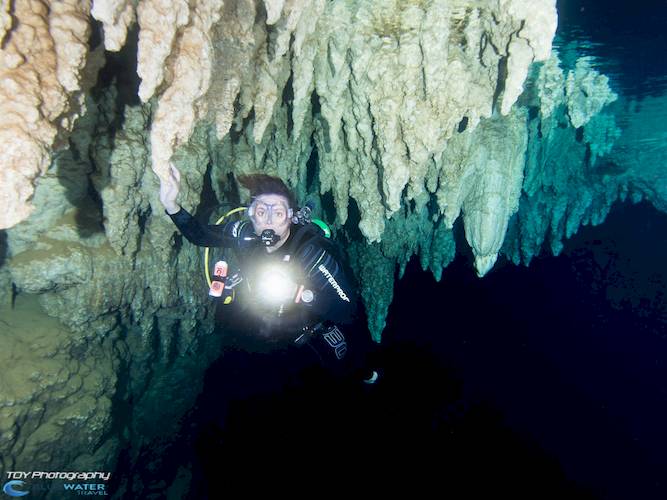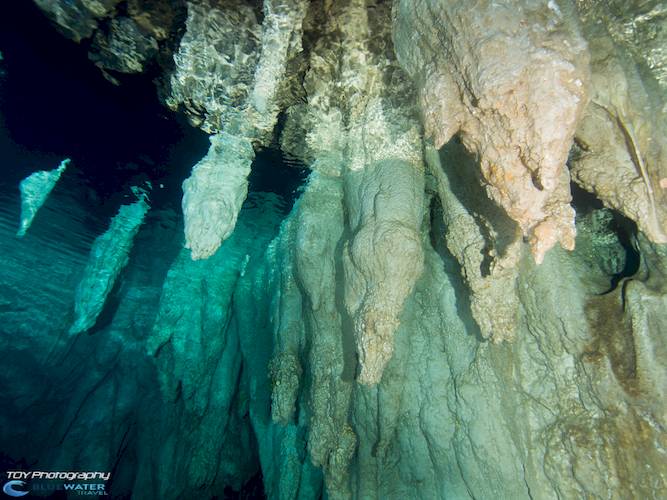 How to dive chandelier cave
Palau's tropical climate means diving is possible year-round, however, the best time is during the dry season from October to May. There are a good number of land-based resorts to choose from, to suit all budgets, but diving in Palau is often best enjoyed from a liveaboard.
Flying from the US, most airlines will stop in either Guam, Manila, or Taipei, before heading on to Roman Tmetuchl International Airport (ROR) in Koror, Palau. From here, most resorts and boats are within a 20-minute drive.
DIVING CONDITIONS
Temperature: 81 to 84oF (27 to 29oC).
Visibility: Upwards of 100 feet (30m).
Non-Diving Activities: Watersports, wildlife hikes, and plenty of WWII history.
Required Skill Level: All levels of recreational diver.
---
9. sra keow & Song Hong caves, Thailand
on the frontier of cave exploration
Twelve miles (20km) from the popular tourist resort of Krabi, Sra Keow Cave system is one of the deepest-known in Thailand. At least five small pools in the jungle provide access to interconnecting limestone caves and tunnels, although the true extent of these connections is still being explored. The most common entry is through Cave 1, a 30 foot (10m) wide pond that joins with Cave 2 at around 260 feet (80m) depth. Visibility can reduce drastically in areas of fine silt and mud but improves with depth. The maximum depth recorded at Sra Keow Caves is 800 feet (240m), so this system is best dived by cave-certified technical divers.
The huge Song Hong Cave, 75 miles (120km) from Krabi, offers cave divers access to a vast chamber that reaches depths of 588 feet (178m). The entrance to the cave is through a remote 490 feet (150m) diameter lake that deepens into a sinkhole towards the center. Although murky in the shallow waters, visibility dramatically improves below 100 feet (30m) once inside the cave. Expeditions are still taking place to explore the true extent of Song Hong Cave.
HOW TO DIVE sra keow & song hong caves
Both caves are best dived through a local technical dive center that can manage the logistics for these remote sites. The closest major towns are in Krabi province, so divers need to be prepared to drive several hours to get to the site. While the water temperature in the caves doesn't change with the season, visibility is affected by rain and run-off, so take advice on the best times to dive.
Krabi is 800km from Bangkok and 170km from Phuket. Visitors can fly internationally to Bangkok's Suvarnabhumi Airport (BKK) and then take a domestic flight to Krabi Airport (KBV). Thailand's excellent road network also makes travel by bus or car very easy.
Krabi is a popular tourist destination boasting plenty of beaches and islands and a wide range of accommodation, from hostels through to high-end resorts.
DIVING CONDITIONS
Temperature: 73 to 84oF (23 to 29oC) in the summer.
Visibility: 10 to 65 feet (3 to 20m).
Non-Diving Activities: The popular tourist beaches and islands of Krabi are nearby, offering watersports, rock climbing, birdwatching, among other activities.
Required Skill Level: Technical cave-certified divers only.
---
10. bayahibe caves, dominican republic
beautiful diving in easy conditions
Fifteen minutes from the small fishing village of Bayahibe on the south coast of the Dominican Republic, a fascinating series of cave systems offer exciting diving for all levels of snorkeler, cavern, and cave diver. Comparable to the Mexican cenotes but far less explored, the Bayahibe caves are a stunning world of stalagmites and stalactites, unique limestone rock formations, narrow restrictions, and huge caverns, many lit from above by shafts of tropical sunlight. Some of the more accessible outer caves are stunning snorkeling and cavern diving sites, whereas many of the deeper parts lead to unexplored sections to be avoided by all but the most experienced cave divers.
One of the most popular dives in the Bayahibe region is Cueva del Chico, just inside Del Este National Park. Crystal clear freshwater, sparkling aquamarine on the surface, entices divers of all levels to explore this 625 foot (190m) cavernous tunnel. A unique feature of Cueva del Chico is the presence of petroglyphs, rock carvings created by the Taino society that once inhabited the Dominican Republic. At a maximum depth of 46 feet (14m), divers can spend up to an hour safely exploring this fascinating cavern.
How to dive bayahibe caves
The Dominican Republic offers some excellent ocean diving as well as whale snorkeling trips at certain times of the year, therefore there are plenty of dive resorts to chose from. Many of the operators close to Bayahibe also offer cavern diving excursions, and a few specialist centers run cave diving training and can guide qualified cave divers.
Like most of the Caribbean, the Dominican Republic can be dived year-round, and the cave systems are unaffected by top-side weather conditions. June through to November is low season and resorts are quieter. The closest international airport to Bayahibe is Punta Cana International Airport (PUJ), just under 1 hours' drive away.
DIVING CONDITIONS
Temperature: Temperature: Average 75 to 77oF (23 to 25oC).
Visibility: Excellent due to the lack of particles in the water.
Non-Diving Activities: Hiking in the national parks, shopping, whale watching.
Required Skill Level: All levels of diver and snorkeler.
---
Plan your next dive vacation
Bluewater Travel is a full-service dive-travel agency. We can book you a resort or a liveaboard almost anywhere in the world at the same price, or even lower, than booking any other way. Our team of travel advisors has been to most of these places, for some of them even many times. We know the diving, resorts, liveaboards, and logistics better than anyone else in this industry. To get started you can:
Email us to start planning your trip!
---
Further Reading
Check out these useful resources from our sister websites, Bluewater Photo and Underwater Photography Guide.
Under the Jungle in Mexico's Flooded Caves
Cave Photography in Mexico's Lesser-Known Cenotes
Sony A7S III Underwater Housing