Scuba Diving in Fiji
---
Fiji Diving Highlights
Fiji's scuba diving scene is best known for its colorful soft corals which offer an unmatched wide spectrum of colors, great variations of healthy hard corals, dramatic topography, typically clear water and a great variety of reef fish. Fiji is also home to some of the world's best shark dives, especially in the Beqa Lagoon area where the country's Shark Reef Marine Reserve is located.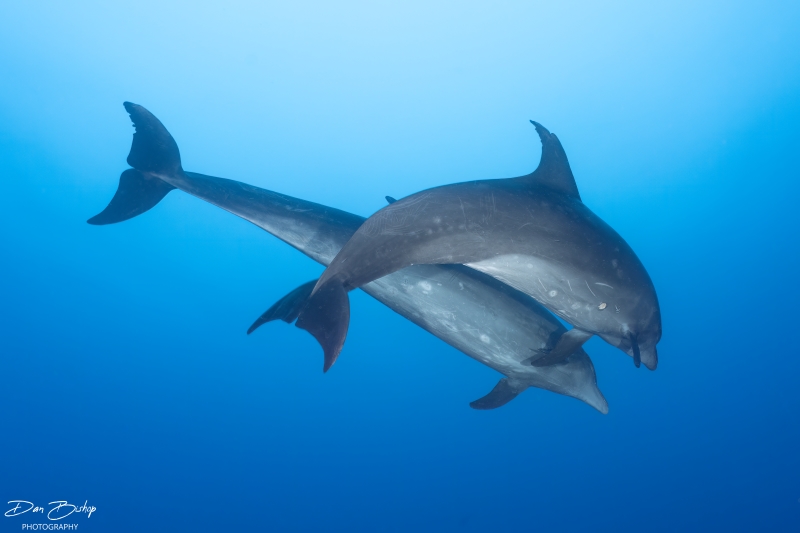 Jacques Cousteau coined it as the "Soft Coral Capital of the World." This name has stuck and given Fiji much of its diving identity.
Here is what Bluewater Travel's Mark Strickland has to say about Fiji: "I could never pick just one favorite dive destination, but Fiji certainly ranks among my top three". Quite a statement coming from such a well-traveled underwater photographer!
Interested in diving Fiji? View the live availability of liveaboard trips on the Nai'a and book online at the best price or check out our sidebar for land-based options!
Where Is FiJI?
A group of roughly 330 tropical islands in Melanesia in the South Pacific, Fiji is roughly 1100 miles northeast of New Zealand. The capital and gateway city, Nadi, is located on Viti Levu, one of the two major islands. Fiji is an amazing place with beautiful islands, friendly and fun people, a vibrant native culture and some of the best diving in the world.
Diving information
---
Marine Life & Photography Subjects in Fiji
Fiji is home to an amazing variety of fish life, including colorful angelfish, anemone fish, anthias, colorful frogfish, hawkfish, moray eels, ghost pipefish, and countless other photogenic species.
Blue Ribbon Eels are also fantastic subjects. The yellow and blue males are full of personality and if you search hard, you can find the female (all yellow) and juvenile (black with a yellow stripe). The black juveniles are difficult to photograph.
Sharks do exist in Fiji though they are not found on every dive, with Beqa being the one exception. The most common species seen are grey reef, white tip reef, silvertip, and hammerhead. Sharks always make great subjects, but reef sharks are difficult to get close to.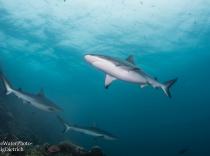 For real shark action, do the shark dive in Beqa Lagoon. Here's you'll see up to 8 different species of sharks numbering in the dozens, including very large bull sharks and a massive tiger shark that makes semi-regular appearances.
Editor's Note: If you're a real shark aficionado, see our guide to the Best Shark Diving in the World
Other fun subjects include banded sea snakes, several species of turtles, and pelagics like tuna, barracuda, and occasionally manta rays.
There are also plenty of macro opportunities. While diversity is not as great as Southeast Asia's coral triangle, there is still a wide range of species here, including mantis shrimp, decorator crabs, bobtail squid, and many different nudibranchs.
Interested in Macro? Check out our list of the Best Macro Destinations in the World.
Camera and lens tips: You'll definitely want two strobes to get full light coverage in your frame. Use as much strobe power as possible to illuminate the soft corals and really make them shine. Fortunately, soft corals don't move so you can get as close as you want. Bracket and really work on your blue backgrounds. Get close to the soft coral with a fisheye lens. Fiji is a great place to get close to the coral and practice your wide-angle technique. Take your time, put your strobes on manual, and get your exposures right.
Fiji coral reefs
In Fiji, it's all about the corals. The colors are so incredibly vibrant and the anthias so plentiful that it's hard to ever look away. Around every corner is the next world-class image. Remember to get in the current. One of the main draws of diving Fiji are the reef scenes - they are quite spectacular!
The gorgeous, lush, color-splashed images of Fiji that you see in dive publications are courtesy of a soft coral called dendronephthya. Few other places in the world offer such an abundance of this coral, nor the wide spectrum of colors, ranging from pink, purple, orange, yellow and fiery red. Dendronephthya soft coral needs current. With little current present, the soft corals are muted, but as the current increases, they inflate with water and their color really begins to glow.
As the current picks up, planktivores such as beautifully colored scalefin anthias spring up off the reef in polarized schools. Together, this forms a rich pageantry of color. Underwater photographers will want to shoot when some current is present, making a dramatic difference in the color of underwater imagery.
The best places for soft coral in Fiji are the Bligh Waters between Viti Levu and Vanua Levu where there are numerous reefs and pinnacles, the Somosomo Strait between Taveuni and Vanua Levu, and Namena Island and its marine protected area.
Interested in corals? Check out our list of the Best Coral Reefs in the World.
What it's like to dive fiji
The majority of diving is done as drift dives, allowing you to cover large distances and see walls of soft corals. Current is your friend in Fiji, as it brings out the soft corals while wildlife piles up on the current side of boomies.
As a photographer, you may wish to bring a reef hook - find a spot with beautiful colors, hook in, and shoot to your heart's delight! The tops of pinnacles and bommies usually host a plethora of life. Just hook in and shoot as the current blows you around.
Always have a safety sausage so the tender boat can see you when you surface. Despite what you may have been told, soft corals are not everywhere in Fiji – you need to go to specific areas. Likewise, there are some stunning hard coral reefs in Fiji that nobody talks about, great macro, some good pelagic life, and the best shark dive in the world. Many people take an underwater photography class before coming to Fiji.
For awesome drift diving along spectacular walls, check out diving Komodo or our Tubbataha diving guide.
Diving Conditions
Here's what the diving conditions look like in Fiji
Water Temperature: Dry season (June - Sep) temps are in the mid-70s, with August being the coolest month. Wet season (Dec-Apr) temps are in the low 80s. with Feb/Mar being the warmest months underwater.
Visibility: During the dry season, visibility is often 100'+ outside the lagoons. The Bligh Waters can have high visibility even in the wet season, ranging from 80-100ft.
Weather: Fiji is warm and tropical most of the time with temperatures ranging between 31°C between 26°C all year round.
Best Diving spots in Fiji
Here are the top scuba diving spots that you shouldn't miss while diving Fiji:
Taveuni
Taveuni offers great diving on the famous Rainbow Reef, which lies in the Somosomo Strait and has great soft corals and lots of reef sharks like whitetips, gray reef sharks and nurse sharks. There can be currents, so it's not necessarily for beginners. However, the soft corals look their best in the currents!
There are around 20 different dive sites on the Rainbow Reef. The "inner reef", the north side of the rainbow reef, has the best soft corals, and streams of anthias and fusiliers. Best dive sites include "Rainbow Passage" and "Rainbow's End".
The "outer reef" is on the south side of the rainbow reef, and has a better chance of shark sightings. Top dive sites include the "Great White Wall" with endless streams of white soft coral from 80ft to 120ft on a wall, and "The Zoo" which is known for more frequent big animal sightings.
BEQA LAGOON
Beqa Lagoon has beautiful reefs, a great variety of marine life and is also home to one of the best shark dives in the world, with several species of sharks appearing. From Nadi, it's a 2.5-hour car ride, followed by a 45-minute boat ride.
VITI LEVU & RAKIRAKI (MAIN ISLAND)
From the main island, it's a 2-3 hour drive to your resort. Staying in the central north coast in the Rakiraki area means that you can dive the Bligh Waters directly from your resort, with just a 50-minute boat ride. In the Bligh Waters you can see beautiful soft corals, sharks (including hammerheads on occasion) and turtles. The Bligh Waters are home to famous dive sites such as Mellow Yellow, which has gorgeous yellow soft corals, and Black Magic Mountain, which has prolific amounts of fish, anemones, and hard & soft corals. Taking a boat like the Naia liveaboard is the best way to dive the Bligh Waters, but it can also be dived from Volivoli resort - weather depending.
The Rakiraki / Volivoli area also has more protected "local" dive sites that are a 20 - 35 minute boat ride from the resort. These sites have incredible structure, sea fans, swim-throughs, and copious amounts of fish, along with occassional whitetip sharks.
VATU-I-RA PASSAGE
In the Bligh Waters lies the Vatu-I-Ra passage, home to some of Fiji's best dive sites and the most amazing soft coral reefscapes. The passage lies on the northeast coast of Viti Levu, and the reefs display the most spectacular rainbow of colors. E6 is one of the most famous dive sites of the passage.
KADAVU AND THE ASTROLAB REEF
Kadavu is an island south of the main island and is less visited than most of the other islands on Fiji. The resorts on the island offer an "Eco" experience. The area is remote and pristine, and the diving has great coral and marine life, including manta ray cleaning stations. It is also known for having less current than other places like the Bligh Waters or the Rainbow Reef near Taveuni. There are a lot of fish and a good number of reef sharks. Many of the dive sites are short boat rides from the resorts. Topside activities include kayaking, visiting waterfalls, and great birdwatching.
NAMENA ISLAND
The Namena Island reserve is a one hour boat ride from Savusavu on a fast boat, if the weather cooperates. It is also frequently dived via liveaboard. Here, you can experience some of Fiji's best diving, including prolific fish, amazing soft corals, huge schools of jacks & barracudas, pelagics, sharks, and even schooling hammerheads. Top dive sites include "Grand Central Station".
Learn more about diving in Fiji from Bluewater travel advisor/trip leader Katie Yonker's Fiji & Her Islands: A Photo Essay
Related Destinations
The Red Sea is similar to Fiji in terms of having a large diversity of fish, corals, and both big and small animals. One difference, is the Red Sea is more of a liveaboard based location, while Fiji is generally resort based. Fiji also offers more opportunities for snorkeling.
The Sea of Cortez has a great diversity of life, but not the colorful corals that Fiji has. Fiji is a nice colorful change if most of your diving has been in Mexico, or in the Caribbean in a place like the Cayman Islands.
Travel Information
---
How to Get to fiji
Fiji's department of tourism has done its homework and made Fiji one of the easiest places to get to for diving in the Pacific. Flight schedules are good and fares on the national airline, Fiji Airways, are very reasonable. Fiji is quite easy to get to from the USA.
There are daily direct redeye flights from Los Angeles to Nadi. You cross over the international dateline along the way to a Thursday night flight gets you into Nadi on Saturday morning. If staying there, you simply transfer to your hotel or meet your liveaboard.
When departing, you fly out of Nadi in the late evening and return to LAX in the afternoon of the same day - you get back the day that you lost going over the dateline. If flying to one of the outer islands, the domestic terminal is next door to the international arrival hall and island flights are usually less than one hour. You are relaxing in your beachfront bure by noon!
How to Dive Fiji
There is a range of choices of dive resort based on comfort level. Liveaboards are also available and they rate as some of the best in the world.
Check out our list of Fiji dive resorts.
Fiji is a great family destination, with plenty of snorkeling and top-side activities for non-divers. You can read more about our Preferred Partner resort in Fiji, Volivoli Beach Resort.
Best time to dive fiji
Before jumping into conclusion on the best time to visit and dive Fiji, let's go through the two distinct seasons of this beautiful chain of islands: dry and wet seasons.
June through October is the dry season. During that time, the water is clearest (100'+) but it can be windy and water temps can drop into the mid-70s.
The wet season runs from December to April. The winds die down and visibility is lower but still typically quite good (60'+) and water temps are in the low 80s. The hurricane season (technically cyclone and typhoon season). The last big cyclone that hit Fiji was the Winston tropical cyclone in 2016.
The transitional months of November and May might be the best times to go. However, keep in mind that the weather can be different on different islands. The jungle mountains of Viti Levu top out at over 4000' and create their own weather.
Quite often, clouds form by the afternoon and dissipate as early morning rain showers arrive. The northern part of Viti Levu usually has clearer weather than the south.
other thingS to DO in fiji
Unlike many other remote dive destinations, Fiji provides a host of non-diving activities to enjoy on your days off. You could easily spend a day or two (or more!) enjoying the island of Viti Levu.
Here you'll find waterfalls, caves, zip lines, the Garden of the Sleeping Giant, authentic villages, temples, and even a championship golf course. If you choose to venture to some of the outer islands there are a number of day cruises, charters, and boat hires.
Liveaboard Availability

---
Other Useful Information

---
Practical Information
Currency: Fijian Dollar
Language: Fiji has three official languages - English, Fijian and Hindi
Time Zone: UTC+12
Electricity: 240 V 50Hz