Destination: Fiji
PO Box 323 Pacific Harbour, Fiji | Room and breakfast + 2 dives from $244++ ppn

---
Waidroka Bay Resort Quick Pitch
Waidroka Bay Resort offers the best of world-class scuba diving with amazing variety, combined with some of Fiji's finest soft corals and the great Fiji Shark Dive in the Beqa Lagoon. Expect comfortable accommodations, great services, and an overall excellent value for money!
Why You'll Like Waidroka Bay Resort
3.5-star amenities with air con, WiFI & mini fridges in each room
All inclusive packages and room-only rates available
Full board option with excellent meals
An extensive variety of non-diving activities
Only 10-45 minutes away from the best dive sites
On-site full-service PADI dive center
Great value for money
How to Get There
Waidroka Bay Resort is located on the main island of Viti Levu, right on the famous Coral Coast between Sigatoka and Pacific Harbour (just 2 hours from Nadi airport, 20 minutes drive from Pacific Harbour, and 1 hour from Suva). You can reach the resort from the airport by taking a taxi or a public bus. The resort can arrange a taxi pick up if needed.
Location Map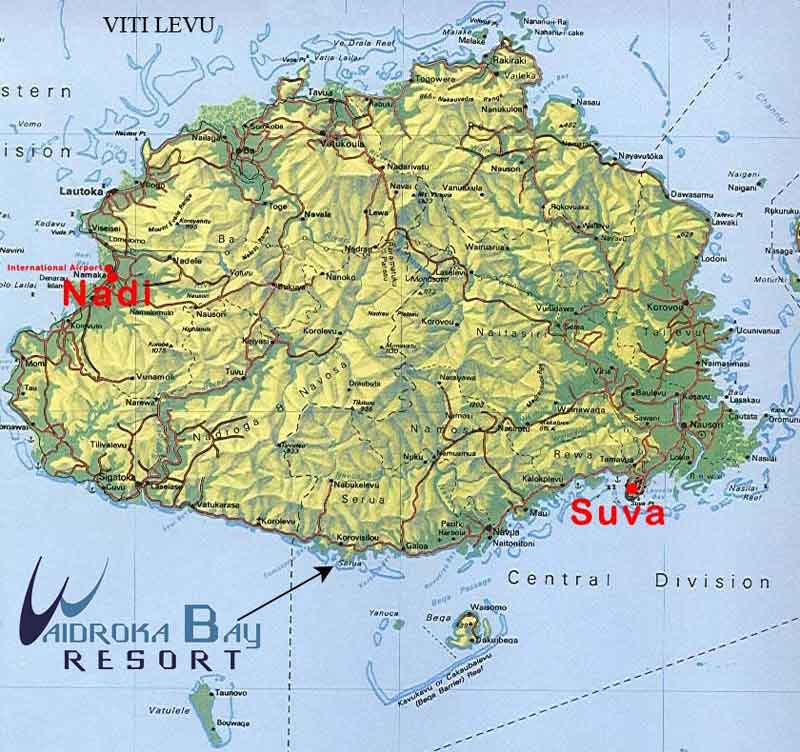 Dive Overview
Beqa Lagoon is world-famous for its soft-coral and marine life, perfectly reflecting the variety and diversity of Fiji's diving. Beqa is also home to 2 of the world's top shark dives! You can also explore the vast Frigates Reef.
Check out this great video to find out what it is like to stay at the Waidroka Bay Resort!
Accommodations
Types of Rooms, Amenities and Photos

---
Waidroka Bay Resort Accommodation Overview
Accommodation Types: Superior Deluxe Ocean Front Bure, Deluxe Ocean Front Bure, Panoramic Ocean View Room
General Amenities: Air conditioning, mini fridge, ocean view, ceiling fan
Superior Deluxe Ocean Front Bure
2 Bedroom Unit: Sleeps 1-5 Persons (Possible up to 6 including children)
Surrounded by stunning rainforest and beautiful private garden you will be sitting on your own private terrace and enjoying the beautiful sunsets. The Bure has 2 bedrooms and can be arranged in any possible bed constellation offering a variety of choices for either couples, honeymooners, families or simply separate parties wanting to share.
Deluxe Ocean Front Bure
1 Bedroom Unit: Sleeps 1-4 Person
Equipped with its own little garden, private bathroom, two beds - one queen-size and one full-size (variety of bed constellations available on request), table and chairs, and large decks with sitting corner and 'hammock chair'.
Panoramic Ocean View Room
1 Bedroom Unit: Sleeps 1-3 Persons. This room offers magnificent views of the Pacific Ocean and the private lagoon from a hilltop above the resort, 1 bedroom with queen-size bed and 1 single bed, private bathroom, and a large veranda.
Resort Facilities

---
LEFT: The Restaurant & RIGHT: The Pool
Waidroka Bay Resort Features
On-site full-service dive center
Restaurant and bar
Internet available throughout the resort. Surcharges apply, depending on the option you choose
Laundry service available at $15 FJD per load
Restaurant & Bar
Breakfast, lunch and dinner available around the clock at the resort, freshly prepared using the best local produces
Outside pool bar with a happy hour every day. Wines, beer, cocktails and soft drinks available.
Non-Diver Activities
Surfing
Game & sport fishing
Snorkeling
Kayaking
Stand-up paddleboarding
Hiking, birdwatching, reef mangrove trips and more
Packages & Rates

---
For information on rates, availability and to book, drop us an email at bookings@bluewaterdivetravel.com or call us today at 310-915-6677. We are always glad to help!
Dive Information

---
Waidroka Bay Resort Dive Overview
Waidroka Bay Resort offers a great variety of scuba diving, including the famous Beqa Lagoon, Frigates Walls, Fiji's famous shark diving and some amazing coral coast diving just minutes away from the resort's shoreline.
What to Expect Underwater
Amazing diversity of soft corals and marine life: sleeping sharks, rays, turtles, dolphins, Blue Ribbon Eels, Clown Triggers, Lion Fish, Leaf Scorpions, colorful Anthias, Fusiliers and more
Excellent shark dives
Wreck dives, drift dives, wall dives, pinnacles...
A rich variety of critters
One of the largest barrier reefs (Beqa Lagoon) surrounded by over 190 miles of spectacular corals
Waidroka Bay Resort Dive Stat
Visibility: > 100 feet (> 30 metres)
Water Temp: 80F (26.5 C)
Distance to Dive Sites: 15-45 minutes of boat ride
Find out everything that Fiji's amazing underwater world has to offer: soft corals, sharks, pelagics, critters and more!
Waidroka Bay Resort Dive Map
This map gives you an idea of your 'playground' when diving with Waidroka Dive. The Beqa Lagoon is vast and has a huge amount of discovered and more exciting undiscovered dive sites, which are waiting to be explored. On top of that, there is the local Coral Coast and of course the Beqa Shark Dives.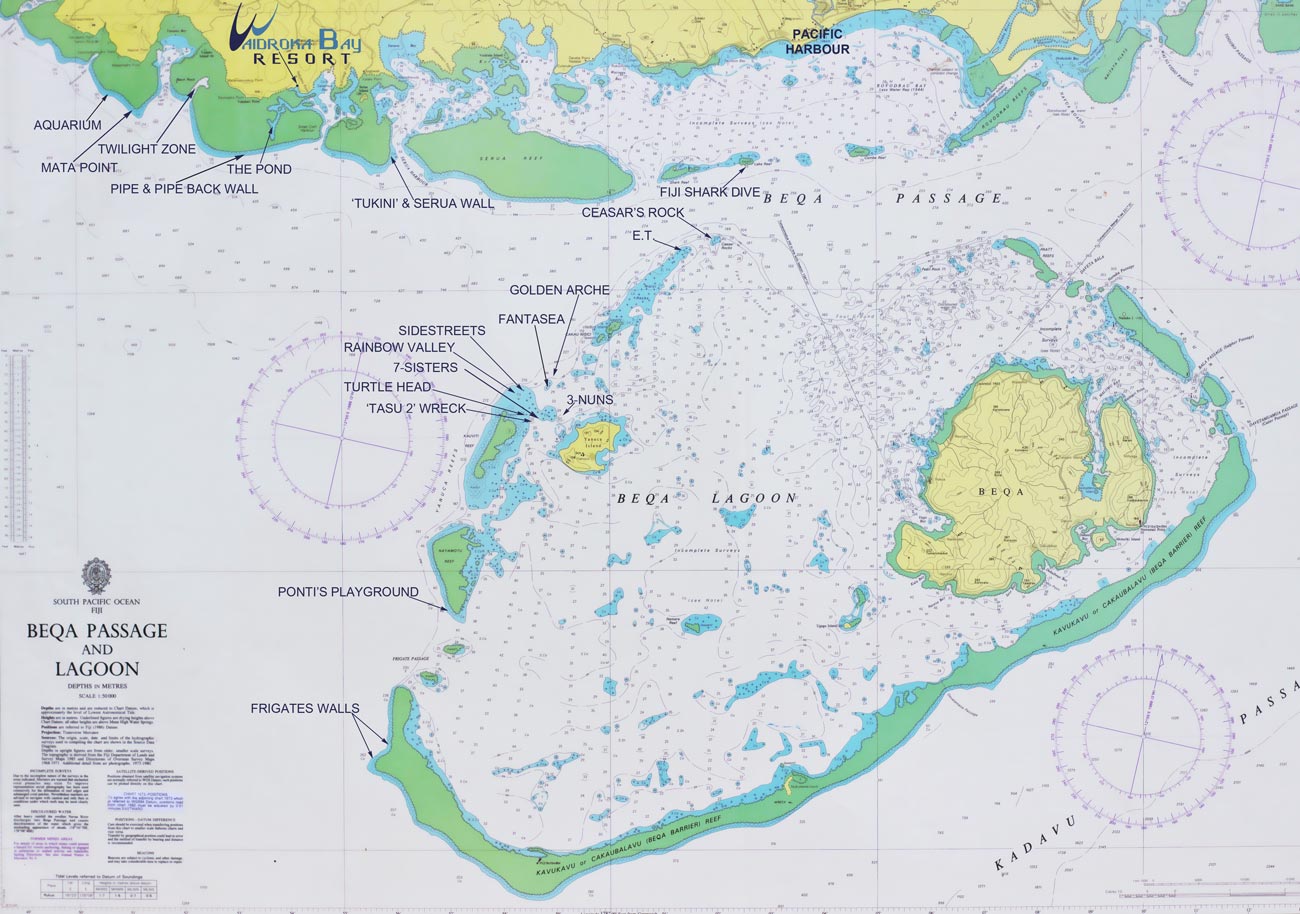 [Read More: Fiji Dive Travel Guide]
Dive Center Information

---
Dive Center Overview
Scheduled Dives: 2-3 dives per day
No. of Boats: 4 boats for up to 24 divers per departure
Dive Courses: PADI courses ranging from beginner to professional courses.
Dive Equipment: Available for rent. Contact us for the latest rates.
Other Information

---
Practical Information
Payment: Cash or Credit Cards (Visa/MasterCard/American Express)
Languages: English, Fijian and Hindi
Time Zone: GMT +12
Visa: Tourist visas will be issued on arrival at the airport in Fiji for travelers from most countries (do check if your country is on the list). Go here: http://www.immigration.gov.fj/index.php/visa for more information
Electricity: 240v/50 Hz
Tipping: Tipping is by no means expected in Fiji and the locals would not be offended, however it is highly appreciated, especially at the resort.
Climate/Temperature: Tropical ocean climate with 2 seasons. Rainy season from Nov-Apr. Cooler weather in May-Nov (20-29 C). 22-33 C in Dec-Apr.