By bettyr | Date: 08 May' 2020
Nestled on the northern tip of Fiji's main island, Volivoli Beach Resort is the ultimate diving paradise. This secluded boutique resort occupies a remote headland overlooking the sparkling South Pacific to a backdrop of lush tropical mountains. A favorite of customers and staff alike, it's no surprise that Volivoli Beach Resort is one of Bluewater Dive Travel's Preferred Partners and features in our 'Best Dive Resorts in the World'.
A family-run resort, Volivoli is still operated by the original owners whose passion and strive for excellence is evident from arrival. Comprising 33 ocean view rooms and villas spread out over several acres, guests at Volivoli can indulge in the tranquility of secluded tropical gardens fragrant with frangipani and hibiscus. The oceanfront swimming pool adds a touch of glamour, while the pristine beachfront offers a relaxing retreat where the only sounds are the lapping waves and the occasional dive boat returning from exploring the reef.
Tim Yeo, Travel Advisor and Trip Leader for Bluewater Dive Travel, is a huge fan of Volivoli Beach Resort, having stayed there several times.
"I've been to many dive resorts all around the world, and Volivoli Beach Resort is one of my favorites!"
DIVING
Volivoli Beach Resort is just a short boat ride from the world-class diving of Vatu-I-Ra Passage, the most popular group of dive sites in the Bligh Water area. This protected stretch is famous for its diverse and abundant marine life and in particular its huge variety of colorful, healthy corals. World-famous dive sites such as Mellow Yellow, Instant Replay, and Black Magic Mountain feature a fascinating mix of walls, bommies, and drift dives, all teeming with vibrant life. For experienced divers, the thrill of exploring Breathtaker leaves a lasting impression, where larger reef fish mix with white tip, black tip, whaler, and gray reef sharks. There are over 50 sites to explore, all within easy reach of Volivoli and offering something new to discover on every dive.
Tim writes, "If you love colorful soft coral reefs supporting thousands of tropical fish, there is no better than the Vatu-I-Ra Passage in the Bligh Water... Diving on the reefs closer to the resort are also really good, but Vatu-I-Ra Passage is the main event of a dive trip here."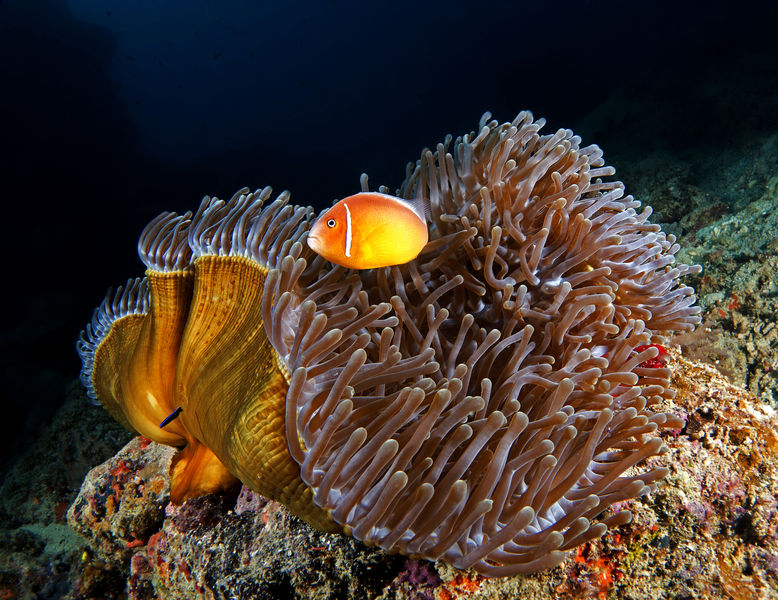 Volivoli's in-house dive center, Ra Divers, is one of the longest established centers in Fiji with 18 years of expertise in and around the Bligh Waters. Their handpicked crew of instructors, divemasters, guides, and boat crew are renowned for their local knowledge, offering a variety of packages and experiences for beginners through to advanced divers.
Their new dive center building offers classroom facilities, plenty of storage, and access to the resort swimming pool for training and courses. Two house reefs are located directly off the beach, and three custom-built boats are ready to transport qualified divers further out to the renowned Bligh Water sites.
FOOD & DRINK
Volivoli Beach Resort boasts two restaurants, both offering fresh Fijian and fusion dishes made from scratch. Locally sourced products including honey, house-made cheeses, salad vegetables, and organic eggs are bursting with flavor and epitomize the 'farm to table' ethos cultivated by the resort's renowned food and beverage team.
Overlooking the Bligh Waters, open-air restaurant Nuku Bar & Grill specializes in Asian inspired dishes and fresh sushi, as well as local delicacies like rakiraki and smoked walu tian (fiddlehead fern with Spanish mackerel). Down on the beachfront, the relaxed Ra Bar has a mouthwatering finger-food menu including favorites such as pizza and hotdogs, and is the perfect setting to sip a cocktail and enjoy the spectacular sunset from a hammock by the water's edge.
Tim was especially impressed by the food selection at Volivoli.
"Mealtime is one of the most exciting times at Volivoli. The menu is extensive so you can try something different every day. Dishes are extremely tasty and well presented. I am not one that usually goes for dessert, but their Volivoli Reef Shark dessert is out of this world."
The resort houses three bars, well-known for their sea views, extensive cocktail list, and generous happy hours!
ACTIVITIES
If relaxing, diving, and eating aren't quite enough to fill your time at Volivoli, the resort benefits from a whole host of leisure activities and experiences to suit every taste. Some of the more energetic pursuits include kayaking and SUPing through hidden coves and local mangroves, beach volleyball, or snorkeling on the house reefs.
There is also plenty of opportunity to discover the delightful Fijian culture, with a weekly traditional Meke dance and kava ceremony held on-site. Guided tours to a nearby Fijian village give visitors the chance to meet some indigenous iTaukei people and sample Fiji's national drink.
And for the ultimate pampering experience, Daulomani Day Spa is the perfect place to unwind and rejuvenate. Guests can indulge in spa treatments and therapies using a local Fijian skincare range, all the while soaking up the relaxing views and soothing sounds of the Pacific Ocean.
Very few places achieve the consistently high standards and excellent level of service found at Volivoli Beach Resort, not to mention superb access to some of the best soft coral diving in the world. Tim summarises the resort with a similar sentiment.
"The combination of excellent diving, good dive boat, excellent food, and nice accommodations makes Volivoli a real treat."
Read more about the Volivoli Beach Resort here.
VISITING FIJI
Fiji's department of tourism has done its homework and Fiji is now one of the easiest places to get to for diving in the Pacific. Flight schedules are good and fares on the national airline, Fiji Airways, are very reasonable.
The year in Fiji is roughly divided into two seasons; 'wet' and 'dry'. The wet season, characterized by heavy brief local showers, generally begins in November and can extend through to April. Daytime temperatures range from an average of 25°C (77°F) during the dry season, up to 31°C (88°F) in the wetter months whilst evenings are marginally cooler and can drop to just 21°C (70°F). Water temperatures are broadly similar throughout the region; the coolest waters are usually to be found in July to October with an average of approximately 26°C (78°F). Warmer waters are common in February- June with averages of approximately 28°C (82°F).
Learn more about visiting Fiji here.
UNDERWATER GALLERY
---