Destination: Fiji
Tavuki, West Coast Rd, Soqulu, Taveuni, Fiji | Full-board + 3 dives from $239++/night

---
Taveuni Dive Resort Quick Pitch
Family owned and operated, Taveuni Dive Resort is a boutique resort with the shortest boat ride to Fiji's famous Rainbow Reef.
Quick Information
No of Rooms: 8
Dive Center: On-site
Amenities: Pool, local activities (waterfall hikes, village visits), WiFi, gift shop, grocery store, Nitrox
WiFi: Yes, free
Nearest International Airport: Nadi International Airport
Airport shuttle: Yes, free
How to Get There
Fiji is serviced with flights from USA, New Zealand, Australia, China, Singapore, Hong Kong, and Korea. Fiji Airways codeshares with Qantas and American, while Air New Zealand codeshares with United. Both fly into Nadi airport with almost daily connections. Once at Nadi you get a domestic flight to Taveuni (Matei airport) – a flight time of approximately 60 minutes. From the Matei airport, it's a pretty 30-minute drive to the resort.
Dive Overview
With its prime location, Taveuni Dive Resort boasts the quickest boat ride to Rainbow Reef and over 20 dives sites. Fiji offers excellent dive diversity
Accommodations
Types of Rooms, Amenities and Photos

---
Taveuni Dive Resort Accommodation Overview
Taveuni Dive Resort's 8 bures are far more comfortable than traditional bures. Each spacious room includes a lounge area that includes a small refrigerator, a lounge/couch that converts to a bed, side table, and chairs that most guests move back and forth between the patio and the interior of the bure. In the middle of the bure is the sleeping area, with a king size bed and benches along the wall to store your gear or baggage. At the rear of the bure are the shower, twin sinks, and water closet. Each bure can comfortably hold two people, with a third person or children sleeping in the lounge area. They can adjust the bedding to accommodate different sleeping arrangements.
Resort Facilities

---
Taveuni Dive Resort Features
Restaurant
Bar
Pool
Private beach area
Tennis court
Grocery deliveries
Water sports facilities
Shared lounge
Taveuni Dive Resort Food & Drinks
Order your meals ala carte from the on-site restaurant and bar, the Salty Fox, a favorite among locals and expats. The restaurant offers a mix of modern, local, Fijian dishes alongside your favorites.
Taveuni Dive Resort Activities
Diving
Snorkeling
Canoeing
Hiking
Children's playground
Games room
Golfing
Tennis court
Package & Rates
The actual rates are based in FJD. The starting price indicated above may vary based on the current exchange rate.

---
Room Rates
All rates in Fijian Dollars (FJD) per night, exclusive of 25% government tax. Government taxes include 9% VAT, 10% STT, and 6% Environmental Levy. Taxes are subject to change without notice. Children under 10 years of age are not allowed.
| | |
| --- | --- |
| Option | Rate |
| Ocean/Garden View Bures Single Occupancy | 400.00 |
| Ocean/Garden View Bures Double Occupancy | 500.00 |
| Ocean/Garden View Bures Extra Person | 100.00 |
Stay & Dive Packages
Rates are per person in Fijian Dollars (FJD), based on double occupancy and exclusive of 25% government tax. Extras for the diving would be Gear Hire or Rental at FJ$40 per day, per person which includes an entire scuba kit: BCD, Regulators, Wetsuit, Mask, Fins, Booties and Dive Computer. NITROX is also available at FJ$30 per tank or dive.
| | |
| --- | --- |
| Option | Rate |
| 7 nights in an Ocean View Bure, meal plan, includes 5 days of 2-tank boat dives (tanks & weights included) | 3329.00 |
| 7-night package for non-diving guest with meal plan and accommodation | 2538.00 |
| 12 nights in an Ocean View Bure, meal plan, includes 10 days of 2-tank boat dives (tanks & weights included) | 5933.00 |
| 12-night package for non-diving guest with meal plan and accommodation | 4350.00 |
Inclusions
Welcome Drink on Arrival
Fijian Sulu
Wi-Fi access at the Salty Fox
Matei airport transfer free with more than 3-night stay (under 3 nights $30 per person)
Snorkel gear hire (mask, fin, snorkel)
Snorkeling from shore
Kayaking
Hiking Trails
Scuba Pool Splash
Can't find the information you need?
Drop us an email at info@bluewaterdivetravel.com or call us at 310-915-6677 and we will gladly help you plan your dream dive vacation!
Dive Information

---
Diving the Rainbow Reef
Fiji's coral reefs are justifiably renowned worldwide and are among the more diverse and intact in the Pacific Ocean. A multitude of species make their home in the rich and diverse waters surrounding the Fiji Islands, including giant clams, sharks, groupers, tuna, barracuda, and colorful soft and hard corals. Fiji has more than 10,000 km2 of pristine coral reefs. Most of these reefs are fringing reefs that border nearby shores, while there are some flat-topped platform and barrier reefs. These reefs have spectacular biodiversity, with 467 species of mollusks, 298 species of hard coral, and around 1,200 species of reef fish. Fiji's conservation traditions, coupled with the fact that oceanfront villages have traditional rights to both coastal waters and adjacent land, have paved the way for integrated conservation efforts addressing both land- and sea-based environmental threats. While these conservation projects are in their infancy, promising progress is being made.
Scuba diving in Taveuni's waters earned its world-class reputation due to the Somosomo Strait. The Somosomo Strait is a narrow channel separating Vanua Levu and Taveuni. At every change in tides, water funnels through the strait, rushing along the reefs, providing nutrients and food to an unparalleled variety of marine life. This back-and-forth flow (incoming from the north, outgoing from the south) creates ideal conditions for lush soft-coral growth, providing dive sites like the Great White Wall, where Dendronephthya (the white soft coral earning the site its name) blankets nearly every inch of reef space.
Conditions like these are relatively rare — it is uncommon for such a large volume of nutrient-laden seawater to be forced through a narrow, shallow passage suited to coral growth.
While only limited research has been performed in the area, scientists (many of whom are avid divers) are increasingly interested in ways to study and measure the unique environment of the Somosomo Straits. Two recent examples included the Great Fiji Butterflyfish Count and the Great Fiji Shark Count. Butterflyfish are an important species for measuring comparative biodiversity because of their wide range across the globe, and their usefulness as an indicator species — butterflyfish populations are only large in areas where the ecosystem is healthy. Of the 116 known species of butterflyfish and bannerfish, at least 27 species of butterflyfish and 6 species of bannerfish are present in Fiji. Counting results observed 100% of the species known in Fiji to be present in Taveuni's waters.
Results from the Great Fiji Shark Count suggest that almost 800 sharks were observed on the last census, averaging 1 shark per dive. A total of 5 species were recorded in Taveuni's waters, including whitetip reef sharks, tawny nurse sharks, leopard/zebra sharks, blacktip reef sharks, and grey reef sharks. Other species, such as scalloped hammerheads have been observed, but not as part of the shark count.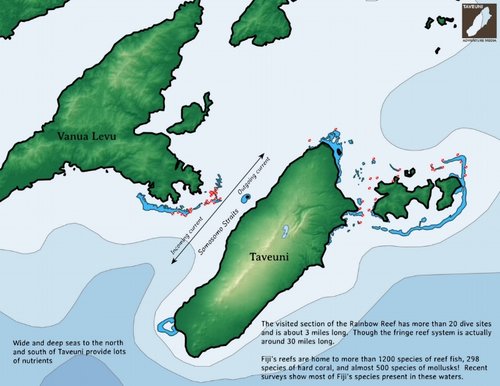 Dive Guide
They divide the dive sites into 3 categories: Wall, sloping reef with pinnacles and sloping reefs. Likely the most popular dive site in the Rainbow Reef is the Great White Wall (a perpendicular wall covered in ice colored soft coral, below 15m/45ft). Due to tidal conditions, we dive the Great White Wall only a few days each month, so check the schedule). Other popular wall dives are the Purple Wall, the Zoo and the Fish Factory.
Dives with sloping reef with pinnacles (bommies) include the famous Annie's Bommies and the Mini White Wall. Well-known slopping reefs are Jerry's Jelly, Sam's Point, Fish Factory, and Rainbows End.
Many of the dive sites make ideal snorkel sites and we often get lucky and have slow, gentle drift snorkeling!
The favorite sites for snorkeling are Nuku Reef, Fish Factory, and Cabbage Patch. Due to the rich flow of nutrients, the amount of reef life you see on every dive or snorkel will amaze you! The most common reef fish that can be seen include butterfly and angelfish, trigger and parrotfish, fusiliers, anthias, wrasses, groupers and of course plenty of clownfish. Remember –– fish families have many different species. We typically see 3 or 4 different species include clownfish. Other interesting sea life includes giant clams, eels, nudibranchs, flatworms, dolphins, octopus, turtles, sharks, and rays.
Dive Center Information

---
Taveuni Dive Resort Dive Center Overview
Carl and Muriel Fox and acquired Taveuni Dive in 2002 with the mission to provide the safest, most reliable access to the incredible locations around Taveuni, Fiji. They hire experienced, local divemasters to assure you enjoy the wonders of the Rainbow Reef. They provide well-maintained, up to date equipment, and instruct PADI courses with their talented instructors.
Your safety is paramount. Carl has 40 years of experience in the dive industry and has been a PADI professional for more than 30 years. Feel free to bring your own gear, but if you are traveling light or just starting out, they offer a full range of the latest well-maintained rental equipment.
They are a Gold Palm 5-star IDC facility, offering a full range of courses — whether you want Discover Scuba or to become a Dive Instructor — they'll teach you; a great way to be trained is through PADI e-learning.
The dive boats consist of modern, custom-built Leeda aluminum self-bailers thoughtfully designed for ruggedness, and stability.
| | |
| --- | --- |
| Description | Rate |
| Single Tank dive | FJD 176 |
| 2-Tank Dive Package | FJD 240 |
| 6 Tank Dive Package | FJD 684 |
| 10-Tank Dive Package | FJD 1080 |
| Private Boat Hire (excludes diving) | FJD 600 |
| Nitrox Tank | FJD 24 |
| Full Kit Gear Hire | FJD 32 |
| Individual Item Gear Hire | FJD 16 |
| Snorkeling Trip with Divers (2-4 people) | FJD 100 |
| Snorkeling (5+ people) | FJD 80 |
Other Information

---
Practical Information
Electricity: 240 V
Time zone: UTC+12
Languages: Fijian, Chinese, Hindi & English
Accept Credit Cards?: Yes, Visa, MasterCard, & American Express
Underwater Gallery

---