By bettyr | Date: 05 Jun' 2019
Swimming with whales is an amazing and unforgettable experience. It's a profound opportunity to be able to get up close with creatures that are so grand, so majestic, so much bigger than yourself.
Here, the Bluewater staff and travel advisors have rounded up some of the world's best places to swim with whales, especially humpback whales. Swimming or snorkeling with whales is all about being in the right place at the right time and this article will tell you exactly how to do that!
1. Mo'orea, French Polynesia
French Polynesia declared itself a Marine Mammal Sanctuary in 2002[1], making it a safe haven for humpback whales and many other big marine mammals, including sperm whales, northern bottlenose whales, and various types of dolphins.
Swimming with whales in Mo'orea is a truly unique and bucket-list worthy experience, due to how easy (and amazing) the experience is. Picture yourself being picked up from your beachfront hotel and a 10-minute boat-ride later you are in the water, swimming with humpback whales! Combine that with its warm crystal clear waters, tropical white sand beaches, and the year-round hot and humid weather, and you've got yourself a dream vacation spot.
Read about our trip report from Moorea here...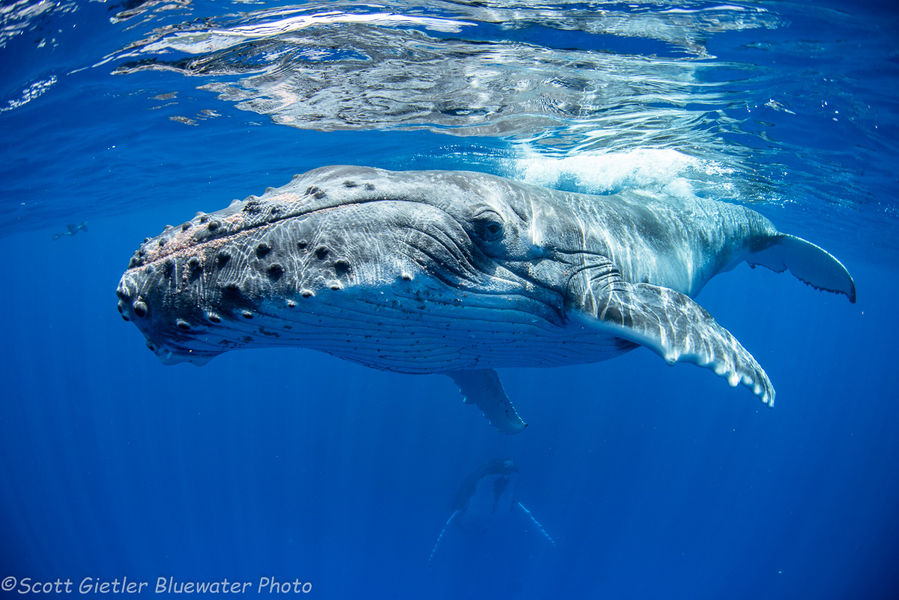 A myriad of humpback whales migrates to the warm seas of Mo'orea, French Polynesia, from July to November. They are usually spotted on the outer reefs of the island, searching for mates or nursing their young.
There are many open boat whale tours to choose from. However, note that many of the day boat tours may take up to 20 people on one boat and go back after their first encounter.
Photographers would find it more comfortable to opt for a private whale tour with smaller group size. Make sure that you carefully choose an operator that goes out to the sea as often as possible and doesn't cut whale encounters short!
And if you're looking for more adventures, French Polynesia is also one of the best locations for shark diving.
Check out this awesome video!
How to Get to Moorea
The best way to get to Mo'orea is actually from the U.S., even if you're coming from Europe. Fly from Los Angeles to Tahiti (PPT). Once in Tahiti, you can opt for a small plane to Mo'orea, which only takes 15 minutes, or drive down to Papeete and take the ferry from there, which can take between half an hour to an hour. The ferry rides are less costly and actually more comfortable, and you can spot whales while on the top deck of the ferry.
You might also be interested in checking out French Polynesia dive resorts.
Water temperature
During the humpback season in July/August to October/November, the water temperature in Mo'orea hovers at 83-85°F (27-29°C). For most people, a 3mm wetsuit, or even a shortie, would do the trick. The overall weather stays warm and nice all year at a comfortable 70-82°F (21-27°C).
Want to swim with whales in Mo'orea? Join our Mo'orea Whale Trips in Aug-Sept 2024. Max. 6 people in one group, with 5 full days on the water to look for the whales!
2. Tonga
The Kingdom of Tonga is a Polynesian country with 169 islands, many of which are uninhabited. The waters that surround the islands of Tonga are well-known birthing and mating grounds for humpback whales.
Swimming with whales in Tonga is such a unique experience due to the fact that the humpback whales that come here are from a specific population. This population of humpbacks is guaranteed to come annually and stay for months on end. Furthermore, Tonga is an idyllic vacation spot lined with beaches, deeply rich in culture and kept far, far away from the heavy commercialism of the rest of the world.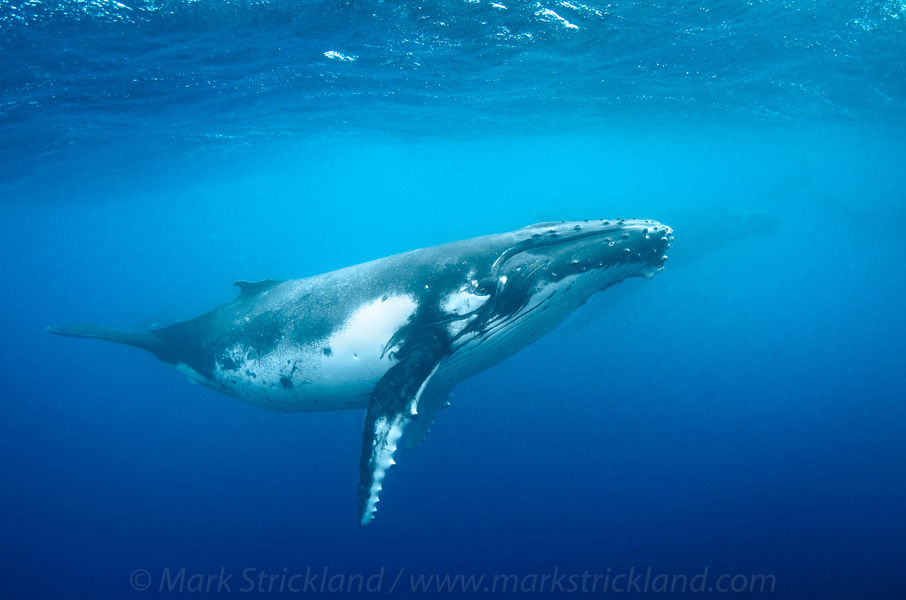 Every June, a multitude of humpbacks travel to the reefs of this Polynesian archipelago, most especially those in the islands of Vava'u, located north of Tonga. Visitors enjoy the clear, pristine waters that make it convenient to take spectacular photos of humpback whales.
The best time to go snorkeling with whales in Tonga is between July and November. Much like in Mo'orea, there are many land-based tour operators, offering whale watching and snorkeling opportunities. Most of the tour operators are based in Vava'u, but you'll be able options on Tongatapu, the main island where the Nuku'alofa, the capital city of Tonga, is located.
The Nai'a is the only liveaboard that sails in the area. They offering whale expeditions in Tonga from July to August/early September every year. These liveaboard trips get booked up years in advance--if you'd like to be on one of them you might have to be put on a waitlist!
Never been on a liveaboard? Check out our article on Liveaboard Diving.
How to Get To Tonga
If you are flying from the U.S. there are plenty of flights from major U.S. cities to Fua'amotu International Airport (TBU) in Nuku'alofa, the capital of Tonga. Tonga is served by a limited number of air companies, including Air New Zealand, Fiji Airways, Virgin Australia and Talofa Airways.
Real Tonga operates domestic flights within Tonga, including from Nuku'alofa to Vava'u where many land-based whale tours start. You can also opt for a ferry trip instead.
Water Temperature
During the whale season in Tonga (July to November) the water stays at a lovely 75-80°F (24-27 °C) and, like in Mo'orea, you won't need anything heavier than a 3mm wetsuit.
3. Silver Bank, Dominican Republic
The Atlantic waters of the Dominican Republic, especially the Silver Bank and Navidad Bank, are believed to have the largest concentration of the North Atlantic humpback whale population compared to any other places in the world. This finding was published in a status review released by The National Oceanic and Atmospheric Administration (NOAA) in 2015[2].
Also known as the "Sanctuary for the Marine Mammals of the Dominican Republic[3]," it's no surprise that the Silver Bank is one of the best places to snorkel with whales. This area provides safety and protection to the humpback whales, most especially the female humpback whales and their calves. In the winter months, from January to April, many humpbacks can be spotted here, mating, calving, and nurturing their young.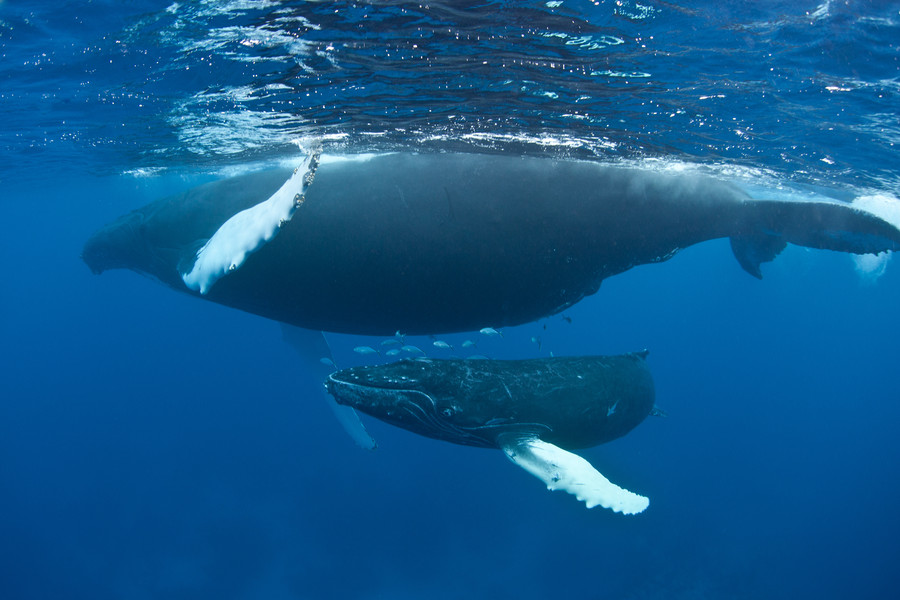 The Turks & Caicos Aggressor II is one of the few liveaboards that is allowed to bring visitors in to swim with the humpback population in the Silver Bank.
Joining on a liveaboard trip is a great way to have an amazing experience with the humpback whales, both above and below the water. Above, you are a spectator, watching the show the male humpback put on for the females, in the hopes of attracting a mate. Below, you'll have a more personal experience, observing mothers with their calves, noticing the protective tendencies of their escorts, or even just marveling at the whales in slumber.
Trips to this part of the world are usually booked years in advance, so book your whale trip to the Silver Banks early!
How to Get to the Silver Bank
There are flights from the U.S. to the Dominican Republic from New York, Newark and Miami to Santo Domingo, Puerto Plata (POP) and Santiago, and there are also flights to Punta Cana (PUJ) from London and Paris if you're coming from Europe. Silver Bank is around 80 miles north of Puerto Plata where liveaboard trips usually depart from.
Water Temperature
The water temperatures in the Silver Bank average around 78°F (25°C) from January to April. A full 3 to 5mm wetsuit is recommended.
Silver Banks is one of the best diving destinations in the Caribbean. Check out the full list here.
Other Great places to swim with whales
There are many other great scuba diving destinations where whales are commonly spotted. Head to the Sea of Cortez in Mexico for some of the best 'big animal' diving experience, where you can see sea lions, whale sharks and, if you're lucky, sperm whales on the same trip. Blue whales, fin whales, and sperm whales are also often seen in Baja, and the whole family can experience unforgettable personal interaction with Pacific gray whales in San Ignacio Lagoon.
Humpback whale sightings are also reported in the Socorro Islands between November to April, and can be spotted if you are diving Hawaii between November and March. Sri Lanka is world-famous for blue whale encounters, and if the killer whale is what you're after, book an Orca Expedition in Norway where up-close encounters with one of the smartest and most powerful mammals on earth are almost guaranteed! We have also been able to jump in the water with orcas on rare occasions during our Galapagos photo & video trips.
And in the winter months of June and July, large numbers of migratory dwarf minke whales gather on the east coast of Australia and can be spotted by lucky divers scuba diving the Great Barrier Reef and Coral Sea.
Have you been to any of these places? Is there another place that you think should be on this list? Let us know your thoughts!
FURTHER READING
Check out these useful resources from our sister websites, Bluewater Photo, and Underwater Photography Guide
A Family Humpback Adventure in Mo'orea
Wet Wide Angle Lens Buyer's Guide
Best Underwater Cameras (2023)
Frequently asked questions about swimming with whales:
Is it safe to swim with humpback whales?
Although huge by size, humpback whales are one of the most gentle animals in the world. It is safe to swim with whales, but do listen to the instructions of your guide. Be respectful to the whales by keeping your distance and not touching them. Humpback whales themselves avoid anything or anybody on their path, and they are very aware of their surroundings. Only be mindful of their tail, as they cannot see who is behind them.
Can you hear whales singing underwater?
Hearing whale songs is a magical experience, and it is possible to hear it crystal clear while you are underwater. You can even hear a whale song from miles away. So listen closely on your next trip!

Is it better to scuba dive or swim with humpback whales?
Whale excursions are organized as snorkel trips, and scuba diving is even prohibited in many whale destinations. Swimming is also the best way to see whales up close. Though, it is not impossible to spot whales while scuba diving. Unexpectedly, two humpback whales passed by a group of divers during our Socorro trip!