By JennyH | Date: 25 Aug' 2023
Make memories to cherish for a lifetime with a scuba vacation at a family-friendly dive destination. Whether everyone in your family dives or some prefer snorkeling or land-based activities, the experts at Bluewater Travel have rounded up our picks of the top family-friendly dive destinations around the world. Read on for some family travel planning tips, or pick from the list to jump straight to the destination highlights:
Planning Your Family Dive Vacation
Planning a family dive holiday requires additional considerations to ensure everyone enjoys the vacation to the fullest. Spend time discussing what your family wants out of the holiday and consider everyone's preferences and expectations. If the whole family shares the same interests and priorities, it will be easier to narrow down the best dive destination. However, families with mixed interests will have additional considerations. Either way, when it comes to diving together as a family on holiday, it's important to think about the environment you'll dive in, what equipment is available, and what activities and accommodations are offered:
Water Temperature: Choose a destination with warmer water to maximize bottom time; kids tend to get cold faster than adults. Remember to provide thermal protection for children to keep them comfortable even in warmer waters, and prepare approproate layers for time at the surface. Once chilled, it becomes difficult to warm up so it's best to don and doff layers as the temperature changes.
Equipment: Select a dive operator prepared to meet your children's rental equipment needs, such as child-sized wetsuits, BCDs, masks, and fins. Depending on the type of entry required, it may be worthwhile to request smaller tanks. You may even want to pack a small regulator mouthpiece to take with you for extra comfort if your child struggles with adult-sized regulators and mouthpieces.
Topside Activities: Enjoy your surface intervals with family-friendly fun. Resorts with onsite or nearby facilities, activities, and programs for children will ensure a memorable vacation for the whole family. If you have non-diving family members, this is even more important to ensure an entertaining holiday for everyone.
Accommodation Options: Keep the family close at a resort with suites or family-friendly rooms. Your family's needs will determine whether to add a bed, select a bigger room, or book a multi-room unit to accommodate larger families or multiple families traveling together. If you have fussy eaters in your family, make sure the resort serves meals suitable for your needs or check that there are other options nearby.
Not sure where to start? Benefit from the expertise of Bluewater's team by discussing your needs with one of our travel advisors. We can help you plan the entire trip; all you need to do is look forward to it!
Contact our dive travel experts to start planning your family dive holiday today!
---
Top 6 Family-Friendly Dive Destinations
Where is the best place to scuba dive as a family? With so many choices available, the experts at Bluewater Travel have selected the best family-friendly dive destinations based on our experience. Our founder, Scott Geitler, has traveled extensively with his family (including two young children) and discovered first-hand how memorable family dive holidays are. Add these destinations to your must-visit list and embark on once-in-a-lifetime experiences as a family!
1. Philippines
Experience comfortable family scuba diving in the warm tropical waters surrounding the Philippines, where you'll encounter diverse marine life. What makes the Philippines a top family-friendly destination is the people as much as the diving. Filipinos are welcoming and friendly, plus most dive resorts in the Philippines offer babysitting/nanny services at a reasonable cost.
The exceptional hospitality, combined with some of the best macro and reef diving in the world, keeps Scott and his family coming back to the Philippines time and again. With plenty of regions boasting different types of diving and activities, ask our travel advisors which area and dive resort would be best for your family.
2. Fiji
Explore the colorful underwater landscapes of one of the top diving destinations in the world. Fiji is one of Bluewater founder Scott Geitler's favorite family-friendly dive destinations due to its warm water, excellent diving, and family-friendly resorts. With a variety of diving regions, Fiji is a destination that grows with your family. Visit the tranquil and beginner-friendly Savusavu with young or inexperienced divers and head to more exciting dive regions such as Taveuni's famous Rainbow Reef.
Strikingly picturesque topside scenery makes Fiji the perfect destination for those wishing to sightsee or just relax in nature. Fiji also boasts a variety of topside activities to keep the whole family entertained, from thrill-seeking adventures, like caves and ziplines, to cultural experiences, such as temples and villages.
Learn more about scuba diving in Fiji here.
3. Bonaire
Enjoy the ultimate flexibility of shore diving in Bonaire – the perfect destination to explore on your family's schedule. If your family are comfortable diving without a guide, choose one of Bonaire's famous "drive and dive" packages. You can simply load up your rental vehicle with scuba cylinders and equipment and visit the island's best dive sites independently of a dive operator or guide. Relax knowing you won't have to rush to meet a boat departure or get the kids up early when they prefer to sleep in. Pick your own dive sites, plan your own bottom times, and spend as much time as you want looking at that nudibranch! A family holiday in Bonaire enables you to dive when you want and fit in some of Bonaire's other great activities!
Read to learn why our guests keep returning to Bonaire with their families here.
4. Bali, Indonesia
Discover why Bali is a longtime favorite holiday and diving destination for families. Explore the striking topside scenery and marvel at the biodiversity in the surrounding waters. Balinese people are welcoming and fond of children, with childcare services widely available. Accommodation options range from family-run homestays to international chain resorts, and restaurants cater to a myriad of dietary needs and preferences throughout the island. Diving around Bali is varied with a mix of macro, reef, and wreck sites suitable for novices to advanced technical divers.
Bluewater Pro Tip: Escape the crowds in the south and spend your family vacation along Bali's northern shores, from Amed in the east to Pemuteran in the West. Warm waters and consistent conditions make this region well-suited to children, with everything from muck diving to wall diving to please every diver.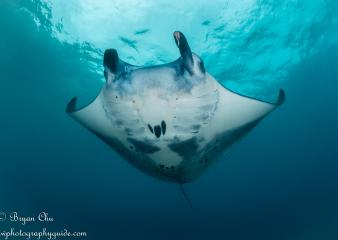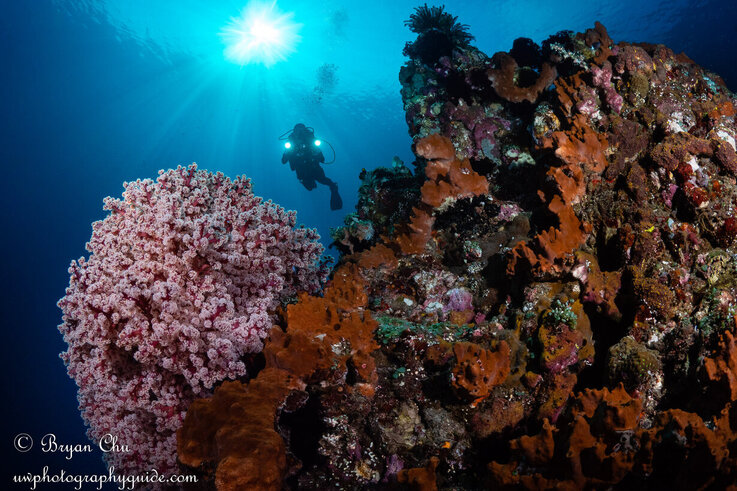 Read our complete guide to scuba diving in Bali here.
Interested in a family-friendly liveaboard in Indonesia? Check out the Anne Bonny, a small vessel with cabins designed to sleep families.
5. San Ignacio Lagoon, Mexico [Non-Diving]
Experience the ultimate interactive whale experience for the whole family in San Ignacio Lagoon, Mexico. Witness the massive Pacific Gray Whales congregate in the lagoon with their calves and feel a personal connection to the majestic creatures as they approach the boats for a close-up interaction. Feel the adventure begin as you board a small chartered plane to get to your remote glamping-style accommodation, where you spend the days getting to know the curious whales and spend evenings enthralled by the spectacular night sky.
San Ignacio Lagoon is mostly about the whales, but there are other activities to enjoy onsite. Hike through the desert, kayak or paddle in the lagoon, or even just enjoy your luxurious tent. In the evenings, presentations by onsite naturalists offer insights into the local flora and fauna. Families looking to get some in-water time during their holiday can easily combine a trip to San Ignacio Lagoon with snorkeling and scuba diving experiences in the Baja Peninsula, including more whale (and whale shark) encounters, sea lions, manta rays, and some bucket-list liveaboards for experienced divers.
Note: This is a non-diving trip, with all whale interactions occurring from the boat. Strict regulations are in place for the safety of both the whales and the human observers.
Learn more about this incredible bucket-list trip here.
6. Hawaii, USA
Escape to one of the most famous beach destinations for Americans: Hawaii. US Citizens enjoy plenty of direct flights, no passport or visa requirements, and no customs hassles. Each of the Hawaiian Islands is unique, with different activities and levels of development, and each island is made up of distinguished areas, so you'll want to choose an area in proximity to the types of activities you prefer. Many visitors to Hawaii choose a vacation rental, which offer bedroom and bathroom configurations to suit different group sizes and are perfect for longer stays.
Dive operators in Hawaii are typically ready to serve families, so children's equipment sizes are often available. Many operators offer dive trips in both the mornings and afternoons, enabling you to fit diving into your family's schedule. Hawaii boasts a variety of activities, including watersports, historical sights, nature tours, and culinary delights to keep your family entertained throughout the holiday.
Maui Wildfires: Learn what you can do to help support the Lahaina dive community here.
Other Great Family Friendly Dive Destinations
Our list of top picks isn't exhaustive, so there are other great destinations you can visit and dive into as a family. Adventurous families with advanced dive experience might embark on a liveaboard in a remote area such as Raja Ampat, Indonesia. Other families will prefer the convenience of an all-inclusive resort with a diving package.
---
DIVE INSURANCE
Protect your family vacation by purchasing a comprehensive travel insurance policy. With common travel risks such as lost baggage, flight disruptions, or even a change in personal circumstances, travel insurance is essential and should be part of the budget for every trip.
Read our articles about travel insurance and dive insurance or learn about our preferred insurance provider, Arch RoamRight.
---
RESOURCES
DAN experts discuss the topic of children and diving here.
DAN medical experts answer questions about children and diving here.
Capture lasting memories of your family dive vacation with the latest underwater camera gear and accessories from the Bluewater Photo Store here.