By JennyH | Date: 05 Jul' 2023
Top 10 Dive Sites in bonaire
A small island nation in the Caribbean, Bonaire is best known for being the "shore diving capital of the world". With excellent scuba diving infrastructure at its well-marked shore diving sites along its coastline, Bonaire has long been a must-visit dive destination.
With over sixty dive sites accessible from shore and an expansive coral reef system, there are plenty of options for divers of all experience levels and interests. What are the best dive sites in Bonaire? The experts at Bluewater Travel, with help from some of our valued clients, have put together a list of Bonaire's top ten dive sites along with some hot tips for making the most of your dive holiday in Bonaire!
Note: In 2023, Bonaire is affected by a coral disease; read more here.
Why Bluewater Clients Love Bonaire
Terry Sherman's family has been diving Bonaire since 2008, with three generations of family enjoying Bonaire's excellent shore diving year after year. What keeps the Shermans coming back to Bonaire? "We love the personal freedom of shore diving, setting our own schedule, and choosing dives based on conditions and our desire for what we think we might see! The other thing we love about Bonaire is relative health of the reefs compared to many other Caribbean destinations, and all the topside activities."
David Duncan's family recently visited Bonaire for the fourth time, and it likely won't be the last. He has remarked on how exciting it is to see the local teens being trained as Divemasters to rebuild the industry following COVID. The Duncans have made many great memories on Bonaire, but David's most memorable experience was "helping Kayla [his daughter] gear up and enter Angel City for her first open water dive. She was 10 years and 2 months old and had just been certified. I believe she may have been the youngest certified diver to ever dive Bonaire at the time and she completed 20 beach dives in 10 days."
For our full guide to Bonaire scuba diving, click here.


bonaire's best dive sites - top 10 list
Here are our top ten dive sites in Bonaire, all of which are open at the time of writing. Pick one or scroll down to read the entire list:
1. 1000 Steps
2. Hilma Hooker
3. Salt Pier
4. Angel City
6. Bari Reef
7. The Lake
10. Red Slave
See also: Best Diving in the Caribbean and Caribbean Liveaboards.
1. 1000 steps
Descend the challenging staircase-like entry to be rewarded with a stunning dive site adorned with coral formations and sea fans. Encounter hawksbill turtles, barracudas, moray eels, and maybe even a whale shark if you're really lucky. After the dive, you'll discover the reason for the name of the dive site: the walk back to the road feels like it must be a thousand steps!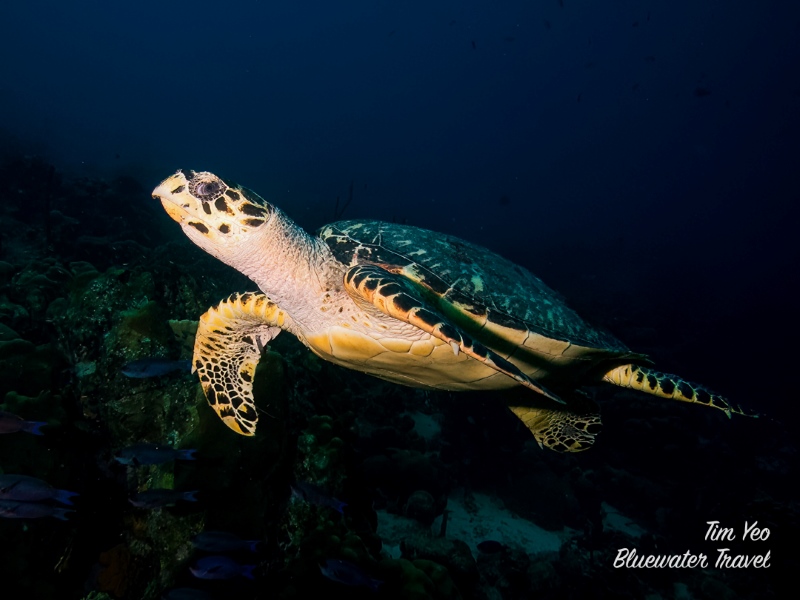 Turtle in Bonaire, photo by Tim Yeo
For more places with excellent shore diving, check out our Best Shore Diving in the World article here.
2. hilma hooker
Explore Bonaire's most famous wreck dive! Now a thriving artificial reef, Hilma Hooker has a colorful history: she was seized for illegal smuggling activities and went unclaimed until she was in such disrepair she sank. Seize the opportunity to explore this fascinating wreck lying between 60-100 feet (18-30 meters) and encounter a variety of marine life including angelfish, barracuda, parrotfish, and shrimps.
Interested in wreck diving? Read about the Best Shipwrecks to Scuba Dive here.
3. salt pier
Spend an extended bottom time exploring the Salt Pier, a shallow Bonaire dive site well-suited for divers of all experience levels. The calm conditions and resident turtles make the dive site perfect for newer divers and snorkelers. Expect to see a variety of reef fish and possible encounters with eagle rays, reef squid, octopus, and more.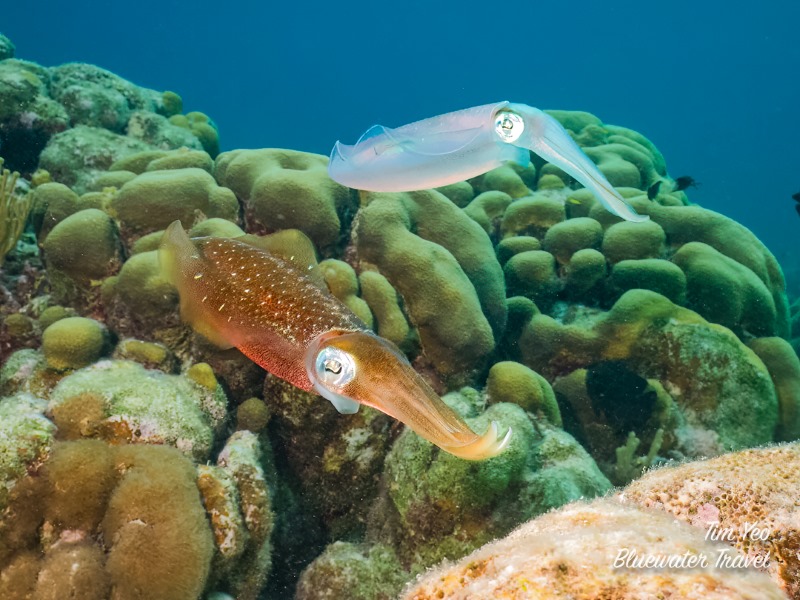 Squid in Bonaire, photo by Tim Yeo
"I love the Salt Pier because it is a shallow site with the guarantee of seeing numerous turtles, often octopus, and it is a photographer's dream with an abundance of fish." –Terry Sherman, Bluewater Travel client
4. angel city
Dive into Angel City, one of Bonaire's best dive sites featuring a double reef. Appropriate for all levels of divers (and snorkelers), Angel City is home to a variety of corals, sponges, and reef fish. Look for rays around the sandy bottom separating the two reefs.
"My favorite Bonaire dive site is Angel City for its double reef system and channel." – David Duncan, Bluewater Travel client
Interested in diving the best coral reefs? Check out our list of the Top 5 Coral Reefs in the World here.
5. something special
Encounter a variety of underwater wonders at a unique Bonaire dive site, Something Special. Known for its healthy coral formations, seahorses, frogfish, and fascinating cleaning stations, all divers will enjoy a dive or two here. Something Special is true to its name and is a must-visit when scuba diving Bonaire.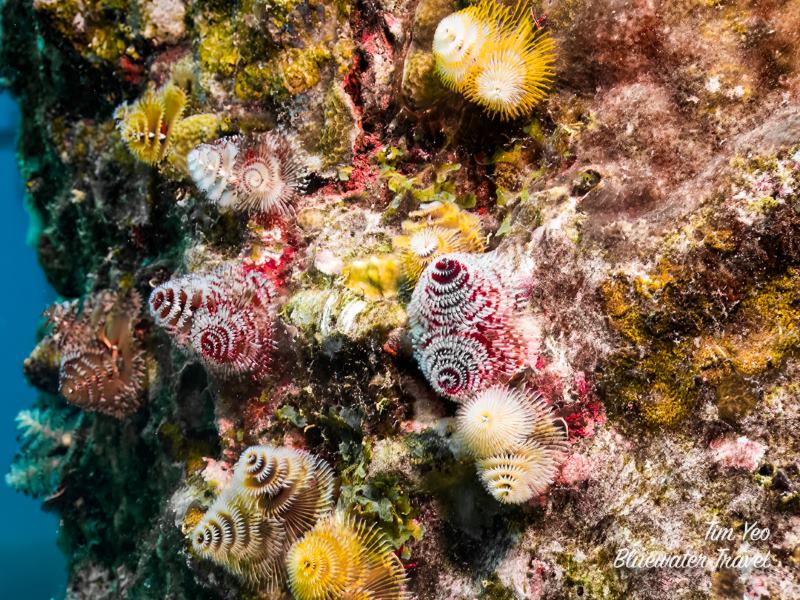 Christmas tree worms, photo by Tim Yeo
"My most memorable experience diving Bonaire was finding a frogfish at Something Special, which had not yet been discovered by the local guides. I went back two more times on that trip, and he was still there." – Terry Sherman
6. bari reef
Enter the water via the dive-built steps from the pier to explore this easy shore dive site in Bonaire. Known as one of the best Caribbean dive sites for marine diversity, Bari Reef is suitable for all divers and snorkelers. Count the number of different fish species you can spot in a single dive at this reef!
Looking for another Caribbean destination? Read about the Top 10 Cozumel Dive Sites here.
7. the lake
Explore the start of the double reef at The Lake, located next to Hilma Hooker. One of the shallower of Bonaire's best dive sites, The Lake is a great option for both new divers and those with more experience. Plan a conservative profile and, if the conditions and current are right, continue to dive part of the Hilma Hooker on the same dive!
"I like this dive site because there is a tiny sandy beach, an easy entry/exit, and you see all the favorites here, including giant green moray eels, garden eels, and conchs slowly crawling along the sandy bottom." – Terry Sherman
8. klein bonaire
Explore the small island of Klein Bonaire's stunning topside scenery and underwater landscapes. Some of Bonaire's best scuba diving is done at the less-visited sites at Klein Bonaire. Expect good visibility and dive sites adorned with soft corals, sea fans, healthy reefs, and a variety of fish.
Learn about Klein Bonaire here.
9. Alice in wonderland
Witness the spectacularly colorful coral formations at this underwater wonderland. A shallow reef slopes down to a sandy bottom and the consistent conditions make it an excellent spot for underwater photographers. Encounters with a range of fish species from flounder to scorpionfish, moray eels, and healthy corals await.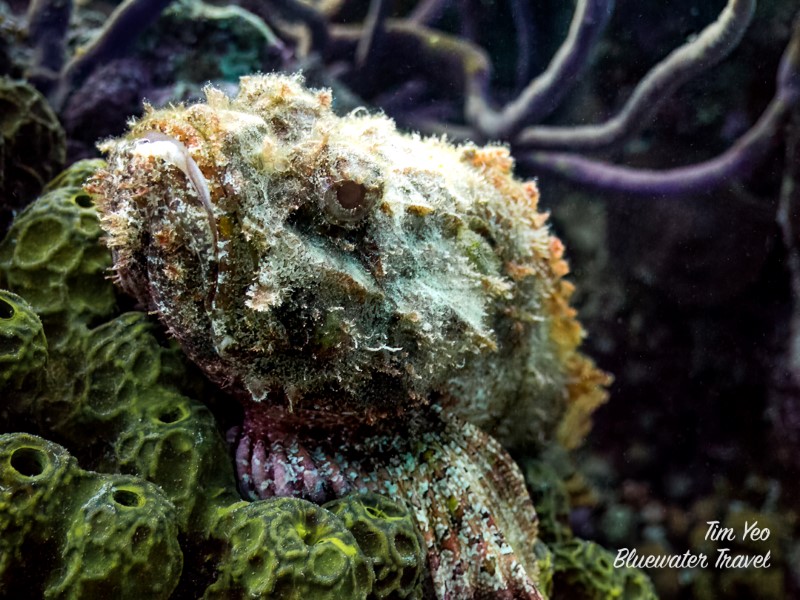 Scorpionfish in Bonaire, photo by Tim Yeo
Looking for more inspiration? Read our guide to the Best Scuba Diving in the World here.
10. red slave
Look for the iconic orange slave huts that mark this challenging Bonaire dive site. Suitable for advanced divers, the exceptionally strong currents can be difficult even for strong swimmers, so only dive Red Slave if the conditions are favorable and you are qualified and comfortable diving in challenging conditions.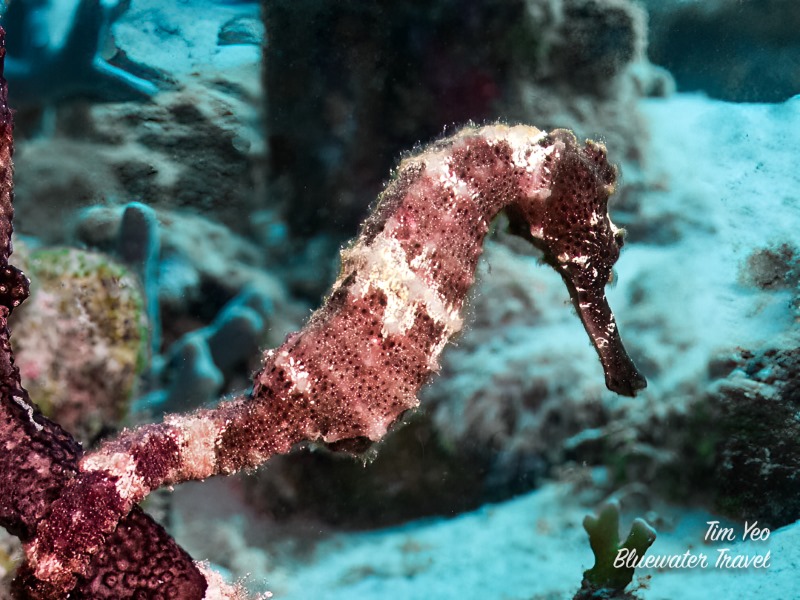 Seahorse in Bonaire, photo by Tim Yeo
"You might be rewarded by eagle rays, multiple turtles, seahorses, and I actually saw two manta rays here once. The strong current attracts bigger animals, and the big sandy patch before the reef makes for frequent ray sightings." – Terry Sherman
Learn about Bonaire's best dive resorts here!
Bonaire Dive Travel - Bluewater's Hot Tips
Arrive for your Bonaire dive holiday with some key inside knowledge from our travel experts and clients. Read on for Bluewater's practical tips and tricks for making your dive trip to Bonaire as hassle-free and memorable as possible.
- Use boots and open-heel fins and leave your full-foot fins at home when diving in Bonaire. You'll need to walk out over rocks at some of the shore diving sites, such as Hilma Hooker. Sturdy boots are a must!
- Request an automatic vehicle when making your rental car reservation if you are not comfortable driving stick/manual. Manual vehicles are the default option in Bonaire.
- Leave valuables at home when you go shore diving. Theft from vehicles has long been a problem on Bonaire, so it's best to make it apparent that there is nothing to steal. Some divers leave their vehicle's doors unlocked and windows down during their dives, however, it's important to check your car rental company's terms and conditions.
- Bring a lockbox with you to lock your car keys in while you're diving or bring a waterproof key pouch to take with you on your dive.
- Get nitrox certified! If you're not already certified, Bonaire is the perfect place to get Nitrox certified at one of the many reputable shops so you can make the most of your bottom time.
- Bring some double-ender clips. Use the double-enders to securely fasten your fins, camera, and mask to your BCD so you can keep your hands free during the shore entries and exits. Not only does this aid your stability, but it also prevents you from losing equipment to the surf!
- Enjoy the other things about beautiful Bonaire: visit the donkey sanctuary, go birdwatching, or kayak through the mangroves. Read the local paper to learn what events are happening and engage with the friendly local community.
- Know how many dives you are paying for on boat dives, and if you're not sure, ask. They may throw in a second tank without telling you it's at full price in addition to your first dive.
- Hone your navigation skills. Navigation is a must for all but the easiest shore dive sites, so make sure you're up for the challenge.
- Conserve your air during long surface swims to and from the site markers by breathing through a snorkel. You will want full tanks for your bottom times.
- Improve your underwater photography skills. Bonaire's easy, shallow dive sites are the perfect location for practicing photography and there are plenty of worthy subjects to capture.
- Dive Bonaire soon! It's building up with condos, cruise ships, tourism, vehicles, and congestion.
---
A NOTE ABOUT STONY CORAL TISSUE LOSS DISEASE IN BONAIRE
Bonaire has sadly been affected by Stony Coral Tissue Loss Disease (SCTLD), prompting local authorities to enforce dive site closures to prevent the spread of the disease to healthy reefs. As of June 15, 2023, the closure applies to all dive sites north of Karpata to Malmok, including Washington Slagbaii National Park, while Klein Bonaire accepts divers during restricted hours.
Every visitor to Bonaire and other areas in the Caribbean experiencing SCTLD are responsible for protecting the world's coral reef systems by disinfecting gear before and after every dive, avoiding contact with the reef, and following all local guidelines and restrictions.
Learn more about SCTLD and the situation in Bonaire on the STINAPA Bonaire website, including maps, detailed restrictions, and guidelines for preventing the spread of SCTLD.
---
Need to buy or rent underwater photography gear for your trip to Bonaire? Visit Bluewater Photo for the latest deals!
Dreaming of diving some of these dive sites? Keen to book the best dive vacation possible? Contact us at info@bluewaterdivetravel.com and we'll help you plan your dream vacation!