By JennyH | Date: 30 May' 2023
Top 10 Dive Sites in cozumel
An island in Mexico's Caribbean, Cozumel is a well-known diving destination renowned for its excellent visibility, beautiful coral reefs, and diverse marine life. With a wide range of dive-centric accommodation options, great nightlife, and an international airport, it's easy to see why Cozumel is so popular for dive holidays.
Getting to Cozumel is easy, but where to dive in Cozumel? The experts at Bluewater Travel have dived Cozumel and its surrounding areas and have put together a list of Cozumel's top ten dive sites along with our hot tips to take your Cozumel dive trip to the next level!
Here are our top ten dive sites in Cozumel. Pick one or scroll down to read the entire list:
2. Punta Sur
6. Yucab Reef
9. C-53 Wreck
10. Paseo de Cedral
See also: World's Best Diving Spots & Top Dive Destinations in the world.
1. columbia deep
One of Cozumel's best dive sites, Columbia Deep is located on the southwest coast of the island. This wall dive is known for its stunning pinnacles and coral formations, as well as unique topography including caverns and tunnels. Marine life encounters at Columbia Deep may include nurse sharks, eagle rays, turtles, and a wide array of reef fish. Strong currents can be present, so this Cozumel dive site should be on experienced divers' itineraries.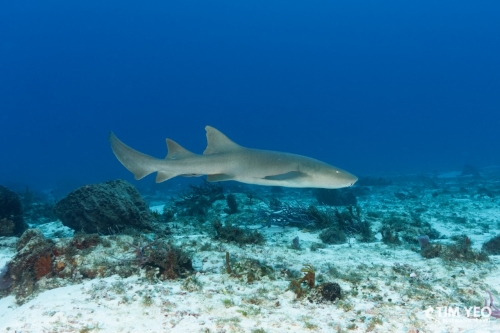 For more places to dive with sharks, check out our Best Shark Diving in the World article here.
2. punta sur
Located near Columbia Deep at the southern tip of Cozumel, Punta Sur offers challenging drift dives for advanced divers. Explore unique topography and exciting swim-throughs while keeping an eye out for turtles and rays among the lively coral reefs. Currents may be strong and unpredictable, so only experienced divers comfortable in challenging conditions should dive Punta Sur. Some of the tunnels are long and narrow, so be sure to bring a dive light or avoid the tunnels if you're claustrophobic.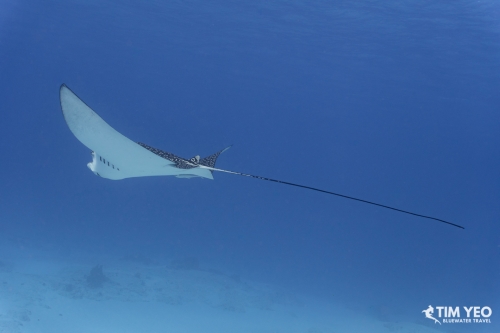 Interested in cave and cavern diving? Read about the Best Cave Diving Destinations here.
3. palancar reefs
This series of reefs on the southern coast make up several unique dive sites including Palancar Gardens, Palancar Caves, Palancar Horseshoe, and Palancar Bricks. All three sites are suitable for all experience levels, from first-time divers to those with many logged dives. The varied topography at Palancar Reefs includes walls, slopes, and swim-throughs, and is the perfect area for novice divers to explore and improve their dive skills. Watch for a variety of corals, fans, sponges, reef fish, rays, and turtles.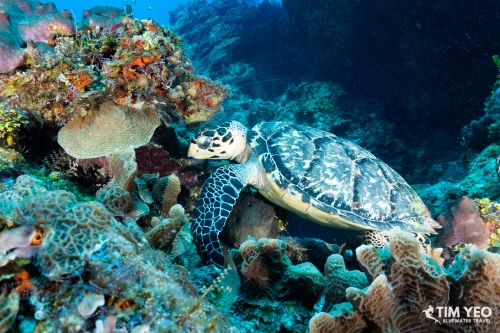 4. Chankanaab Reef
A popular night dive site, Chankanaab Reef can be dived from shore and its calm, predictable conditions make it suitable for all experience levels. This shallow dive site is home to stingrays, snappers, moray eels, lionfish, and a variety of crustaceans that are most dazzling to see when they are active at night. Chankanaab Reef is also suitable for daytime dives and is popular amongst first-time divers and snorkelers.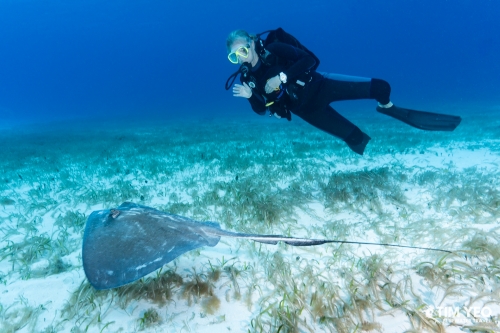 Interested in more night dives? Check out our list of the Top 10 Night Dives in the World here.
5. SANTA ROSA WALL
Widely considered one of Cozumel's best dive sites, Santa Rosa Wall offers impressive wall dives with breathtaking drop-offs, swim-throughs, and colorful coral formations. The site is known for its diverse marine life, including large schools of fish, sea fans, and sponges. With unpredictable currents, this site is best suited to intermediate or experienced divers.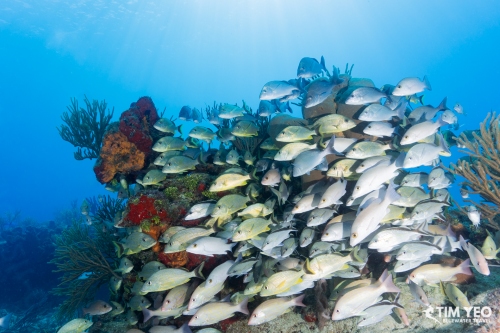 Looking for more impressive wall dives? Read about photographing Menjangan Island, Bali here.
6. yucab reef
Another shallow site appropriate for all diver experience levels, Yucab Reef is located on the northwest coast of Cozumel. The site has a mixed topography of sandy bottom, coral reef, and overhangs. Great visibility enables divers to spot sting rays, octopus, scorpionfish, and a variety of reef fish among the colorful coral formations.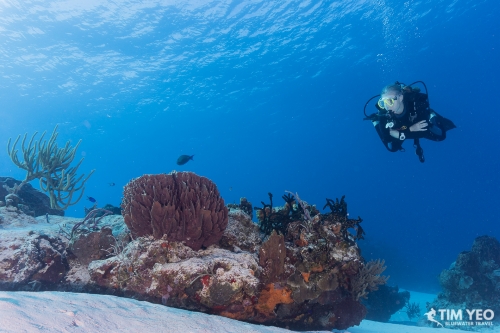 7. barracuda reef
One of Cozumel's best dive sites in the northwest, Barracuda Reef is a challenging site suitable for expert divers. This site is heavily restricted due to the danger of its extreme and unpredictable currents, but for extremely experienced divers it can be a thrilling dive offering the chance to see pelagics. Reef sharks, eagle rays, barracudas, and even hammerhead sharks have been spotted here. Plan to leave your camera behind and bring an SMB instead.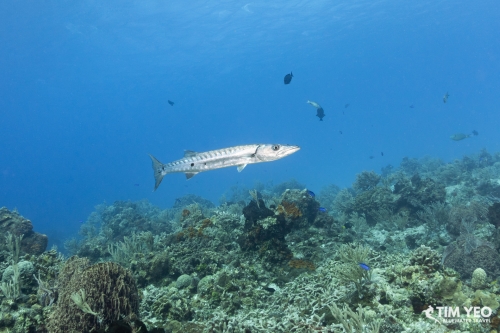 Read about the Top 4 Places to Dive with Hammerhead Sharks here.
8. tormentos reef
This healthy reef on Cozumel's northwest coast often has some strong current present and is suitable for intermediate to advanced divers. Expect tunnels, overhangs, and loads of corals and sea fans. Home to several cleaning stations, Tormentos Reef boasts an impressive variety of reef fish and is a great dive site to practice underwater photography.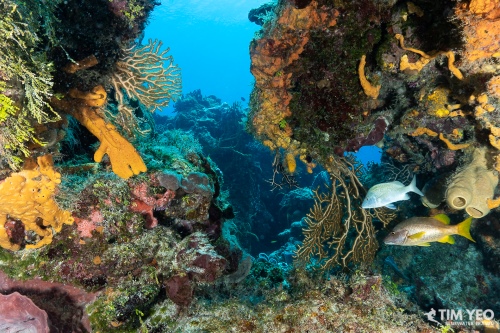 Check out this photo essay of diving Cozumel.
9. C-53 wreck
Diving in Cozumel isn't just reefs and walls; one of the best dive sites in Cozumel is a shipwreck! The C-53 wreck is located within the Marine Park and was intentionally sunk in 2000 for diving within recreational limits. By now the wreck has become a vibrant artificial reef and is home to plenty of interesting critters such as nudibranchs, shrimps, crabs, octopus, and moray eels. Divers with appropriate training can penetrate the wreck to explore the engine room.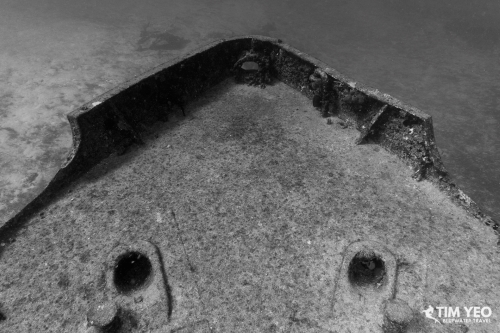 For more awesome shipwrecks to dive, check out our top 10 list here.
10. Paseo de cedral
A hidden gem in Cozumel, Paseo de Cedral is adorned with vibrant corals and healthy sponges. Moderate-to-strong current is typically present, which brings out the impressive marine life such as eagle rays, turtles, nurse sharks, and reef sharks. This Cozumel dive site is suitable for more experienced divers due to the currents.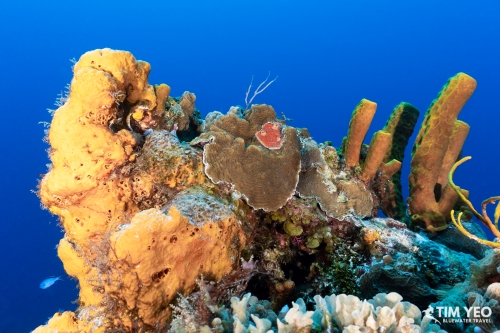 "I actually liked Paseo de Cedral better than any others and did it multiple times - lots more chances of seeing marine life like Caribbean reef sharks, turtles, nurse sharks, toad fish, barracuda, and big schools of fish. The current is strong though." - Nirupam Nigam, Bluewater Trip Leader, President of Bluewater Photo, and Editor-in-Chief of Underwater Photography Guide
Read about Bluewater's trip to Cozumel in 2021 to learn more about this incredible destination!
Dreaming of diving some of these dive sites? Keen to book the best dive vacation possible? Contact us at info@bluewaterdivetravel.com and we'll help you plan your dream vacation!