By AgnesA | Date: 28 Jul' 2021
Whether we like to think about it or not, scuba diving is a potentially hazardous pastime. With the correct training, proper equipment, and sensible decision-making, it is unlikely that you will ever be involved in an incident. However, accidents do happen, even when the rules are followed. A broken toe, falling on an unsteady boat, or even food poisoning can cause missed dives and a ruined trip, and extra costs can soon add up!
trip INSURANCE VS dive INSURANCE
The two main types of insurance dive travelers need to consider are trip insurance and dive insurance.
Trip insurance, sometimes referred to as travel insurance, covers the broader elements of your vacation, for example, unforeseen changes or cancellations to your travel plans, delayed flights, lost luggage, or top-side injuries. We always recommend our customers' purchase trip insurance to protect their vacation investment. You can read more about our Preferred Trip Insurance Provider at the bottom of the page.
Jeff Guthmiller, Regional Sales Director for Bluewater's insurance partner, Arch RoamRight, encourages all travelers to invest in trip insurance. Jeff says, 'Traveling without insurance can be a bit of a gamble. If someone in your family gets sick or bad weather closes the airport for the day, you could lose any non-refundable deposits you've made for your trip. If you experience a medical emergency, you may need to be transferred to a better hospital. These situations happen more often than you'd think – and are costly when they do!'
We also advise our guests to invest in not only trip insurance but dive insurance as well. Dive insurance covers dive-specific incidents that we will discuss in more detail below. Some trip insurance policies cover extreme sports such as scuba diving, but the coverage will be limited and is rarely enough to safeguard an avid diver. It is also just as important to be insured when diving at home, which a trip insurance policy will not cover you for.
And if this hasn't convinced you, some countries have a legal requirement that all divers must have specific dive insurance, and many liveaboards will not allow you to board uninsured.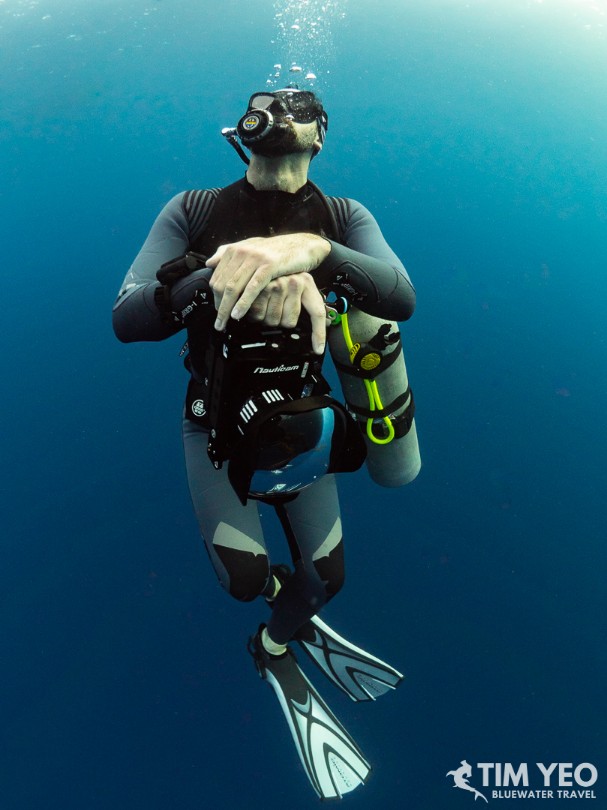 So what do you need to consider when purchasing a dive insurance policy?
Hyperbaric Chamber Costs
One of the biggest expenses, and also the most likely if you have a diving accident, is the cost of treatment in a hyperbaric chamber. Even a seemingly simple skin bend will require several hours of recompression costing thousands of dollars. In Europe and other parts of the world, treatment can be ten times this amount, especially in remote locations.
Medical Treatment
It may seem obvious, but policies can be very specific about what types of medical treatment they will or won't cover. Not only should you look for a policy offering Emergency Medical Treatment, but also one that provides specialized aftercare cover for additional care such as rehabilitation therapy, treatment for PTSD, prosthesis, and hospital stays while recovering.
Search & Rescue and Emergency Evacuation
How many of us have been caught in a current or become disorientated during a dive? It's not uncommon and much of the time the divemaster or tender will pick you up wherever you finish your dive. However, what if they don't? Launching a search and rescue operation quickly is crucial to the survival of a lost diver, and if your insurance covers this it will mitigate the chance of delaying expensive search tactics.
Some of the best diving in the world is also some of the most remote, and the nearest medical and hyperbaric facilities may be many hours away. It is vital that you can cover the cost of speed boat or helicopter evacuation to a treatment center should an accident occur.
Repatriation
Missed flights are probably the last thing on your mind during a hospital stay, but getting back home can be complicated and costly, especially if you need assistance to travel. A good insurance policy will cover the costs of getting you back home after treatment. And should the worst happen and you are involved in a tragic accident, your body will be repatriated to your family, removing the stress and expense of them having to make arrangements.
Legal Expenses
In this age of litigation and lawsuits, a diving accident can easily result in legal action and some policies will offer you support with legal expenses including Civil Liability protection.
Equipment Loss/Damage
We are all taught that saving equipment comes second to saving a life, however, even minor incidents can result in lost or damaged equipment. It can leave a very bad taste in your mouth if you try to lend a hand only to have your regulator or dive computer damaged. Knowing your equipment is insured should make you less hesitant to step in and assist.
Travel Assistance
Being stuck in a foreign hospital alone is not a pleasant experience, so having some form of cover to fly family out to be with you is worth considering. Travel Assistance may also pay for the cost of hotel stays for you and your family, and even a translator.
And Jeff agrees. 'No one expects anything to go wrong during their trip – but accidents happen and travelers do become ill. Travel insurance can help cover admission into a hospital as well as emergency medical expenses and medical evacuation if the traveler needs to be transported to a different hospital or their home hospital.
There's no denying that a good insurance policy is as essential as having properly serviced regulators. Dive and trip insurance should be considered an essential part of your diving equipment and one that could certainly save your life, and a significant amount of money, should you ever need to use it.
When should you purchase insurance?
For those diving regularly, an annual dive insurance policy is the best option, and probably the most cost-effective. Most providers will offer varying levels of coverage depending on how often you dive, and what types of diving you are doing.
Trip insurance should be purchased as soon as you book your trip, and most policies will allow you to add additional cover or flight information at a later date. Your trip isn't protected until you arrange insurance, and changes or cancellations can occur at any point.
'It is important not to wait until the last minute to purchase coverage. Although it may still be available at that point, some "Time Sensitive" benefits — such as the "Waiver for Pre-Existing Conditions" — are offered only within a limited window of time from your initial trip deposit date', reminds Jeff.
---

Trip Insurance with ArchRoamright
With the above in mind and what we have seen with the outbreak of COVID-19, we know firsthand the importance of protecting dream vacations.
Bluewater Travel has partnered with Arch RoamRight to offer travel insurance policies to protect our clients. Arch RoamRight boasts highly-rated, award-winning customer service and claims administration, placing them among the highest rated on TrustPilot and Google Reviews. You can find out more about our Preferred Partner Travel Insurance policies here.
Many travel insurance policies don't automatically include security/political evacuation — in fact, unrest and acts of war are often listed as exclusions — but Arch RoamRight is proud to offer it with most of the plans they underwrite, including their Pro Plus plan.
---
Dive Insurance Providers
Here are some dive insurance providers for you to consider: