By bettyr | Date: 17 Nov' 2022
Moorea 2022 Trip Report
BLUEWATER TRAVEL'S HUMPBACK WHALE PHOTO GROUP TRIP
Text by Mark Strickland, Images by Erik Lukas & Tommy Stylisk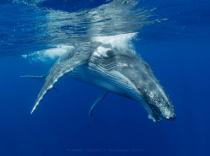 Observing and photographing humpback whales underwater is one of our favorite ocean activities, and is something that never gets old. Every year since 2014, Covid notwithstanding, Bluewater Travel has offered one-week trips to Moorea, French Polynesia, that are dedicated to in-water encounters with these huge, intelligent animals. Our 2022 season was one of the best yet, with five trips offering more Bluewater guests than ever before, intimate encounters with humpback whales.
Each year, humpback whales in both the northern and southern hemispheres spend the summer months in frigid polar waters, feeding constantly and storing energy in preparation for an epic migration to tropical locales such as French Polynesia. Having arrived in the warm, relatively protected waters of the tropics, they spend several months socializing and mating, while pregnant females give birth and nurse their newborns. During this time, the calves grow at an incredible rate, sustained by roughly 100 gallons of rich milk dispensed by the mother each day. This helps them gain the size and strength they will need in a just few months to swim all the way back to Antarctica.
Assuming you are in the midst of a large gathering of humpbacks, as happens each year in Moorea, it's not necessarily that difficult to catch a glimpse of one underwater. For many mass-tourism operators, checking that box is the main objective, and given a bit of luck, it's usually achieved in the course of a day's outing. For our purposes, however, we are much pickier about the circumstances when we try for an in-water encounter since our goal is not a "fly-by", but a prolonged, relaxed encounter that allows the animals enough time to become curious about us. That's when the magic happens, in terms of both quality of experience and the best photo ops. In order for such an encounter to occur, however, a number of factors must coincide.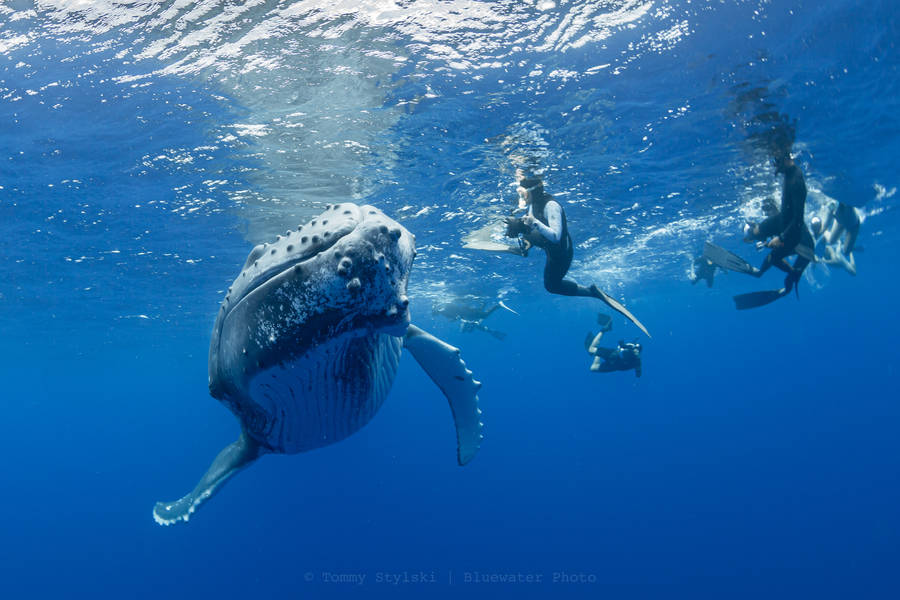 Humpbacks display 3 main types of behavior during their time in the tropics, not all of which bode well for in-water encounters. One such behavior is swimming, often at what looks like a lazy pace. Despite this appearance, however, they are usually moving faster than even the fittest snorkeler can match. We generally don't enter the water at these times as they are moving too fast for us to keep up. Another type of behavior is socializing, characterized by lots of surface activity like tail slapping, waving of pectoral fins, spy-hopping, and even full breaches. Watching a 30+ ton animal fling itself completely free of the water and crash back into the waves is a sight you won't soon forget, especially when they do so continuously a dozen or more times, as sometimes happens. Obviously, it could be dangerous to enter the water when the animals are breaching, but at times we do get in for other displays if the situation seems appropriate. By far the best opportunities, however, are when the animals are resting. Usually, they do so underwater, at depths of 40-60 feet, only surfacing when they need to breathe. For adults, this is typically only every 25 to 35 minutes, but for calves it's much more frequent, at 6 to 10 minutes. Usually, these trips to the surface are when the best encounters occur. Of course, it's impossible to entirely predict animal behavior, but in our experience, it's the human behavior that makes or breaks a potentially great encounter.
Having come here specifically for close in-water encounters, it's only natural that people are tempted to swim right up to the whales. But that would be a huge mistake and is not permitted, as it invariably stresses the animals and causes them to leave. What's required for success is a passive approach, quietly entering the water when the boat is still 100 yards or more from the animals. Surface splashing is taboo, as is freediving; arms are not used, and fins must be kept below the surface. Guests are thoroughly briefed on these procedures by the captain and guide, one of whom normally enters the water first to find the whales and direct guests to the location. Once the animals are located, usually hanging motionless at depth, it's just a matter of staying close to the guide while waiting for them to surface and breathe. When they do surface, it's usually for several breaths taken over a minute or two. Often they seem indifferent to snorkelers, moving off before returning to the depths. Sometimes, however, assuming all the humans are well behaved, the whales will linger at the surface, allowing us to get a prolonged look and hopefully some good photo ops. This tolerance of people is most evident with the calves, which like most young mammals, are full of curiosity and playfulness. If the mother isn't comfortable with the humans, she typically won't allow the calf to play. But if everyone acts with patience and restraint, the mom may become very relaxed, allowing her baby to cavort among the snorkelers, sometimes making several laps around them at very close range before returning to the mother's side.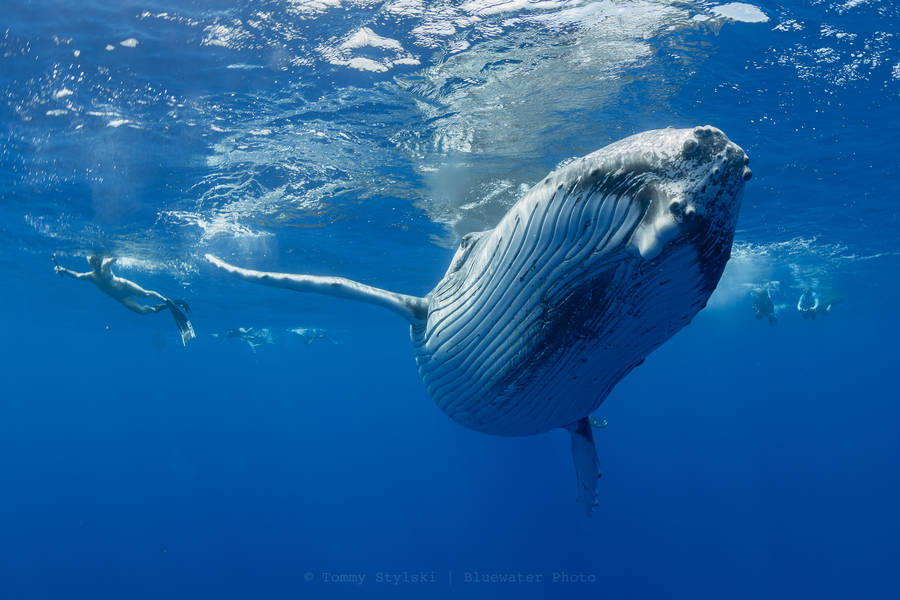 These are the moments that we come here for, and while it may only happen once or twice over the course of a trip, it makes the whole adventure worthwhile. Even if the encounter is a fleeting one, the memory of those special moments when you're eye to eye with this huge, intelligent, friendly creature will stay with you forever. And, on some occasions, the encounter is much more than a passing moment, sometimes lasting for an hour or more.
Here are some of the highlights from our 2022 trips:
Day 1
Our best two encounters of the trip were the first drop on day one and the final drop on the last day, perfectly bookmarking an incredible trip. On day one we boarded the boat and were all still soaking up the stunning views of Moorea when out guide spotted the first whale. Before we knew it we were kitting up and slipping into the water with a mother and calf pair. None of us understood at the time that what was about to follow was an exceptional encounter.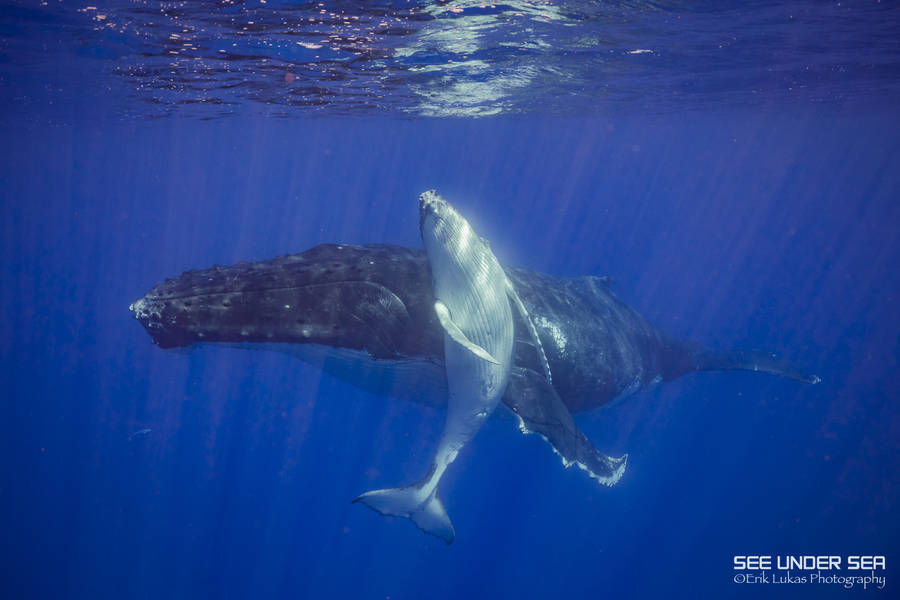 A young calf was frolicking on the surface while mum rested below, and as soon as we approached we became the target of its games. The huge baby weaved in-between us, sometimes coming face to face with a snorkeler and other times turning sharply at the last minute, just missing us with its tail. It seemed to love showing off, performing with repeated barrel rolls just under the surface before coming to a complete standstill and hovering vertically in the water with its nose just above the surface.
Mum finally rose to up towards us to collect her wayward calf, and the pair moved gracefully off into deeper water, ending our awesome first encounter'
Day 2
The morning of day two started with partly cloudy skies and glassy calm surface conditions, making it easy to spot the telltale spouts that erupt from the humpbacks' blowholes as they surface to breathe. Our eagle-eyed guide, Teranui, slipped into the water, and soon spied a pair resting at depth, at which point he held up a raised fist, the signal that the animals were stationary. It was time for everyone to get in the water.
Before long, the smaller of the two animals, which appeared to be 18 feet or so in length, surfaced to breathe, did a semicircle on the surface, then returned to join the larger whale, a cycle that was repeated several times over the course of 25 to 30 minutes. On the third cycle, however, both animals surfaced together, providing an excellent photo op for everyone in the group before the whales went on their way.'
Day 4
Our fourth day got off to a slow start with a few near-misses, but by noon we had already dropped in with a mother and calf. Time after time, the mother allowed her calf to swim among the snorkelers at the surface, resulting in close passes for almost everyone. When the mother herself came to the surface, she could not have been more relaxed, several times "logging" there, seemingly curious about us humans. What an incredible day!'
Day 5
'Our fifth and final day on the water was an epic one, this time from the very start. Not long after leaving the dock, we encountered the same mom & calf from day before at pretty much the same location, still just as relaxed, but this time with somewhat better visibility. There were many other boats on the scene, but nobody seemed to mind as we joined them. We revelled in two great consecutive drops, once again enjoying several close passes by the calf.'
---
Join our next whale snorkel trip: