By AgnesA | Date: 13 Jan' 2021
Highlights of 2020
The year 2020 will be one many of us are keen to forget. But despite most travelers having to postpone or cancel their dive plans, Bluewater still managed to run several successful trips and photo workshops to various parts of the globe. Here's our round-up of the highlights of 2020, and I think you'll agree it wasn't all doom and gloom!
Exploring Apo Island on the Best of the Visayas Photo Workshop
Twenty-twenty got off to a great start with our February Best of the Visayas Photo Workshop on the Philippines Siren. Led by Trip Leader Mark Hatter, 13 guests embarked on a 10-day adventure through the Cebu Strait and Tanon Strait in search of some of the world's best macro. The highlight of the trip was undoubtedly Apo Island, a UNESCO World Heritage Site just off the coast of Dumaguete offering exceptional wide-angle photo opportunities and some of the most memorable diving on the trip.
Read about it in detail from the full Visayas Trip Report.
Testing the World's Best Underwater Photography Equipment
Some of the world's best underwater cameras were released in 2020 and the Bluewater Photo Store team had the opportunity to dive them. This included the world's best photo camera, the Canon EOS R5, as well as the Sony A7S III, the world's best consumer-grade video camera. We also got a chance to dive with Sea & Sea's newest strobe, the YS-D3, a revolutionary tool for underwater photography with very quick recycling times. Finally, we were lucky enough to be the first to take the new Sigma 105mm lens underwater, which is proving to be a great new macro option for Sony, Sigma, and Panasonic shooters.
Diving with dolphins on the Socorro Photo Workshop
Despite the majority of the globe beginning to feel the worst effects of the pandemic, in March our Group Trip to Socorro Island departed without incident. This annual adventure onboard the Rocio del Mar is always greatly anticipated, and with Katie Yonker as Trip Leader guests were treated to dive after dive of big-animal encounters. One site that stood out for everyone was Cabo Pierce, where dozens of dolphins, huge manta rays, and a wall of hammerhead sharks resulted in some exceptional diving.
Read about it in detail from the full Socorro Trip Report and join our next trip to Socorro in February 2022.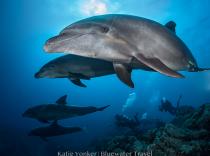 Teaming up with Shark Allies to Promote the Global Protection of Sharks
We forged some important relationships with like-minded organizations in 2020, and none more so than with Los Angeles-based shark conservation advocates, Shark Allies. Sharks are a huge draw on many of our itineraries and trips, and the world's oceans would be far less appealing without them. Bluewater understands only too well the importance of sharks in our seas, and we are excited to continue our collaboration with Shark Allies in 2021.
Variety was the Spice of Life on Our Sea of Cortez Photo Workshop
Led by the Underwater Photography Guide's Editor-in-Chief, Nirupam Nigam, our July Sea of Cortez Photo Workshop was a roaring success, thanks in part to the excellent service and new covid health measures put in place by the liveaboard. Embarking and disembarking from Puerto Penasco, this seven-day trip took in the very best of the northern Sea of Cortez and Midriff Islands. Guests were spoiled with countless sightings of a whole host of species from charismatic sea lions to tiny pike blennies and jawfish, octopus, stingrays, scorpionfish, and even a pod of fin whales. The trip finished with a snorkeling session amongst the whale sharks of Bahia de Los Angeles; the perfect end to a truly memorable experience.
Read the full Sea of Cortez Trip Report and join our next trip to the Sea of Cortez in 2021.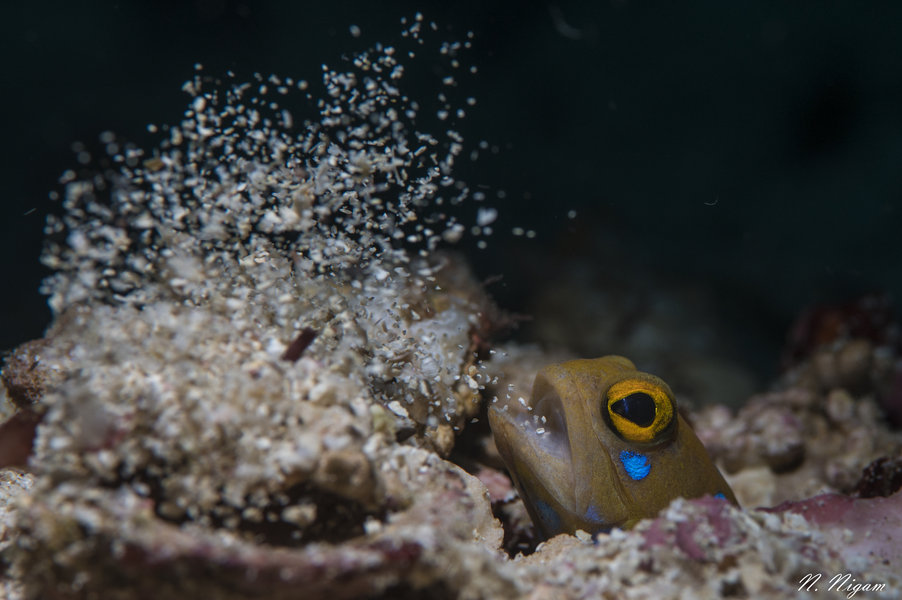 The Launch of Bluewater University
As coronavirus tightened its grip during the summer months, many divers were left stranded and unable to dive and travel as normal. In response, we launched Bluewater University, known as BluewaterU, the world's first online education platform dedicated to all things diving, underwater photography, and adventure travel. With classes and tutorials from industry experts, BluewaterU has already delivered thousands of hours worth of classes to students around the world, as well as providing experienced professionals a stage to share their knowledge and expertise among like-minded enthusiasts.
Blue Whale Mother and Calf Encounters During the Moorea Whale Swimming Trip
As destinations slowly began to open to international travelers again, our September Whale Swimming Trips to Moorea proceeded as planned. Five small groups of six guests each spent a week exploring the reefs and lagoons around the tropical French Polynesian island. September and October are peak blue whale season and this year's trips didn't disappoint. Great weather, pristine conditions, and numerous whale encounters, including prized mother and calf sightings, ensured the 2020 season was a great success.
Read the full Moorea Trip Report and join our next Moorea trip in 2021.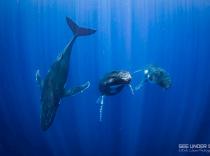 Raising thousands of dollars for CDC and WHO
Despite the damage coronavirus caused to the international dive and travel industries, we acknowledged the true extent of the virus by running a special Ocean Art Safe Under the Sea underwater photo competition. We had some excellent entries with amazing underwater images but most importantly raised thousands of dollars for the World Health Organisation and Centres for Disease Control coronavirus funds.
Night DIving with Mobula Rays on the La Paz Photo Workshop
Mexico came up trumps again in October when we ran a successful Photo Workshop to La Paz. Led by Nirupam Nigam, a small group of enthusiastic underwater photographers spent six days discovering this exotic enclave of the Sea of Cortez. A real standout dive on the trip was the nighttime experience with mobula rays. Feeding on plankton attracted by the shore lights from the La Paz hotels, the rays zoomed at high speed through the dive group and afforded the most persistent photographers with some fantastic shots.
Read the full La Paz Trip Report and join our next La Paz Photo Workshop in 2021.
We are proud that Bluewater Travel, Bluewater Photo Store, and the Underwater Photography Guide didn't just survive 2020, but with the input and support of our talented staff and loyal customers, successfully adapted to overcome everything the year threw at us. We can't wait to get stuck into 2021!