By ilovediving | Date: 05 May' 2020
Socorro Trip Report - March 2020
Bluewater Travel March 2020 Trip Report - By Katie Yonker

Sometimes referred to as Mexico's "little Galapagos" the Revillagigedo Islands are a group of four volcanic islands lying approximately 250 miles off the coast of Baja's southern shore. This remote archipelago has a unique ecosystem that makes it a hotbed for pelagic marine life. During the months of February and March, humpback whale sightings are common. During the beginning and end of the season, whale sharks are often sighted. A variety of shark species are consistently seen, and close-up encounters with giant Pacific mantas are almost guaranteed. Reachable only by liveaboard, it's approximately 24 hours sailing time to reach these islands, and well worth the long haul for anyone intrigued by these wild and distant islands.
For several years, Bluewater Travel has been running trips on the well-established Rocio Del Mar. This family-owned and run liveaboard is well known for its exceptional crew, friendly hospitality, and delicious food. Passengers benefit from the recently added stabilizers, which make for a much calmer ride during the open-ocean crossings. All cabins are above the waterline with big picture windows looking out to the ocean. Having a full day to relax, unpack, and meet fellow passengers was a wonderful and relaxed way to start our trip.

Dive Day 1: The Canyon
Our first dive day was at San Benedicto Island at a site called The Canyon, a horseshoe-shaped set of rocky ridges protruding out into deep water. Strong currents here are common, lending themselves to a host of pelagic life. We spotted many silver tips, white tips, Galapagos sharks, and were even treated to a close but very brief encounter with a tiger shark. Looking into the rocks, divers will likely spot several lobster, eels, and even some macro critters. I have yet to hear someone raving about the macro photo opportunities at Socorro, but looking closely at the rocks I became disappointed that I didn't bring my macro set up, even if for only one dive.
Bottom water temps: 72° - 73°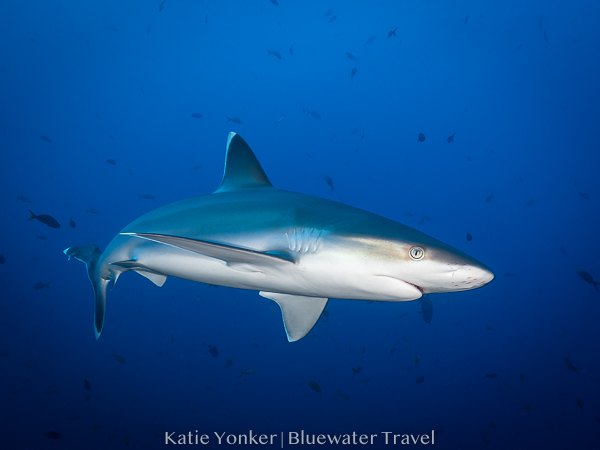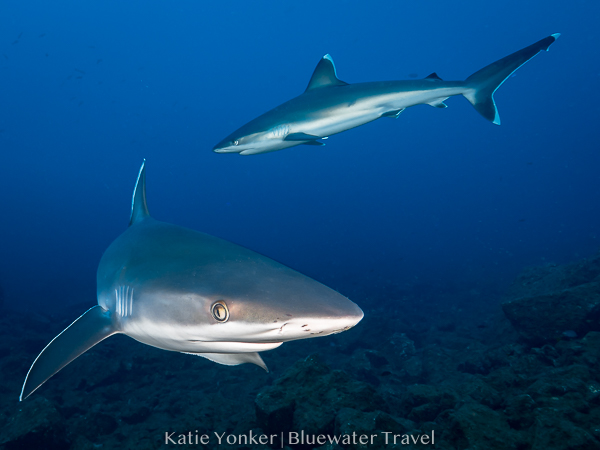 Dive Day 2: The Boiler
Also at San Benedicto island, our second dive day was spent at the very well-known dive site, The Boiler. This site consists of a pinnacle that rises up 20 feet from the surface with enough surf and swell to sometimes appear as if the water above is boiling. The pinnacle is small enough to swim around on a single dive, though currents may well prevent you from doing so. What makes this site so popular is that it's a cleaning station for the giant Pacific mantas which gather to be cleaned by the Clarion angelfish. Not only did the mantas show up and circle in close proximity, but we also saw several bottlenose dolphins (at a distance) and a variety of sharks including a tiger and a huge Galapagos.
Bottom water temp: 73°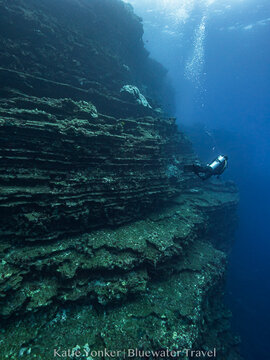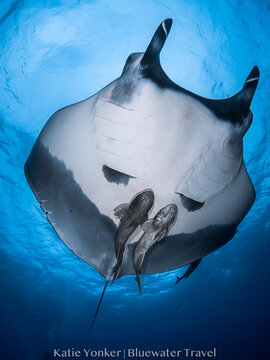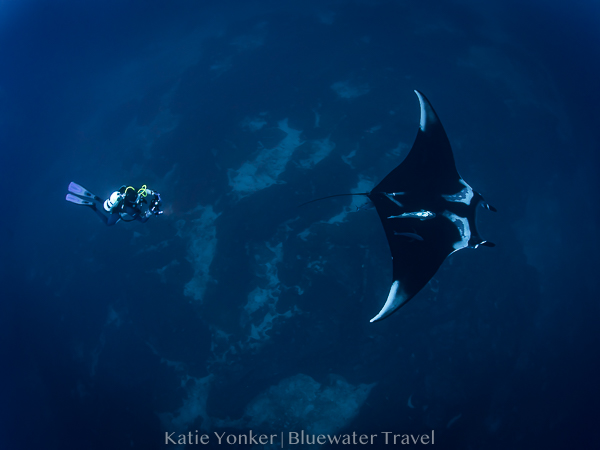 Dive Day 3: Roca Partida
On most trips, Roca Partida is a highlight and often the most anticipated site for divers. Lying 80 miles from the closest island and rising 100 feet tall, above the water it looks to be nothing more than a guano-covered pinnacle. But below the surface, it's a pelagic magnet where anything can show up. As luck would have it, this turned out to be our quietest dive day. Even so, we still had many sharky encounters, including the "shark ledge" which is home to several resting sharks, often stacked on top of one another. Divers also enjoyed swimming through the massive schools of cottonmouth jacks and pausing to watch the plethora of sharks and other fish circling above. Unfortunately mother nature was not on our side and we were only able to do 3 dives here before we headed out to avoid a looming storm.
Bottom water temp: 73°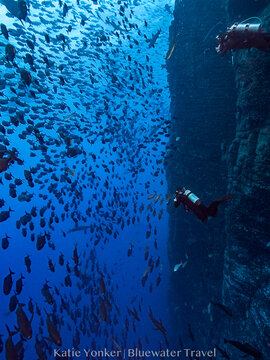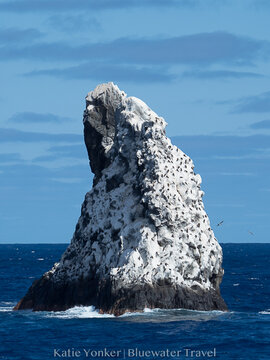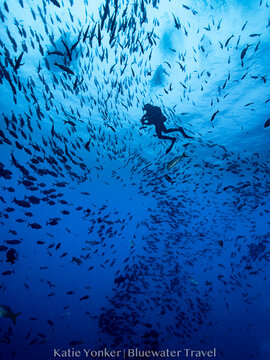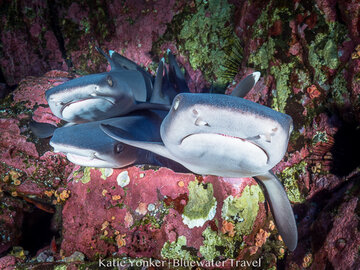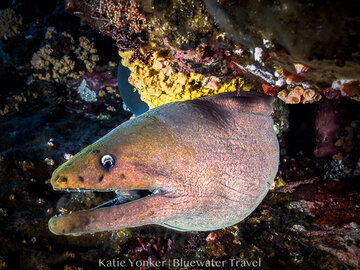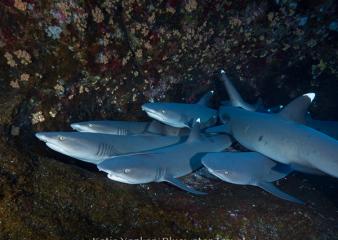 Dive Days 4 and 5: Cabo Pierce
Located on the east side of Socorro Island, Cabo Pierce (aka Cabo Pearce) is a long lava finger extending from the island out several hundred feet into the ocean. On either side of the finger are walls and impressive rock formations. As soon as we backrolled into our first dive, the dolphins showed up, and came in for some very close encounters. Be warned - the dolphins are playful but will quickly start sinking and will have you reaching your max depth before you know it! The other dive group was lucky enough to come across a wall of hammerheads, while our group watched in amazement as mantas did somersaults around us. Due to the strong currents, some divers were hesitant about spending another day here, but at the strong urging of the dives guides we voted to spend a second dive day here, and it did not disappoint! Our second day had even more dolphin encounters, many within an arm's reach, dozens of sharks, and even more massive mantas than we had at The Boiler.
Bottom water temps: 69° - 71°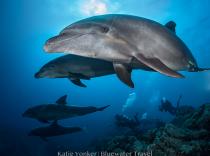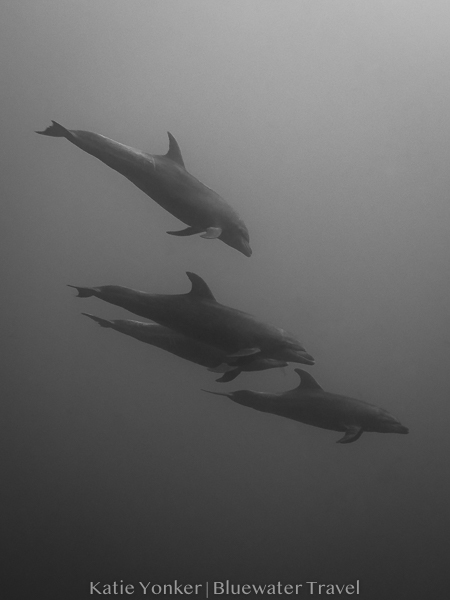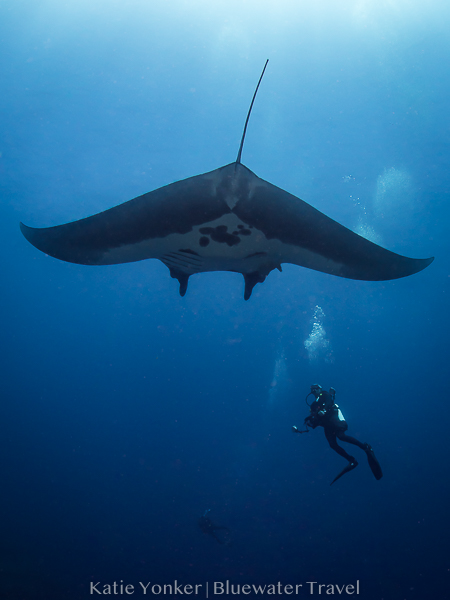 Dive Day 6: The Canyon
For our final dive day, we headed back to The Canyon. Much like the first day, we saw several white tips, hammerheads, and Galapagos sharks, and one incredibly lucky diver spotted a humpback whale on her safety stop. Though no one captured a picture of humpbacks underwater, their sprays were seen all day on the surface, and just the mere possibility of one showing up underwater had everyone excited.
Bottom water temps: 72° - 74°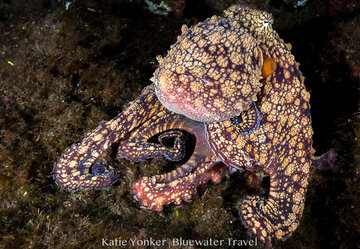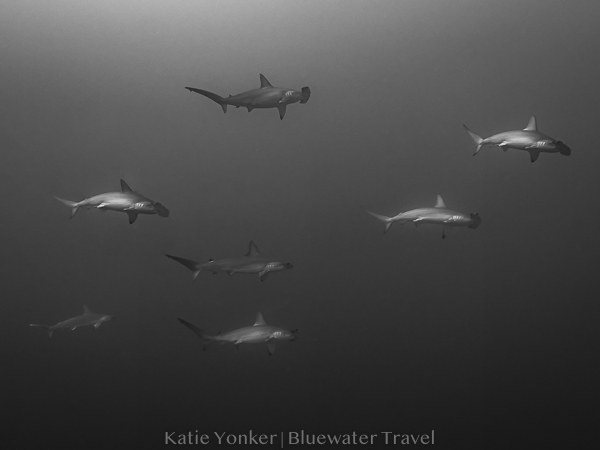 After many years of hearing other divers rave about Socorro, I was happy to experience it for myself. It was a wonderful trip with an excellent crew and a great group of guests, and I recommend it to anyone looking for close-up pelagic encounters.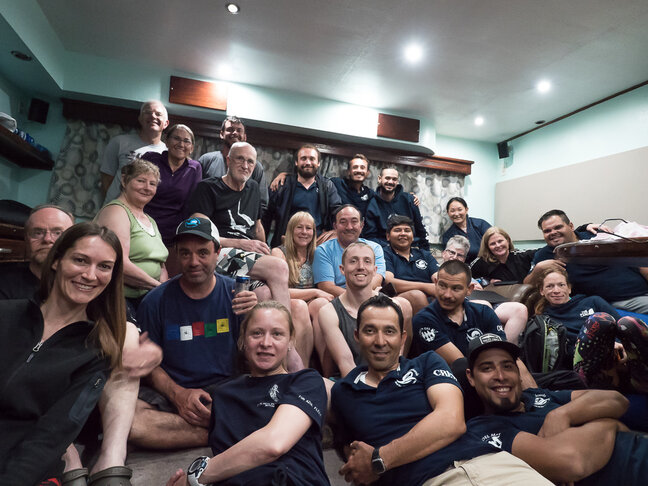 For more information on Socorro, check out our Socorro destination page.
Want to go to Socorro? Join our February 2021 trip! Or let Bluewater Travel help you plan and book your own trip to Socorro by sending us an email.


About the Author
Katie Yonker is the Director of Operations and a Travel Advisor for Bluewater Travel. An avid diver and travel planner, Katie's adventures have taken her to the far reaches of the globe to destinations such as Micronesia, Indonesia, the Philippines, French Polynesia, Palau, Australia, Papua New Guinea, Fiji, Red Sea, South Africa, Maldives, Hawaii, Galapagos, Cocos, Socorro, Central America, the Caribbean, and many non-dive locations.