By bettyr | Date: 27 Feb' 2020
The Best of the Visayas
Mark B. Hatter
At the apex of the Indo-Pacific Coral Triangle, the Philippines offers underwater photographers some of the world's greatest biodiversity - plenty of subjects to shoot with our UW camera systems! Often, when the Philippines is included in the same conversation as UW photography, places like Anilao and Dumaguete come to mind at the top of the list for the best macro critter shooting sites. However, the Philippines is more than just a macro hot-spot, there are plenty of dive sites that suit the wide-angle shooter just as well - one just needs to know where to look and who to book.
If you are totally into both dimensions of UW shooting, look no further than the Philippine Siren and their 10-day, "Best of the Visayas" itinerary. I was fortunate to have lead the Bluewater Dive Travel Photo workshop for this trip in February 2020, and was beyond pleased to discover that the Visayas offered much more than I had expected, particularly for wide-angle shooting.
Along with 13 guests, we departed the port city of Cebu to initiate a well-planned course that led us to some of the best diving that the Philippines has to offer: the Cebu Strait between Cebu and Bohol, and the Tanon Strait between Negros Oriental and Cebu. Early in the itinerary, macro was the watchword and everything from nudibranchs and pygmy seahorses to ornate ghost pipefish and harlequin shrimp were on everyone's wish list.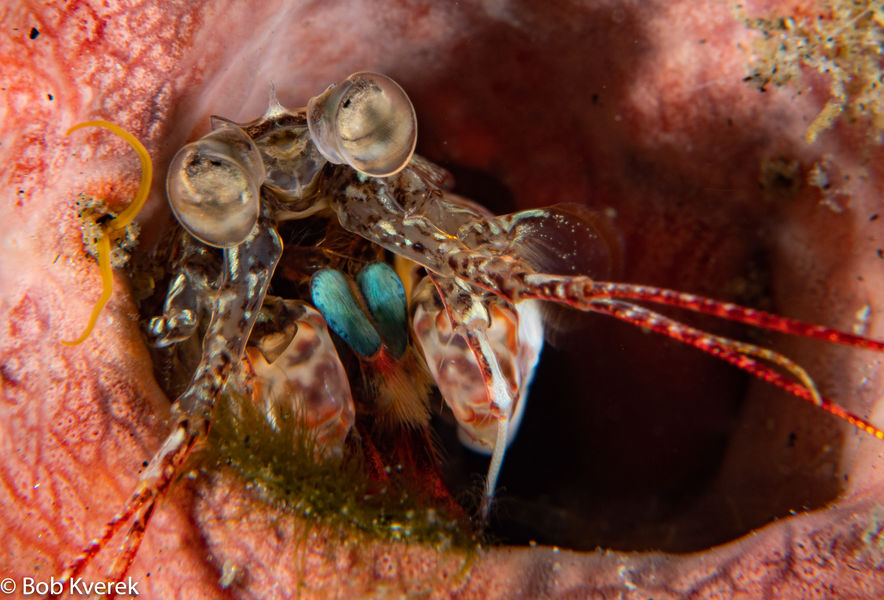 With as many as four dive guides/critter spotters in the water with our group at a time (often giving shooters a two-divers-per-guide ratio), everyone (and I do mean everyone) got their wishlist shots and a lot more. Critter shooting was at its best late in the trip at the famous Thalatta near Dumaguete, but I think my favorite site was Gato (Cat) Island with its rubble bottom and towering boulder walls. These walls held everything from wire coral shrimp and colorful nudibranchs to sea snakes and jawfish.
Our favorite wide-angle sites were centered around Apo Island, a World Heritage site, where the hard coral forests are some of the densest and most pristine in the world. Rocky Point East, a site that begins at the southern end of Apo, and Rocky point West, on the lee side of Apo, were particularly spectacular with their nearly 100% coral coverage and sea turtles galore.
There is a cajun word, "lagniappe," used to describe "just a little bit more" of something. And lagniappe best describes some additional surprises on the Philippine Siren's Cebu route: the thresher sharks of Malapascua at the north end of Cebu, the sardine ball of Turtle Bay half-way down the Tanon Strait and, the whalesharks of Oslob on the southeastern coast of Cebu.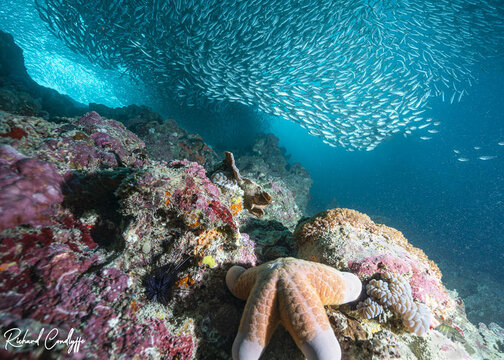 Malapascua is an underwater seamount rising up to sport diving depths. There, each morning, thresher sharks come to the seamount cleaning stations from the deep sea. While not a guarantee, generally thresher sharks are spotted regularly, even if it's just a deep drive by.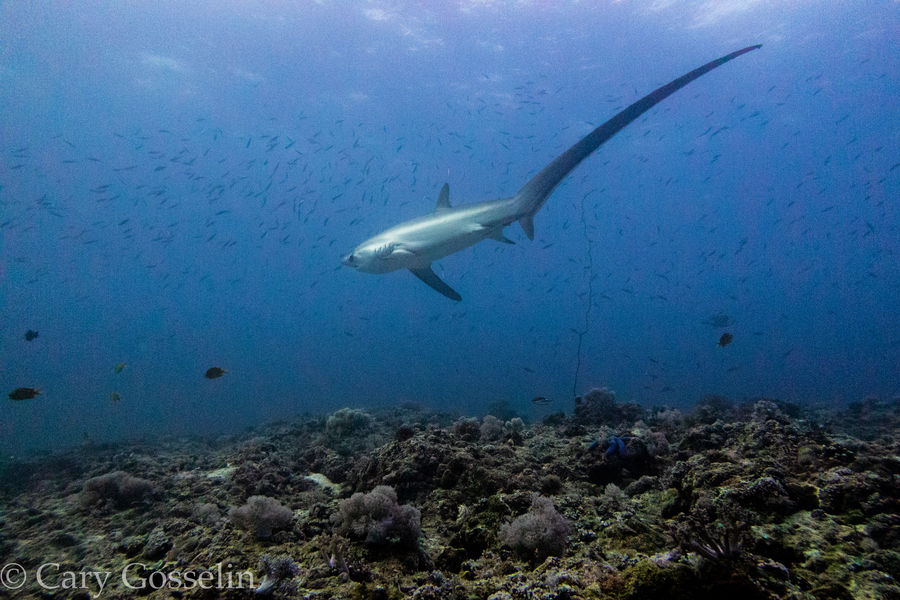 As luck would have it, one of our three groups was witness to a thresher shark on top of the reef, near the safety-stop buoy - an incredibly rare occurrenc. One of the guests in that group captured this one-of-a-kind image of that encounter.
Turtle Point offers wide-angle shooters incredible opportunities photographing the world's largest static sardine ball, populated with an estimated 5 million sardines. With their never-ending patterns of ribbons, whorls, and swirls, you never know what magic you will find shooting the sardine ball with a wide-angle kit.
Finally, the whale shark experience at Oslob was intensely satisfying. Few places in the world allow scuba with whale sharks, yet we were allowed to use scuba for our encounter with as many as three whale sharks at a time at Oslob.
We had a wonderful voyage thanks, in part, to the biodiversity of the Visayas marine environment, but also due to the efforts of Philippine Siren's crew. They are wonderful, helpful, playful professionals demonstrating a healthy dose of lagniappe. So, using the clever motto from Philippine Siren's crew, "What are you waiting for?"
Check out our other Philippines liveaboards.
Join BWT's upcoming trips to the Philippines! Anilao in December 2020, and April/May 2021 or to Dumaguete in June 2021 or check out BWT's other great trips all over the globe here! You can also book all your future trips on the Philippine Siren with Bluewater Travel's expert team.
Learn more about Trip Leader Mark Hatter here.
---
Bluewater Travel can help you book a dive vacation to 40+ destinations worldwide at the same price or even lower than booking any other way. We are experts on boats, resorts, diving, and logistics. Email us today or leave us a message through the live chat box to start planning your dream dive vacation!