By bettyr | Date: 10 Nov' 2020
La Paz, Mexico Sea of Cortez Trip Report – October 11th to 18th, 2020
Trip Leader: Nirupam Nigam | Photos by Nirupam Nigam & Group
La Paz is a small coastal city situated towards the southeastern tip of Mexico's Baja Peninsula. It is a protected enclave of the Sea of Cortez where clear blue water glistens in hot desert sun. Looming cactus dot the surprisingly lush and humid landscape, and rambunctious Sea Lions (or Sea Wolves as they are known in Spanish) bark on rugged outcroppings. Despite being just a three hour drive from the bustling tourist destination of Cabos San Lucas, La Paz remains a tranquil place. For underwater photographers, La Paz is a wide-angle paradise – with curious sea lions, speedy mobula rays, and elegant whale sharks. But be sure to bring a macro lens if you go! If you're lucky you can see nudibranchs, lots of blennies, and some jawfish.

With international travel becoming more restricted during the pandemic and travel to Mexico remaining open, our yearly photo workshop to La Paz was the perfect trip for the current traveling climate. Getting to La Paz is easy, with a quick two hour flight from Los Angeles to Cabo and a three hour drive to La Paz from the Cabo airport. I found social distancing in La Paz to be much easier than on a liveaboard dive trip. Our accommodation at the Hyatt Place, La Paz was quite spacious as well as the lecture halls where I gave workshop presentations. The Hyatt Place is a first rate hotel situated a couple miles from downtown La Paz with good food and friendly staff. When I arrived, I was even pleasantly surprised to find that some items that I had left the year before had been kept safe by the staff and were waiting for me!
As a trip leader, it was a pleasure to lead a smaller trip with just 10 guests. It meant a lot of one on one time, and I was able to watch some photographers grow quite substantially as you'll see in the photos below. We dove daily with Fun Baja – my favorite dive operator in the La Paz area. Every morning, we walked 50 meters across the hotel parking lot to the dock where the boat was waiting for us. Dive days generally consisted of an hour long motor out to the offshore islands in the Sea of Cortez. Each island was rugged, vibrant and beautiful. We would do three dives and come back in the late afternoon. After a relaxing dinner at the hotel, I would give presentations on underwater photography, video, and Lightroom…rinse and repeat. The dive guides were a pleasure to be around, very knowledgeable of the local diving, and made it clear that our safety was paramount. Thankfully, almost all the diving in La Paz is peaceful, except for my favorite dive – El Bajo – where the currents picked up just a tad more than we would have liked.
Day 1: Los Islotes
To our surprise, the weather during our first day of diving as actually rather dreary. Nonetheless, we made the trek over to Los Islotes – arguably one of the world's friendliest sea lion colonies. But on day 1, the Sea Lions were feeling a little lazy without the sun to get them in the water. Despite that we had a wonderful time exploring beautiful cup corals on the famous underwater arch with a few sea lions taking a curious look at the activity.
Day 2: La Reina and Salvatierra Shipwreck
Our second day of diving proved to be much more promising. The crew at Fun Baja were kind enough to bring us way out to the remote rock coined "The Queen", or La Reina. Despite having dived quite a bit in La Paz, many operators don't make it out as far as La Reina and it was my first time diving the site. La Reina is a natural wonder and a top contender for my favorite site in the Sea of Cortez. The visibility was absolutely phenomenal, and the water was a deep pelagic blue. The highlights at La Reina was massive schools of fish, large moray eels, pieces of shipwrecks, and a sea lion that was stuffing its fishy catch inside of a shipwreck to hide from other males. The photographers in our group practiced how to light difficult topography like holes and wrecks. This amazing photo of a Sea Turtle by Becca Ganster shows just how wonderful the conditions were that day and how skilled of a photographer Becca is – having recently upgraded to a Canon EOS R from a compact Canon G7X Mark II.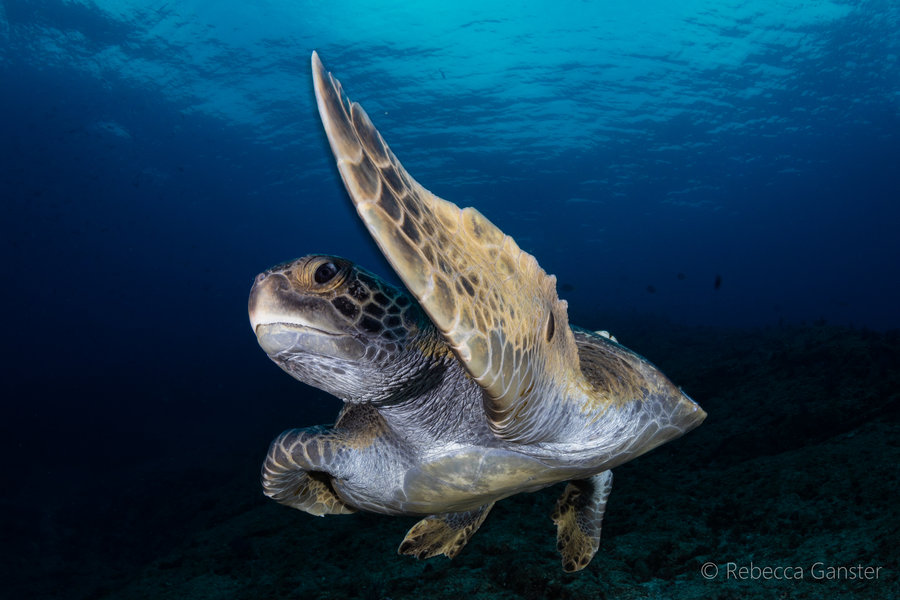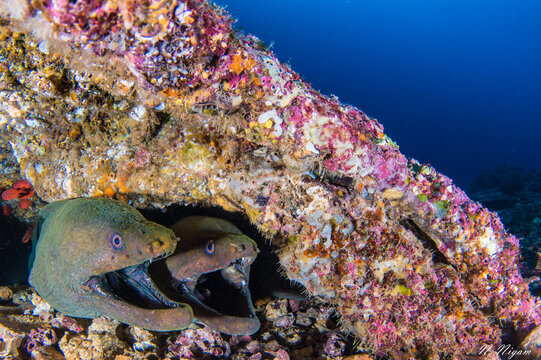 We ended the day with and enjoyable dive at the popular sunken ferry boat, the Salvatierra Shipwreck. The wreck was full of life and the highlight was the massive schools of baitfish darting above the deck. They were so thick it was difficult to see much more than a few feet unless you swam above them.
Day 3: Shipwrecks
Our third day of diving would be a joy for any shipwreck lovers out there. The wreck of the Fang Ming, an artificial reef created from a seized Chinese fishing vessel, was the highlight of the day. Almost everyone in the group got to meet a very photogenic turtle who had made the portside deck of the ship its home. This turtle was not afraid of divers, nor was it afraid to push me away with its fin so that it could sit in its preferred spot on the wreck. We ended the day at the site of San Rafaelito – a shallow rocky outcropping with a lighthouse and a lot of tired sea lions. We spent much of the dive watching a pair of sealions that had fallen asleep just below the surface of the water. With each exhale, little bubbles drifted to the surface from their nostrils. Occasionally one would sink too far to catch a breadth at the surface, wake up surprised, and float back up to the top to breath. It was a comical sight.

Day 4: El Bajo and Swanee Reef
In my opinion, diving El Bajo is one of the highlights of the Sea of Cortez. El Bajo is a submarine seamount in the middle of the Sea of Cortez, an hour and a half ride from La Paz. It's well worth the journey. El Bajo is known for hammerheads that congregate in the deep blue depths around the sea mount. Although we spent one dive looking, we did not see any. But it was fun to do a pelagic blue dive and watch the salps and comb jellies pass by. The second dive at El Bajo was one step above other dives in the Sea of Cortez – large stands of cup corals, huge schools of colorful fish (shoutout to the Cortez rainbow wrasse), a moray eel "condominium", and clear blue water. However, the second dive had lots of current which made for an uncomfortable safety stop on the line. It was nice to spend our final dive of the day at a shallow coral reef called Swanee Reef. Swanee is reminiscent of shallow Caribbean reefs with hard coral, small reef fish, and many sergeant majors making purple nests in the sand. Swanee is special for being a true coral reef, rather than clumps of coral on rocks.
Day 5: El Bajito, Los Islotes, and Mobula Rays
Unfortunately for us, the whale sharks this year were nowhere to be found. We were told they were unnaturally late due to wind patterns not changing from the summer. So we decided to spend our last day doing three special dives. The first dive was at El Bajito. It was indeed "little" Bajo. The current was running, but there were lots of tiny gems to photograph with our macro lenses. I saw three very colorful nudibranchs!
After a safety stop and a group photo on the boat, our second dive was by far the most fun the trip…..sea lions! The sun was out, the morning crowds had thinned out, and the sea lion pups were ready to play. There were so many sea lions in the water that no one had to take turns photographing and playing with them. Everyone in the group could choose to hang out wherever they wanted and watch the sea lions go by. The pups were very interactive and wasted no time in biting my camera, blowing bubbles in my face, and mimicking my movements. Some of our group got to hang out with them in a beautiful cave with the light from the afternoon sun filling the liminal space between rock and water.
As the sun set, boats in the bay blasted a mix of mariachi and Latin pop songs. Artificial lights began to dot the water and we dropped some of our own to the depths in search of the elusive mobula ray. Mobula rays, or devil rays, are social rays that are attracted to lights at night. They feed on the plankton that lights illuminate. They are speed demons and pass divers by in a matter of seconds. Our group formed a semi-circle in the sand for our final Sea of Cortez dive and watched as more and more rays arrived throughout the night. Two photographers persevered through the end of the dive and were met with an amazing spectacle of action. Daniel Pio came back with an amazing photo of two mobulas in the dark. I was floored by his image. He came a long way from taking his first photo with an underwater photo system in the beginning of the trip.
The last day of the trip was supposed to be a day of relaxation, but our group had not time for such things. The majority of the group took the day to dive the famed Cabo Del Pulmo, while the rest of us searched for the Sea of Cortez's best viewpoint and lunch on the beach. A nice dinner at a local bar and grill in La Paz was the perfect way to end the trip. I couldn't have asked to go on a trip with a group of more passionate and laid-back individuals.